Fresh press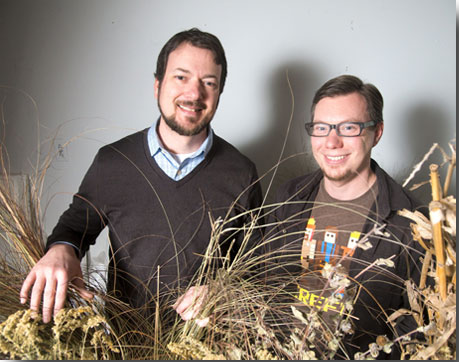 Photo by: John Dixon
The posters on which a student group advertises its event. The drink caddies the local coffee shop uses. The carton holding the eggs that will make your breakfast omelette. Two University of Illinois professors hope these items, and more, will eventually come from papers made of prairie grasses or agricultural waste.
Steve Kostell and Eric Benson, both professors in the UI School of Art and Design, are experimenting with processes to use indigenous plants and agricultural waste in making environmentally friendly paper products.
Kostell was already making paper from natural fibers, and Benson's interest is in sustainable design practices. Through hallway conversations, the two decided to establish a papermaking project, and they started Fresh Press with a grant from the UI's Student Sustainability Committee.
Kostell and Benson use the stalks of various prairie grasses, including big bluestem, goldenrod, sunflower, and coneflowers; the stalks of harvested corn, soybeans and rye; and tomato vines in their papers. Most of their raw materials come from the UI Sustainable Student Farm.
Kostell and Benson are identifying the characteristics of various fibers and experimenting with how they might be best applied. For example, rye is exceptionably flexible while sunflower is quite brittle. They can also adjust the process to make the paper quite coarse or very fine.
They use cotton waste from the textile industry to blend with their fibers. The cotton fibers help the materials bind together, add softness, density and flexibility to their papers and also lighten the color.
Fresh Press is influenced by craft beer brewers in its branding, Benson said, describing their project as a "microbrewery of paper."
"We're trying to develop a model that can be used anywhere, depending on the regional varieties (of fibers) available, either through agricultural waste or indigenous plants," Kostell said.
This spring, they'll be getting molds to make prototypes of paper plates, drink caddies and egg cartons from papers made from various fibers.
They are also looking at how to make their papermaking processes more sustainable. For example, they recycle the water they use and supplement it with rainwater; they are looking into using biochar, or compressed agricultural pellets, for cooking the fibers; and they'd like to add solar panels to their studio.
Kostell and Benson have received commissions from several campus groups for small print runs and artists have experimented with the paper for their projects.
Kostell and Benson are working toward developing commercial processes that are sustainable, and they are deciding on funding options.
"It's a big leap from hand papermaking to commercial papermaking," Kostell noted.