Forty Under 40 Woman and Man of the Year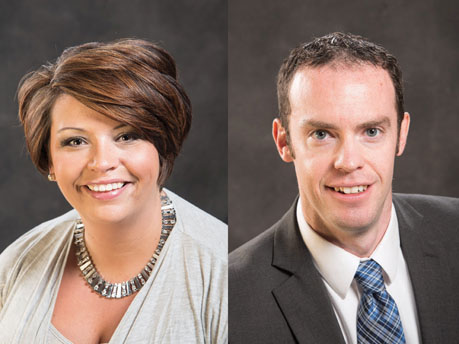 Photo by: John Dixon
Woman of the Year
When Angi Franklin was told she had been awarded Central Illinois Business' Forty Under 40 Woman of the Year, she was adamant that she was the wrong person and that she couldn't be that deserving. She really wasn't all that interested in having any attention on herself or any of her efforts as an educator. In fact, she wouldn't hear of it.
"...you must be seriously kidding," she said.
The only way Franklin would accept her title as Forty Under 40 Woman of the Year was if she could accept it on behalf of kids who need mentors.
Then, there was a shift in her demeanor as soon as she was told she could champion this award into a plea for school mentors. With that revelation, she was totally on board. Franklin immediately began speaking about how she could get all of the Forty Under 40 panel members into the school mentoring program.
Who can argue with helping out kids so they have a better life?
"Every kid needs a hero," she said from Jefferson Middle School, where she is the principal.
Franklin was influenced by her parents, Terry and Carol Agnoletti, who raised her and her younger brother, Brian, to focus on improving lives for others. It was the way they approached life, and it was instilled into their children as second nature. Growing up in the small community of Farmington, a sweet little town just west of Peoria, Franklin enjoyed a safe and nurturing childhood, and because of this, she bloomed. She learned to play the piano, and she sang. In fact, she sings well. She's a mezzo soprano
"I am the first person in my family to graduate from college," she said.
Graduate she did, with an undergraduate degree in music education and two graduate degrees in both music, and educational administration and leadership all at the University of Illinois.
"We have to recognize that our kids- all kids- do not have the same advantages. Let's level the playing field for them. That's what our staff at Jefferson works on: social justice, norms of social justice, and to promote issues of social equity. People need other people to believe in them. Then, they thrive. I'm sure that the whole panel of Forty Under 40 recipients have had one, if not more than one, mentor in their lives," she said.
Franklin then began her career as a choir director. She met her colleague and friend, Danielle Cook in Urbana when Franklin began teaching choir there.
"When I left Urbana, I knew that I would again someday work with Angi Franklin. For the last three years, I have been inspired and honored to work with Principal Franklin as her associate principal," Cook said.
Cook is now the administrator of Novak Academy.
Cook said Franklin is one of the hardest working people she has ever met. She has high integrity, and she has the rare ability to speak the truth in a situation while maintaining the dignity of herself and others. Cook feels that Franklin excels in supporting her staff equally across the board: teachers, support staff, maintenance, and program assistants. They all matter to Franklin.
"Beyond all of these qualities, the reason I knew I would work with Anji again, especially in Champaign, is her loyalty and commitment to social justice. Anji is an advocate and ally for individual people and groups who may often be marginalized and discriminated against. Inclusivity is in Anji's DNA, and she uses her place of privilege to uplift others," Cook said.
According to Franklin, it all started in Urbana and her talks with Willie T. Summerville, the 38-year retired Urbana choir teacher, UI instructor, and staunch advocate for social justice in the C-U community.
"I would just have these impromptu conversations with him about 'things.' I could ask him anything," Franklin said.
She knew it was time to step-up, be a person who advocated for others, and to help in the area of social justice. Cook said that like Franklin's role as choir director, that helps individuals achieve phenomenal success as a group and then steps back for the audience to recognize the singers, Franklin does the same in her role as a principal and community social justice activist. Plus, she works tirelessly for others.
"As a choir director, Anji raised over $75,000 to enable her students to take trips to cities like New York, Los Angeles, Nashville, Chicago, and Sandusky, Ohio," Cook said.
Cook listed the other initiatives that Franklin has championed for others' benefit:
• Created a media project "Think Before You Speak" that involved students and staff (including the superintendent)
• Participated in a public forum about LGBTQ bullying in schools
• Created a media project to encourage African American students to enroll in AP level courses
• Addressed the language barriers felt by Spanish-speaking families by arranging for translators at parent/teacher conferences and posting Spanish-language signs around the school
• Developed a "Lunch Buddy" program where regular education students socialized and worked with severe/profound special education students
• Developed a social justice course to be offered for credit
• Taught a social justice class to high school students
"Besides living and working within the Champaign-Urbana Community, Angi has volunteered with the Crisis Nursery, is a mentor with the One to One Mentoring Program, and began working this summer with the Parkland College Migrant Education Program. Although she was not on the board for the Crisis Nursery this year, she not only attended their dinner/auction fundraiser this year, but she encouraged many of her friends and colleague to join her this year. Angi's passion for helping children and families is inspiring many others to also help this incredibly necessary program," Cook said.
Although it's obvious that Franklin likes to give and not receive, she has had some perks pop-up in her school career.
"I met my husband, Wade. He is the general manager at Lincoln Square. When I was a choir teacher at Central, he was a coach. He asked to have the kids sing the American Anthem for games. He is cute," she said.
They have two daughters: five-year-old Madelyn, and Evie, who is three.
When Central Illinois Business magazine visited the school to take pictures, it was obvious the students feel safe and comfortable with Franklin. Kids in the hallways spoke and waved to her, and that "fear of the principal" was nowhere to be seen at Jefferson Middle School.
"Hey, come on, let's get to class," she said over and over.
"Hello, Ms. Franklin!" "Hey Ms. Franklin!" said the students.
"She deserves this award for going far and beyond what could ever be expected of an administrator and for following her social justice convictions by taking action in any area that she can - most often inspiring others to join her," Cook said.
And as part of an agreement with Franklin for her being in the magazine: if CIB readers would like to have the opportunity to change the life of a child with just one hour every week, contact Franklin at franklin@u4sd.org.
Man of the Year
Justin Overstreet was the consummate host when Central Illinois Business visited Martin, Hood, Friese & Associates, LLC for his interview. It was a rainy and gray day, but Overstreet had a welcoming smile that lit up the office, where he is the senior audit manager. He had a tour of the building lined up, people to chat with- as well as himself- and offered beverages.
Bud Windelborn, a co-worker of Overstreet's and the firm administrator of the company, nominated Overstreet for Central Illinois Business' Forty Under 40. He said that one word that best describes Overstreet is "thoughtful."
"Justin is a truly special person," Windelborn said about the CIB Forty Under 40 Man of the Year for 2016.
Overstreet specializes in many industries including construction contractors, small businesses and employee benefit plans. He graduated from the University of Illinois in 2006 with high honors and started with MHFA shortly thereafter. He received his certified public accounting license in 2006, and became a certified valuation analyst in 2012, according to Windelborn.
"Justin brings his passion, intelligence and common sense to everything he does. This makes him an invaluable member of any board and a successful part of any volunteer organization. His specialties, especially his certified valuation analyst designation are rare and valuable. His leadership in the firm has grown exponentially in recent years. He is the consummate trainer and a trusted mentor to both new and experienced staff," Windelborn said.
On the books, it appears that Overstreet started at MHFA in 2006.
"I started here in 2005 as an intern. In fact, this was my only job interview upon graduation," Overstreet said.
Overstreet worked for his uncle, Bob Overstreet, before that in his office. His uncle is a CPA, and this gave his nephew experience with financial statements, bank requirements, and assurance services.
"It was a great learning experience," he said.
David Hood, managing partner at MHFA, said that they have a business philosophy that aligns with the downstate attitude of serving others. Overstreet fits well into that role and philosophy.
"Justin is a great, solid, and across-the-board person. Justin's attitude makes him. He's great all-around," Hood said.
Kaci Isaksen, a supervisor in the auditing department at MHFA and co-worker with Overstreet on the employee benefit plan team, has known him for a long time.
"His mom used to babysit me, so I have known him for a long time" she said with a smile.
She said Overstreet is definitely a great person.
"He's always willing to help. He's definitely a giver. He's family oriented and very even-keeled," she said of her friend and colleague.
Windelborn said that Overstreet has a great connection with the community.
"He is an active member of Champaign-Urbana Kiwanis and is a former board member. Justin is a graduate of the United Way Emerging Community Leaders program. He has been a coach for the Tom Jones Challenger Baseball League since 2010. This is a baseball league for children ages six though 12 years with varying degrees of physical or mental challenges. He actively recruits others to volunteer for this cause," he said.
Windelborn also said that Overstreet has been a participant in Habitat for Humanity builds.
"He also spent years as a member of the board of directors for the Champaign County Big Brothers/Big Sisters organization," he said about Overstreet.
"Challenger is awesome. It's connected to Kiwanis, and it's great getting young people started off right away with that. What's so cool about Challenger is the critical thinking that it helps the kids develop," Overstreet said about the Tom Jones program.
He even likes to keep the kids involved as they grow older.
"I had a kid that aged out. I wanted him to stay involved. He wanted to pitch. We gave him a chance. He was so excited. It was wonderful. He got better and better," he said.
Overstreet attributes his success from his parents, John and Dawn Overstreet of Paxton.
"My dad, being a teacher, coach and athletic director at PBL, taught me and my brothers the value of teamwork-working together for a common goal. Plus, we had a lot of fun. We had the perfect yard for a wiffle ball field," he said.
Overstreet was a triple letter athlete: baseball, basketball and football at Paxton-Buckley-Loda. His brothers; Tyler, a teacher at Danville High School; and Dylan, who is a businessman in the Chicago area, were all athletes.
"Dylan was a point guard at Illinois Wesleyan," Overstreet said of his brother's basketball career.
Overstreet said his parents instilled a sense of community in their sons.
"My folks had a value of ethics," he said.
He also attributes the support from his wife, Jennifer. He said they love parenting their children Colton, who is 8 years old, and Ava, who is five. They enjoy their distinct personalities: Colton and his gentle manner, and Ava with her tough-little-princess attitude.
"She's awesome, Jennifer. She's a nurse at Carle. I met her in kindergarten. Her mom even babysat me. Our first date was in fourth grade to see the movie "The Santa Claus,"" he said.
"He doesn't take anything for granted. He's smart and he's funny," she said.
"Justin is an amazing guy. No one works harder or is more vigilant," Windelborn said.