Downtown destiny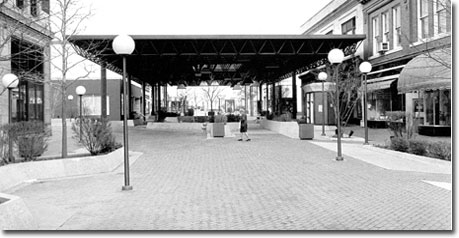 Photo by: n/a
Stepping into Jos. Kuhn & Co. is like stepping back into the 1950s. The smell, decor, music and fading marquee represent a time when downtown Champaign was the place to shop, eat and be seen.
Spritz Jewelers, Kuhn's, Esquire Lounge and Austin's Sportswear provide older residents a glimpse into the past and new residents a chance to appreciate some of Champaign's business pioneers. These stores have remained open through the fruitless decades to see downtown emerge full force with an updated look and a new clientele.
Kuhn's general manager Gordon Tracey said Kuhn's has been downtown since 1865.
"This was the place to shop. If you came down here on a Friday night, you would see all of the farmers coming in," he said. "If you came down on a Saturday night, there would people all down the sidewalks."
Jim Greenfield, owner of Spritz Jewelers on Neil Street, has watched downtown suffer through mistakes and still recover victoriously over the years. Spritz opened in Champaign in the 1940s.
During that time, Sears, JCPenney, Robeson's and the Lewis Department Store were all located downtown.
"Downtown was very viable," Greenfield said. "All the major banks were downtown. It was the banking center of the county, you might say. City Hall was here, The News-Gazette was here, the police station was here. You had lawyers, doctors, accountants. Downtown was the center of the community."
Downtown was the place to see your friends, buy clothing, cash your check or buy popcorn for your children, he said.
After decades of less than booming business, downtown has come full circle. Now it's the place for a different generation to patronize.
Unfortunately, the new generation will never get to shop at Kresge's or try on shoes at Sholem's or enjoy an ice cream soda at Vriner's. But, thanks to the downtown revitalization, they can go to Guido's for a beer, eat pizza at Jupiter's and go shopping at Jennifer North.
"It's great those young people are coming into the area, and we're getting downtown back," Tracey said.
Esquire Lounge co-owner Bob Osiek said there are are more younger people downtown than in the past.
Between the 1950s and the 1960s, the Esquire Lounge became a watering hole for locals. Decades later, it still has a steady business.
Like these other downtown Champaign businesses, it has held steady through the positive and negative changes.
Two major developments in the 's contributed to the demise of downtown, Tracey said.
"First of all, the malls were built," he said. "And second of all, downtown decided to close off a section of Neil Street between Main and University. They called it an 'open air mall,' so you couldn't drive through there, and that was much more damaging to downtown than even the opening of the malls."
Osiek said, "Downtowns come and go for different reasons. In the 's, that happened to be prime time for malls like Market Place. People were moving away from the older structures and appreciated the accessibility of the parking as well as (the parking) being free."
Greenfield said the Neil Street Pedestrian Mall was a flop.
"Downtown put a cover over the middle on stilts," he said. "It was dark, dingy. ... Oak Park did it, Danville did it, we thought this is the way we are going to get back all of our customers and our retail."
Greenfield also described the problems with the pedestrian mall.
"It was like putting nails in a coffin," he said. "We had taught people how not to see us, we taught people that we were not here anymore. They wouldn't come downtown and stroll. Homeless people took over the middle of the mall. They had electric outlets there and people were cooking, some had TV sets. They camped out there and were protected from the weather. It wasn't a good scene."
Osiek said, "There were some seedy people downtown years ago that you really don't run into anymore. That's changed. I think people will tend to go where they feel safe, and I think downtown's become one of those places."
The open air mall was torn down, which allowed traffic to flow through Neil Street and helped downtown businesses, Tracey said.
"But we had lost all kinds of retail," Greenfield said.
For a while, downtown Champaign suffered from the the covered mall debacle, leaving only a few surviving businesses.
"We fought it. We provided parking and good service," Greenfield said.
After years of failed marketing ploys and gimmicks, Champaign struggled to regain its downtown after losing major retail anchors, like Sears and JCPenney, which relocated to the Market Place Mall.
But the glitz of malls eventually wore off, and people became more appreciative of the history within the older buildings, Osiek said.
An influx of entrepreneurs started opening bars, restaurants and small shops downtown, Tracey said. The increase in popular nightlife has given the area's shops added visibility, he said.
"We get people who walk by here at night and call or come back in a couple of days and say, 'Oh I saw this in the window when I was down here,'" Tracey said.
Greenfield has had the same experience.
Austin's Sportswear owner Autumn Bates said,"When you drive through here at night you are like, 'What city am I in?' It's amazing. And way to go, they've really, really drawn the people into their businesses."
Bates does not attribute her business's success to the downtown boom, but she said the increase in nightlife has improved her shop's visibility.
Greenfield said he once heard that creating a 24-hour downtown makes it successful.
"Because people are moving downtown, because the bars are going until 2 o'clock in the morning, because people live here all of the time, we've created this 24-hour downtown," he said. "It's important. It creates a neighborhood in addition to a business atmosphere."
Osiek said his business has benefited from the extra foot traffic in downtown Champaign.
"We all share in those people coming around. Those have become some of our regular customers," he said.
Greenfield has noticed some of the surrounding shops keeping their doors open later to accommodate the late-night patrons.
Tracey pointed to the development of One Main, and the future development of M2, as huge economic boosts for downtown.
"They've been a big shot in the arm to the businesses downtown because we are seeing a generation of people that didn't even know we were here," Tracey said.
Greenfield said, "Right now if there is an empty building it gets scarfed up in a matter of a week, somebody's trying to build condos or renovate it. There's a lot of money coming into downtown right now. Well, not a lot of money, a huge amount of money coming into downtown."
The aesthetics in downtown Champaign have also improved.
Osiek said, "The city has spent a lot of money and a lot of energy via their planning department in redoing the sidewalks, redoing the streetlights, redoing the access and egress of traffic patterns. They have improved the downtown area a ton. It's just way better than it used to be. There's no doubt about it. Therefore there's more people coming downtown."
Emily Fletcher can be reached at 217-351-5244 or efletcher@news-gazette.com.