Don't contribute to the January effect
If you started reading this because you thought the -January effect- might have something to do with the change of seasons or global warming, here's your chance to learn something new about a stock market anomaly. If you read further, you may be able to save yourself some money by not only avoiding a common seasonal market phenomenon but also potentially profiting from it.
The term January effect was coined by Professor Donald Kiem at the University of Chicago in the early 1980s when his research revealed that stocks tended to rise in the first week of January. Subsequent research has shown that this seasonal rise in stock prices is often more pronounced in smaller stocks than in larger stocks.
More than one theory has been hatched for explaining this January market anomaly, but the majority of researchers seem to agree that one significant cause is that investors holding stocks in taxable accounts or funds often times sell holdings with losses right before the end of the year in order to reduce their capital gains taxes. After the first of the year, the tax-induced selling pressure abates and the stock prices recover in value, producing the January effect.
Managing your tax bill by harvesting losses to offset capital gains is a good strategy, but waiting until the end of the year when everyone else is doing the same thing can cause your losses to grow even larger as a stampede for the exits develops.
So, don't wait for December. Consider selling the stocks in your portfolio with unrealized losses now. In addition to reducing your tax bill and not getting caught in a downdraft caused by the flood of tax-loss harvesters at year's end, selling your losers may bolster your portfolio's long-term health.
That's because behavioral finance research has shown that investors tend to hold on to their losers too long. People seem to have a psychological aversion to realizing losses, and they attempt to avoid the pain by refusing to sell. Conversely, people seem to be even more fearful of losing unrealized gains and, therefore, tend to sell winners too early.
One way to combat both tendencies is to develop a healthy aversion to paying taxes. This should help you resist the temptation to incur capital gains taxes by being too hasty selling stocks with gains as well as provide an incentive to sell your losers.
Here's my suggestion - one inspired by those who thought this article might be about the environment. Think of managing your stock portfolio like gardening. Harvest your losses to reduce your tax bill, but let your winners continue to grow. And do your loss harvesting at harvest time, not Christmas time, to avoid contributing to the January effect.
Scott Tapley, CFA, is a vice president and financial analyst with the Main Street Wealth Management Group. He can be reached at (217) 351-6539 or scott.tapley@mainstreettrust.com.
TAKE TIME FOR TAX PLANNING
Linda Ayers
CIBM Contributor
Taxes never really go away. There is that sense of relief on April 15 for those who meet the individual income tax filing deadline. But that sense of accomplishment is as temporary as tax planning strategies for the next year should be considered. As we approach the end of the tax year, consider the following planning ideas to help reduce or defer income tax.
Make your standard deduction worth more by bunching
deductible expenditures
This year, the standard deduction for married joint filers is $10,700. The magic number for single filers is $5,350, while the figure for heads of households is $7,850. If your 2007 itemized deductions are likely to be just under or over this amount, it may pay to adopt the strategy of bunching together expenditures for itemized deductions every other year, while claiming the standard deduction in the intervening years. Examples of items that often work well for this strategy include the interest on your January home mortgage payment, charitable contributions, property taxes and state income tax payments.
Consider deferring income
It may also pay to defer taxable income from this year to next year, especially if you expect to be in a lower tax bracket in 2008. For example, you can postpone taxable income by putting off client billings until late in the year so you don't receive payment until 2008 (assuming you are a cash method taxpayer) and by prepaying deductible business expenses near year-end. Deferring income may also be helpful if you're affected by unfavorable phase-out rules that reduce or eliminate various tax breaks (such as your itemized deductions, the child tax credit, the education tax credits, and so forth). By deferring income every other year, you may be able to substantially increase your eligibility for these tax breaks every other year.
Take advantage of favorable new provisions
Several taxpayer-friendly changes kicked in this year. They include the following:
Bigger Section 179 Deduction. For the tax year beginning in 2007, your business may be able to take advantage of the increased Section 179 deduction. The maximum deduction is now a whopping $125,000 (up from $112,000). Under the Section 179 privilege, an eligible small business can often claim first-year depreciation write-offs for the entire cost of most new and used equipment and software additions. If you are thinking about purchasing equipment, furniture or other tangible property for use in your business, now may be the perfect time to do so. However, restrictions apply.
Expanded Work Opportunity Tax Credit (WOTC). The WOTC is intended to encourage employers to hire members of certain targeted groups. A law passed earlier this year makes the WOTC available for wages paid to more individuals, which could affect your hiring decisions.
Liberalized Health Savings Account (HSA) Rules. Deductible contributions can be made to HSAs set up for individuals who are covered by qualifying high-deductible health plans (HDHPs). You can then take federal-income-tax-free withdrawals from your HSA to reimburse yourself for qualifying out-of-pocket medical expenses. A law passed late last year generally allows bigger deductible HSA contributions for 2007. In addition, you may qualify to roll over amounts from your employer's health care flexible spending account (FSA) plan or health reimbursement arrangement (HRA). You may even be able to roll over some money from your IRA. However, there are positives and negatives to consider before embracing any of these ideas.
Take advantage of expiring tax breaks before they become history
As the tax law currently reads, a host of valuable breaks are scheduled to expire at the end of this year. While the odds are good that some, or even most, of them will be extended by future legislation, don't bet the farm on it. The prudent course is to take action before year-end to cash in on breaks that are meaningful to you or your business. Here's a brief rundown on some of the expiring provisions.
Itemized deduction for state and local sales taxes. The optional deduction for state and local sales and use taxes (in lieu of deducting state income taxes) will expire at the end of this year unless Congress takes further action. If you live in a state with low or no state income tax, you may want to make some big-ticket purchases (such as a new car or boat) before year-end to increase your sales tax deduction.
Credit for nonbusiness energy expenditures. The up-to-$500 tax credits for nonbusiness energy efficiency improvements such as qualifying exterior windows and doors, insulation and heat pumps will expire at the end of 2007 unless Congress extends them. The credit amounts are modest, but they could make it worth your while to make some energy-saving changes to your principal residence. Improvements must be installed by Dec. 31 to qualify.
Charitable donations from IRAs. If you've reached age 70½, a law change from last year allows you to arrange to distribute up to $100,000 of otherwise taxable IRA money to specified tax-exempt charities. These so-called qualified charitable distributions (QCDs) are federal-income-tax-free to you, but you don't get to claim any itemized deductions on your Form 1040. However, the tax-free treatment equates to a 100 percent write-off and you don't have to itemize your deductions to get it. This favorable provision will expire at the end of this year unless Congress extends it.
Faster depreciation for leasehold and restaurant improvements. Favorable 15-year depreciation is allowed for qualified leasehold improvements and qualified restaurant improvements that are placed in service by 12/31/07. However, this break will expire at the end of this year unless Congress extends it. If that happens, the cost of these improvements in future years would generally have to be depreciated over 39 years.
Breaks for business charitable donations. Enhanced deductions are allowed for certain types of charitable donations made through 2007 by businesses. There are two enhanced deductions available to C corporationsone for donations of computer equipment and technology and another for qualified book contributions. Non-C corporation businesses get an enhanced deduction for donations of food inventories. Last, but not least, is a rule that provides favorable treatment for S corporation donations of certain appreciated assets. These enhanced deductions and special rules will be unavailable in tax years beginning after 2007 unless Congress extends them.
Special rules for qualified conservation donations. Rules that provide extra-favorable treatment for qualified conservation contributions by individuals and farm businesses to charitable organizations will be unavailable in tax years beginning after 2007 unless Congress extends them.
Watch out for the alternative minimum tax, too
While recent tax law changes have been helpful in reducing your regular federal income tax bill, they didn't do much to reduce the odds that you'll owe the dreaded alternative minimum tax (AMT). Therefore, it's critical to evaluate all tax planning strategies in light of the AMT rules before actually making any moves. Because the AMT rules are so complicated (and because they will probably be changed again this year), you may want to seek the assistance of your tax professional.
- Linda Ayers, CPA, is a senior manager with Clifton Gunderson LLP. She can be reached at (217) 351-7400 or linda.ayers@cliftoncpa.com.
ASK YOURSELF THE RIGHT QUESTIONS TO PLAN FOR RETIREMENT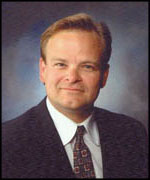 Jimmy Stewart
CIBM Contributor
Your school days may be behind you, but that doesn't mean you shouldn't test yourself from time to time. One of the most important topics you can study is retirement planning. So, take a couple of minutes to take this quiz. The answers, and even the questions, may prove valuable to you as you save and invest for retirement.
Have you put a price tag on your retirement lifestyle?
All of us have different ideas of the ideal retirement. Your brother may plan to travel the world, your sister may want to open her own small business and you may choose to volunteer. Once you know how you want to spend your retirement years, you can calculate about how much your retirement will cost. A financial advisor can help you arrive at a good estimate of how much you'll need to spend per year.
Do you contribute to your 401(k) or other employer-sponsored retirement plan?
If you have a 401(k) or similar plan where you work, you'll receive several key benefits by contributing. First, your money has the potential to grow on a tax-deferred basis, which means it can potentially grow faster than if it were placed in an investment on which you paid taxes every year. Second, you typically invest pre-tax dollars, which means your contributions can actually help lower your annual taxable income. And third, you can spread your dollars among a range of various investment choices.
Do you boost your 401(k) contributions every time your salary increases?
If you don't, you should. Your annual 401(k) contribution limits are pretty high: $15,500 in 2007 or $20,500 if you're 50 or older. Obviously, the more you contribute, the greater your chances of achieving your retirement savings goals.
Do you also contribute to an IRA?
Even if you contribute to a 401(k), you can put money in an IRA. A traditional IRA has the potential to grow tax-deferred, while a Roth IRA offers tax-free earnings potential, provided you've had your account at least five years and you don't start taking withdrawals until you're 59-1/2. (Income limits apply to the Roth IRA, however.) In 2007, you can put in $4,000 to an IRA, or $5,000 if you're 50 or older. And you can fund your IRA with a variety of different investments.
If you're self-employed, have you set up a retirement plan?
If you work for yourself or run your own small business, you'll need to set up a retirement plan. Fortunately, you've got many attractive options, all of which offer tax deferral and a range of investment choices. Depending on your situation, you can establish an owner-only 401(k), a SEP-IRA, a SIMPLE IRA or a Keogh plan. Your tax advisor can help you select the plan that's right for you.
Have you explored other retirement savings vehicles?
If you've maxed out on your IRA and your 401(k) or self-employed plan, and you can still afford to put away more for retirement, explore other investments, such as annuities, which offer tax-deferred growth potential and have very high contribution limits.
There's no passing or failing grade to this quiz - but if you've answered yes to all the questions, you're probably putting yourself in a good position to ultimately achieve your retirement goals.
- Jimmy Stewart is an Edward Jones financial advisor in Urbana. He can be reached at (217) 328-1719 or jimmy.stewart@edwardjones.com