Doctor keeps originator&#39s values alive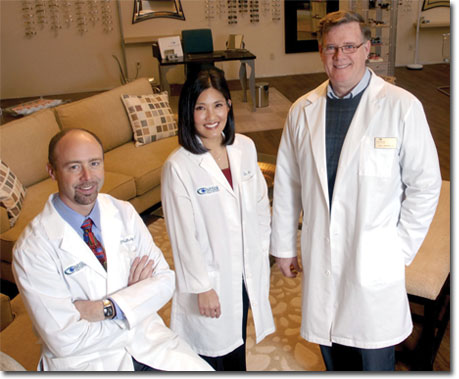 Photo by:
A devastating fire in August 2006 left nothing but waterlogged patient files and the burnt remains of a oncethriving business.
Thankfully, optometrist Dr. Shawn Mallady had the support of the community and fellow professionals to get him through.
"I experienced a community pull together," Mallady said.
Firefighters, doctors and volunteers donated resources and time to Chittick Family Eye Care's Danville branch so that the business was literally able to not miss a day of operation.
"We had a lot of blessings that day," he said.
A fellow optometrist allowed Mallady and the other doctors to use his facility temporarily to treat patients.
For 10 years prior to the fire, Chittick Family Eye Care toyed with the idea of opening an office in the Champaign area.
"It made us appreciate there is no time like the present," Mallady said. "Not until the fire did we have the confidence to do it."
In November, Mallady, the clinic's owner, opened a fourth office on South Neil Street in Savoy.
The office is open to patients seeking services from optometrists, including Mallady, Dr. John Brothers and Dr. Cherie Oshiro.
The clinic offers optometric care, emergency services, glasses, contact lenses, medical diagnosis and treatment, eye wear repair and eye wear selection.
Outside of offering conventional services, Oshiro specializes in working with pediatric patients and providing vision therapy services.
"We're trying to promote (vision therapy) in town because there's not a lot of doctors in town who do vision therapy," Oshiro said. "School nurses and social workers have commented that they have to send the children far away to get those services."
Using therapy to strengthen the patients' eye teaming skills and focusing skills helps the children's overall eye health.
"If children have a problem with reading, it might not be their vision, rather they may not be able to use their eyes efficiently together," Oshiro said.
The challenge of opening a new office and respect for the owner drew Brothers to the Chittick office.
"I've known the principles of Chittick Family Eye Care since I came here in the Air Force in the early '80s," Brothers said.
The Chittick legacy began in 1905 by Dr. William Chittick in Paris, Ill.
"It was known by the Chittick name since the beginning and they had always provided excellent care and services including two hour service on glassessince the '50s," Mallady said.
In 1993, Mallady purchased the Danville office from Dr. William Buchanan.
Although Mallady serves patients in the Savoy, Danville and Hoopeston offices, most of the doctors commute between two offices.
Dr. Ronald Serfoss, Dr. James Kelley and Dr. Mark Pellegrini focus their services toward the Danville and Hoopeston branches, while Brothers and Oshiro work strictly at the Savoy and Rantoul locations.
"We've been very blessed to have had relationships before we sought each other out," Mallady said.
Chittick Family Eye Care provides hours in the late afternoon and on Saturdays to accommodate all schedules.
For now, four branches are enough for Mallady and his staff.
"If the opportunity comes up, we look forward to expanding our services within the space we already have," General Manager Pam Troxel said.
– Emily Fletcher can be reached at (217) 351–5244 or efletcher@newsgazette.com.