Curtis Road interchange offers new gateway into Champaign-Urbana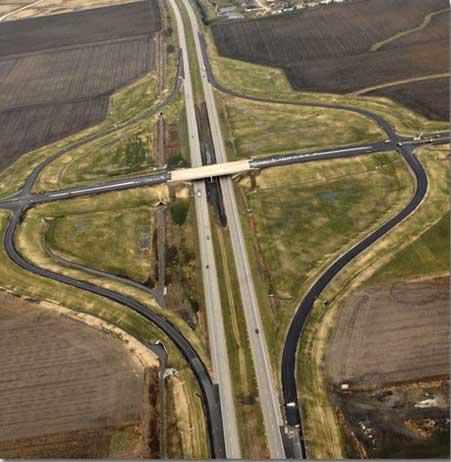 Photo by: Vanda Bidwell
By Greta Weiderman and Emily Fletcher
CIBM Editor and Staff Writer
The Curtis Road-Interstate 57 interchange is scheduled to open later this spring, but it's anyone's best guess when new buildings will start popping up in that area.
Program development engineer for the Illinois Department of Transportation, Dennis Markwell, said there's only one to two weeks of actual work remaining on the interchange, including laying asphalt, erecting signs, and finishing shoulder and minor dirt work.
"The trick is finding the right weather to get the work done," Markwell said.
The main component left in the development is asphalt work, which requires moderate temperatures in the '40s.
"Looking at the forecast, it doesn't look like that's going to happen too soon," Markwell said.
Not only will the interchange add a southern entry point into Champaign, but the land near the interchange may eventually become a major retail area for the city. A full 515 acres of the land is developable.
Business Districts Inc. of Evanston did a market study to determine what type of developments are feasible in the area. The study suggested that the area should house a mix of large and small national chain stores in a highly landscaped format. It also found that because of population growth and local spending power, national retailers may be ready to consider Champaign a 'two-store' city, meaning they might be willing to open second locations in Champaign in the Curtis Road interchange area.
Teska & Associates, also of Evanston, created a master plan for development around the interchange, which the city of Champaign adopted. The city will demand high-quality projects in the area and take its time developing it.
City planners think the area will develop over the next 15 to 20 years, and they will ensure quality projects through an annexation and development agreement process between each developer and the city.
"We wanted to be in a position to proactively guide the development rather than react to developer proposals as they come to us," said Champaign City Planning Director Bruce Knight. He said many residents are critical of the way North Prospect was developed in the early 1990s and that the city was reacting to development proposals at that time rather than starting out with its own set of guidelines.
The area surrounding the interchange will be developed according to design standards regulating site layout, landscaping, parking, signs, building orientation, windows, building materials and setbacks, according to Knight. Other requirements for developers include a bicycle and pedestrian system, street scape design and open space requirements to give the retail area an upscale, downtown feel rather than a suburban feel.
"We think the area should be comfortable for people driving, walking, biking, using transit--whatever it may be," Knight said.
The Illinois Department of Transportation is building a pedestrian bridge over the interchange, but the city wants to ensure that the pedestrian walkways are extended throughout the development.
The higher standards for design slow the development down more than if the city adopted less stringent standards, Knight said.
The area will be developed in three districts: a neighborhood district, an active urban mixed-use district and a corporate district.
The neighborhood district, along the edge of the development area, will include townhomes, and some office, retail and services uses. The active urban mixed-use district will include a traditional street front with shops side by side.
"We talked about this being a place that people wanted to go, not just that they had to go," Knight said.
Finally, the corporate district will include taller buildings like hotels, an office campus, research facility or a call center.
Knight said that no developers have submitted formal applications, although several have inquired about the area. But there is lots of space available for development.
"The area is as large as North Prospect and Marketplace Mall put together," Knight said.
Curtis Orchard, which is about a mile from the interchange, is the closest business to it.
Randy Graham, one of the owners of Curtis Orchard, said he is generally optimistic about the interchange.
"I think it will be a lot easier, particularly for some of our regional customers, to get to us," he said.
Chris Curtis, the office manager of Curtis Orchard, said he thinks the interchange will bring in more business from out-of-state travelers passing by.
"We're going to try to capitalize on it as much as possible," he said.
Curtis said that the orchard's owners like its rural location, often touting the motto, "Come out to the country," on advertisements, but that they are also happy to see progress in the area.
"There's nothing we can do about it, so we have to embrace it," Curtis said.
Graham said being surrounded by development makes it a little more difficult to farm.
The orchard's owners are happy that the city is planning to develop the land surrounding the interchange slowly.
"It never hurts to take things slowly and mull them over," Curtis said.
Graham said he is in support of development requirements like landscaping and bike paths.
"(City planners) seem to be really taking some of the lessons of North Prospect and trying to avoid the congestion that has plagued that area for so many years," he said.
- Greta Weiderman is editor of Central Illinois Business Magazine. She can be reached at (217) 351-5695 or gweiderman@news-gazette.com.
- Emily Fletcher can be reached at (217) 351-5244 or efletcher@news-gazette.com.