Corporate art collecting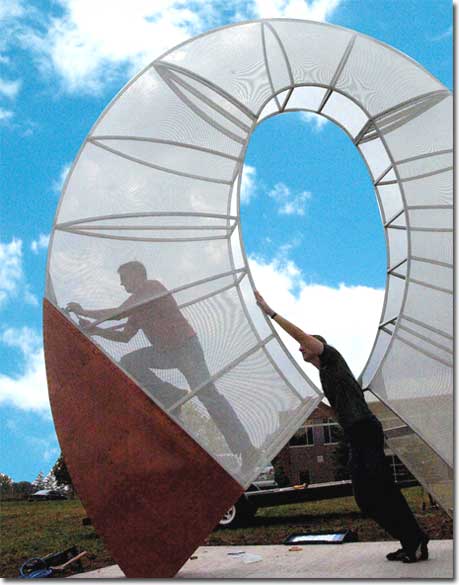 Photo by: R. K. O'Daniell
Local companies are starting to learn what businesses like Microsoft, Progressive Insurance and Nabisco have known for some time: collecting fine art has benefits beyond just decorating the walls.
Peter Fox and Clint Atkins believed it was important to include sculptures and other art in the University of Illinois Research Park in order to recruit innovative businesses as tenants, according to Laura Frerichs, the vice president of marketing and business development for Fox Development in Champaign.
Fox enlisted the help of Robin Hall, the past director of the Urbana Park District, to find or commission six sculptures for the research park. Hall had previously started the Wandell Sculpture Garden at Meadowbrook Park in Urbana.
The sculptures in the outdoor area and paintings and photographs inside buildings at the research park are appealing to the type of person we want working in the research park, Frerichs said. We try to attract innovators.
The collection includes about 50 pieces in all.
Carolyn Baxley, the owner of Cinema Gallery in downtown Urbana, said fine art displayed in a work setting not only provides a more pleasant working environment, but also stimulates creativity, leads to increased employee productivity and improves employee satisfaction.
It gets people thinking, she said. Corporate workplaces now are fairly austere places. There are a lot of hard surfaces and blank walls.
She said fine art draws people in.
It pulls you in and makes you think in a way that nothing else can, Baxley said.
Corporate art collecting also has public relations benefits for companies. Art can create an image of being innovative and avant garde or mature and professional.
For example, Busey Bank has a collection of art that was started several years ago, including one commissioned mural by Billy Morrow Jackson and several by retired University of Illinois faculty members.
Companies can be even more specific in bolstering their images. In 2001, Johnson & Johnson hosted a show of imaginative quilts that depicted plants used in cancer therapy, emphasizing the company's history of providing health care products, according to The New York Times.
Collecting art can also create or enhance a company's reputation for supporting their community, especially if they purchase art from local artists.
Baxley said she hopes that more local corporations will step up and start to really support local artists instead of buying mass-produced prints.
Some companies now use art as a performance bonus for employees or as a gift for major clients.
Baxley helped Deb Brinkmann when she began choosing about 40 pieces of local art to decorate the walls of the Windsor of Savoy retirement community.
I think the residents out there really love it, and when we were hanging it, they were 'ooing' and 'awing,' Baxley said.
Brinkmann chose art that represented different areas of the community, including a room with Don Hamerman's photographs of the University of Illinois, a photograph of a large tree on the corner of Prospect and University in Champaign and even a painting by Windsor of Savoy resident Kenneth Lansing of the Market at the Square in Urbana.
The wide variety includes a hallway with nature photography and a dining room with contemporary, colorful paintings by Patrick Harness.
Mary McDonald's fabric art is displayed, as well as the art of Melinda McIntosh, Weston Harries, Brock Peoples, Karyl Wackerlin, Donald Lake, John Hayes, Lars Lindblad and Jason Lindsey.
There is something for everyone, Brinkmann said.
Brinkmann said she enjoyed choosing local art since there are many talented artists in Champaign-Urbana.
What a great idea to use Champaign artists. Some of the residents would know the artists or know of them, she said.
Gretchen Brown, the administrator at the Windsor of Savoy, said she deliberately asked Brinkmann to choose pieces made by regional artists to complement the building's new renovation.
She said she plans to develop a pamphlet that will provide information about each piece and the artist who made it so residents and visitors can read about them while admiring them.
Brown said the 200 residents love the variety of the artwork and appreciate seeing familiar scenes.
Carle Clinic displays art by local photographers like Barry Brehm, Larry Kanfer and Chris Main and other art, including quilts and Amish woodwork and a piece by Frank Gallo. The company also made a deliberate decision to purchase work from local artists.
Being a community of our size, I think people identify with the pictures and the art that they're seeing because this is who we are, said Mike Bukosky, the executive vice president and chief administrative officer at Carle Clinic, explaining that the art displayed in the Clinic shows many local nature scenes and farm scenes so patients can identify with them, which helps them feel at home.
- Greta Hale is editor of Central Illinois Business Magazine. She can be reached at (217) 351-5695 or ghale@news-gazette.com.