Continuing the business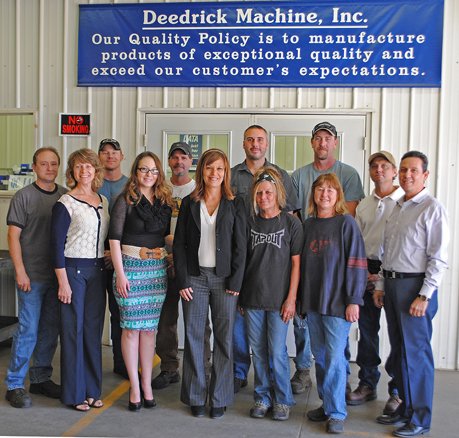 Photo by: Bridget Broihahn
Deedrick Machining, Inc., the successful company that John Deedrick started in his hometown of Sadorus, back in 1985 will continue to grow, even though he has retired. In fact, they will be expanding into the realm of precision work, as well as computer numeric control (CNC) machining, CNC turning, gun drilling and welding.
"Yes, we're continuing the business," Ray Batista said. "We changed over on August 1, so we've been in place for about three months."
Batista is the president of the now Deedrick Precision Machining, Inc. Originally from New Berlin, Wis., he brings 35 years of manufacturing experience. He said that the former Deedrick Machining was more of a job shop. Job shops are usually businesses that perform custom parts manufacturing for other businesses. Batista said DPM will continue with the business as it stands, but in time, the goal is to move towards precision work.
Bunny Lampert, executive vice-president of DPM was instrumental in the acquisition of DPM.
"My father was friends with John (Deedrick)," she said.
A native of nearby Monticello, Lampert knew of the quality reputation that Deedrick Machining had in the business. She brings to the table over 20 years of business management talent.
"We've kept the entire staff," she said, adding that Bob Deedrick-John's son- is a welder for the company and will continue to do.
Batista said that they will manufacture products that are more precise, tighter and that have a high tolerance standard.
"We're talking steel mill work, thermal work with size ranges of 62/1000th inches up to 20 inches long," he said.
SHORT TERM
Batista said that in the short term they will work on training, the structure of the company, guidelines, reducing costs, working smarter and becoming ISO certified. ISO stands for the International Standards Organization. This organization issues certifications for those who meet their standards of quality.
"We are now ISO compliant, but our goal is to be certified," Batista said.
"Yes, it's a complete outline of requirements," Lampert said.
LONG TERM
Batista said that bringing in new customers, all while keeping existing ones is important. The company wants to bring in newer technology in order to diversify product.
"I see is doing a lot of streamlining, training and team building," he said.
Robin Canull-Fonner, an employee for 22 years and the current office manager, said the transmission was emotional and bittersweet.
"John was ready to retire, though, and enjoy his life," she said. "Ray had come in, and I was excited about the new ideas-machining ideas."
Canull-Fonner said that Batista and Lampert have made a successful transition.
"We have new software for the scheduling of jobs," she said. "It helps with supplies and shipping. This one little piece has already helped us with time-flow and better manufacturing."
DPM is located at 105 E. Market St., Sadorus. To find out more about Deedrick Precision Machining, call 217-598-2366 or visit http://adf.ly/1W2d84.