CLIENTS ARE NUMBER ONE by Bridget Broihahn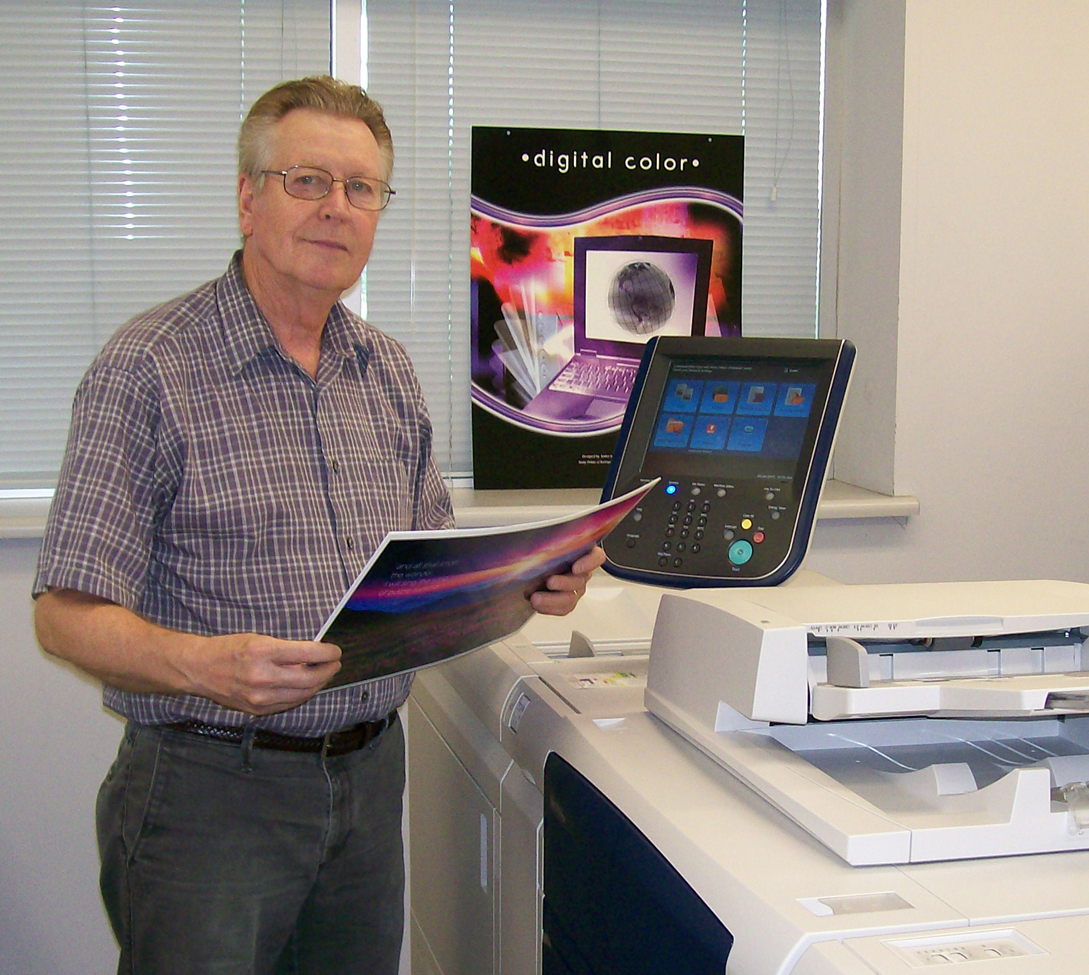 Photo by: Submitted
Insty-Prints was founded in Minneapolis in 1965 and began franchising in 1968. It has the distinction of being the first quick printing franchisor in the United States and eventually grew to over 350 locations by the middle 1980s.
After managing a Madison, Wisconsin location for five years, Rich and Roxanne Bishop purchased the Champaign-Urbana area territory in 1977.
"Business was good, and Insty-Prints grew to four locations by 1986. The four stores were consolidated into its current location on Mattis Avenue in 1993," Rich Bishop said.
Insty-Prints is locally owned and operated.
Bishop believes what sets the company apart from other similar businesses is simple.
"You have to take really good care of your clients," he said. "Without repeat business you won't last long in commercial printing. We keep very detailed records on what customers have purchased in the past. We also store most client artwork electronically along with previous job samples for quick turn around and color consistency."
PURCHASING
Bishop said that one area their franchiser is very good at is keeping the business up to date with the latest technology.
"Equipment and graphics software are all thoroughly tested before we purchase them. This research and development keeps us from making expensive mistakes and allows us to keep up with the latest industry standards. Some recent purchases includes a new digital press that produces beautiful color prints at 75 per minute, and in a few weeks we will be installing a new programmable paper cutter, which replaces two older models that we simply wore out," he said.
Software is another fast changing area that's difficult to keep up with. Insty Prints now gets Adobe graphics programs from the Cloud by subscription.
"I don't claim to understand it all, and rely on our Graphic Designer's for that," Bishop said.
PRODUCTS
Insty Prints still uses traditional offset printing with direct-to-plate computer technology for a large portion of their work. Examples of this would be forms, letterheads, envelopes, brochures, and longer run Every Door Direct Mail pieces.
"Now that customers require quicker turn around and shorter runs, we are shifting much of our work to the digital presses," Bishop said.
Some examples of the products that are produced at Insty Prints are business cards, brochures, postcards, and mail pieces.
"In the large format area we produce posters, banners, and yard signs," Bishop said. "Another item we do are labels in all colors, shapes, and sizes."
CONTACT
There are a variety of ways to get a hold of Bishop and his team.
"We can be contacted by phone, e-mail, fax, or our website. Files can be sent to our e-mail or downloaded to our website," he said.
Visit www.instyprintschampaign.com for more details.