Cleaned right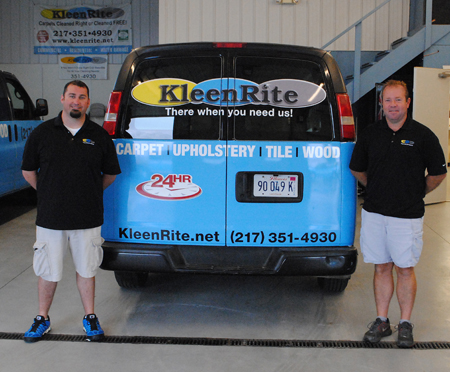 Photo by: Bridget Broihahn
It was a rainy Wednesday in early July. There had been lots of rain in the days prior, and since Central Illinois is known for its high water table- or underground water- it felt as if the crew at KleenRite was gearing up for emergency calls. The garage was spotless, as were the vehicles, but people were keeping busy, readying themselves. Everything was so shiny and clean that it sparkled.
"We offer 24 hour cleaning service, so, yes it can get busy," Candy Bonhan said. Bonhan is the office administration and operations coordinator for KleenRite.
Being prepared is something KleenRite is focused on.
"Opportunity favors the prepared," Chad Dial, operations and restoration manager said. Dial is a certified master water restorer, master fire and smoke restorer, journeyman textile cleaner. He joined the business recently after spending years running a similar, but much larger, business out east.
"I hired talent to give us the edge over our competition," Damon Hackleman said. Hackleman owns KleenRite with his wife, Darla Hackleman. "Nobody has the experience and the certification that we have in this area."
Hackleman is a certified master textile cleaner and journeyman water restorer.
A fleet of 14 vehicles- seven for carpeting, two for restoration and the rest for support- sit waiting in the lot, ready to go in a moment's notice. One is a "Touch-a-Truck," used for shows and gatherings, like the Champaign Park District's Touch-a-Truck day last spring. All decked out in North Carolina blue, grey, black and yellow, it's hard not to notice these immaculate vehicles. They also have 500 pieces of cleaning and restoration equipment. Soon, they will move KleenRite away from their current 6,500 square feet facility to a 17,500 square feet location on Country Fair Drive.
"Chris Saunders of Green Street Realty is helping with that, "Hackleman said. "It's going to position us uniquely."
Dial said that is the goal, too. Statistically, it's hard to market for those once-in-a-lifetime-disasters, so Hackleman and Dial feel they need to treat those cleaning jobs that they take on with excellence and care. They want to earn their customers' trust.
"It's how we end up at the end of a job that matters. We have a brand that we have built. We're the face of the company. We live and work here, too. We bend over backwards for our customers. Our motto: "Cleaned right, or cleaned free" is something we take very seriously," Hackleman said.
And he knows first-hand what it's like to start with nothing and what it's like to lose something in a disaster.
Hackleman started cleaning things years ago when he suddenly, after a successful stereo sales career, found himself "down-sized."
"I cleaned gutters, windows and anything else," he said.
Hackleman was a natural at cleaning and restoration: the two sides of their business. He also experienced a catastrophic life event -a flood- when he was a young man still in his parents' home. He had a basement bedroom.
"My room had four feet of water," he said. "I lost all of my things. I know how people feel about water damage."
As time went on, he created KleenRite in March of 1998, and concentrated on cleaning people's carpeting.
"Over the years we've come into restoration," Hackleman said, adding that the trust he had instilled into his customers had them requesting that KleenRite repair the damage they would get from water.
Hackleman and Dial are ready to grow the business into their new facility where they will offer classes on water certification to insurance adjusters. Dial is happy to be back in Illinois, too.
"I grew-up in Springfield. I am really glad to be here, closer to my family," he said.
Around the corner, in August, is the influx of University of Illinois students and the plethora of apartments KleenRite will be cleaning.
"You have to make connections and we've built relationships," Hackleman said. "We're ready for the surge of calls."
KleenRite offers many services for your home. Call them at 217-351-4930 or visit their website at: kleenrite.net.