Chamber names Chief/Bauer Heating and AC small business of the year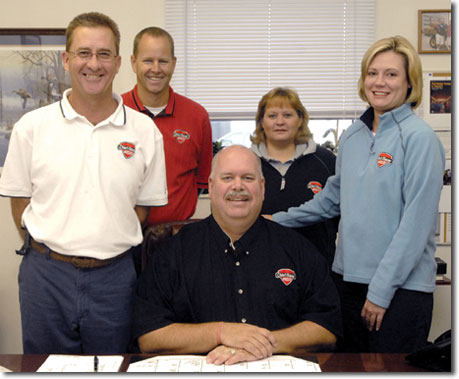 Photo by:
Since taking over as general manager of Chief/Bauer Heating and Air Conditioning in 1998, Rick Houchens has put his focus on wowing the customer, a move that has paid off.
The company's revenue has increased more than 25 percent each year for the past three years, and it was just named the Champaign County Chamber of Commerce small business of the year. The business is located at 520 N. Hickory St. in Champaign.
"The focus is on making sure that the customer experience is world class," Houchens said. "Just absolutely the best it can be. We implement a lot of of the principles of the Disney Company."
Houchens, of Urbana, works not to burn any bridges with customers.
"If we make a mistake, we admit that we made a mistake and do whatever it takes to make it right," he said.
"Customer satisfaction must be part of every employee's thinking, including little details like the way customers are greeted on the phone and where the service technicians park," Houchens said.
As a manager, Houchens believes in giving and building respect from the inside out.
"Your team players are just as important as your customers," he said.
He said he believes in empowering employees to make decisions and give feedback. "Allowing employees to speak freely and challenge processes is an important part of the success of the business," he said, principles he learned from reading about the management style of Walt Disney.
He also invests a significant amount of time and money on training employees on modern industry techniques, including North American Technician Excellence Certification, the most widely-recognized in North America in the HVAC industry.
"It shows our commitment to the highest level of training the industry has to offer," he said.
Houchens has worked for Chief/Bauer for more than 20 years, starting as a service technician. In 1956, Chief Gas and Oil opened in Urbana as a fuel delivery company and gradually changed to offer indoor comfort services and products. In 1997, a Texas-based company called Service Experts purchased both Chief and Decatur's Bauer Heating and Air Conditioning to create one company to service customers in Champaign-Urbana, Decatur, Bloomington, Springfield, Danville and outlying areas.
Champaign Chamber President Laura Weis said Chief/Bauer stood out as a winner because of its focus on growth, success and community service, according to the News-Gazette.
The award is given to a Champaign County business and a Chamber member. To be eligible, the business must have been in operation for at least three years; have a record of growth, integrity and community involvement; and meet the Small Business Administration's definition of a small business.
Chief/Bauer has installed a comfort system for a Habitat for Humanity house; sponsored the "My Favorite Book" program, which provides books for local schools; served as a Silver sponsor for the Krannert Center for the Performing Arts; and given more than $8,000 a year back to the community, according to the business's application for the award.
Houchens said he was happy to be presented with the award.
"It's one of the highest awards that a company can get," he said. "We're very proud of our accomplishments and very proud that the Chamber would recognize us because that's a group of businesses that I respect highly."
He said that for himself, personally, receiving the award validates where he's come as a business leader.
"I've clearly tried some things that didn't work and learned from those, and I've probably learned more what not to do as a business leader than what to do but have been willing to try some things and then omit them when they didn't work out."
Houchens credits his 25 employees for the success of the business.
"We just have the best group of individuals here that we could have, and they care about their families, our customers and our company," he said.
-- Greta Weiderman is editor of Central Illinois Business Magazine. She can be reached at (217) 351-5695 or ghale@news-gazette.com.