Central Illinois Business Customer Service Person of the Week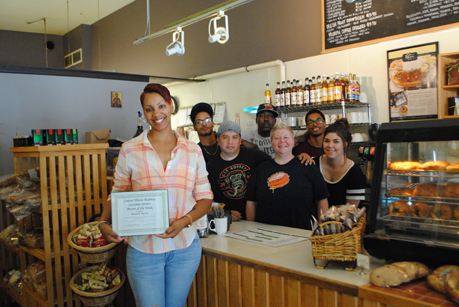 Photo by: Bridget Broihahn
The first ever Central Illinois Business Customer Service Person of the Week has been awarded to Danielle Mason of Pekara Bakery & Bistro at 116 N. Neil St., Champaign. Mason was recently nominated for this honor based on numerous excellent customer service experiences reported by community members and customers of the popular bistro.
Mason started at Pekara in March of 2014 and has been an excellent addition to their staff, according to Alli Nisley, general manager of Pekara.
"She's great at her job," she said.
Mason is known as the person that goes above and beyond for her customers, remembering food and drink items that they order, and making suggestions to enhance their dining experience. She has a pleasant demeanor, a wonderful smile, and is very kind and courteous to all who know her. One customer said that their work day goes smoother as a result of being served by Mason.
"She is really good at taking care of customers," Nisley said. "She's actually great at it."
Nisley is so pleased with Mason that she was recently promoted to assistant manager at Pekara.
This youthful mom of two and grandmother of three -twin boys recently, too- is energetic and organized. She said she is happy at Pekara.
"I love my job," she said from Pekara last week. "The staff is great and I enjoy being here."
"We love her," Nisley said with a smile.
Visit Mason at Pekara and congratulate her on a job well done!