Buyers' market creates opportune <br />time to purchase real estate in <br />Champaign County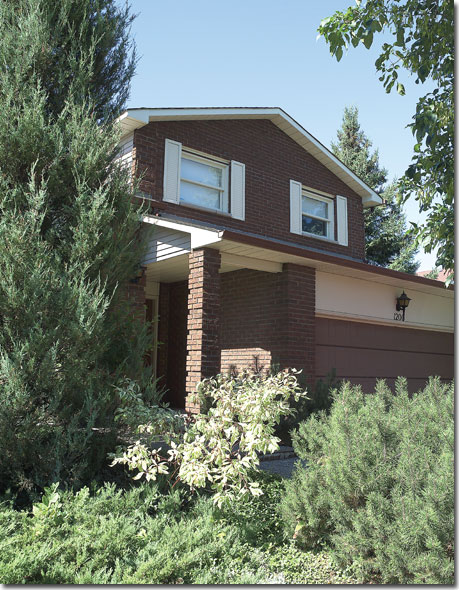 Photo by:
Cash flow is king.
At least that's what several Champaign Realtors think when it comes to investing in single-family homes.
If you don't think you can recoup the mortgage payment, insurance and real estate taxes in the monthly rent you would charge a prospective tenant, don't bother.
"In investment property, cash flow is king," said Champaign ReMax Realtor Eric Porter. "That's where people get stuck. They think they can make up the difference."
But it's not a good idea. Because of repairs, vacancies, property tax increases and day-to-day costs of maintaining a property, it's not a good way to go, Porter said. He and his wife, Champaign ReMax Realtor Davonne Porter, own several rental properties.
"I would never recommend it because it's a bad way to start out," he said.
He suggested buying the best possible location you can find at a price you can afford.
"Make sure that your rent is going to cover the payment plus a little more so you'll have the money for the extra repairs," Eric Porter said.
Realtor Betty Gauze, part of Team Gauze, Inc. at Coldwell Banker Devonshire in Champaign, doesn't necessarily believe you need to be able to rent a home out for the cost of the mortgage, insurance and taxes.
For example, if there is a $100 difference each month between the rent and the total expenses in mortgage, insurance and taxes, that creates a situation in which a person is forced to save $1,200 a year, Gauze said.
"I look at that as a forced savings, because the house is appreciating," she said.
Champaign ReMax Realtor Rick Wedig is a retired air force financial analyst who started purchasing single-family homes as investments in 1992.
"I just always thought, 'how can you go wrong when someone else is paying for your real estate,'" he said.
The first home Wedig purchased, on West Vine Street in Champaign, was in very bad shape, but it was also very inexpensive. Wedig paid $20,000 for it in the early '90s. Wedig and his brother spent about two to three months fixing it up, and Wedig has been renting it out since.
Fixing up an investment that's in bad shape works well for some but not others.
"If you have some carpentry skills or some background in home refurbishing, that's a good way to go," he said.
But Eric Porter said it's not the best way to go for everyone because of the time and expertise required.
Gauze said, "I always tell beginning investors to buy something that is pretty much ready to rent."
She also advised against spending too much money fixing up a rental.
Wedig owns about 25 different units, including single-family homes and a four-unit home. None of them are on campus, because that location is expensive and cost prohibitive, he said.
Wedig and his wife and business partner, Sue Wedig, specialize in selling homes as investments.
Important factors to consider when buying a home as an investment are location, condition, price and likeliness to rent.
Gauze said in late February that there were 1,749 listings available on the multiple listing system in Champaign County. Of those, 657 were available that cost between $59,900 and $159,999, a big selection.
"It's bargain time right now for an investor or anyone looking to buy a home to live in," Rick Wedig said.
In fact, $80,000 to $120,000 is a good range for a single-family home to purchase as an investment, Rick Wedig said. He favors purchasing properties in Champaign over Urbana because Champaign's real estate tax is lower than Urbana's, Urbana has a rental registration program and Urbana has a recycling tax, although he does own a few properties in Urbana.
Eric Porter said, "Real estate, especially here in Champaign, is a solid, steady investment, whereas stocks go up and down, real estate in Champaign goes up steadily."
Real estate is a good competitor with most other investments, he said, and it's best to maintain ownership of investment properties for as long as possible.
Rick Wedig said, "You're not going to get rich overnight here, but if you stay in it for the long haul, you can do well here."
Rick Wedig, Eric Porter and Gauze all said that most families could own at least one rental property.
Eric Porter said, "People are afraid of buying a rental property because they're afraid people are going to call them all the time with problems."
Gauze said she has always been an advocate of single home investing and often talks to clients who are looking for a new home about keeping their current home or condominium to rent out and still purchasing a new home.
"Single-family home investment for the small investor has proven itself many times over," she said.
Advantages of purchasing rental properties include tax benefits, equity build up and sheltering your income, Gauze said.
She suggested thinking about it as the board game "Monopoly" and stretching your money as far as you can by purchasing several different properties. If a person has $100,000 to invest, Gauze recommends investing in eight or 10 houses.
"The stock market can go up or down, but real estate is real," she said.
Jackie Martinie has made single-family home investments work for her. At age 18, while in college at Illinois State University in Bloomington, she bought her first investment property in Champaign and fixed it up during her summer break.
She used money she had saved from working at the Windsor of Savoy and Edison Middle School during high school and some money that had been left to her for the down payment.
To purchase her first home, she walked around with her dad, knocking on doors and asking if homeowners were interested in selling. That's how she got a great deal on her first home, paying in the mid-$70,000 price range. It was a 1,000-square-foot home in southwest Champaign. She repainted the inside and outside completely and landscaped it herself.
"The properties that I've had I couldn't have afforded to live in them," she said. "I had to have those renting paying the mortgage, taxes and insurance."
Martinie's mother was a real estate appraiser and Realtor and her father is a Realtor, broker and owns his own property management company, and both have helped advise her.
"His whole basic idea is, he came from nothing, and he was going to teach his kids the value of hard work," Martinie said. She started helping her dad fix up old homes when she was 8 years old, doing cleaning and painting.
She now owns five rental properties and is proud of the "sweat equity" she has put into each one. Her top piece of advice is to figure out how the numbers will work before purchasing.
"That is the ultimate question," she said. "How much can we get for rent?"
She also advised creating a budget and sticking to it.
"You can't make the home like you would make your own," Martinie said.
She has learned one lesson the hard way: Put everything in writing. She gave a tenant a discount to rent a home in exchange for him fixing it up. He skipped town and left without paying two months rent and trashed the house. But she enjoys the sense of accomplishment and security that property ownership gives her.
"If something major happens, I could sell one of the houses or pull money out of one of the houses," Martinie said.
- Greta Weiderman is editor of Central Illinois Business Magazine. She can be reached at (217) 351-5695 or gweiderman@news-gazette.com.