Built from the ground up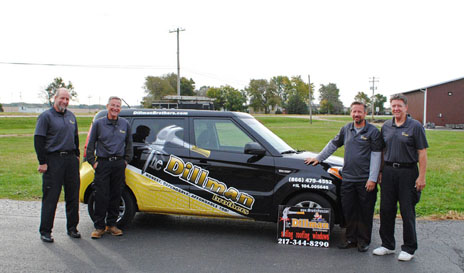 Photo by: Bridget Broihahn
Dillman Brothers has mastered the art of home remodeling. From a company that started with the father, Howard Dillman, in 1972 that focused on siding, this company has grown incredibly. Now, brothers Scott, Mike, Howie and Larry take the family approach to home remodeling, building and care.
The Dillman dad secured his family a great legacy with his entrepreneurial spirit. It takes guts to step out and take a calculated risk of owning a business. It takes foresight, a keen sense of prognostication, and an ability to adapt to the demands of customers. It takes great confidence to put one's ideas out in the marketplace, to expand and grow with success, and the wisdom to realize when an idea has failed, to reinvent the idea and try again. It's a fact that many entrepreneurs will accept defeat, get a new idea, and keep trying until something works. They're very doggedly flexible and extremely pragmatic.
And they work very hard.
"We started with siding and moved to installing roofs in the 1990s, Karen Dillman said.
Karen Dillman is the executive coordinator and Scott's wife. Scott is the president of Dillman brothers. Their sons, Kyle and Trevor work in the company now. Their nephew, Jeff Dillman also works for the company.
"Our nieces, Nicole Dillman and Ashley Crider-she's the office manager- both work for Dillman Brothers," Karen Dillman said.
They have a locations in both Urbana and Bloomington.
"Now we offer many services," Karen Dillman said.
Indeed. That flexibility to meet customer demands has seen the Dillman Brothers expand into home remodeling and design, windows, phantom screens, gutters, garage doors and screen rooms, as well as siding and roofs.
They're also available for odd jobs in the off season, which is important to Dillman Brothers, because they try not to lay workers off in the colder months when they can't work outside.
"We were at a home show and an older woman asked if we could change a lightbulb for her. I thought she was joking at first," Karen Dillman said.
An idea came from that request to change a lightbulb.
"I told her to make a list of any odds and ends that need taken care of in her home and we could come out and do them for her. The "Honey Do List" was born," she said.
The company is certified in five areas of builders and installers' standards and are members of six associations that pertain to local home improvements and construction. Their products are all warrantied and guaranteed.
"We believe in changing lives by changing living conditions. We're involved in various organizations and activities to help the community: Habitat for Humanity, restoration Urban Ministries, Empty Tomb, St. Jude's and Extreme Makeover," she said.
Three generations and still growing strong, and Karen Dillman said they have new ideas in the works.
To contact Dillman Brothers call 866-479-4552 or email them at info@dillmanbrothers.com. Their website is: dillmanbrothers.com. Or stop by either location at: 3509 N. Cunningham, Urbana or 407 N. Roosevelt, Bloomington.