Brothers combine skills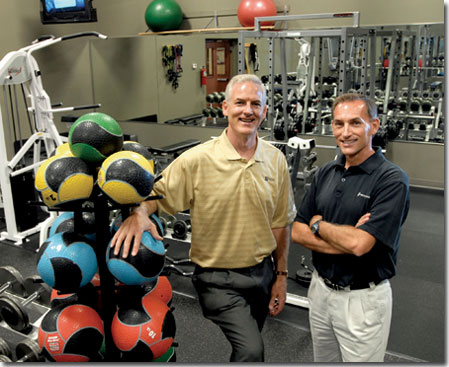 Photo by:
When asked about his business philosophy, Paul Mettler thoughtfully contemplated the right words before stopping and reaching for a Hallmark card on his desk.
Risk more than others think is safe, care more than others think is wise, dream more than others think is practical, expect more than others think is possible, the card states, a quote by Cadet Maxim.
I think this about sums it up, said Paul Mettler, owner of Mettler Center and Mettler Athletic. The card was a gift from his friend and mentor, Catherine Kleinmuntz, CEO of Strata Decision Technology in Champaign.
Beginning at Christie Clinic, Paul used his passion for physical therapy and genuine empathy for his patients to slowly morph his business into the fitness mecca it now is.
As Paul moved boxes and business ideas from Christie Clinic to Huntington Towers to above the Trade Center to the former State Street Plaza, he gained clientele and additional space.
One of the most pertinent moves was to the Trade Center, where the extra space allowed Paul to incorporate fitness into the realm of physical therapy, changing the course of the Mettler concept.
At the time, Paul's brother, Miles Mettler, was in a Ph.D. program at Arizona State University. After graduation, Miles became the general manager of Mettler Center and the two brothers combined their skills.
Miles said, With his knowledge and training in physical therapy and rehabilitation and mine in exercise and wellness, we decided to take what he had done with therapy and add a fitness and wellness component.
With a looming decision on whether to renew their lease for another three years or not, the Mettlers decided to go in a different direction.
The Windsor and Duncan crossing location looked like an ideal lot to build on. Within a year, the building was designed, built and occupied. At one time, it was the only building on that corner next to the lake.
We turned out to be a little ahead of our time, Miles said. It's just an ideal location to serve the southwest area. We're positioned well for the future out there.
The Mettlers maintain quality services to retain clients.
It's paying attention to their experience, Miles said. Are they getting the results they're looking for? Are they developing the relationships with our staff that we want them to form?
Paul attributes part of their success to the Mettler Release Technique, an innovative pain relief technique he developed in the early –s. At the time, Paul had a smaller client base and a lot of time to spend with each client.
I was totally frustrated with all of the treatment methods I had learned and studied and incorporated on my patients, Paul said.
One patient made an impact on his career. The patient came to him in severe pain. While trying to ease her pain, Paul became desperate for a way to help her feel better.
I prayed to God to have me find a way to help these people that have these chronic muscular-skeletal pain symptoms, he said. I believe the whole process of that discovery came from that moment.
After Paul worked on the patient for hours, she finally felt some relief. The next day, she was back in his office complaining of the same pain.
I was thinking, is this the best we can do? Paul said.
Finally Paul discovered a technique that gave his patients relief. It's done by pulling skin and tissue to release adhesions that cause pain.
Through further experimentation and research, Paul was able to explain why his technique was effective. He has a Service Mark, or a trademark used to identify a service, for the technique.
Paul also developed a patented side sleeper pillow that provides support for the head, neck, spine and shoulder. In a few months, it will be sold on the home shopping network QVC.
It's taken a lot of patience and persistence to get it to where it's at, Paul said.
Although Paul's innovations have put Mettler on the map, his dedication to the physical, mental, social and spiritual wellness of his clients has lead to its success and longevity.
At the crossing location, we're focusing on trying to work with the people who maybe have not practiced the best health behaviors up to this point in their life, Miles said. And they really need to focus on changing behaviors that caused those conditions they have.
The Mettler Center's 1,600 members can pick and choose from a variety of services.
Fitness classes, physical therapy, massage, child care, personal training, nutrition education and cooking lessons are some services that the Mettler Center's 80 full- and part-time employees offer.
This month, the Mettler Center will celebrate its 10th anniversary.
I would've never dreamed we would have morphed into a business like we have, Paul said.
The Mettlers noticed a demand for sports performance training for young athletes and tried to address it.
So, we did that at the Crossing, Miles said. In fact, we had a room dedicated to that for a while. But we really couldn't provide the type of service that type of conditioning needs.
For the past two years, Mettler Athletic has been in the works. Turf fields blend into a hardwood court covered by a complex series of nets that provide a soccer field or batting cages.
The Crossing location was designed to provide adult fitness, medical fitness and more specialized care, Miles said. But Mettler Athletic was designed to focus on true athletic performance.
Last year, performance enhancement was the fastest growing segment of the fitness industry, Miles said. The target market is age 9 to18, but it can also include adult athletes.
Participants can gain skills from experienced athletes to hone the technical aspect of their particular sport.
Because of the ideal location at 1809 S. Neil St., Miles thought it a good idea to integrate a membership for general fitness as well.
We'll be able to have 700 to 800 fitness members at this location, Miles said.
The new facility needed to be special to have an impact on the community, since it was overlapping service markets with the Mettler Center, Miles said.
The response has been great, he said. When people come into the facility, it's a big league facility. We have professional athletes who come in and they can't believe we have a location like this in Champaign-Urbana.
- Emily Fletcher can be reached at (217) 351-5244 or efletcher@news-gazette.com.