Banking power houses to merge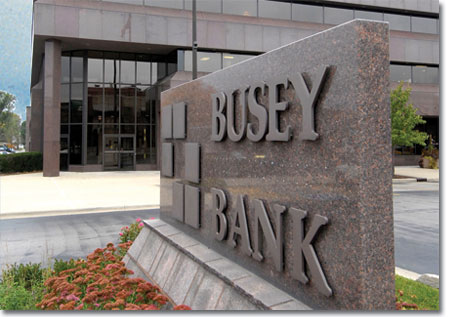 Photo by:
In a couple of months, Urbana will house the corporate offices of one of the nation's 100 largest banks.
The Busey and Main Street bank merger will be complete in November.
It will create one banking entity capable of filling a local need for larger, longer-term commercial loans previously only available through mammoth, out-of-town banks.
It certainly will have a significant impact from a lending capacity standpoint because of the asset size we're going to be in and the capital structure we're going to have, said Lee O'Neill, the chairman and CEO of Busey Bank. It will increase our legal lending limit authority, which is how we base what size of loans we can advance.
O'Neill also said the merged banks will be able to offer more cash management services to business than previously, such as more efficient lock boxing of accounts receivable and more deposit accounts.
Van Dukeman, the president and CEO of First Busey Corp., said Busey will move from the number three or four spot in market share in Bloomington-Normal to the number one market share there. Busey has about 45 branches in Illinois.
Another advantage is that Busey Bank has had preferred lender status from the Small Business Administration for nearly 25 years, which allows it to make its own decisions on small business loans and expedites the process of letting customers know whether or not they will receive a small business loan. Main Street Bank did not have this distinction.
The two wealth management groups will merge in December, Dukeman said. Busey plans to grow its wealth management group, which is the sixth largest wealth management group in the state, Dukeman said. Busey plans to compete aggressively in this area throughout the state.
With any merger, there are always questions of clashing corporate cultures and layoffs.
Dukeman said both banks have similar corporate cultures and that attrition will handle most instances of duplicate employees the merger caused. But O'Neill said layoffs are a possibility.
Because of all of the work to be done to complete the merger, the new bank will not be able to be as generous with its employees' volunteer hours, at least initially, O'Neill said.
Long term, we'll be as supportive in the community as we've ever been, both as financial support and people support, O'Neill said.
O'Neill and Dukeman stressed that the new Busey Bank will offer as much community support as the two separate entities did before the merger.
We think it's critical that we continue to support this community, O'Neill said.
The merger comes at an economically unstable time. But Dukeman said he sees the subprime mortgage debacle as an opportunity for Busey Bank, both in Illinois and Florida.
He said large lenders who generously granted subprime loans and got into trouble are becoming extremely conservative in their lending, which creates opportunities for other banks, like Busey, to make good, solid mortgage loans, especially in Florida.
Florida's been in the news as being a place where there's been more of that speculation, more of that aggressive mortgage lending, Dukeman said.
Bank officials announced the merger in September 2006, although it was being planned much earlier than that. First Busey Corp. and Main Street Trust, the two banks' parent companies, merged on July 31, creating a company with $4.2 billion in assets and operations in Illinois, Indiana and Florida.
- Greta Hale is editor of Central Illinois Business Magazine. She can be reached at (217) 351-5695 or ghale@news-gazette.com.