Architectural Style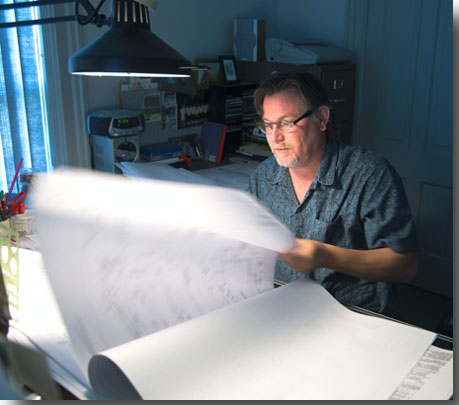 Photo by: John Dixon
Andrew Fell may be the busiest local architect you've never heard of.
His firm, Andrew Fell Architecture & Design, occupies a small office on the second floor of a two-story house near downtown Champaign. He has three employees who work remotely.
But Fell had 63 projects last year, including:
• An "unusually long and skinny" duplex under construction near First and Armory in Champaign.
• An elaborate "second home" in rural Mahomet for a Chicago area attorney. The home, built last fall, was to include a four-story tower and overlook a tributary to the Sangamon River.
Fell, 52, of Urbana said about a third of his work is multifamily residential, a third is commercial and a third is single-family residential.
Perhaps his most recognizable building is the four-story "leaning out" duplex at 1004 S. First St., Champaign, built for apartment developer/tavern owner Scott Cochrane.
"That's given us the most notice," Fell said. "The footprint was so small, it forced us to do something like that."
Among his other local projects:
• The Distillery, a four-story, eight-unit building at 25-29 E. John St., Champaign.
• The Stratford Residences at 202 N. Race St., Urbana.
• The renovated Spiros Law Office building at Fourth Street and University Avenue in Champaign. The building once served as a hotel and later housed the Ginza flower shop.
• The renovated Wagner Storage Building at 301 S. Water St., Champaign, for town homes.
He has done residential renovations for several University of Illinois professors and calls single-family residential work "the most fun" -- though not the easiest.
A native of Morrison in northwestern Illinois, Fell received his undergraduate degree in architecture and a master's in architectural design from the University of Illinois.
He worked successively for Russ Dankert, Gary Olsen and the Gorski Reifsteck firm.
In 1999, Fell took "a leap of faith," starting his own firm in the office he still occupies today. He initially worked on small residential additions, a couple new homes and some small commercial projects. Eventually, he did "a fair number of apartments on campus."
Fell said "the opportunity to do apartments on campus is shrinking" as developers find it harder to assemble enough land for projects.
As for his own business, Fell has purchased the former Blind Man building at 515 N. Hickory St., Champaign, and plans to move his office there and add a second story for apartments.
He said the location is ideal: close to downtown, easy to find, with light traffic on Hickory.