About community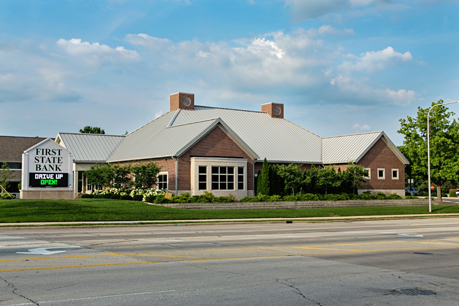 Photo by: Bridget Broihahn
First State Bank is daring to be different. And at first glance they seem like any other customer oriented bank. But, look a little closer and it becomes very clear that this banking institution is not only investing money, they are also invested in customers, the community and their employees.
In fact, FSB is a community bank, which simply means that FSB sees itself as an integral member of the community, as well as making a profit. The original charter was established in Monticello in 1945, which remains the headquarters to this day. They have offices in Champaign, Bloomington, Heyworth, Atwood, Hammond and Tuscola.
Anne Matalonis, vice president of marketing and development for the bank's holding company, First State Bancorp, Inc. said that FSB is committed to being different than other banks and they are willing to prove it.
"We are always about what's best for the community, not just what's best for the bank," she said.
Matalonis said an example of this is when it may have been more financially solvent for the Monticello office to move to the outskirts of town when they needed a better facility, they didn't. Now, instead of an empty downtown building, Monticello has a newly refurbished office.
"We remodeled and we stayed downtown," Matalonis said.
FSB president, Michael Atwood said their biggest investment is people.
"We have all of the same products that the larger banks have," he said. "But, we have service."
Matalonis said that with technological advances, the gap that used to exist between smaller banks and larger banks is no longer an issue.
"Technology has bridged the gap between the mid-size community bank and the large national chains," she said.
Atwood added that even though their footprint is regional, technology gives their customers the ability to have access to their funds immediately, no matter where they may be: at home, away at college, or on a vacation.
"It's how we view our customers and how we treat our customers that distinguishes us from other banks," he said.
He said another difference is the Employee Stock Ownership Plan. FSB employees own 100 per cent of the bank. In 2013, the multi-bank holding company became one of the few banks in the country that are totally employee-owned. The News-Gazette reported that in 2013 there were between 10-20 banks in the entire nation that are totally employee-owned. Back then, upper management and board members took a hard look at what was happening in the marketplace. They didn't relish the thought of selling the bank. They didn't want a larger bank to diminish the importance of the local community if they were to acquire FSB.
However, they wanted to be fair and profitable to the owners. So, they came up with the ESOP, and it's working out well.
"Our employees have ownership. They're invested in the business-their business," Atwood said.
Another big difference is that they service all of their products locally. Many times a financial institution will sell off a bank note or loan to another entity. While this may happen at FSB, they will always service that loan. The customer may never realize the loan has been sold, because FSB will always be their go-to bank for any questions or concerns they may have about their loan.
"Problem resolution with a community bank is always within reach," Matalonis said.
Vice president and commercial lender, Jim Miller, said that their main advantage is reaction time and decision making.
"We had a large corporate project that were working on. We met with the borrower on Friday, sent the application out on Saturday and it was approved by noon on Monday," Miller said.
With a national chain bank, it could take months to get that sort of approval, he said.
Atwood said it's how FSB does business, not where they do business that matters.
It's the cornerstone of community banking, according to Matalonis. And it works. Familiarity, stability and longevity are the direct correlation of consumer confidence, she said.