A legacy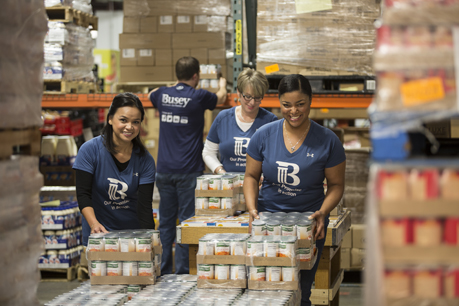 Photo by: Bridget Broihahn
Imagine starting a company today, and the dollar amount that was invested in that company nearly doubled its return on the very first day of business. Although it sounds impossible, it actually happened when two brothers, Simeon Busey and Colonel Samuel T. Busey, joined their business partner, Dr. W.R. Earnhart, to open Busey Brothers and Company Bank in Urbana on January 13, 1868. The three men invested $11,000 to open the doors and during the first day of business took in nearly $10,000 in deposits.
The bank was Samuel's idea, initially, and he was also its first president. He was one of Urbana's leading citizens, characterized in Champaign County history as a "soldier, banker, patriot, and public-spirited citizen." Samuel served as mayor of Urbana, president of the Urbana Board of Education and congressman from the 15th District of Illinois. With a start like that, it's no wonder Busey is where it is today.
It's pretty impressive that First Busey Corporation, a $5.5 billion financial holding company, and its subsidiary--Busey Bank--with total assets of $3.9 billion, started right here in Champaign County. Busey--which also operates Busey Wealth Management, FirsTech, Inc., a retail payment processing company, and Trevett Capital Partners, a wealth management division of Busey Bank--is now headquartered in Champaign and serves countless customers and communities in Illinois, Indiana, Florida, Missouri and beyond.
Their vision of helping others achieve dreams of their own; from buying homes and opening businesses to saving for retirement and college, remains today at Busey. The organization guides customers in each stage of life through the expertise of their more than 1,300 knowledgeable banking and wealth management professionals.
From their 48 banking centers, 87 ATMs and robust mobile and online banking solutions to their customer reach, a great deal has changed at Busey since their humble beginnings in Urbana, but what hasn't is their dedication and commitment to their associates, customers and their communities. Busey partnered with nearly 700 charitable organizations last year alone to serve an impressive 15,375 hours. It's not just about doing business for Busey, but doing well, and fostering a culture of service among their associates and community members.
"Busey is a company that cares; giving our associates opportunities, resources and time to volunteer throughout the year," says Cathy Clough, Busey volunteer of the year award recipient and branch manager. "By teaming together, neighbors helping neighbors, Busey and our associates bridge needs and positively impact our communities, one project at a time."
Busey's community effort, Community Promise Month, which Busey established in 2012 is a month-long initiative in April, which encourages associates and community members to partner together and participate in community projects to build strong, vibrant neighborhoods.
"Community Promise Month is about inspiring and encouraging everyone, not just Busey associates, to create change through teamwork," says Chris Shroyer, president and chief executive officer of Busey Bank. "With assistance from local volunteers, we partner together to serve charitable organizations and fulfill Busey's promise to bridge the needs of our communities."
With dozens of volunteer opportunities, associates and community members select events during Community Promise Month that fuel their passion for helping others. Opportunities range from packing meals for the hungry and serving food to the homeless to stocking shelves at a consignment store.
By encouraging their associates along the way, volunteers served nearly 8,000 hours with hundreds of charitable organizations during Community Promise Month since its inception--and their initiative continues to grow each year.
"Busey encourages and aids their associates in finding ways to use their time and talents," says Mary Noel, associate director of community engagement for United Way of Champaign County. "Whether serving on a Community Promise Month project, as a committee or board member or through the United Way annual campaign, their involvement makes our community a better and brighter place. We're lucky and so grateful to have an organization like Busey in our community."
Beyond traditional volunteer opportunities, Busey makes it easy to give back during Community Promise Month through innovative online giving. By harnessing the collective power of and engaging with their more than 17,000 followers on social media, they raised much needed funds for food banks and other critical services.
Through Promise a Plate, Busey helps alleviate hunger with 1 simple click--allowing social media followers to donate as many as 30 meals to families in need. Since its inception, nearly 60,000 meals were donated to benefit 6 food banks--including Eastern Illinois Foodbank in Urbana, which serves 17 counties throughout Eastern Illinois.
Volunteering in the community and educating their neighbors about important financial topics go hand in hand for Busey. The organization partners with and educates their customers and community members through a variety of complimentary tools and resources--including their semi-annual financial magazine, The Pillar, which is available now on busey.com and covers trends in personal finance, investing, business and agriculture--to name a few.
To educate future generations, Busey created their MoneySmart Youth program. The initiative helps children ages 5 to 10 learn the importance of money--how it's used, earned, saved and taxed--through engaging videos and interactive worksheets on busey.com. Lessons include Understanding Money, Priorities, Smart Ways to Spend, Donate & Invest and Taxes & Credit.
"Students in our pre-k class participated in the MoneySmart Youth program. They really enjoyed the presentation and tour of Busey," says Serita Palmer, Educator at Chesterbrook Academy in Champaign. "Students were enthusiastic, attentive and engaged--proving it's never too early to teach children about money."
Busey was also chosen among the 2016 Best Places to Work in Illinois by Best Companies Group and their associates. The awards program identifies, recognizes and honors the best places of employment in the state. Busey was also awarded a "Community Partner" 2016 STAR (Service Together Achieves Results) Award by the City of Champaign.