2015 Forty Under 40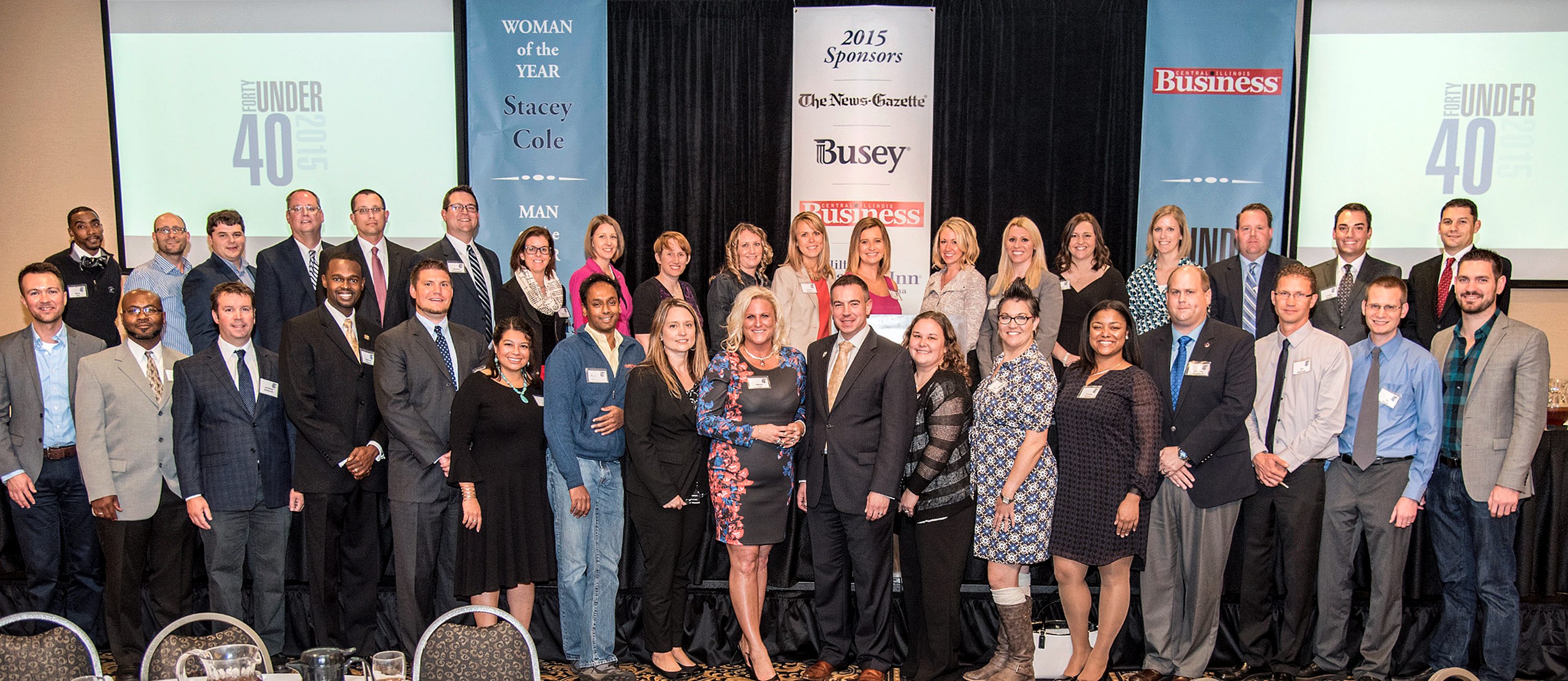 Photo by:
Woman of the Year
Stacey LaBrecque Cole associate director of development, college of ACES, University of Illinois
Stacey LaBrecque Cole has a way about her- a passion, a purpose. She has an undeniable presence, and this young professional has put it to good use.
"I never turn one person down," she said from her ornate orange and blue office at the college of agricultural, consumer and environmental sciences, better known as ACES on the University of Illinois campus. "I'm human and so are they."
Cole spearheaded the "Students Helping Students I Pay It Forward Campaign" that was launched in April of 2014. Kids helping other kids to stay in school by donating a dollar here and a dollar there. She is a 15-year veteran of ACES, serving currently as the associate director of development.
Well, it worked. They raised $19,000 in mere weeks, and 87% of those donations were from students. According to Wendy Pinkerton, senior partner of Demeter Communications, Cole is outstanding in raising private support. She secured $1,000,000+ in private support last fiscal year using knowledge of best practices and planned giving vehicles.
Cole said the idea hit her at three in the morning. The idea was a culmination of ideas she gathered while dealing with a tragedy she had in her own life with her son Kody, who is legally blind and has albinism. She became a mother at 19, her self-professed, most important job.
Being a single mom was hard enough, but Kody's dad was abusive. She knew they were meant for better. She enrolled at Parkland Community College.
"I remember being at the bus stop, and there was Lou Henson! We started talking, and he told me something I will never forget," she said. "He said, "Don't ever quit school!" He was a coach. His job was to keep kids in school. He was just doing his job. He will never know how much his words meant to me. They kept me going."
Stay in school she did. After graduating from Parkland, with honors, she moved on to the University of Illinois.
"I admire Stacey's intelligence and drive that enabled her to graduate Summa Cum Laude from the University of Illinois while raising a special needs son as a single mom, working three jobs simultaneously, and ultimately achieving a very successful career at the University of Illinois," Deborah Tedrick, Cole's prior supervisor and friend.
However, every parent knows that there are times of struggle. The abuse that she and Kody suffered in his early years took a toll on them both. Kody had some trouble.
"Kody said that he didn't want to live anymore," Cole said. "I needed to get him help."
Well, help costs money.
"I started selling all I could to get him the help he needed," she said.
It just wasn't enough. She made a selfless decision to put her family's need out there for all to see. She started a Go Fund Me campaign.
"I put our issues on social media," Cole said. "I received an unbelievable amount of support. He didn't have a voice. I had to be his voice. I'm going to save my child."
The financial gifts poured in.
"I just cried. Even in a month, it gave me hope. What better gift than to invest in a young person? We finally had the means and my kid needed help," she said. "Extended and excruciating pain will render you unconscious."
Kody went to a facility in Georgia. He finished his high school diploma. He now works at Fed Ex.
"Throughout all of this, I kept a book of inspirational quotes. My book is called, "Ridiculously Good Ideas." I would hear things that would resonate with me. I started writing these down," she said.
It was at that point, at 3 a.m. that one important morning; that she sat straight-up in bed out of a sound sleep. This dedicated woman, with an eye always open for her students' needs, had an epiphany.
"I started writing down this idea. I had my permanent marker and I went to work," she said.
The Pay It Forward, Students Helping Students Scholarship Campaign was born.
"It was also my way of saying," Thank you" for the support I received," she said.
The idea was developed. A student advancement committee of 35 ACES students was put together. They decided scholarships were needed and they wanted them to go to kids who were at-risk of leaving school.
"Who gets these scholarships are kids that fall in the middle, their parents aren't rich, but not poor, either. They have no other scholarships. We knew they may be at-risk to leave school. That's who we decided to help," Cole said.
They decided to visit classrooms. So, off Cole and the committee of 35 went.
"We went to every class and club that would see us. I had a scripted presentation. When comfortable, the students would take over," Cole said.
Cole said she saw a boy tentatively raise his hand while they visited one classroom. He was waving a bill. He was sitting in a seat at the very top of a large lecture hall. She made her way up the stairs, and took his dollar.
"I turned around, and I saw all these faces turned towards me. There were hands waving in the air, all holding out money for us," she said. "It took my breathe away."
Then, students started giving monetary gifts online, too. In a month, they raised more than they had made in the past year.
"The rush we had was unbelievable. I filled the atrium of the library with their faces," she said referring to the "I-Bucks," the orange and white papers that had the name of every student that contributed written on them.
Cole hung up 1,100 of those I-Bucks. They lined the hallway and snaked their way up the atrium of the library.
When all was said and done, Cole reached out to the 17 recipients of Pay It Forward.
" "I want to know you," I said to the students. Dexter Smith reached out to me. He is an Ag/Bio engineering student from the Southside of Chicago. He made the cover of ACES magazine," she said.
Smith was recently an honored guest at an ACES luncheon. An ACES tradition has solidified itself and will keep at-risk students in school.
"Stacey is a strong believer in the transformative power of higher education," Douglass Yore, mental health clinician at Carle Physician Group, said.
Though Cole credits the UI Student Advancement Committee for solidifying the program, many of her colleagues will relay that she brought I Pay It Forward to life. She had an unprecedented 15 nominations and over 45 pages of accolades from colleagues touting Cole for Forty Under 40 Woman of the Year.
"Having worked with Stacey LaBrecque Cole through my time as dean of the college of agriculture, consumer and environmental sciences and more recently, president of the university, I am absolutely delighted to learn of her selection as woman of the year. Her commitment to the college, students and faculty is amazing," Robert Easter said.
Robert A. Easter, Ph'D is president emeritus, dean emeritus, college of agricultural, consumer and environmental sciences and professor emeritus animal sciences, University of Illinois.
Man of the Year
Matt Difanis, broker-owner, J.D., realtor RE/MAX Realty Associates
When Matt Difanis was in law school at the University of Illinois, he sold real estate in his spare time.
"I started in real estate at age 22 and through some insanely hard work-including three years of virtually no sleep while simultaneously in law school- built my business from nothing to operating a $25+ million volume team and co-owning a $300+ million volume market leading firm," Difanis said.
Difanis said that he started out in the MBA program, but it wasn't the right fit for him, so he switched to law, and he also doubled his real estate business during that time. It seemed to him that he should stay in real estate.
"I worked my tail off to build a referral base," he said.
His sister, Katie Difanis, a case manager at Community Elements said he is more than successful, however.
"Matt loves to work with and for people. He'll do whatever he can to make sure his clients get the best service. In addition to being a realtor, Matt was able to obtain his juris doctor degree," she said.
Difanis insists that he is only as good as the people that surround him: his assistant Tracy Wilson, whom he said he has empowered to work on his behalf; media specialist Katelyn Rose, whom he trusts implicitly; then owners Russ Taylor, Nick Taylor, both of whom Difanis said are at the top of their games; plus, Tom Roth and Bill Craig. Difanis said they are a team of business owners that makes for a complementary, but somewhat overlapping group of powerful leaders.
"I am able to spin a lot of plates simultaneously with the help of talented people," he said. "I aspire to provide a level of service so people will feel like my only client. I have to work very hard to do it."
He is well regarded by his colleagues. He has been 2012 Champaign County Association of Realtors President and 2013 Realtor of the Year.
"Matt has just been named the 2016 treasurer for the Illinois Association of Realtors, which will result in Matt moving through the officer positions and becoming IAR President in 2018," Max McComb, a broker with RE/MAX Realty Associates.
This will result in Difanis being the youngest president in the history of IAR.
"This will be my opportunity to leave the industry better than I found it, in so far as ethical standards, our trade and protecting private property rights," Difanis said.
He still finds time to help others. He volunteers times at Windsor Road Christian Church, The Mahomet-Seymour School District, Central Illinois Honor Flight and the Mahomet Area Youth Club, or MAYC.
"As the president of the Mahomet Area Youth Club board of directors, Matt Difanis has provided exceptional leadership resulting in continued improvements in the programming the organization provides. His ability to listen, facilitate the discussion of ideas and ultimately make decisions truly benefits the club and is resulting in tremendous growth in participation and opportunities available for the children of our community," McComb said, and is also the vice-president of the Mahomet-Seymour Board of Education.
Katelyn Rose, media and technology specialist for RE/MAX said that Difanis has donated tens of thousands of dollars and countless hours to not-for-profits.
"As proud as I am of my own record of giving, I am most proud that my wife and I are raising our children to live and breathe a culture of giving. My son spent his 10th birthday on December 26 in a sweltering hot gymnasium in Metro Manila, along with the rest of my family, distributing gifts, shoes, groceries and a hot meal to 300 of the poorest children in the same neighborhood where my wife grew-up...the same neighborhood where she begged for food at the open air market when her family was too poor to buy groceries," he said.
Madeline Hoeft, an agent for RE/MAX Realty Associates, said Difanis is the epitome of today's "Renaissance Man."
"He loves being with his beautiful family, is an avid runner, is one of the owners of RE/MAX Realty Associates and very active in real estate leadership on both county and state levels, volunteer extraordinaire - at church, Mahomet Youth Club, Honor Flights, and internationally in the Philippines. He has a great sense of humor, is a tireless worker, and someone we are all glad to call a friend," she said.
Difanis photographed more than 30,000 images for Central Illinois Honor Flight as a volunteer from 2010 to 2012.
"I have said many times that I will forever be a better person thanks to the time I got to spend with those hundreds of heroes whose collective efforts literally changed the course of human history. I have spent time with veterans who have: pushed a stuck car out of a snow bank alongside General Eisenhower; loaded the bomb bay of the Enola Gay before its fateful mission to drop the first atomic bomb on Japan seen the flag raised at Iwo Jima with their own eyes; survived the Japanese sneak attack at Pearl Harbor; become one of the first women to earn her wings in the Marine Corps; and nearly been captured by German soldiers when the front line suddenly shifted during the Battle of the Bulge while working for the Red Cross distributing coffee and doughnuts to troops near the front line," he said.
Difanis is emphatic that he is just a regular guy that likes to help others.
"Honestly, he is always ready to sponsor someone, the first to step-up, the one to make a difference and get things to happen," Marcius Moore, CEO of MAYC said. "There are those of affluence that have money, so they donate, and that's good. Or those that have time, so they donate their time. That is also good. Matt Difanis does good works with both his time and his money. There are a lot of people out there, especially in Mahomet, that do well, and they do not give back. Matt does and then some."