Sign of the times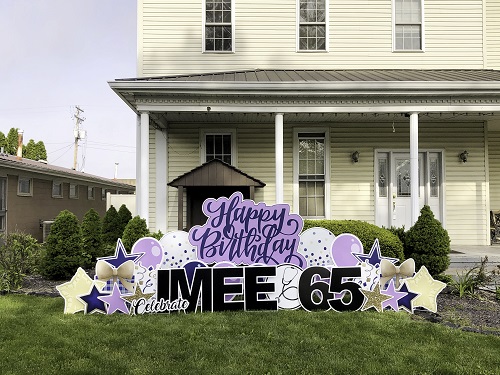 Photo by: Robin Sholz
It started as a hobby for Tara Steinert, a way to provide supplemental income alongside her full-time job in the insurance industry.
The 1994 Oakland High School graduate received her first Sign Gypsies materials shipment in July 2019. The result was a display in front of her Tuscola home including large, black text that read "14 YEARS!" in recognition of her wedding anniversary with husband Daniel.
"I was looking for something to provide more fulfillment for me personally," Tara Steinert said. "I thought, 'If this is a way I can do something that brings happiness and joy to others (I should do it).'"
What began as Steinert taking between five and seven orders per month, however, has grown into the 44-year-old mother of two providing a lot of happiness and joy to a stream of new customers.
The COVID-19 pandemic is a key reason.
With social distancing measures in effect since March, people are seeking different ways to celebrate events and achievements or show appreciation for those they can't physically be in contact with.
Sign Gypsies is helping with that. The organization, according to its website, boasts more than 350 locations across the United States - Steinert's Tuscola garage being one of them.
She's placed signs for birthdays, anniversaries, graduations, returns from deployment and general well-wishing.
What does this equate to on the business front?
For the week of May 3-9, Steinert said she executed 53 sign orders across Champaign and Douglas counties.
The biggest single-day workload she's completed during the pandemic is 12 or 13 signs, at a cost of between $75 and $100 per package.
"Sleep is minimal," Steinert said. "It's been crazy. I just do my best to try and manage everything from A to Z. ... I work from 6 a.m. to 10 p.m., essentially. I'm working on efficiency, because this is not sustainable."
To that point, Steinert has hired a team of five to assist in sign installation, sign removal and taking orders. Steinert's 10- and 8-year-old sons also get in the act at times.
Steinert began fielding more and more requests for signs after she decided to use her materials to spread cheer at area nursing homes and show support for local hospital employees, installing free-of-charge signs facing those buildings' windows.
"Ultimately, when I put a sign in a yard, it grabs the attention of five to seven more orders that come in," Steinert said, "saying, 'Hey, I didn't know this existed. Can I do a birthday sign next week?' It's been fun, and it's been a whirlwind."
Steinert also was drawing interest through Facebook and giveaways at area schools prior to the pandemic.
These days, she's having no issue drumming up business simply by installing more and more signs. The signs are purchased on a rental basis. Steinert and her team aim to have all of a day's signs in place by 10 a.m., starting setup as early as 6:30 a.m. Steinert's crew then pulls all of the signs by 7:30 or 8 p.m. that same day.
"That allows for it to come to home base and basically be repackaged to go into the next yard," Steinert said. "A sign may be for an 11-year-old today, who likes gymnastics and volleyball, and then tomorrow it's for a 94-year-old woman who loves her family and to read and flowers. We basically have to change it to make an entirely different look." 
Steinert soon will incorporate a new supplies shipment into her fleet, which she hopes will allow her team to keep signs in the ground overnight and pick them up the next morning.
"That's what I'm going toward," she said, "now that the demand and the need is evident."
The limited range of cost, which fluctuates based on how many elements are requested in a sign package, also is opening more pocketbooks in Steinert's direction. "We want it to be at a good price point that is afforable," Steinert said, "and make this a desirable product."
Steinert currently isn't looking for a brick-and-mortar business location beyond her garage, though she noted Champaign would be a likely spot should demand continue at this pace post-lockdown and post-pandemic. The only area she currently isn't servicing in Champaign and Douglas counties is Rantoul, and Steinert said she's "working to get someone there soon."
Steinert's efforts aren't merely helping those who purchase the signs, either. She recalls an elderly woman approaching her during a sign installation a couple weeks ago and telling Steinert how the gesture made her day - despite it not being for the woman.
"I still think this will continue to some degree once everybody can go out and about," Steinert said. "I'm probably going to be running two businesses."