Recipe for success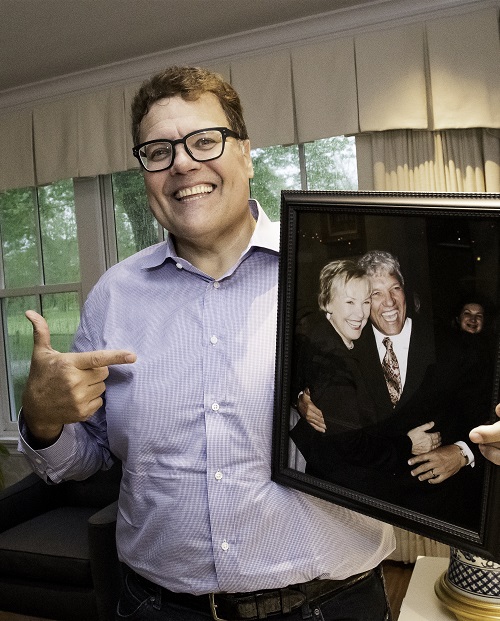 Photo by: Robin Sholz
Six meats. One cheese. Two breads. Twenty-five different sandwiches.
It's a refrain Jimmy John Liautaud likes to repeat.
He likes things clean and organized, whether it's the fridge at his house on Armory Drive in Champaign or the menu of the sandwich shop he founded.
The organization helps him and Jimmy John's focus on excelling at a few things, rather than being mediocre at a lot.
"That's the genius of it," Liautaud said.
It's a lesson he learned from his father, James P. Liautaud, an inventor who worked with plastic injection molds for antennas and radios.
"He was the master of the 15-ton press," Liautaud said.
While other factories had a variety of presses, his father's company only had to keep spare parts for the 15-ton press. They became experts in repairing and operating them, and it helped keep his margins higher than his competitors, Liautaud said.
He was "so good at doing so much with so little," Liautaud said.
When his father lent him $25,000 to open the first Jimmy John's in 1983 in Charleston, he was told to keep it simple, Liautaud said, "just like his 15-ton presses."
Jimmy John's menu now has more than the four sandwiches it originally had, but for the most part, the menu has remained simple.
He tried salads in the early 1990s at a shop in Lombard, but they slowed down the process and the garlic taste from the baked croutons stuck in the oven.
He also tested toasted subs around 2014 at the Jimmy John's on North Prospect Avenue, which Liautaud said tasted great but the toasters made the store smell like smoke, and it would take 78 seconds instead of 30 seconds to make a sandwich.
Customers also insisted the toasted subs be delivered, even when they were told it'd be cold by the time it arrived, Liautaud said. "Guess what they complained about when it was delivered? That it's cold."
So Jimmy John's has kept it simple, making its variety of sandwiches from six meats, one cheese and two breads.
The second bread - wheat - was added in 2018, and last year, Jimmy John's introduced the Little John, a skinnier, smaller version of its original sandwich.
It was one of the last products Liautaud created for Jimmy John's before it was sold in October 2019 to Inspire Brands - the parent company of Buffalo Wild Wings, Sonic Drive-In and Arby's - and Liautaud became an adviser to the brand.
The Little John is "a smashing success," Liautaud said.
While the Little John added new sandwiches to the menu, Liautaud noted that no new ingredients were added, and the existing bread was simply stretched out.
"We added nothing," he said. "The most genius ideas are the simplest."
When he opened his first store, he learned another lesson from his father that Liautaud said has guided him since: always pay COD, or cash on delivery.
That way "you live in reality," Liautaud said.
Liautaud tracked his store's balance every day, and by May, it reached $18,000, and by the end of the first year, the store made a $40,000 profit.
He paid off the loan from his father, plus interest, in 1986. In fact, Liautaud said Jimmy John's still pays all its bills the day they arrive.
"I don't have any debt," he said.
It was a lesson his father learned the hard way, having to file for bankruptcy twice, once in 1972 and again in 1976.
The first happened just after the family had moved from Hoffman Estates to a new house in Cary, and his dad said they were going to have to move out.
His father was only able to emerge from bankruptcy after scraping together $10,000 from his father and his friends, Liautaud said.
Four years later, his father's antenna design was stolen by his top lieutenants, Liautaud said, and his father was only able to get by with an investment in his business.
"My dad vowed to never run out of money ever again," said Liautaud, who choked up as he recalled this.
Liautaud said they struggled financially at times, with his mother sometimes resorting to powdered milk before the next paycheck came in.
Gina Liautaud, a Lithuanian immigrant who taught grade school, said her son was "a pacifist" as a child.
He "always wanted peace," she said, and he always "went for the underdogs." 
His dad, who died in 2015 from pancreatic cancer, was ultimately a successful entrepreneur, and Liautaud attended a private prep school for high school, where he said he felt out of place, lacking confidence as he was bullied for being overweight.
During high school, he worked at his father's company alongside Peggy Finley, who said he "took up the whole room with his loving energy." 
He graduated second to last in his high school class and decided to open a hot dog stand.
This would cost more than the $25,000 he was lent, so he went back to his father for more, but his dad didn't budge.
Instead, after visiting a sandwich shop near Southern Illinois University, he realized that selling sandwiches would be cheaper and simpler than hot dogs.
Liautaud opened the first shop in Charleston in January 1983.
After his first couple employees quit, he was working by himself, which he said at first was scary - if he failed, his dad said he had to go to the Army for two years - but eventually exhilarating.
"I learned that I could do it, and that I enjoyed doing it," he said.
His first manager, Tyler Funk, said working for Liautaud helped him get out of his shell.
"I wasn't real outgoing, but being around Jim, he was just like, "Hey, how are you doing? What's going on?'" Funk said. "It didn't matter who it was, he had something to say to people. I think that, just personally being around him, helped me to be comfortable with talking to people."
Liautaud "was always real particular about what his sandwiches looked like, tasted like, how they were put together," Funk said. They sliced the meat by hand every day, and Funk's muscles in his right forearm grew to be
"the size of most people's biceps," he said. "To this day, I still have that oversized forearm on my right arm."
The work could be challenging, Funk said, as Liautaud set high expectations, but he looked back on the time fondly.
And even from early on, Funk said Liautaud "had a vision" of what Jimmy John's could be and "he stuck with it."
In the mid-1980s, Liautaud's father wanted his son to get a real job and had Pizza Hut franchisee (and later the founder of Lone Star Steakhouse) Jamie Coulter try to talk him out of the sandwich business.
But when he met with Liautaud, Coulter said it was clear Liautaud "was really happy with what he's doing."
He looked at Liautaud's financials, which were surprisingly good, and Coulter told Liautaud he had a serious business. "It's not a toy machine gun. It's a real machine gun,Ó Coulter said.
Liautaud learned something else in the mid-1980s: that he had African-American ancestry.
His great grandpa had moved from New Orleans to Chicago in 1911, but had never told anyone he had black ancestors.
"It was their family secret," Liautaud said. "We were like, 'That's awesome, how cool is that.' . . .I'm very proud of my roots."
By 1994, he had 10 stores in 10 cities, had earned his first million dollars and started franchising.
By 2002, Jimmy John's had 160 stores, but 70 of the franchises were failing.
He and Jimmy John's president James North spent 18 months on the road turning around 63 of the 70 stores.
"We started telling potential clients the facts about the restaurant lifestyle," Liautaud said.
It's a 24/7/365 job, he told them, with detailed checklists for franchisees to meet Jimmy John's standards.
Around that time, Liautaud hired his first marketing director, who conducted consumer surveys in three different cities.
In each city, customers rated Jimmy John's a 7 out of 10 on freshness and quality, said Liautaud, who was shocked that Jimmy John's didn't rate higher.
But they also learned that customers did connect Jimmy John's with speed, associating it with cars such as Ferraris and Corvettes.
Instead of using that information to expand delivery, Liautaud went the opposite direction, shrinking the delivery areas in half to help build customer trust in fast delivery.
It worked, Liautaud said, helping his stores increase sales around the time of the low-carb Atkins diet.
Liautaud sold 28 percent of his business in 2007 to Weston Presidio, and in 2016, he sold a majority stake to Roark Capital.
Last year, he sold the rest of his stake in the 2,800-location business to Inspire Brands and Liautaud transitioned to being an advisor to the brand.
"I'm doing what I need to do for my self now," Liautaud said, frustrated with decades of criticism, much of which he attributes to unfair political attacks because he's donated to Republicans, to his wealth in general, and to his naivety.
(The Turkey Tom sandwich used to be called the Uncle Tom in 1983 before Liautaud said he learned what that referred to, for example.)
He said he's working on losing weight, and can now spend more time on his various side businesses; he farms 7,500 acres and owns two wine brands and about 45 hotels.
He is also advising President Donald Trump as part of his economic revival team.
And he's still in charge of Jimmy John's taste and flavor, tasting all its food each week.
During taste tests of a cookie currently in development, Liautaud has always been able to tell which ones have Ghirardelli chocolate and which have an off-brand chocolate, said Lisa Garber, one of Jimmy John's executives.
"I can discern almost any imperfection, and I can discern different ingredients," Liautaud said.
And he's optimistic about the future of Jimmy John's, saying he expects there to eventually be 10,000 to 15,000 stores around the world.
"Jimmy John's is just getting started," he said.