A tasty treat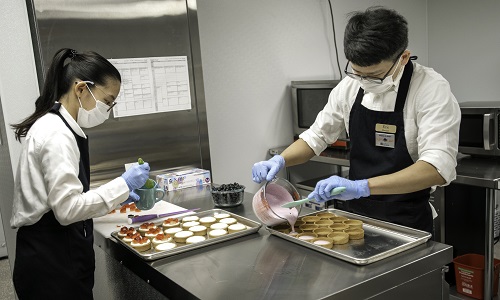 Photo by: Robin Sholz
When Eric Kuo and Adrianna Chung started preparing to open Tasty Tart last fall, they weren't expecting to open in the middle of a pandemic.
While the Taiwanese tart shop eventually opened May 1 at 405 S. Neil St., C., "it postponed everything," Chung said. They've had to limit sales to curbside and in-store pickup, and serving customers with masks. They've also provided free coffee to first responders, nurses, grocery store workers and other front-line workers.
"We want to emphasize the quality of the ingredients in our tart recipes," Chung said. "We insist on making artificial-coloring-free, preservative-free tarts, so everyone can enjoy the desserts without any hesitation about food safety." 
Chung also said it's been difficult to know how many tarts to make each day.
"We make these every day, and it's hard to predict how many will be purchased," she said.
The tarts look like miniature, snackable pies and come in eight flavors: lemon, blueberry, mocha, chocolate, milktea, strawberry, matcha and cheese.
"This kind of afternoon dessert is very popular in Taiwan," Chung said.
A University of Illinois grad student, she's assisting her boyfriend Kuo, who developed the recipes for the tarts.
"He tried many recipes and had many trials," she said.
Kuo was born in Champaign, was raised in Taiwan and moved back to Champaign to be with Chung.
"He fell in love with this area," Chung said. "We feel very good and happy to be here."