Transforming the community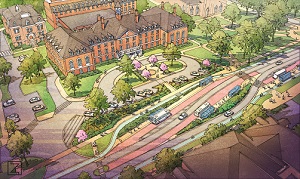 Photo by: Public Works Dept/City of Champaign
Yes, there are those that say there are only truly two seasons in Central Illinois: winter and road-construction. That may solicit a collective groan by us in the corn-belt, but locally, the multi-faceted community that is Champaign-Urbana is about to get even better.
The Multimodal Corridor Enhancement Project, better known as MCORE, will improve mobility in the C-U community's core. In fact, more than 80 percent of the jobs in Champaign-Urbana area are located within approximately one mile of the project corridors, so they effect will reach most members of the community.
"We're really excited. This is the largest amount of money spent by our area on road building and improvements since the development of interstate-72," Kris Koester of the City of Champaign said.
Koester is the administrative services manager and public information officer for the city of Champaign Public Works Department.
The Champaign-Urbana Mass Transit District, in partnership with the City of Champaign, the City of Urbana, and the University of Illinois at Urbana-Champaign, secured a $15.7 million TIGER VI Grant. TIGER is an acronym for Transportation Investment Generating Economic Recovery. The project will expand mobility choices, increase user access to employers, education, healthcare, and many other services located in the heart of campus, and will include five "projects" that concentrate on specific areas. These area projects will minimize disruption as much as possible during each specific project. The entire project will come in at around $46.9 million when all is completed.
"We want "complete streets." All modes of transportation deserve a smooth route of passage, whether it's a wheelchair, buses, pedestrians, and vehicles. It will have better sidewalks, bike lanes, benches and wider lanes. It will also provide shared lane markings, bus-only lanes, and other transit services that will enhance mobility for residents and visitors, particularly non-drivers, persons with disabilities, senior citizens, and economically disadvantaged populations," Koester said.
Koester said that all five projects are slated to be completed by 2019.
"The two projects we're working on now will wrap-up in December of this year," he said.
According to Koester, the MCORE Project will enhance mobility, improve infrastructure, promote sustainability and improve critical linkages within the community. An example, according to Koester, is how people will access the UI Union. He said it is a complete redesign.
"Efficient access and travel is the goal," he said.
It makes sense, because Champaign-Urbana citizens are all about getting out and getting around. The MCORE Project will make this an easier-and more enjoyable- task. To learn more, visit mcoreproject.com and sign up for the project newsletter.