Success and service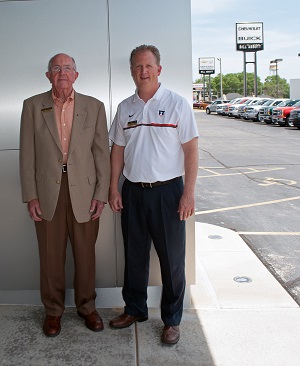 Photo by: Bridget Broihahn
Bill Abbott had lunch at the Brown Bag a few Fridays ago. The place was packed. Everyone turned when he walked in the door. People were star struck.
Abbott is the fifty year president of Bill Abbott Inc., a Buick, Chevrolet, Chrysler, Dodge, Jeep and Ram dealer in Monticello.
"Hello, Mr. Abbott!" "Hi Bill!" "Mr. Abbott! Mr. Abbott!" "You're here for pie, Bill?" were the comments from the patrons.
Monticello's Brown Bag is known for its Pies by Inge, but Abbott had his regular special salad and iced tea. The frontline staff all broke into a collective grin when Abbott stepped up to order, which was a moot point, because they all knew his "order."
"Mr. Abbott gets his special napkins!" "And make sure you get his salad just right," shouted the staff.
Abbott just smiled. He was impeccably dressed in a fine linen suit and tie. A kind smile, a wave, a gesture to "go-ahead," and many sincere greetings were the epitome of his personal attire, however.
He sat down and true to form of really great-but extremely humble-leaders waved off mention of the Time Magazine and Ally Financial 2016 Dealer of the Year award he had recently won. Abbott is one of a select group of 50 dealer nominees from across the country who was honored at the 99th annual National Automobile Dealers Association Convention and Exposition in Las Vegas. Abbott was chosen from 16,000 dealers nationwide, and he was top dealer out of the select 50 that were nominated to receive the highly prestigious award.
"The award just blew me away. You don't stay in business for fifty years and get an award like that without really good people working for you. That's the key: the people who work for you and with you," he said.
He said his stepson, Travis Fox, general manager of Bill Abbott, Inc., is the hardest working man he has ever known.
"He graduated from DePauw University. He makes me look good, too," Abbott said.
According to Abbott, he himself is just a small town boy who worked hard and put himself through school.
Abbott grew up in Mansfield. He graduated from Mansfield High School in 1955. He attended the University of Illinois and left with a BS in industrial administration. He served in the US Army from 1962 to 1964. He worked for Buchanan Buick in Monticello and learned the car dealership business in all aspects. Then, he went to work for the Buick division in Chicago as a district manager calling on car dealerships.
"Then, Mr. Buchanan called me one night and told me he wanted to retire. He wanted me to be his successor. We worked out a deal," Abbott said.
As much success as he's had, he's as equally committed to giving back to area children. The driver's education vehicles in area schools are thanks to Abbott and his team. He sponsors local Boy Scout troops and the athletic department at the University of Illinois. And he sponsors area Little League teams and the Piatt County Trail Blazers Rodeo, plus donates to the Kirby Foundation to benefit Kirby Medical Center in Monticello.
"We donated more than $85,000 to the Monticello school district for scoreboards in gymnasiums and fields," he said.
When asked for advice he would give to younger car dealers, he said, "Are you sure you want to do this?" Then, he laughed. "No, I am joking. We have been successful because we take care of our customers and give the kind of service we would want to have ourselves."
For more information go to billabbottgm.com, call 217-817-0750 or stop by 500 W. Center Street, Monticello.