McComb wears many hats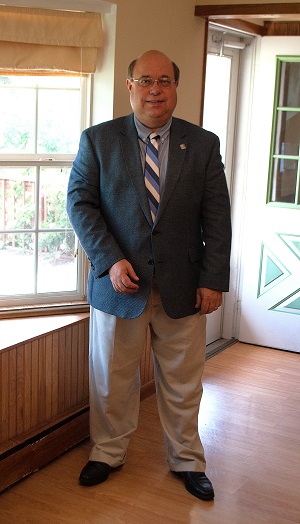 Photo by: Bridget Broihahn
Max McComb is one of those business professionals that has many irons in the fire, so to speak. Yes, he wears many hats. He's a successful Re/Max REALTOR® since 2008 after many years with Hardee's and owning franchise hair salons.
But, that's not all. He's the school board president for the Mahomet-Seymour Schools and the incoming president for the Champaign County Association of REALTORS®. Plus, you can hear him announcing the varsity football and basketball home games at Mahomet-Seymour High School during the school year.
Think back to 2008. The housing industry was not at its peak. In fact, it was far from it.
"Yes, I was licensed in 2008 amidst the housing economy plunge," he said.
He knew he'd have to come up with a strategy to make it in real estate in that time of economic stress, so he used a little logic to make himself valuable.
"I had to figure it out. I decided to become a Certified Distressed Property Expert," McComb said.
A CPDE not only assist in selling properties, they serve and help clients in need of getting out from under a financially and emotionally devastating prospect of foreclosure. CPDEs are well-informed, and are also licensed real estate professionals. They can assist each client to find solutions for their own unique situation. They help in short sale scenarios when the debt outnumbers the worth of the home.
Over time, McComb has built up his business by treating his clients well, and word got around about his ethics.
"Now I do regular residential business, and I work by referral exclusively," he said.
And now he's ready to take over the local helm as president of the CCAR, which he said they locally have very high standards. He recently went to Washington, D.C. to represent our area there.
"We met with our legislative representatives.  I personally saw (John) Shimkus, (Rodney) Davis and (Tammy) Duckworth," he said.
McComb said that the National Association of REALTORS® was there to ensure legislation that provides homeowners with a deduction for having a mortgage.
"We were also concerned with the 1031 exchange that allows a property investor to defer taxes until they cash out. This is important for farmers and commercial landowners," he said.
Back-to-school
"I started serving the Mahomet-Seymour Schools about 12 years ago when I served on a parent committee," he said. "I thought I could bring something to the board as president."
He's served on the board since 2007 and as board president since the departure of Terry Green in 2015. He looks forward to the installation of new school superintendent, Dr. Lindsey Hall, who was formerly the principal of Mahomet-Seymour Junior before she left to take on the title of superintendent for the Morton School District.
Family flexibility
McComb has been married to Ellen McComb 37 years. She is a specialized registered nurse at BroMenn hospital in Normal, so working the Monday through Friday, 9 to 5 schedule hasn't been their routine over the course of their marriage. The key to success is flexibility, McComb said.
"We find time to be together. We recently took 10 days and went to Italy," he said.
They also enjoy spending time with their son, John, who is a pre-kindergarten physical education teacher in the inner city of St. Louis, and his wife, Nicole, who is also a middle school language arts teacher in the St. Louis suburbs.
McComb is with Re/Max Realty Associates, 2009 Fox Drive, Suite C, Champaign, and can be contacted at 217-352-5700.