Compassionate, involved, devoted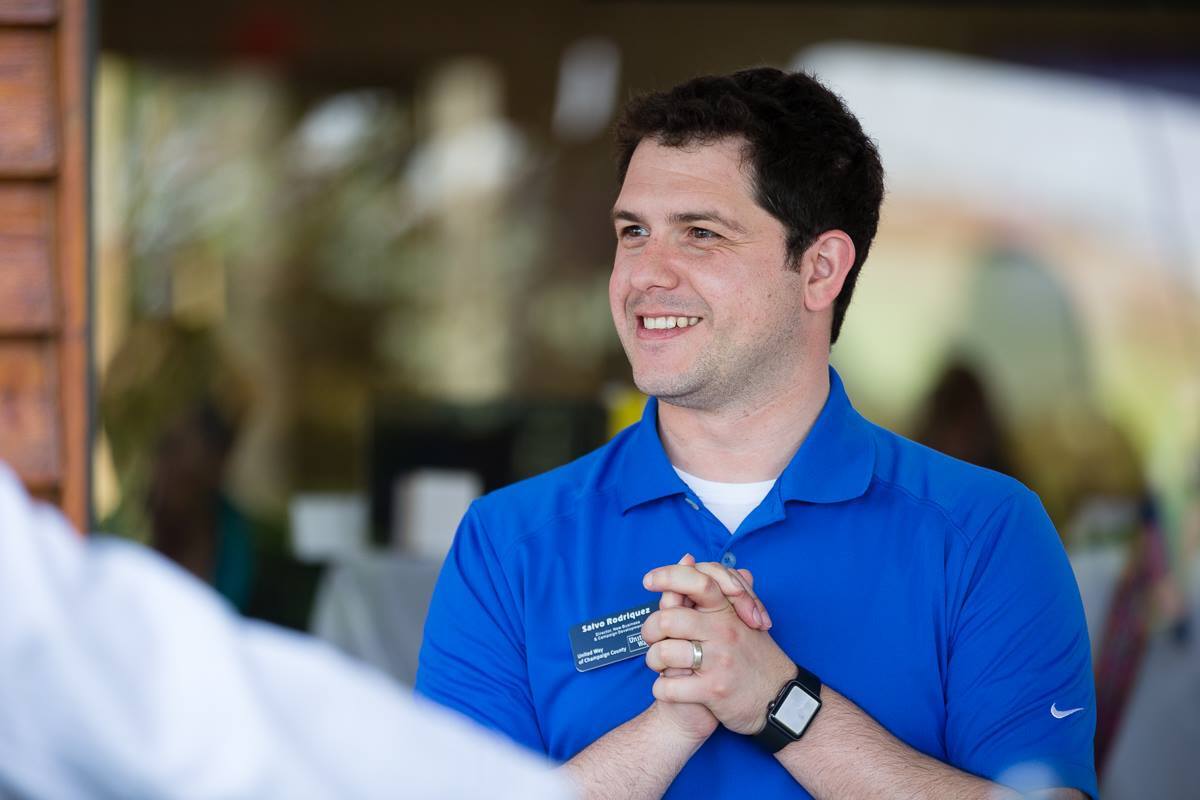 Photo by: Provided
Meet Salvo Rodriquez: Director of New Business and Campaign Development at United Way of Champaign County and Central Illinois Business magazine's Man of the Year 2019.
The title is just the latest in a string of accolades for Rodriquez, who has also garnered honors like the Junior League of Champaign-Urbana Community Impact Award, the Champaign West Rotary Rookie of the Year Award and Jaycees Outstanding Young Persons of Illinois Award. "He understands what makes CU residents sit up and take notice," nominator Michael Hirschi, University of Illinois professor emeritus, said. "He knows how to engage his community. He just instinctively suggests the right thing to do, given a situation that needs attention."
Rodriquez's family is from Sicily. His immigrant grandfather, John Buttitta, started a downtown Champaign tailoring business and inspired Rodriquez's work ethic.  "My grandfather came from Italy and worked hard to prove to himself and others that he wanted a fruitful life in America," Rodriquez said. "People respected him for it. He was out there to help other people."
Rodriquez, an only child, attended St. Matthew Catholic School and Centennial High School in Champaign. "I always talked to people," he said. "I was never a fan of the kids' table; I wanted to be at the adults' table. When I was younger, my friends always dreaded going to the mall with me because I would go and say hi to everyone."
After earning business marketing degrees from Parkland College and Eastern Illinois University, Rodriquez is now enrolled in the University of Illinois' MBA program.
"I feel like I just fell into fundraising," Rodriquez joked. "My career has been filled with opportunities to engage with all sorts of interesting people in this community. When the opportunity came up to work for (United Way President and CEO) Sue Grey and her team, it was an opportunity I couldn't pass up."
He credits "so many" direct and indirect mentors in his roles at places like Cunningham Children's Home, Old Time Meat and Deli and Worden Martin. "I wish I could list them all," he said. "At every job, I had someone I looked up to. As I continue in my career, I am excited to share that experience with someone else."
Rodriquez said the best career advice he's been given was "we all have an opportunity to learn from others that we interact with every day," he said.
Rodriquez's day can look different depending on which duties he's fulfilling. "It varies from day to day whether I'm meeting with donors or volunteers or talking to people about needs within the community," he said. "What I really enjoy is talking to people and learning about their passions in life."
Part of Rodriquez's job involves pairing young professionals who want to volunteer – often who come from other communities – with a local agency looking for help. "I feel like my goal is to make sure everyone feels connected to the community," he said. "Everyone has a skill or talent that can improve the community, and seeing the fruits of our labor when we come together brings the biggest smile to my face."
Another aspect of his job is addressing needs and finding solutions for them.
"I'm trying to be more aware of the needs of our community partners," Rodriquez said, adding that the more he knows about what's happening in the community, the more he can match people with those opportunities. "You never know your passions until you try a new experience."
Rodriquez enjoys learning about other people's backgrounds. ""We all come from different walks of life," he said. "It's fun to find out how we got to this point in life right now."
Rodriquez sees himself as an open book. "I enjoy having conversations with everyone I meet," he said. "I am always excited for the opportunity to connect with someone."
If Rodriquez could describe himself in just one word, it might be "welcoming." "I feel like that's part of my personality, making people feel comfortable," he said. "Many have described me as someone who is mindful of everyone in the room. I like to collaborate with everyone at the table. Everyone has something to contribute."
Rodriquez and his wife, Betsy, have a new sense of purpose in life with the addition of their 5-month-old son, John. "I want to make sure I set him up for success," Rodriquez said. "My wife and I were brought up in families who supported our ideas and growth as individuals, and do whatever I can to make that happen for the next generation."
If he weren't working at United Way, Rodriquez believes he would be in "something people-oriented," referencing a popular adage that if you choose a job you love, you will never have to work a day in your life. "It's so much fun to interact with people every day," he said. "I couldn't see myself doing anything else. If I were to sit at a desk by myself all day, I'd probably go crazy."
Some of the challenges in Rodriquez's work come from the community's current expansion. "There are a lot of things that are going to come with that growth – like homelessness and education - are unfortunately tied to the expansion we are experiencing," Rodriquez said. "There's not one catalyst. All we can do is start as early as we can to set up every member of this community for success."
For example, United Way has worked with the Unit 4 school district, Champaign-Urbana Schools Foundation, Parkland College, YMCA, Champaign Community Coalition, WILL radio and television, Martin Hood and the Champaign County Chamber of Commerce to develop a literacy and math program called iRead iCount to set students on the path to success.
"Everyone's got to pitch in," Rodriquez said. "We're mindful of what the needs are in the community, and we're working hard to tackle them head on. That's why I respect the work that United Way does in the community when it comes to starting conversations around tough topics.  There are difficult discussions to be made; they don't have easy solutions. We have so many people with a passion to help others that we can collaborate together to make a difference. We may not be able to solve every one problem we face, but we can at the very least start the conversation."
Rodriquez enjoys seeing people he knows being successful and driving big things in the community. "Central Illinois just kind of has this aura to it. There are big things happening here, and I'm excited to know that we're not stopping any time soon."