HOME/COVER STORY
---
ACHIEVEMENTS
---
AG BUSINESS
---
Best of Towns Best Business Services
---
Best of Towns Best Coffee Shop
---
Best of Towns Best Hair Stylist and Spa
---
Best of Towns Best Health Club
---
Best of Towns Financial Company
---
Best of Towns Restaurant
---
BUSINESS NOW
---
ECONOMICS
---
EDITOR'S NOTE
---
Entrepreneur Tips
---
FINE PRINT
---
GET TO KNOW THE CEO
---
GOOD BUSINESS
---
GREEN TIPS
---
INNOVATION > THE OUTER LIMITS
---
LEGAL PILLARS
---
MADE IN CHAMPAIGN COUNTY
---
MARKETING
---
OIL/GAS INDUSTRY
---
ORGANIZATIONAL KNOWLEDGE
---
FORTY UNDER 40 NOMINATIONS
---
SUBSCRIBE NOW!
---
CONTACT US
---
ARCHIVE
---
CALENDAR
Editor 's note: submit events, meetings, workshops and conferences at least one month in advance to cibm@news-gazette.com for inclusion in Mark Your Calendar.
< Mar
Apr
May >
April 4
Breakfast Series -- Washington D.C. Briefing for Business 7:15 to 9 a.m.
Hawthorn Suites, 101 Trade Center Drive, Champaign U.S. Reps. Rodney Davis and John Shimkus will provide business updates on the state and national level. Call 217-359-1791 for more information.
April 10
Schmooza Palooza Business Expo 10 a.m. to 6 p.m.
University of Illinois Assembly Hall, 1800 S. First St., Champaign This event, sponsored by the Champaign County Chamber of Commerce, is free and open to the public and will feature nearly 100 businesses. It will also include the SK Exteriors Ultimate Power Lunch and the BankChampaign Wine Tasting. Go to champaigncounty.org or contact Karly Combest at
KarlyC@champaigncounty.org
or 217-359-1791 for more information.
April 16
April 16, 18 Performance Management 1 to 5 p.m.
Parkland College Business Training, 1315 N. Mattis Ave., Champaign Join Cindy Guthrie as she examines various performance management techniques, that provide the knowledge and tools needed to design and implement a workable system that benefits the organization and inspires employees to manage their own performance. Fee: $265. Registration deadline: April 9.
April 17
April 17, 25 Providing Constructive Feedback 8 a.m. to noon, April 17 and 25; 1 to 5 p.m. April 25
Parkland College Business Training, 1315 N. Mattis Ave., Champaign Discuss how to provide constructive feedback in a way that builds openness and mutual respect, and promotes problem solving and learning. Participants will complete a variety of activities that explore the key actions for providing constructive feedback, techniques for encouraging involvement and handling challenging responses, planning a feedback conversation and providing constructive feedback.
April 18
April 18, May 11 ECI SCORE: Starting a Small Business 6 to 3:30 p.m. on April 18, 9 to 11:30 a.m. on May 11
Champaign County Chamber of Commerce, 303 W. Kirby Ave., Champaign Reviews the advantages, hazards and requirements of starting a small business. Content: defining your business, competitive analysis, marketing, cash flow, and tips for small business startup. Workbook provided. Cost: $25. To register, go to eci-score.org or call 217-359-1791. Email questions to
info@eci-score.org
.
April 18
Project Risk Management 8 a.m. to 5 p.m.
Parkland College Business Training, 1315 N. Mattis Ave., Champaign Borinara Park will introduce you to the concepts and methods in managing project risks and uncertainties. Participants will learn how to quantify the project risks and determine key drivers in the schedule and will be able to produce contingency plans and risk mitigation strategies effectively with enhanced confidence. Fee: $795. Registration deadline: April 11.
April 25
April 25, May 18 ECI SCORE: Writing a Business Plan 6 to 8:30 p.m. on April 25, 9 to 11:30 a.m. on May 18
Champaign County Chamber of Commerce, 303 W. Kirby Ave., Champaign Reviews the importance of writing a business plan. Content: business plan format, financial analysis and securing financing. Workbook provided. Cost: $25. To register, go to eci-score.org or call 217-359-1791. Email questions to
info@eci-score.org
.
COVER STORY June 2016
---
From here to there
---
The evolution of Longview Capital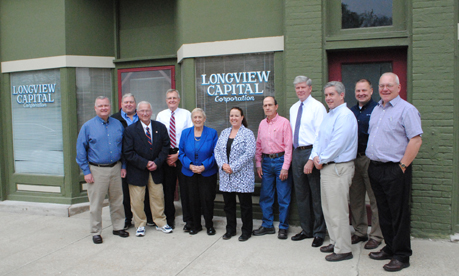 Money does make the business world go around. And many in the banking industry would agree with that statement. However, there's more to it, according to Marjorie-Marge- Albin of Longview Capital Corporation, a bank holding company that is housed in Newman. This more than accomplished woman created together with her husband, John Albin, a true community banking system with LCC and the eleven banks and one loan company owned by the holding company. Their community banks support the local agricultural communities that they serve.
The company has 20 "missions" to their mission statement. Among them are: "Service is easy when you have a genuine concern for the person," and "Relationships are the measure of successful living." The word "money" does not even show itself once in any of the missions.
John Albin vice-president and director of LCC is a former board member of Parkland Community College and The News-Gazette Farm Leader of 1999. He is a graduate of the University of Illinois. Marge Albin is quite accomplished herself.
"Marge has served on the IFDA (Illinois Farm Development Authority).She also participated on the board that created the IFA (Illinois Finance Authority). Their mission is to provide access to low-cost capital to both public and private institutions, fostering economic development, creating and retaining jobs, and improving quality of life for Illinois residents," said Mary Clark, trust officer and marketing officer of Longview Bank in Ogden.
Clark said that when Jim Thompson was Governor of Illinois, he appointed Marge to a committee that was re-writing the Farm Bill.
"Marge represented five midwestern states," Clark said. "She spent a lot of time in Washington D.C."
The couple began farming in 1950. They saw the need for agricultural banking, as the local banks didn't really understand farmers' needs. They decided to go into banking by creating a charter. As luck would have it, on a vacation to Rio de Janiero, they met a man from Longview, Illinois, named Winston Churchill-no relation to the famous person of the same name- who owned a small bank that he wanted to sell.
"We bought the bank. Bill Fox of Champaign saw the potential and lent us the funds," Marge Albin said. "In its creation, the bank protected the farmers' interests and will go on doing so."
The semi-retired couple has handed the reins down to their sons: Perry Albin, chief executive officer of LCC and David Albin, president and director of LCC. They also serve on their bank boards and Midwest AgriCredit, and continue to create new ideas. They are joined on the LCC board of directors by Will Coolley, who is also a director.
"There's a big reward when you see success with the farmers," Coolley said. "We typically know our customers on a personal basis."
Their Midwest AgriCredit Company is an O.F.I., an "other financial institution," enabling the company to offer rates that help farmers through the ups and downs of the farming. There are only 37 of these institutions in the U.S. that serve the underserved and make those long-time relationships that help farmers and agricultural communities.
"Many of our employees have farming backgrounds," David McGee of Midwest AgriCredit said.
Tracy Epps of Bank of Gibson City said that the roots they have in the community means they share the successes with those of their customers. Doug Hasler of the State Bank of Crisman said they focus on the community and what is going on with them, not on the needs of the bank. They also extend those roots to the greater community.
"We formed the Longview Foundation to be our philanthropic arm of our business," Marge Albin said.
The foundation has helped initiate and support the Academy on Capitalism and Limited Government Foundation at the UI. John and Marge Albin are members of the academy's Founders Circle.
"We also created the Liberty Studies curriculum at the UI," John Albin said.
LCC has grown from that humble beginning and now has $400 million in assets.
"We're large enough to help others, as we like to do," Marge Albin said.
Back to top
Part of The News-Gazette, Inc. community of websites:
News-Gazette | IlliniHQ | WDWS | WHMS |