HOME/COVER STORY
---
ACHIEVEMENTS
---
AG BUSINESS
---
Best of Towns Best Business Services
---
Best of Towns Best Coffee Shop
---
Best of Towns Best Hair Stylist and Spa
---
Best of Towns Best Health Club
---
Best of Towns Financial Company
---
Best of Towns Restaurant
---
BUSINESS NOW
---
ECONOMICS
---
EDITOR'S NOTE
---
Entrepreneur Tips
---
FINE PRINT
---
GET TO KNOW THE CEO
---
GOOD BUSINESS
---
GREEN TIPS
---
INNOVATION > THE OUTER LIMITS
---
LEGAL PILLARS
---
MADE IN CHAMPAIGN COUNTY
---
MARKETING
---
OIL/GAS INDUSTRY
---
ORGANIZATIONAL KNOWLEDGE
---
FORTY UNDER 40 NOMINATIONS
---
SUBSCRIBE NOW!
---
CONTACT US
---
ARCHIVE
---
CALENDAR
Editor 's note: submit events, meetings, workshops and conferences at least one month in advance to cibm@news-gazette.com for inclusion in Mark Your Calendar.
< Mar
Apr
May >
April 4
Breakfast Series -- Washington D.C. Briefing for Business 7:15 to 9 a.m.
Hawthorn Suites, 101 Trade Center Drive, Champaign U.S. Reps. Rodney Davis and John Shimkus will provide business updates on the state and national level. Call 217-359-1791 for more information.
April 10
Schmooza Palooza Business Expo 10 a.m. to 6 p.m.
University of Illinois Assembly Hall, 1800 S. First St., Champaign This event, sponsored by the Champaign County Chamber of Commerce, is free and open to the public and will feature nearly 100 businesses. It will also include the SK Exteriors Ultimate Power Lunch and the BankChampaign Wine Tasting. Go to champaigncounty.org or contact Karly Combest at
KarlyC@champaigncounty.org
or 217-359-1791 for more information.
April 16
April 16, 18 Performance Management 1 to 5 p.m.
Parkland College Business Training, 1315 N. Mattis Ave., Champaign Join Cindy Guthrie as she examines various performance management techniques, that provide the knowledge and tools needed to design and implement a workable system that benefits the organization and inspires employees to manage their own performance. Fee: $265. Registration deadline: April 9.
April 17
April 17, 25 Providing Constructive Feedback 8 a.m. to noon, April 17 and 25; 1 to 5 p.m. April 25
Parkland College Business Training, 1315 N. Mattis Ave., Champaign Discuss how to provide constructive feedback in a way that builds openness and mutual respect, and promotes problem solving and learning. Participants will complete a variety of activities that explore the key actions for providing constructive feedback, techniques for encouraging involvement and handling challenging responses, planning a feedback conversation and providing constructive feedback.
April 18
April 18, May 11 ECI SCORE: Starting a Small Business 6 to 3:30 p.m. on April 18, 9 to 11:30 a.m. on May 11
Champaign County Chamber of Commerce, 303 W. Kirby Ave., Champaign Reviews the advantages, hazards and requirements of starting a small business. Content: defining your business, competitive analysis, marketing, cash flow, and tips for small business startup. Workbook provided. Cost: $25. To register, go to eci-score.org or call 217-359-1791. Email questions to
info@eci-score.org
.
April 18
Project Risk Management 8 a.m. to 5 p.m.
Parkland College Business Training, 1315 N. Mattis Ave., Champaign Borinara Park will introduce you to the concepts and methods in managing project risks and uncertainties. Participants will learn how to quantify the project risks and determine key drivers in the schedule and will be able to produce contingency plans and risk mitigation strategies effectively with enhanced confidence. Fee: $795. Registration deadline: April 11.
April 25
April 25, May 18 ECI SCORE: Writing a Business Plan 6 to 8:30 p.m. on April 25, 9 to 11:30 a.m. on May 18
Champaign County Chamber of Commerce, 303 W. Kirby Ave., Champaign Reviews the importance of writing a business plan. Content: business plan format, financial analysis and securing financing. Workbook provided. Cost: $25. To register, go to eci-score.org or call 217-359-1791. Email questions to
info@eci-score.org
.
COVER STORY December 2016
---
Dive right in
---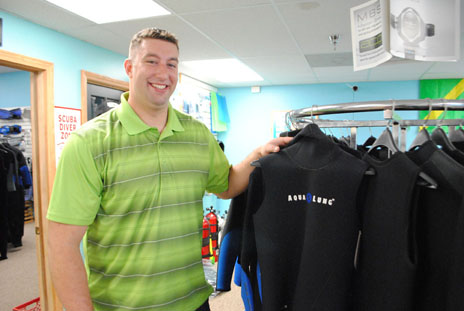 It may surprise some that a scuba diving business thrives right here in the heart of the prairie where the bodies of water consist of low, muddy rivers and ponds that are usually gravel pits left over from road-building. But it is true! Midwest Scuba Center has been around for four generations of owners, each successful in their own right. And the business has not been passed down from family member to family member, either. Each new generation has new owners with that one common bond: the passion for scuba diving.
Midwest Scuba Center's new owner, Alex Gentner, is excited to dive right in and take his business to a new level. He's the epitome of an entrepreneur; risk taker, innovative idea maker, and a mover and a shaker in the world of scuba diving. It's ironic that he didn't grow-up as a diver. He came into it a few years back and is now a PADI- Professional Association of Diving Instructor- who is certified for life.
"It's just really fun and I love it," he said from his shop, which is located at 1717 Philo Road, Urbana at Sunnycrest.
Heck, Gentner graduated just a few years back from Culver-Stockton College in Canton, Mo., where he played forward for the Wildcats basketball program. So, it seems like this young man is a newbie in the ranks of entrepreneur-dom.
"I have been working on "something" my whole life," he said. "I've always had ideas."
Gentner, who grew up in Urbana, has been working at Sunnycrest since he was waist-high. His grandfather, Clive Follmer, had him working in and around the mall, earning his keep. The successful Follmer, who was an established attorney and a UI basketball legend, had a tough-love approach in his lessons for his grandson, Gentner said. Follmer passed away just this past August, 2016, and Gentner hopes to carry on his grandfather's legacy of hard work, support of customers, and making his business a success.
Gentner has also worked for a locksmith and is a certified gunsmith. He is a self-taught auto-mechanic.
"I bought my first car- a BMW for $300- and I got it running with just $5 in parts, " he said.
He also flips houses as a side hobby. He learned the trade from his father, Gert Gentner, who co-owned the company DNR Home Improvements. The elder Gentner passed away in 2011.
"I'm working right now on a home for a handicapped couple," he said, adding that accessibility is really an important issue.
He works most days of the week. He smiles as he speaks of it, with great enthusiasm in his voice.
"If you find something you love, just do it. It doesn't feel like work," he said.
During his interview, one of his scuba students came in to the shop. Kaiqi Zhou is a UI graduate student in civil engineering and is taking lessons from Gentner.
"I just started. I like it so much," Zhou said, smiling and shaking hands as he approached Gentner.
Gentner said that it's possible to be a certified diver in as little as two days by starting out with the first three sessions online and then proceeding to the physical instruction.
"We offer lessons at the ARC (UI Activities and Recreation Center) and at Stephens YMCA. We also offer trips, like the one to West Palm Beach in January. Then, there are local to Kickapoo State Park and Haigh Quarry in Kankakee. It's an intense process, but very rewarding," he said while he moved around air tanks in the shop.
Between servicing the scuba divers that, believe or not, are in great numbers in Central Illinois, according to Gentner, and giving lessons to new scuba divers, he has great plans to expand the clientele. Gentner said that most people that can swim, can scuba dive. They are many levels to the sport, and many accommodations according to skill level.
"It's safe and rewarding. You can't rent or buy this equipment without certification," Gentner said about the sport of scuba diving, which has among other technological advancements, blue tooth wireless transmitters on the air tanks that measures breathing rates and oxygen availability.
Gentner said to stop by 1717 Philo Road, Suite 13 in Urbana to check out Midwest Scuba Center. Open hours are: 10 a.m. to 5:30 p.m., Monday through Friday, and 10 a.m. to 2:30 p.m. on Saturdays. Or call Gentner at 217-352-3118 to hear about lessons, equipment, scuba diving trips and other ideas.
Back to top
Part of The News-Gazette, Inc. community of websites:
News-Gazette | IlliniHQ | WDWS | WHMS |