HOME/COVER STORY
---
ACHIEVEMENTS
---
BUSINESS NOW
---
ECONOMICS
---
EDITOR'S NOTE
---
FINE PRINT
---
GET TO KNOW THE CEO
---
GREEN TIPS
---
INNOVATION > THE OUTER LIMITS
---
SUBSCRIBE NOW!
---
CONTACT US
---
ARCHIVE
---
CALENDAR
Editor 's note: submit events, meetings, workshops and conferences at least one month in advance to cibm@news-gazette.com for inclusion in Mark Your Calendar.
< Mar
Apr
May >
April 4
Breakfast Series -- Washington D.C. Briefing for Business 7:15 to 9 a.m.
Hawthorn Suites, 101 Trade Center Drive, Champaign U.S. Reps. Rodney Davis and John Shimkus will provide business updates on the state and national level. Call 217-359-1791 for more information.
April 10
Schmooza Palooza Business Expo 10 a.m. to 6 p.m.
University of Illinois Assembly Hall, 1800 S. First St., Champaign This event, sponsored by the Champaign County Chamber of Commerce, is free and open to the public and will feature nearly 100 businesses. It will also include the SK Exteriors Ultimate Power Lunch and the BankChampaign Wine Tasting. Go to champaigncounty.org or contact Karly Combest at
KarlyC@champaigncounty.org
or 217-359-1791 for more information.
April 16
April 16, 18 Performance Management 1 to 5 p.m.
Parkland College Business Training, 1315 N. Mattis Ave., Champaign Join Cindy Guthrie as she examines various performance management techniques, that provide the knowledge and tools needed to design and implement a workable system that benefits the organization and inspires employees to manage their own performance. Fee: $265. Registration deadline: April 9.
April 17
April 17, 25 Providing Constructive Feedback 8 a.m. to noon, April 17 and 25; 1 to 5 p.m. April 25
Parkland College Business Training, 1315 N. Mattis Ave., Champaign Discuss how to provide constructive feedback in a way that builds openness and mutual respect, and promotes problem solving and learning. Participants will complete a variety of activities that explore the key actions for providing constructive feedback, techniques for encouraging involvement and handling challenging responses, planning a feedback conversation and providing constructive feedback.
April 18
April 18, May 11 ECI SCORE: Starting a Small Business 6 to 3:30 p.m. on April 18, 9 to 11:30 a.m. on May 11
Champaign County Chamber of Commerce, 303 W. Kirby Ave., Champaign Reviews the advantages, hazards and requirements of starting a small business. Content: defining your business, competitive analysis, marketing, cash flow, and tips for small business startup. Workbook provided. Cost: $25. To register, go to eci-score.org or call 217-359-1791. Email questions to
info@eci-score.org
.
April 18
Project Risk Management 8 a.m. to 5 p.m.
Parkland College Business Training, 1315 N. Mattis Ave., Champaign Borinara Park will introduce you to the concepts and methods in managing project risks and uncertainties. Participants will learn how to quantify the project risks and determine key drivers in the schedule and will be able to produce contingency plans and risk mitigation strategies effectively with enhanced confidence. Fee: $795. Registration deadline: April 11.
April 25
April 25, May 18 ECI SCORE: Writing a Business Plan 6 to 8:30 p.m. on April 25, 9 to 11:30 a.m. on May 18
Champaign County Chamber of Commerce, 303 W. Kirby Ave., Champaign Reviews the importance of writing a business plan. Content: business plan format, financial analysis and securing financing. Workbook provided. Cost: $25. To register, go to eci-score.org or call 217-359-1791. Email questions to
info@eci-score.org
.
COVER STORY June 2014
---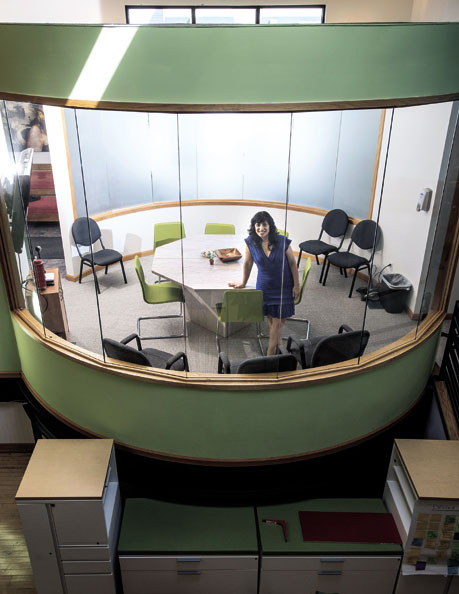 A culture of support
---
Pixo succeeds in highly competitive industry while nurturing employees
Pixo's employees are passionate enough about their work to spend their lunch hours learning about the newest technologies in their industry. Many play leading roles in community organizations related to design and programming, outside their regular work hours.
But Pixo -- a successful Urbana company that develops database applications and mobile apps, builds websites and helps business processes run more efficiently -- isn't one of those tech workplaces known for 80-hour work weeks.
Formerly known as OJC Technologies, the company was founded in 1998 by Pixo President Lori Patterson and her brother, Sigfried Gold. The two were disillusioned with the corporate work environment and wanted to create a company that nurtured its employees while serving clients in the highly competitive information technology consulting industry.
Pixo is a place where software developers huddle with their laptops and a whiteboard and talk about how they'll deal with website maintenance issues for a client.
It's also a place where, a few days after Easter, chocolate eggs left over from an egg hunt are still sitting on ledges around the office. Where employees can get away from the computer for a few minutes and relax in a bean bag chair, and where they get together regularly for game nights.
"We wanted to achieve great things -- we love to work and achieve -- but we wanted to figure out if we could create an environment where we could feel really fulfilled, and not have our morals and values compromised in the process," Patterson said.
She described herself and her brother as "achieve-a-holics." But the workplace they created was one that drew the line on excessive hours and unreasonable demands for employees, and on overpromising what they could deliver to clients.
It's been a formula for success. Pixo has been undergoing a growth spurt in the last few years. It now has 30 employees and a revamped management structure.
The company's growth came from "amazing clients at the door that we couldn't respond to" with a smaller staff, said Patterson, as well as employees who wanted to work in larger teams and on bigger projects. The work environment is collaborative, with employees working next to others who share either the same project or same technology, and meeting weekly to discuss their projects and new ideas. The company works hard to hire people who "greatly value relationships and the ability to be themselves," Patterson said.
That was one of the things that attracted Pat East to Pixo. It's a place with a "culture of support," said East, a developer. East has been with Pixo only a couple of months, but he's had his eye on the company for several years. He knew it as a place "that focuses on diversity and work-life balance and doing business in a frame that's good for employees as well as customers."
For example, East and the other developers meet for an hour once a week to go over their projects and the tasks they expect to accomplish within the next week or two. It's a way to keep from becoming overwhelmed by a project, he said.
"When you are really comfortable where you are, it's far, far easier to take risks," Patterson said. "Clients need us to take risks, to think outside the box and help them through challenges."
Wes Cravens began work for Pixo last year as an independent contractor on a project, but was hired a few months later as the company's director of technology. He had been involved in entrepreneurial projects, and "there were very few companies I would actually work for at that point."
But Cravens realized that Pixo was the kind of company he had been trying to build -- a creative company that is unique in its approach to solving problems for clients, and employee-centered.
Cravens said Pixo's employees "bring out the best in each other."
"It's an energy thing," he said. "By choice or by personality, we're a very stimulating group of people who drive each other."
Cravens enjoys the challenges of working at a consulting company.
"I really like the diversity of our projects," he said. "I have traditionally worked for product companies. You can change your work, you can change the technologies you work in and you can explore new ideas as a consultancy. You can go after new ideas and fresh thinking all the time, and that's great."
Cravens also likes the leadership style, noting Patterson is very engaged with each of her employees. The company offers flexibility to support an employee who wants to try out a new area of work or who needs to change how he or she works -- for example, one employee recently went from a full-time staff member to an independent contractor to accommodate a necessary change in work hours, Cravens said.
While Patterson wants to ensure the management is hands-on and aware of how each employee is affected by changes in the organization, it was harder to do so herself as the company grew. So she put a nine-person leadership team in place last fall.
Erika Kramer is Pixo's director of operations, overseeing payroll, billing, financial reporting, purchasing and budgeting. She's recently taken on human resources duties and given up the task of overseeing the staffing of projects to another director.
She said the management change was necessary as the company grew. But Kramer, who has been with the company since 2008, said she and the other directors can still move quickly in making changes they believe are necessary.
"There's no politics, no hierarchy," Kramer said. "I feel like I have a lot more power in getting things done that need to be done." She also likes having a role in making decisions about the company's future, noting the leadership makes decisions as a group.
"I like to know, as a company, where we're headed and why we're making decisions and how those decisions affect other parts of the company," she said. "That makes a huge difference, at least to me."
Back to top
Part of The News-Gazette, Inc. community of websites:
News-Gazette | IlliniHQ | Business Directory | WDWS | WHMS | idomagazine