HOME/COVER STORY
---
ACHIEVEMENTS
---
AG BUSINESS
---
BUSINESS NOW
---
ECONOMICS
---
EDITOR'S NOTE
---
FINE PRINT
---
GET TO KNOW THE CEO
---
GREEN TIPS
---
INNOVATION > THE OUTER LIMITS
---
MADE IN CHAMPAIGN COUNTY
---
MARKETING
---
OIL/GAS INDUSTRY
---
ORGANIZATIONAL KNOWLEDGE
---
FORTY UNDER 40 NOMINATIONS
---
SUBSCRIBE NOW!
---
CONTACT US
---
ARCHIVE
---
CALENDAR
Editor 's note: submit events, meetings, workshops and conferences at least one month in advance to cibm@news-gazette.com for inclusion in Mark Your Calendar.
< Mar
Apr
May >
April 4
Breakfast Series -- Washington D.C. Briefing for Business 7:15 to 9 a.m.
Hawthorn Suites, 101 Trade Center Drive, Champaign U.S. Reps. Rodney Davis and John Shimkus will provide business updates on the state and national level. Call 217-359-1791 for more information.
April 10
Schmooza Palooza Business Expo 10 a.m. to 6 p.m.
University of Illinois Assembly Hall, 1800 S. First St., Champaign This event, sponsored by the Champaign County Chamber of Commerce, is free and open to the public and will feature nearly 100 businesses. It will also include the SK Exteriors Ultimate Power Lunch and the BankChampaign Wine Tasting. Go to champaigncounty.org or contact Karly Combest at
KarlyC@champaigncounty.org
or 217-359-1791 for more information.
April 16
April 16, 18 Performance Management 1 to 5 p.m.
Parkland College Business Training, 1315 N. Mattis Ave., Champaign Join Cindy Guthrie as she examines various performance management techniques, that provide the knowledge and tools needed to design and implement a workable system that benefits the organization and inspires employees to manage their own performance. Fee: $265. Registration deadline: April 9.
April 17
April 17, 25 Providing Constructive Feedback 8 a.m. to noon, April 17 and 25; 1 to 5 p.m. April 25
Parkland College Business Training, 1315 N. Mattis Ave., Champaign Discuss how to provide constructive feedback in a way that builds openness and mutual respect, and promotes problem solving and learning. Participants will complete a variety of activities that explore the key actions for providing constructive feedback, techniques for encouraging involvement and handling challenging responses, planning a feedback conversation and providing constructive feedback.
April 18
April 18, May 11 ECI SCORE: Starting a Small Business 6 to 3:30 p.m. on April 18, 9 to 11:30 a.m. on May 11
Champaign County Chamber of Commerce, 303 W. Kirby Ave., Champaign Reviews the advantages, hazards and requirements of starting a small business. Content: defining your business, competitive analysis, marketing, cash flow, and tips for small business startup. Workbook provided. Cost: $25. To register, go to eci-score.org or call 217-359-1791. Email questions to
info@eci-score.org
.
April 18
Project Risk Management 8 a.m. to 5 p.m.
Parkland College Business Training, 1315 N. Mattis Ave., Champaign Borinara Park will introduce you to the concepts and methods in managing project risks and uncertainties. Participants will learn how to quantify the project risks and determine key drivers in the schedule and will be able to produce contingency plans and risk mitigation strategies effectively with enhanced confidence. Fee: $795. Registration deadline: April 11.
April 25
April 25, May 18 ECI SCORE: Writing a Business Plan 6 to 8:30 p.m. on April 25, 9 to 11:30 a.m. on May 18
Champaign County Chamber of Commerce, 303 W. Kirby Ave., Champaign Reviews the importance of writing a business plan. Content: business plan format, financial analysis and securing financing. Workbook provided. Cost: $25. To register, go to eci-score.org or call 217-359-1791. Email questions to
info@eci-score.org
.
COVER STORY May 2015
---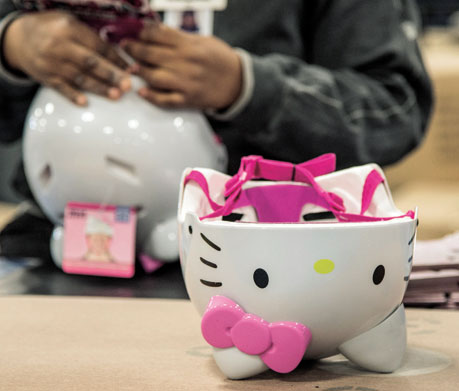 SUCCESS IN THE FIELD
---
Multibrand distribution and manufacturing facility sets high national standards in Central Illinois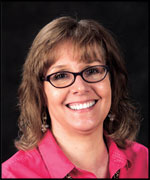 It's pretty common in Central Illinois to see fields of grain: corn, soybeans and the occasional winter wheat. Plus, many in Central Illinois have experienced the phenomenon of something interesting popping up on the horizon amid those endless fields. That's kind of how it is along Interstate 57, right outside of Rantoul.
"When we talk about being in the field, we literally had the groundbreaking ceremony right here in a cornfield," said Lewis Hornsby, general manager of BRG Sports in Rantoul. "Before that, we were in one of the airplane hangars at the old U.S. Air Force base."
BRG stands for Bell, Riddell and Giro, well-known names in retail sports. The Rantoul facility, which went live in October 2013, is a complex that combined eight distribution centers, and deals with Bell Sports, Riddell, Giro, Blackburn and C-Preme brands. The company's main headquarters is in Scotts Valley, Calif.
The Rantoul site has over 800,000 square feet in its manufacturing and distribution facility, and has already seen growth in its first 18 months since the building opened. The Central Illinois site is the distribution, transportation and logistics base for the company, which is a leading designer, developer and marketer of branded sports equipment, protective products and related accessories.
"Right now, we are at the end of the quarter and we are gearing up for the bike season," Hornsby said from the top of a three-story, steel-girded stairwell that overlooks the plant. "This is our biggest time of the year with the sale of bike helmets, bike racks, apparel and bike shoes."
When the company moved, the BRG GM said, the average staff tenure was around 10 years. He also said that the quality of service by the staff was a big reason that corporate officials made a firm decision to expand the Rantoul operation.
"We decided to go with the experience that the employees had," Hornsby said.
BRG has about 400 employees. Hornsby, who is also the BRG corporate vice president of global logistics and fulfillment, has been in the field for many years. He spoke with great enthusiasm and called employees by name as he made his rounds.
"This facility is the size of 18 football fields," he explained as he walked briskly through the different areas of the module, which is what the heart of the building is called. "A walk around the building will add up to about 8 miles, and if that isn't enough exercise, there's a state-of-the art gym and lockers housed right here in the facility, too."
Distribution is one part of the business
When it comes to distribution, Hornsby said, between 40,000 and 55,000 packages are sent out of the module on an average day. The process of picking product, as it is known in the distribution field, is the sequence of taking customer-ordered items and loading them into a box for shipment. This can be one of the most costly drains on profits, when one considers how much distance needs to be traveled in the plant to pick up certain items, how many times it's handled, and how the items are placed in an area that tends to the least handling. These directly affect profits.
The process at BRG is very efficient, according to Horns- by. He said the company can train an employee to correctly and efficiently pick product in about 10 minutes.
"Yes, 'How-to-Pick' training used to take hours, but now we are so efficient that the errors have gone down drastically," Hornsby said. "We have cut our error rate to less than ½ of a percent. I tell my employees to pack it up like it's for their grandma."
In the new picking process, an employee wears a radio frequency personal digital assistant with Bluetooth ring scanner to select direct to shipping carton merchandise -- the picks -- that need to be packed. Orders are picked and tracked via a bar code by carton. These are scanned and auto-routed through the system. There are no paper-pick tickets needed.
"We serve everyone from the mom-and-pop stores to the big-box competitors. No business is too small or too big for our operation. Customer service is No. 1 to us," he said. "We need to stay on top of things. There's always a competitor out there, ready to eat our lunch."
Manufacturing is the other part
Hornsby walked through the assembly lines of employees that were busy putting together all types of bicycle helmets.
"The bike helmets we make here take about two minutes and eight seconds to completely assemble. That's everything from the cover, the pads, the decals, the straps and then packaging," he said.
The plant produces an average of 20,000 helmets a day. They also produce National Football League collectible helmets, which are a dead ringer for the real thing, but are meant for decoration only, Hornsby said. Plus, a new item on the helmet market is the ever popular 3-D helmet, a regular bike helmet with embellishments added to give it a third dimension.
"These 3-D helmets go through a baking and drying process, because of all of the intricate designs they have," he said, pointing to a Hello Kitty helmet that traveled down the assembly line.
People are the bottom line
The night before, he and human resources manager Staci Wahls grilled 100 steaks for department personnel who broke packaging records.
"It's what we do. We care about our employees," Horns-by said. "We've got great people here. They make our job easy."
Back to top
Part of The News-Gazette, Inc. community of websites:
News-Gazette | IlliniHQ | WDWS | WHMS |