HOME/COVER STORY
---
ACHIEVEMENTS
---
AG BUSINESS
---
BUSINESS NOW
---
ECONOMICS
---
EDITOR'S NOTE
---
FINE PRINT
---
GET TO KNOW THE CEO
---
GREEN TIPS
---
INNOVATION > THE OUTER LIMITS
---
MADE IN CHAMPAIGN COUNTY
---
MARKETING
---
OIL/GAS INDUSTRY
---
ORGANIZATIONAL KNOWLEDGE
---
FORTY UNDER 40 NOMINATIONS
---
SUBSCRIBE NOW!
---
CONTACT US
---
ARCHIVE
---
CALENDAR
Editor 's note: submit events, meetings, workshops and conferences at least one month in advance to cibm@news-gazette.com for inclusion in Mark Your Calendar.
< Mar
Apr
May >
April 4
Breakfast Series -- Washington D.C. Briefing for Business 7:15 to 9 a.m.
Hawthorn Suites, 101 Trade Center Drive, Champaign U.S. Reps. Rodney Davis and John Shimkus will provide business updates on the state and national level. Call 217-359-1791 for more information.
April 10
Schmooza Palooza Business Expo 10 a.m. to 6 p.m.
University of Illinois Assembly Hall, 1800 S. First St., Champaign This event, sponsored by the Champaign County Chamber of Commerce, is free and open to the public and will feature nearly 100 businesses. It will also include the SK Exteriors Ultimate Power Lunch and the BankChampaign Wine Tasting. Go to champaigncounty.org or contact Karly Combest at
KarlyC@champaigncounty.org
or 217-359-1791 for more information.
April 16
April 16, 18 Performance Management 1 to 5 p.m.
Parkland College Business Training, 1315 N. Mattis Ave., Champaign Join Cindy Guthrie as she examines various performance management techniques, that provide the knowledge and tools needed to design and implement a workable system that benefits the organization and inspires employees to manage their own performance. Fee: $265. Registration deadline: April 9.
April 17
April 17, 25 Providing Constructive Feedback 8 a.m. to noon, April 17 and 25; 1 to 5 p.m. April 25
Parkland College Business Training, 1315 N. Mattis Ave., Champaign Discuss how to provide constructive feedback in a way that builds openness and mutual respect, and promotes problem solving and learning. Participants will complete a variety of activities that explore the key actions for providing constructive feedback, techniques for encouraging involvement and handling challenging responses, planning a feedback conversation and providing constructive feedback.
April 18
April 18, May 11 ECI SCORE: Starting a Small Business 6 to 3:30 p.m. on April 18, 9 to 11:30 a.m. on May 11
Champaign County Chamber of Commerce, 303 W. Kirby Ave., Champaign Reviews the advantages, hazards and requirements of starting a small business. Content: defining your business, competitive analysis, marketing, cash flow, and tips for small business startup. Workbook provided. Cost: $25. To register, go to eci-score.org or call 217-359-1791. Email questions to
info@eci-score.org
.
April 18
Project Risk Management 8 a.m. to 5 p.m.
Parkland College Business Training, 1315 N. Mattis Ave., Champaign Borinara Park will introduce you to the concepts and methods in managing project risks and uncertainties. Participants will learn how to quantify the project risks and determine key drivers in the schedule and will be able to produce contingency plans and risk mitigation strategies effectively with enhanced confidence. Fee: $795. Registration deadline: April 11.
April 25
April 25, May 18 ECI SCORE: Writing a Business Plan 6 to 8:30 p.m. on April 25, 9 to 11:30 a.m. on May 18
Champaign County Chamber of Commerce, 303 W. Kirby Ave., Champaign Reviews the importance of writing a business plan. Content: business plan format, financial analysis and securing financing. Workbook provided. Cost: $25. To register, go to eci-score.org or call 217-359-1791. Email questions to
info@eci-score.org
.
COVER STORY August 2015
---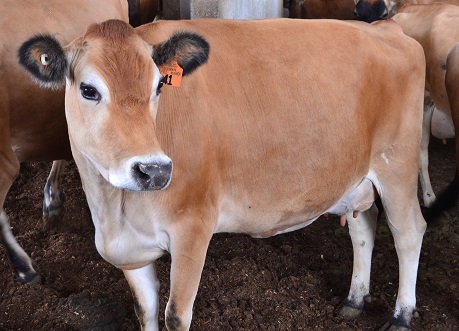 Kilgus Farmstead
---

When it comes to agriculture, Illinois is primarily a crop producing state. There are successful farming operations in Illinois, however, that produce other agricultural products. One of these is Kilgus Farmstead, located just south of Fairbury in Livingston County.
Matt Kilgus said that his grandparents, Duane and Arlene Kilgus started back in 1958 with 25 Holstein cows. Kilgus said they liked the quality of life that farming provided their family. He is the manager of the fluid milk bottling facility, which is housed right on the Kilgus farm.
The Kilgus family is a fourth generation operation. His uncle Paul Kilgus, and his two sons-Justin and Trent are also involved in the business, along with their wives, Carmen, Kaylee, Kayla and Jenna. Together they make up the driving force behind the dairy. They also employ Grant Hartman, Jacob Price and Sadie Moser.
"We decided to go with Jersey cows in the 1990s," Kilgus said from the Kilgus Farmstead store, housed right on the farm. "Jersey gives a more nutrient dense, high butterfat milk. They are smaller than a Holstein and have a longer life span. They're also known for their tender and flavorful meat."
Matt Kilgus said that he and his cousin, Justin manage the milk bottling. Matt Kilgus is also the manager of the farmstead.
"We sell 6,000 gallons per week," Kilgus said.
The farmstead has 140 registered Jersey Cows.
"Justin also handles the meat sales, while Paul and Trent manage and tend the breeding stock. We've all developed our specialty areas, but still we work together whenever needed," he said. "Carmen does the books, Jenna helps her with the store and all of that, along with Kaylee and Kayla."
The cows are rotationally grazed on 75 acres from early April to November. The Kilgus family also grows their own non-GMO grain to feed all of their livestock.
"We have the pasture divided up into two and a half acre paddocks, and we have 17 paddocks. We rotate two groups of the 140 cows into one of the paddocks every day," Kilgus said.
This enables the grass to replenish itself before it is grazed again.
"We are a single source, fluid milk bottling operation on the farm. People can see it all here from start to finish," he said.
In fact, Kilgus Farmstead is the only on-farm, single-source, fluid milk bottler in the entire state of Illinois. They do not homogenize their milk.
"Three days a week, we are bottling right here," Kilgus said.
They bottle whole, 2%, skim, chocolate, half and half, heavy cream and soft serve ice cream mix to sell to over 100 restaurants, 65 retail outlets and three institutions in Illinois. Forty percent of the distribution is to the Chicago area and surrounding suburbs. The remaining 60% is delivered by the farmstead to Champaign, Urbana, Bloomington and Peoria. They are certified All-Jersey and Queen of Quality by the National All-Jersey, Inc.
Kilgus Farmstead recently hosted a tour stop of the Illinois Jerseys tour.
"We had over 400 people right here-dairy farmers and industry people from 31 states, Canada and Australia," Kilgus said. "It was a once in a lifetime experience."
The farmstead also markets meats from Jersey steers, Boer goats and Berkshire pork. Beef from steers is always an offshoot of a dairy operation, however, because of the quality, Kilgus has had increased demand for their beef, which is fat-marbled and therefore more tender.
"We started with the pigs, because we were initially throwing milk away. We started with them as a local project. We now have butcher shops and chefs from as far away as Chicago requesting our pork," he said.
The milk sales are so successful, though that they now feed the pigs, high quality non-GMO grain raised on the Kilgus farm.
When Justin and Trent Kilgus were teenaged and involved in 4-H, they began a small meat goat operation. The demand for Kilgus Boer goat meat grew rapidly and has become part of the Kilgus Farmstead business.
"Our goat meat is used at two Chicago restaurants: The Girl and The Goat, and The Little Goat," Matt Kilgus said.
There is a great variety in the Kilgus Farmstead Store. Besides their own dairy and meat products, there is a variety of teas, chocolates, ice cream, beauty creams, honey, sweet Vidalia onion relish and the list goes on.
"We fill up our trucks coming back with items to promote other farmers in our store," Matt Kilgus said. "We also have a lady that takes our own milk and makes soap and lotion."
Indeed, Cheryl Zacek, of Farmer in Odell, makes many varieties and fragrances of soaps and lotions. Besides Kilgus milk, they have all quality products like aloe vera and essential oils.
To find out where Kilgus Farmstead products are served and sold, please go to: http://www.kilgusfarmstead.com/where-to-buy/
Back to top
Part of The News-Gazette, Inc. community of websites:
News-Gazette | IlliniHQ | WDWS | WHMS |