HOME/COVER STORY
---
ACHIEVEMENTS
---
AG BUSINESS
---
BUSINESS NOW
---
ECONOMICS
---
EDITOR'S NOTE
---
FINE PRINT
---
GET TO KNOW THE CEO
---
GREEN TIPS
---
INNOVATION > THE OUTER LIMITS
---
MADE IN CHAMPAIGN COUNTY
---
MARKETING
---
OIL/GAS INDUSTRY
---
ORGANIZATIONAL KNOWLEDGE
---
FORTY UNDER 40 NOMINATIONS
---
SUBSCRIBE NOW!
---
CONTACT US
---
ARCHIVE
---
CALENDAR
Editor 's note: submit events, meetings, workshops and conferences at least one month in advance to cibm@news-gazette.com for inclusion in Mark Your Calendar.
< Jan
Feb
Mar >
February 1
First Friday Coffee 7:30 to 9 a.m.
Hawthorn Suites Ltd., 101 Trade Centre Drive, Champaign Enjoy coffee, conversation and a light breakfast as you network. Cost is $3 for chamber members.
February 13
The Principles and Qualities of Genuine Leadership 8 a.m. to noon Feb. 13, 1 to 5 p.m. Feb. 21
Parkland College Business Training, 1315 N. Mattis Ave., Champaign Discover five universal leadership qualities and six basic principles that help translate intentions into reality, how they contribute to personal and organizational success and how to help employees develop leadership qualities. Fee: $135 Registration deadline: Feb. 6 for Feb. 13 class; Feb. 14 for Feb. 21 class
February 16
Feb. 16, March 14 ECI SCORE: Starting a Small Business 9 to 11:30 a.m.
Champaign County Chamber of Commerce, 303 W. Kirby Ave., Champaign Reviews the advantages, hazards and requirements of starting a small business. Content: defining your business, competitive analysis, marketing, cash flow, and tips for small business startup. Workbook provided. Cost: $25. To register, go to eci-score.org or call 217-359-1791.
February 19
Feb. 19, 21 First-Line Supervision 1 to 5 p.m.
Parkland College Business Training, 1315 N. Mattis Ave., Champaign Learn how to make a successful transition from staff to supervisor, develop your own leadership style, establish a partnership with your boss, give feedback to improve performance, build a top-performing team, effectively manage time and stress, and motivate and counsel employees. Fee: $265 Registration deadline: Feb. 12
February 21
Athena Award Luncheon 12 to 1:45 p.m.
Champaign Country Club, 1211 S. Prospect Ave., Champaign Join Champaign County Chamber of Commerce members and local business representatives as they honor the 2013 Athena Award and Athena Young Professional Award recipients. Register online or contact Norma Wesley at
nwesley@champaigncounty.org
or 217-531-4669.
February 21
Business After Hours 5 to 7 p.m.
Dean's Graphics Division, 3103 Research Road, Champaign The $5 donation at the door ($8 for nonmembers and guests) helps fund chamber programs.
February 23
Feb. 23, March 21 ECI SCORE: Writing a Business Plan 9 to 11:30 a.m.
Champaign County Chamber of Commerce, 303 W. Kirby Ave., Champaign Reviews the importance of writing a business plan. Content: business plan format, financial analysis and securing financing. Workbook provided. Cost: $25. To register, go to eci-score.org or call at 217-359-1791.
February 26
Feb. 26-March 7 Fundamentals of Human Resources Tue./Thur. 1 to 5 p.m.
Parkland College Business Training, 1315 N. Mattis Ave., Champaign Learn how to recruit, select, interview and hire employees in compliance with federal and state laws; establish a valid testing program; guard against charges of negligent hiring and discrimination; write job descriptions and specifications; develop cost-effective, competitive compensation and benefits programs; and more. Fee: $355 Registration deadline: Feb. 19
COVER STORY October 2015
---
2015 Forty Under 40 Woman of the Year
---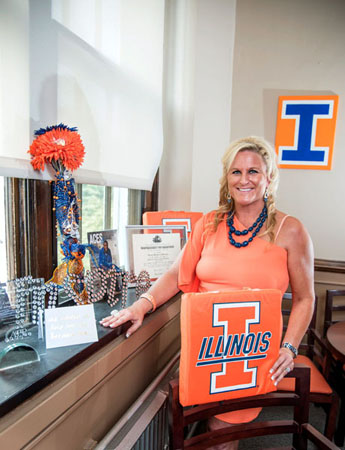 Woman of the Year
Stacey LaBrecque Cole assistant director of development, college of ACES, University of Illinois
Stacey LaBrecque Cole has a way about her- a passion, a purpose. She has an undeniable presence, and this young professional has put it to good use.
"I never turn one person down," she said from her ornate orange and blue office at the college of agricultural, consumer and environmental sciences, better known as ACES on the University of Illinois campus. "I'm human and so are they."
Cole spearheaded the "Students Helping Students I Pay It Forward Campaign" that was launched in April of 2014. Kids helping other kids to stay in school by donating a dollar here and a dollar there. She is a 15-year veteran of ACES, serving currently as the associate director of development.
Well, it worked. They raised $19,000 in mere weeks, and 87% of those donations were from students. According to Wendy Pinkerton, senior partner of Demeter Communications, Cole is outstanding in raising private support. She secured $1,000,000+ in private support last fiscal year using knowledge of best practices and planned giving vehicles.
Cole said the idea hit her at three in the morning. The idea was a culmination of ideas she gathered while dealing with a tragedy she had in her own life with her son Kody, who is legally blind and has albinism. She became a mother at 19, her self-professed, most important job.
Being a single mom was hard enough, but Kody's dad was abusive. She knew they were meant for better. She enrolled at Parkland Community College.
"I remember being at the bus stop, and there was Lou Henson! We started talking, and he told me something I will never forget," she said. "He said, "Don't ever quit school!" He was a coach. His job was to keep kids in school. He was just doing his job. He will never know how much his words meant to me. They kept me going."
Stay in school she did. After graduating from Parkland, with honors, she moved on to the University of Illinois.
"I admire Stacey's intelligence and drive that enabled her to graduate Summa Cum Laude from the University of Illinois while raising a special needs son as a single mom, working three jobs simultaneously, and ultimately achieving a very successful career at the University of Illinois," Deborah Tedrick, Cole's prior supervisor and friend.
However, every parent knows that there are times of struggle. The abuse that she and Kody suffered in his early years took a toll on them both. Kody had some trouble.
"Kody said that he didn't want to live anymore," Cole said. "I needed to get him help."
Well, help costs money.
"I started selling all I could to get him the help he needed," she said.
It just wasn't enough. She made a selfless decision to put her family's need out there for all to see. She started a Go Fund Me campaign.
"I put our issues on social media," Cole said. "I received an unbelievable amount of support. He didn't have a voice. I had to be his voice. I'm going to save my child."
The financial gifts poured in.
"I just cried. Even in a month, it gave me hope. What better gift than to invest in a young person? We finally had the means and my kid needed help," she said. "Extended and excruciating pain will render you unconscious."
Kody went to a facility in Georgia. He finished his high school diploma. He now works at Fed Ex.
"Throughout all of this, I kept a book of inspirational quotes. My book is called, "Ridiculously Good Ideas." I would hear things that would resonate with me. I started writing these down," she said.
It was at that point, at 3 a.m. that one important morning; that she sat straight-up in bed out of a sound sleep. This dedicated woman, with an eye always open for her students' needs, had an epiphany.
"I started writing down this idea. I had my permanent marker and I went to work," she said.
The Pay It Forward, Students Helping Students Scholarship Campaign was born.
"It was also my way of saying," Thank you" for the support I received," she said.
The idea was developed. A student advancement committee of 35 ACES students was put together. They decided scholarships were needed and they wanted them to go to kids who were at-risk of leaving school.
"Who gets these scholarships are kids that fall in the middle, their parents aren't rich, but not poor, either. They have no other scholarships. We knew they may be at-risk to leave school. That's who we decided to help," Cole said.
They decided to visit classrooms. So, off Cole and the committee of 35 went.
"We went to every class and club that would see us. I had a scripted presentation. When comfortable, the students would take over," Cole said.
Cole said she saw a boy tentatively raise his hand while they visited one classroom. He was waving a bill. He was sitting in a seat at the very top of a large lecture hall. She made her way up the stairs, and took his dollar.
"I turned around, and I saw all these faces turned towards me. There were hands waving in the air, all holding out money for us," she said. "It took my breathe away."
Then, students started giving monetary gifts online, too. In a month, they raised more than they had made in the past year.
"The rush we had was unbelievable. I filled the atrium of the library with their faces," she said referring to the "I-Bucks," the orange and white papers that had the name of every student that contributed written on them.
Cole hung up 1,100 of those I-Bucks. They lined the hallway and snaked their way up the atrium of the library.
When all was said and done, Cole reached out to the 17 recipients of Pay It Forward.
" "I want to know you," I said to the students. Dexter Smith reached out to me. He is an Ag/Bio engineering student from the Southside of Chicago. He made the cover of ACES magazine," she said.
Smith was recently an honored guest at an ACES luncheon. An ACES tradition has solidified itself and will keep at-risk students in school.
"Stacey is a strong believer in the transformative power of higher education," Douglass Yore, mental health clinician at Carle Physician Group, said.
Though Cole credits the UI Student Advancement Committee for solidifying the program, many of her colleagues will relay that she brought I Pay It Forward to life. She had an unprecedented 15 nominations and over 45 pages of accolades from colleagues touting Cole for Forty Under 40 Woman of the Year.
"Having worked with Stacey LaBrecque Cole through my time as dean of the college of agriculture, consumer and environmental sciences and more recently, president of the university, I am absolutely delighted to learn of her selection as woman of the year. Her commitment to the college, students and faculty is amazing," Robert Easter said.
Robert A. Easter, Ph'D is president emeritus, dean emeritus, college of agricultural, consumer and environmental sciences and professor emeritus animal sciences, University of Illinois.
Back to top
Part of The News-Gazette, Inc. community of websites:
News-Gazette | IlliniHQ | WDWS | WHMS |