HOME/COVER STORY
---
ACHIEVEMENTS
---
AG BUSINESS
---
BUSINESS NOW
---
ECONOMICS
---
EDITOR'S NOTE
---
FINE PRINT
---
GET TO KNOW THE CEO
---
GREEN TIPS
---
INNOVATION > THE OUTER LIMITS
---
MADE IN CHAMPAIGN COUNTY
---
OIL/GAS INDUSTRY
---
ORGANIZATIONAL KNOWLEDGE
---
FORTY UNDER 40 NOMINATIONS
---
SUBSCRIBE NOW!
---
CONTACT US
---
ARCHIVE
---
CALENDAR
Editor 's note: submit events, meetings, workshops and conferences at least one month in advance to cibm@news-gazette.com for inclusion in Mark Your Calendar.
< Jan
Feb
Mar >
February 1
First Friday Coffee 7:30 to 9 a.m.
Hawthorn Suites Ltd., 101 Trade Centre Drive, Champaign Enjoy coffee, conversation and a light breakfast as you network. Cost is $3 for chamber members.
February 13
The Principles and Qualities of Genuine Leadership 8 a.m. to noon Feb. 13, 1 to 5 p.m. Feb. 21
Parkland College Business Training, 1315 N. Mattis Ave., Champaign Discover five universal leadership qualities and six basic principles that help translate intentions into reality, how they contribute to personal and organizational success and how to help employees develop leadership qualities. Fee: $135 Registration deadline: Feb. 6 for Feb. 13 class; Feb. 14 for Feb. 21 class
February 16
Feb. 16, March 14 ECI SCORE: Starting a Small Business 9 to 11:30 a.m.
Champaign County Chamber of Commerce, 303 W. Kirby Ave., Champaign Reviews the advantages, hazards and requirements of starting a small business. Content: defining your business, competitive analysis, marketing, cash flow, and tips for small business startup. Workbook provided. Cost: $25. To register, go to eci-score.org or call 217-359-1791.
February 19
Feb. 19, 21 First-Line Supervision 1 to 5 p.m.
Parkland College Business Training, 1315 N. Mattis Ave., Champaign Learn how to make a successful transition from staff to supervisor, develop your own leadership style, establish a partnership with your boss, give feedback to improve performance, build a top-performing team, effectively manage time and stress, and motivate and counsel employees. Fee: $265 Registration deadline: Feb. 12
February 21
Athena Award Luncheon 12 to 1:45 p.m.
Champaign Country Club, 1211 S. Prospect Ave., Champaign Join Champaign County Chamber of Commerce members and local business representatives as they honor the 2013 Athena Award and Athena Young Professional Award recipients. Register online or contact Norma Wesley at
nwesley@champaigncounty.org
or 217-531-4669.
February 21
Business After Hours 5 to 7 p.m.
Dean's Graphics Division, 3103 Research Road, Champaign The $5 donation at the door ($8 for nonmembers and guests) helps fund chamber programs.
February 23
Feb. 23, March 21 ECI SCORE: Writing a Business Plan 9 to 11:30 a.m.
Champaign County Chamber of Commerce, 303 W. Kirby Ave., Champaign Reviews the importance of writing a business plan. Content: business plan format, financial analysis and securing financing. Workbook provided. Cost: $25. To register, go to eci-score.org or call at 217-359-1791.
February 26
Feb. 26-March 7 Fundamentals of Human Resources Tue./Thur. 1 to 5 p.m.
Parkland College Business Training, 1315 N. Mattis Ave., Champaign Learn how to recruit, select, interview and hire employees in compliance with federal and state laws; establish a valid testing program; guard against charges of negligent hiring and discrimination; write job descriptions and specifications; develop cost-effective, competitive compensation and benefits programs; and more. Fee: $355 Registration deadline: Feb. 19
COVER STORY February 2015
---
THEY CAN BUILD IT
---
Ken Cooley and his ShapeMaster crew take on varied and unusual projects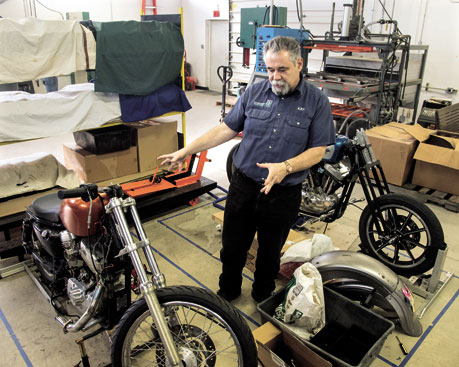 Dream up a part, and there's a good chance Ken Cooley and his crew at ShapeMaster Inc. can fabricate it.
Heaven knows they've made some unusual things in their time -- a piggy bank in the form of a portable toilet, an adjustable-height podium for pastors, a piglet cage for animal researchers.
And perhaps the strangest of all: a clear, life-size doll box for a Star Trek fan who wanted to go to a Comic-Con convention as a packaged Star Trek action figure. Go figure!
Although ShapeMaster caters to inventors and entrepreneurs who need prototypes made, the Ogden-based company also manufactures larger runs of products, including components for dehumidifiers, cup holders for Porsches and after-market motorcycle accessories for Suzukis and Harley-Davidsons.
Cooley started ShapeMaster 25 years ago when he realized there was a need for thermoform molding.
"I knew it was difficult for people to get plastic molded parts," he said.
For inventors, entrepreneurs and engineers who wanted their ideas transformed into plastic reality, "this was a way for them to gain access to inexpensive tooling and short-run production parts," he said.
Thermoform molding was more affordable than injection molding. And unlike many other companies, ShapeMaster was willing to do high-precision work and make small parts in small runs, he said.
ShapeMaster's services grew to include vacuum forming, drape forming, CNC machining and routing, design, custom fabrication, powder coating and rapid prototyping. Cooley built a few machines, and in other cases, bought machines and improved on them. Now the company works not only with plastic, but with wood, metal and other materials as well.
Today, ShapeMaster has about 25 on the payroll, with 12 to 16 there on any given day. The rest are part-time employees, many of them retirees, who are called in when the workload demands it.
During a recent week, Cooley estimated the company had at least eight projects going on in its shop -- including making molds for carbon fiber wheels for the University of Illinois Formula One racing team.
Much of ShapeMaster's work comes from a five-state region, but the company ships everywhere in the U.S. and to many countries overseas.
Prototype-related work makes up about 20 percent of ShapeMaster's business, and the company's own products account for about 10 percent. Those products include:
-- Condensation trays that fit under in-cabinet refrigerators in hotel rooms.
-- Radiator covers for Suzuki motorcycles, as well as riser blocks for the handlebars.
-- Brackets that support swing arm bags on Harley-Davidson motorcycles.
-- The popular portable-toilet piggy banks.
Cooley estimated ShapeMaster's sales at $2 million in 2014, roughly double that of 2013. He said 2012 was also a good year, partly because ShapeMaster engineered and designed protective guards for machines at a Glaxo-SmithKline plant in Memphis that makes Polident.
ShapeMaster's facilities in Ogden include two buildings that collectively have 14,000 square feet. When a tornado hit Ogden in 1996, the company suffered $36,000 in damage, "but we didn't lose an hour of production," Cooley said.
Cooley, who believes the company could really use 30,000 to 40,000 square feet, said he thought of moving the company to Champaign-Urbana, but concluded the current location serves employees well.
"I like the quiet of Ogden," he said.
Besides, "employees would find it much more difficult to drive into Champaign-Urbana," he said, noting that employees commute from Homer, Brocton, Tilton and other area towns.
"If we were in Champaign, do I think I could attract new business?" he said. "Yes, but would it be enough to justify it?"
Cooley cited two inflection points that influenced the growth of his business.
One came in the mid-1990s with the success of Water Island, a business that provided reverse-osmosis water dispensers to supermarkets. ShapeMaster made many of the components for those dispensers.
Another burst in business came in 2005 when Hurricane Katrina boosted demand for dehumidifiers, for which ShapeMaster made parts.
More information about ShapeMaster can be found at the company's website, shape-master.com.
Back to top
Part of The News-Gazette, Inc. community of websites:
News-Gazette | IlliniHQ | WDWS | WHMS |