HOME/COVER STORY
---
ACHIEVEMENTS
---
AG BUSINESS
---
Best of Towns Best Business Services
---
Best of Towns Best Coffee Shop
---
Best of Towns Best Hair Stylist and Spa
---
Best of Towns Best Health Club
---
Best of Towns Financial Company
---
Best of Towns Restaurant
---
BUSINESS NOW
---
ECONOMICS
---
EDITOR'S NOTE
---
Entrepreneur Tips
---
FINE PRINT
---
GET TO KNOW THE CEO
---
GOOD BUSINESS
---
GREEN TIPS
---
INNOVATION > THE OUTER LIMITS
---
LEGAL PILLARS
---
MADE IN CHAMPAIGN COUNTY
---
MARKETING
---
OIL/GAS INDUSTRY
---
ORGANIZATIONAL KNOWLEDGE
---
FORTY UNDER 40 NOMINATIONS
---
SUBSCRIBE NOW!
---
CONTACT US
---
ARCHIVE
---
CALENDAR
Editor 's note: submit events, meetings, workshops and conferences at least one month in advance to cibm@news-gazette.com for inclusion in Mark Your Calendar.
< Jan
Feb
Mar >
February 1
First Friday Coffee 7:30 to 9 a.m.
Hawthorn Suites Ltd., 101 Trade Centre Drive, Champaign Enjoy coffee, conversation and a light breakfast as you network. Cost is $3 for chamber members.
February 13
The Principles and Qualities of Genuine Leadership 8 a.m. to noon Feb. 13, 1 to 5 p.m. Feb. 21
Parkland College Business Training, 1315 N. Mattis Ave., Champaign Discover five universal leadership qualities and six basic principles that help translate intentions into reality, how they contribute to personal and organizational success and how to help employees develop leadership qualities. Fee: $135 Registration deadline: Feb. 6 for Feb. 13 class; Feb. 14 for Feb. 21 class
February 16
Feb. 16, March 14 ECI SCORE: Starting a Small Business 9 to 11:30 a.m.
Champaign County Chamber of Commerce, 303 W. Kirby Ave., Champaign Reviews the advantages, hazards and requirements of starting a small business. Content: defining your business, competitive analysis, marketing, cash flow, and tips for small business startup. Workbook provided. Cost: $25. To register, go to eci-score.org or call 217-359-1791.
February 19
Feb. 19, 21 First-Line Supervision 1 to 5 p.m.
Parkland College Business Training, 1315 N. Mattis Ave., Champaign Learn how to make a successful transition from staff to supervisor, develop your own leadership style, establish a partnership with your boss, give feedback to improve performance, build a top-performing team, effectively manage time and stress, and motivate and counsel employees. Fee: $265 Registration deadline: Feb. 12
February 21
Athena Award Luncheon 12 to 1:45 p.m.
Champaign Country Club, 1211 S. Prospect Ave., Champaign Join Champaign County Chamber of Commerce members and local business representatives as they honor the 2013 Athena Award and Athena Young Professional Award recipients. Register online or contact Norma Wesley at
nwesley@champaigncounty.org
or 217-531-4669.
February 21
Business After Hours 5 to 7 p.m.
Dean's Graphics Division, 3103 Research Road, Champaign The $5 donation at the door ($8 for nonmembers and guests) helps fund chamber programs.
February 23
Feb. 23, March 21 ECI SCORE: Writing a Business Plan 9 to 11:30 a.m.
Champaign County Chamber of Commerce, 303 W. Kirby Ave., Champaign Reviews the importance of writing a business plan. Content: business plan format, financial analysis and securing financing. Workbook provided. Cost: $25. To register, go to eci-score.org or call at 217-359-1791.
February 26
Feb. 26-March 7 Fundamentals of Human Resources Tue./Thur. 1 to 5 p.m.
Parkland College Business Training, 1315 N. Mattis Ave., Champaign Learn how to recruit, select, interview and hire employees in compliance with federal and state laws; establish a valid testing program; guard against charges of negligent hiring and discrimination; write job descriptions and specifications; develop cost-effective, competitive compensation and benefits programs; and more. Fee: $355 Registration deadline: Feb. 19
COVER STORY August 2016
---
Successful business
---
Happens here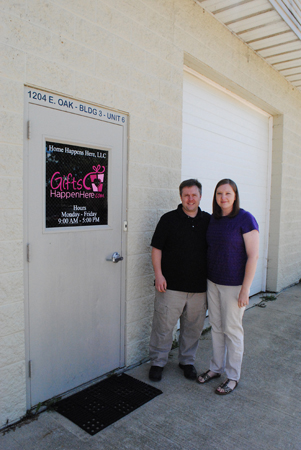 There are so many incredible businesses in the Central Illinois area, that Central Illinois Business staff was not completely surprised when we was realized that the successful online store "Gifts Happen Here" was located locally, creating jobs and bringing in revenue right here in Central Illinois.
Still, it was a great discovery.
Entrepreneurs and business owners know the struggle to make it in a competitive marketplace is real. The United States Bureau of Labor Statistics found, in a study from 2013, that 24 percent of businesses failed in the first year, and 48 percent didn't even make it past the second year. So, when a local business thrives, this is something quite remarkable.
Gifts Happen Here has been in existence since December, 2011, and they are certainly thriving. When CIB caught up with GHH owners, Jill and Ben Winter, they had just completed a move from west Champaign to right off of route 150 in Mahomet to give them more space. The company needed it because of their success and their company is growing. They have also hired new staff, have new equipment, and have an expanded product line.
Even though the actual company has been in existence for around four years, the company idea has been an evolution of many years of work by entrepreneur, Jill Winter. Jill started selling product on EBAY-successfully- in high school. She went on to achieve an associate degree from Parkland Community College and a bachelor degree in marketing and business administration from the University of Illinois. All the while, Jill sold product online. She started to figure out, through her experience, the best strategies to selling product online.
As most entrepreneurs do, she tried some things that worked and then, some that did not. But, she didn't give up. She studied the marketplace, trends in business and tried new strategies. That seems to be the tell-tale sign of an entrepreneur: they don't give up.
Both Jill and Ben had successful careers working for others before the creation of GHH. And still, Jill kept selling online and successfully making money. She sold home décor, candles and other items, but branched out to tote bags.
"She's good at spotting trends," Ben said from their Mahomet facility.
Jill said he is extremely organized and prepared.
"I'm an Eagle Scout," he said.
Then, one day Jill realized she was making more money at selling product online than she was from her nine-to-five job working for somebody else.
"So, I left and started doing this," she said.
Likewise, Ben, who had been a successful computer network administrator for Unit #4 and the State of Illinois, decided to leave and partner-up with his life partner. This was not because he was lacking success in his career, either. He had completed a multi-million-dollar project for the state right before he made the move to GHH.
And Jill wanted to expand into personalized bags and other items for sale, so brining Ben on was the right move for the company.
"Ben wrote the software," Jill said of the programming that he created that enabled the company to move towards personalized items. "Before Ben came on, we were selling bags without the embroidery."
Ben said that Jill has reinvented her selling strategies many times, and will probably continue to evolve as the marketplace changes. Ben said they now have that expanded product line. They offer literally hundreds of products, and with the combination of personalization, the possibilities are virtually endless. Besides tote bags, diaper bags, utility bags and backpacks, there is: jewelry, home décor, flags, towels, scarves, clothing, footwear, frames, garden stones, and the list goes on and on. They also have "quick gifts" that can ship as early as the same day. Plus, they have sale items as low as $3.95.
The expanded choices available to customers within the expanded product line was quite an undertaking, too.
"I wanted to run many more fonts," Ben said. "Shania tested and ran over 200 fonts."
Shania Wright is one of the embroiderers and designers at GHH. She personally ran the fonts on one of the two intricate $15, 000 Brother Entrepreneur Pro e-1000 10-Needle Home Embroidery Machines to see how they would look for their customers. Wright, who is also a local freelance artist and photographer, said the process was worth it, because of the quality their company has to offer their clients now far exceeds the competition.
The day CIB visited GHH, the tone of the manufacturing center was busy, but friendly. The facility was clean and well-organized. It was obvious by the banter exchanged between management and staff that there is a real team effort going on at the facility.
"They really know their stuff," Embroiderer and designer, Briana Bailey said. "Jill is smart and has a handle on everything in the business. I don't know how she does it. Ben is an amazing programmer and is a great guy to work for. It's nice they're successful, because they're really good people."
JOAN HERE IT IS: And as a special offer for Central Illinois Business magazine readers, GHH has free shipping for all orders placed before September 30, 2016. Use the code: CIBFreeShip upon checkout.
This business has hit the ground running and has been a whirlwind for the Winters who met online, were married, and blended two families the preceding summer of the business' birth in 2011. They are encouraged about their business future, too.
"We have a good team," Ben said.
Go to Gifts Happen Here's website at: giftshappenhere.com -and don't forget the coupon code: CIBFreeShip- or if you would like you may contact them at 217-778-4219 or email them at info@giftshappenhere.
Back to top
Part of The News-Gazette, Inc. community of websites:
News-Gazette | IlliniHQ | WDWS | WHMS |