HOME/COVER STORY
---
ACHIEVEMENTS
---
AG BUSINESS
---
BEST BUSINESS
---
Best of Towns Best Business Services
---
Best of Towns Best Coffee Shop
---
Best of Towns Best Hair Stylist and Spa
---
Best of Towns Best Health Club
---
Best of Towns Financial Company
---
Best of Towns Restaurant
---
BUSINESS NOW
---
ECONOMICS
---
EDITOR'S NOTE
---
Entrepreneur Tips
---
FINE PRINT
---
GET TO KNOW THE CEO
---
GOOD BUSINESS
---
GREEN TIPS
---
INNOVATION > THE OUTER LIMITS
---
LEGAL PILLARS
---
MADE IN CHAMPAIGN COUNTY
---
MARKETING
---
OIL/GAS INDUSTRY
---
ORGANIZATIONAL KNOWLEDGE
---
FORTY UNDER 40 NOMINATIONS
---
SUBSCRIBE NOW!
---
CONTACT US
---
ARCHIVE
---
CALENDAR
Editor 's note: submit events, meetings, workshops and conferences at least one month in advance to cibm@news-gazette.com for inclusion in Mark Your Calendar.
< Jan
Feb
Mar >
February 1
First Friday Coffee 7:30 to 9 a.m.
Hawthorn Suites Ltd., 101 Trade Centre Drive, Champaign Enjoy coffee, conversation and a light breakfast as you network. Cost is $3 for chamber members.
February 13
The Principles and Qualities of Genuine Leadership 8 a.m. to noon Feb. 13, 1 to 5 p.m. Feb. 21
Parkland College Business Training, 1315 N. Mattis Ave., Champaign Discover five universal leadership qualities and six basic principles that help translate intentions into reality, how they contribute to personal and organizational success and how to help employees develop leadership qualities. Fee: $135 Registration deadline: Feb. 6 for Feb. 13 class; Feb. 14 for Feb. 21 class
February 16
Feb. 16, March 14 ECI SCORE: Starting a Small Business 9 to 11:30 a.m.
Champaign County Chamber of Commerce, 303 W. Kirby Ave., Champaign Reviews the advantages, hazards and requirements of starting a small business. Content: defining your business, competitive analysis, marketing, cash flow, and tips for small business startup. Workbook provided. Cost: $25. To register, go to eci-score.org or call 217-359-1791.
February 19
Feb. 19, 21 First-Line Supervision 1 to 5 p.m.
Parkland College Business Training, 1315 N. Mattis Ave., Champaign Learn how to make a successful transition from staff to supervisor, develop your own leadership style, establish a partnership with your boss, give feedback to improve performance, build a top-performing team, effectively manage time and stress, and motivate and counsel employees. Fee: $265 Registration deadline: Feb. 12
February 21
Athena Award Luncheon 12 to 1:45 p.m.
Champaign Country Club, 1211 S. Prospect Ave., Champaign Join Champaign County Chamber of Commerce members and local business representatives as they honor the 2013 Athena Award and Athena Young Professional Award recipients. Register online or contact Norma Wesley at
nwesley@champaigncounty.org
or 217-531-4669.
February 21
Business After Hours 5 to 7 p.m.
Dean's Graphics Division, 3103 Research Road, Champaign The $5 donation at the door ($8 for nonmembers and guests) helps fund chamber programs.
February 23
Feb. 23, March 21 ECI SCORE: Writing a Business Plan 9 to 11:30 a.m.
Champaign County Chamber of Commerce, 303 W. Kirby Ave., Champaign Reviews the importance of writing a business plan. Content: business plan format, financial analysis and securing financing. Workbook provided. Cost: $25. To register, go to eci-score.org or call at 217-359-1791.
February 26
Feb. 26-March 7 Fundamentals of Human Resources Tue./Thur. 1 to 5 p.m.
Parkland College Business Training, 1315 N. Mattis Ave., Champaign Learn how to recruit, select, interview and hire employees in compliance with federal and state laws; establish a valid testing program; guard against charges of negligent hiring and discrimination; write job descriptions and specifications; develop cost-effective, competitive compensation and benefits programs; and more. Fee: $355 Registration deadline: Feb. 19
COVER STORY February 2017
---
Beautiful and functional
---
Come to Farmer City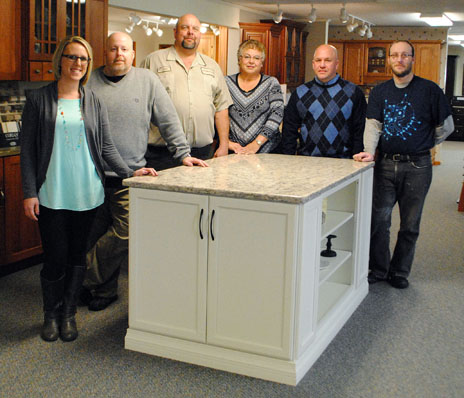 The latest innovations in cabinets will keep your counters clutter-free, enhance access to your things, and create a great look! You'll feel like you have a new space! And if you're building new, these innovations can give you the home of your dreams.
Cabinetland can help you with your kitchen, dining area, bathroom and anywhere else you want quality custom cabinetry. Beautiful cabinets are not just a luxury either! They have something for every budget and taste.
Providing your cabinet and countertop needs, Cabinetland uses quality manufacturers like Schrock, Kitchen Kompact, Corian, Cambria, Silestone, Zodiac, Hi-Macs, Livingstone and many others. Serving the Central Illinois area, they have locations in Farmer City and Springfield.
Russ Hirschman started Cabinetland 44 years ago using the experience he gained working for Schrock as a production manager. He saw a need in the building and renovating industry and knew he could build a business to fulfill that need.
We went out to the Farmer City location to take a look at the showroom and talk with the staff at 3 Ogle Drive at the east end of the village. They are busy all year long, no matter the weather or the economy, according to Diane Smith of Cabinetland.
"In fact, recently when new construction fell, we gained business in the remodeling end," She said.
Smith said that they have helped customers with many different cabinet and storage needs. They offer product lines that are good, better and best, and a builder line that is basic and affordable.
"Of course, we do kitchens and bathrooms, but we also have customized cabinetry and storage for offices, entertainment areas, china cabinets, chemistry labs, school lockers and pantry storage just to name a few of the options we can provide customers," she said.
The Homer School District purchased new school lockers from them.
Likewise, the Blue Ridge School District had them help with their new computer labs. Many local offices have Cabinetland set them up with filing cabinets and customized desks.
Luke Hirschman said that the possibilities are endless.
"We have thousands of options for our customers. We will help them figure everything out. We measure to exact specifications and get everything exactly right," he said.
They have a five step process that starts with a handy measuring guide that can found on their website.
"Then come to our showroom. We take our customers by the hand, and show them what we offer," Smith said.
Next, design specialists put together that dream kitchen, bathroom, office or any other storage that they desire. A rendering is produced along with a quote. With approval, the customer's home is measured for accuracy and then the product is ordered. Two weeks later, the cabinets are in the showroom and on the way to your home, office or school.
"Our delivery is free, too," Smith said.
They take pride in their design abilities, as well.
"We have a combined 105 years of experience within our six member staff," Hirschman said.
Smith said there are many new options in cabinetry. One trend is that kitchens are using more than one color in woods and countertops. There are also a great variety in cornice options, which can make cabinets change dramatically.
Some innovations are structural for greater efficacy in storage. There is additional storage in the toe kicks of cabinets, for example. The toe kick is the area between the bottom cabinet and the floor.
"Every year there are new product lines with features like the toe kick drawer, the Super Susan-a variation of the Lazy Susan- and blind corner turn outs that use the space in the cabinet's corner," Smith said.
Smith showed us a pot and pan pantry that had a feature called the "wall shelf pulldown" that is amazingly quiet and efficient. Optimal use of space is the goal at Cabinetland, Hirschman said.
Hirschman said they are open Tuesday through Saturday from 9 a.m. to 5 p.m. Call them toll free at 800-272-5465 or visit their website at cabinteland.net.
Back to top
Part of The News-Gazette, Inc. community of websites:
News-Gazette | IlliniHQ | WDWS | WHMS |