HOME/COVER STORY
---
ACHIEVEMENTS
---
AG BUSINESS
---
BEST BUSINESS
---
Best of Towns Best Business Services
---
Best of Towns Best Coffee Shop
---
Best of Towns Best Hair Stylist and Spa
---
Best of Towns Best Health Club
---
Best of Towns Financial Company
---
Best of Towns Restaurant
---
BUSINESS NOW
---
ECONOMICS
---
EDITOR'S NOTE
---
Entrepreneur Tips
---
FINE PRINT
---
GET TO KNOW THE CEO
---
GOOD BUSINESS
---
GREEN TIPS
---
INNOVATION > THE OUTER LIMITS
---
LEGAL PILLARS
---
MADE IN CHAMPAIGN COUNTY
---
MARKETING
---
OIL/GAS INDUSTRY
---
ORGANIZATIONAL KNOWLEDGE
---
FORTY UNDER 40 NOMINATIONS
---
SUBSCRIBE NOW!
---
CONTACT US
---
ARCHIVE
---
CALENDAR
Editor 's note: submit events, meetings, workshops and conferences at least one month in advance to cibm@news-gazette.com for inclusion in Mark Your Calendar.
< Nov
Dec
Jan >
December 6
Dec. 3, 6, 7, 10, 13, 14, 17, 20, 21 One-on-One Computer Basics 1 to 3 p.m. Mondays, 11 a.m. to 1 p.m. Thursdays and Fridays
Douglass Branch Library, 504 E. Grove St., Champaign All skill levels are welcome to drop in for one-on-one computer instruction. Get free help with your questions about the Internet, email, resumes and more. Individual instruction is also available by appointment. Call 217-403-2090 for more information. Instruction is provided by volunteers from the Graduate School of Library and Information Science at the University of Illinois.
December 7
Project Risk Management 8 a.m. to 5 p.m.
Parkland College Business Training, 1315 N. Mattis Ave., Champaign Join Borinara Park as he introduces you to the concepts and methods in managing project risks and uncertainties. Using a software program (@Risk for Project) widely used in the risk management area, this course provides a hands-on learning opportunity to create a convincing project plan by incorporating inherent project risks and uncertainties. Participants will learn how to quantify the project risks and determine key drivers in the schedule and will be able to produce contingency plans and risk mitigation strategies effectively. Fee: $795 (book included) Registration deadline: Nov. 30
December 7
First Friday Coffee 7:30 to 9 a.m.
First Financial Bank-Urbana, 2510 S. Philo Road, Urbana Enjoy coffee, conversation and a light breakfast as you network on the first Friday of each month. Cost is $3 for Chamber of Commerce members. For more information on First Fridays, or to find out where these events are being held, visit
www.champaigncounty.org
or call 217-359-1791.
December 8
Urbana Business Association Holiday Market 8 a.m. to 1 p.m. Dec. 1, 8, 15
Lincoln Square Mall, 201 Lincoln Square, Urbana Holiday Market consists of weekly Saturday markets inside Lincoln Square Mall during the holiday season. The Holiday Market will be bringing crafts and edibles from local vendors to Champaign-Urbana holiday shoppers. The mall will be filled with produce, baked goods, crafts and holiday decorations -- all produced, grown or made in Illinois.
December 8
TECH 21: The Full-time Job of Job Seeking 10 a.m. to noon
Urbana Free Library, 210 W. Green St., Urbana Learn tips for online job searching, applying online and creating a professional cover letter and resume. Approximately one hour of instruction followed by one hour of document creation. Some familiarity with Microsoft Word and the Internet helpful. For more information, contact Amber Castens at 217-367-4405.
December 11
Dec. 11, 13 How to Manage Training: Facilitating Workplace Learning 1 to 5 p.m.
Parkland College Business Training, 1315 N. Mattis Ave., Champaign Join Cindy Harris to learn how to assess an employee's knowledge, skills and performance levels; determine training objectives; evaluate internal and external training resources; use a variety of teaching methods and media; design and deliver effective training programs for company needs; and measure the results of your training program. Fee: $265 (book included). Registration deadline: Dec. 4.
December 13
Fearless Facilitation -- How to Lead Effective Meetings 8 a.m. to noon or 1 to 5 p.m.
Parkland College Business Training, 1315 N. Mattis Ave., Champaign Steven Welland will teach you how to achieve desired results in meetings and manage relationships and process at the same time. You will learn how to lead effective meetings; demonstrate fundamental facilitation skills; make optimal use of people's time and talents; strike the right balance between purpose, process and participation; and exhibit the confidence and competence of a fearless facilitator. Fee: $125 (book included). Registration deadline: Dec. 6.
December 13
Business After Hours 5 to 7 p.m. First Bank,
1251 Woodfield Drive, Savoy Join fellow chamber members and their guests in this networking opportunity hosted this month by First Bank of Savoy. Proceeds from the $5 per person donation at the door will help fund chamber programs. The donation for non-members and guests is $8.
December 14
CNA 21 Skills Recertification 9:30 a.m. to 12:30 p.m.
Parkland College Health Professions, 1309 N. Mattis Ave., Champaign This is an Illinois Department of Public Health-approved evaluation session intended for CNAs who need to update their 21 skills for recertification. Initial class meets for three hours. To complete the update, students are required to schedule a three-hour on-site clinical session with a Parkland College instructor at a long-term care facility. Fee: $125. Registration deadline: Dec. 7.
December 15
Computers 101 9 to 10 a.m.
Urbana Free Library, 210 W. Green St., Urbana Free one-on-one tutoring for adults seeking basic computer instruction. Participants are welcome to bring their own laptops or use the PCs in the lab. Training is customized to each participant's needs. Seniors encouraged to attend. Registration is required. Speak to a librarian about registering for this class, or contact Amber Castens at 217-367-4405.
COVER STORY February 2017
---
Beautiful and functional
---
Come to Farmer City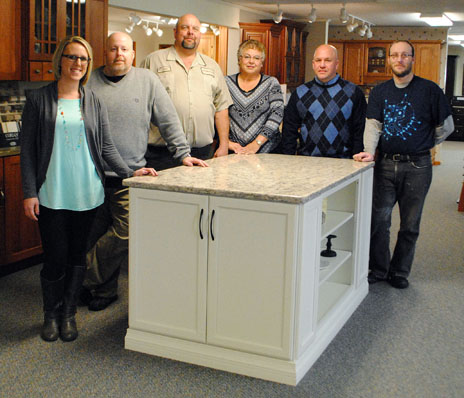 The latest innovations in cabinets will keep your counters clutter-free, enhance access to your things, and create a great look! You'll feel like you have a new space! And if you're building new, these innovations can give you the home of your dreams.
Cabinetland can help you with your kitchen, dining area, bathroom and anywhere else you want quality custom cabinetry. Beautiful cabinets are not just a luxury either! They have something for every budget and taste.
Providing your cabinet and countertop needs, Cabinetland uses quality manufacturers like Schrock, Kitchen Kompact, Corian, Cambria, Silestone, Zodiac, Hi-Macs, Livingstone and many others. Serving the Central Illinois area, they have locations in Farmer City and Springfield.
Russ Hirschman started Cabinetland 44 years ago using the experience he gained working for Schrock as a production manager. He saw a need in the building and renovating industry and knew he could build a business to fulfill that need.
We went out to the Farmer City location to take a look at the showroom and talk with the staff at 3 Ogle Drive at the east end of the village. They are busy all year long, no matter the weather or the economy, according to Diane Smith of Cabinetland.
"In fact, recently when new construction fell, we gained business in the remodeling end," She said.
Smith said that they have helped customers with many different cabinet and storage needs. They offer product lines that are good, better and best, and a builder line that is basic and affordable.
"Of course, we do kitchens and bathrooms, but we also have customized cabinetry and storage for offices, entertainment areas, china cabinets, chemistry labs, school lockers and pantry storage just to name a few of the options we can provide customers," she said.
The Homer School District purchased new school lockers from them.
Likewise, the Blue Ridge School District had them help with their new computer labs. Many local offices have Cabinetland set them up with filing cabinets and customized desks.
Luke Hirschman said that the possibilities are endless.
"We have thousands of options for our customers. We will help them figure everything out. We measure to exact specifications and get everything exactly right," he said.
They have a five step process that starts with a handy measuring guide that can found on their website.
"Then come to our showroom. We take our customers by the hand, and show them what we offer," Smith said.
Next, design specialists put together that dream kitchen, bathroom, office or any other storage that they desire. A rendering is produced along with a quote. With approval, the customer's home is measured for accuracy and then the product is ordered. Two weeks later, the cabinets are in the showroom and on the way to your home, office or school.
"Our delivery is free, too," Smith said.
They take pride in their design abilities, as well.
"We have a combined 105 years of experience within our six member staff," Hirschman said.
Smith said there are many new options in cabinetry. One trend is that kitchens are using more than one color in woods and countertops. There are also a great variety in cornice options, which can make cabinets change dramatically.
Some innovations are structural for greater efficacy in storage. There is additional storage in the toe kicks of cabinets, for example. The toe kick is the area between the bottom cabinet and the floor.
"Every year there are new product lines with features like the toe kick drawer, the Super Susan-a variation of the Lazy Susan- and blind corner turn outs that use the space in the cabinet's corner," Smith said.
Smith showed us a pot and pan pantry that had a feature called the "wall shelf pulldown" that is amazingly quiet and efficient. Optimal use of space is the goal at Cabinetland, Hirschman said.
Hirschman said they are open Tuesday through Saturday from 9 a.m. to 5 p.m. Call them toll free at 800-272-5465 or visit their website at cabinteland.net.
Back to top
Part of The News-Gazette, Inc. community of websites:
News-Gazette | IlliniHQ | WDWS | WHMS |