HOME/COVER STORY
---
ACHIEVEMENTS
---
AG BUSINESS
---
BUSINESS NOW
---
ECONOMICS
---
EDITOR'S NOTE
---
FINE PRINT
---
GET TO KNOW THE CEO
---
GREEN TIPS
---
INNOVATION > THE OUTER LIMITS
---
MADE IN CHAMPAIGN COUNTY
---
MARKETING
---
OIL/GAS INDUSTRY
---
ORGANIZATIONAL KNOWLEDGE
---
FORTY UNDER 40 NOMINATIONS
---
SUBSCRIBE NOW!
---
CONTACT US
---
ARCHIVE
---
CALENDAR
Editor 's note: submit events, meetings, workshops and conferences at least one month in advance to cibm@news-gazette.com for inclusion in Mark Your Calendar.
< Nov
Dec
Jan >
December 6
Dec. 3, 6, 7, 10, 13, 14, 17, 20, 21 One-on-One Computer Basics 1 to 3 p.m. Mondays, 11 a.m. to 1 p.m. Thursdays and Fridays
Douglass Branch Library, 504 E. Grove St., Champaign All skill levels are welcome to drop in for one-on-one computer instruction. Get free help with your questions about the Internet, email, resumes and more. Individual instruction is also available by appointment. Call 217-403-2090 for more information. Instruction is provided by volunteers from the Graduate School of Library and Information Science at the University of Illinois.
December 7
Project Risk Management 8 a.m. to 5 p.m.
Parkland College Business Training, 1315 N. Mattis Ave., Champaign Join Borinara Park as he introduces you to the concepts and methods in managing project risks and uncertainties. Using a software program (@Risk for Project) widely used in the risk management area, this course provides a hands-on learning opportunity to create a convincing project plan by incorporating inherent project risks and uncertainties. Participants will learn how to quantify the project risks and determine key drivers in the schedule and will be able to produce contingency plans and risk mitigation strategies effectively. Fee: $795 (book included) Registration deadline: Nov. 30
December 7
First Friday Coffee 7:30 to 9 a.m.
First Financial Bank-Urbana, 2510 S. Philo Road, Urbana Enjoy coffee, conversation and a light breakfast as you network on the first Friday of each month. Cost is $3 for Chamber of Commerce members. For more information on First Fridays, or to find out where these events are being held, visit
www.champaigncounty.org
or call 217-359-1791.
December 8
Urbana Business Association Holiday Market 8 a.m. to 1 p.m. Dec. 1, 8, 15
Lincoln Square Mall, 201 Lincoln Square, Urbana Holiday Market consists of weekly Saturday markets inside Lincoln Square Mall during the holiday season. The Holiday Market will be bringing crafts and edibles from local vendors to Champaign-Urbana holiday shoppers. The mall will be filled with produce, baked goods, crafts and holiday decorations -- all produced, grown or made in Illinois.
December 8
TECH 21: The Full-time Job of Job Seeking 10 a.m. to noon
Urbana Free Library, 210 W. Green St., Urbana Learn tips for online job searching, applying online and creating a professional cover letter and resume. Approximately one hour of instruction followed by one hour of document creation. Some familiarity with Microsoft Word and the Internet helpful. For more information, contact Amber Castens at 217-367-4405.
December 11
Dec. 11, 13 How to Manage Training: Facilitating Workplace Learning 1 to 5 p.m.
Parkland College Business Training, 1315 N. Mattis Ave., Champaign Join Cindy Harris to learn how to assess an employee's knowledge, skills and performance levels; determine training objectives; evaluate internal and external training resources; use a variety of teaching methods and media; design and deliver effective training programs for company needs; and measure the results of your training program. Fee: $265 (book included). Registration deadline: Dec. 4.
December 13
Fearless Facilitation -- How to Lead Effective Meetings 8 a.m. to noon or 1 to 5 p.m.
Parkland College Business Training, 1315 N. Mattis Ave., Champaign Steven Welland will teach you how to achieve desired results in meetings and manage relationships and process at the same time. You will learn how to lead effective meetings; demonstrate fundamental facilitation skills; make optimal use of people's time and talents; strike the right balance between purpose, process and participation; and exhibit the confidence and competence of a fearless facilitator. Fee: $125 (book included). Registration deadline: Dec. 6.
December 13
Business After Hours 5 to 7 p.m. First Bank,
1251 Woodfield Drive, Savoy Join fellow chamber members and their guests in this networking opportunity hosted this month by First Bank of Savoy. Proceeds from the $5 per person donation at the door will help fund chamber programs. The donation for non-members and guests is $8.
December 14
CNA 21 Skills Recertification 9:30 a.m. to 12:30 p.m.
Parkland College Health Professions, 1309 N. Mattis Ave., Champaign This is an Illinois Department of Public Health-approved evaluation session intended for CNAs who need to update their 21 skills for recertification. Initial class meets for three hours. To complete the update, students are required to schedule a three-hour on-site clinical session with a Parkland College instructor at a long-term care facility. Fee: $125. Registration deadline: Dec. 7.
December 15
Computers 101 9 to 10 a.m.
Urbana Free Library, 210 W. Green St., Urbana Free one-on-one tutoring for adults seeking basic computer instruction. Participants are welcome to bring their own laptops or use the PCs in the lab. Training is customized to each participant's needs. Seniors encouraged to attend. Registration is required. Speak to a librarian about registering for this class, or contact Amber Castens at 217-367-4405.
COVER STORY August 2015
---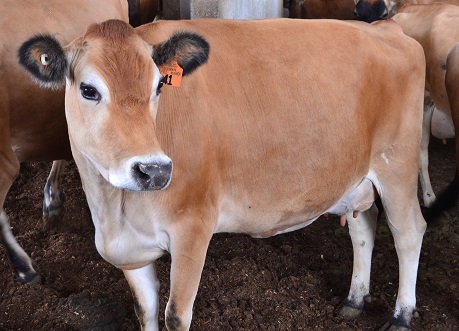 Kilgus Farmstead
---

When it comes to agriculture, Illinois is primarily a crop producing state. There are successful farming operations in Illinois, however, that produce other agricultural products. One of these is Kilgus Farmstead, located just south of Fairbury in Livingston County.
Matt Kilgus said that his grandparents, Duane and Arlene Kilgus started back in 1958 with 25 Holstein cows. Kilgus said they liked the quality of life that farming provided their family. He is the manager of the fluid milk bottling facility, which is housed right on the Kilgus farm.
The Kilgus family is a fourth generation operation. His uncle Paul Kilgus, and his two sons-Justin and Trent are also involved in the business, along with their wives, Carmen, Kaylee, Kayla and Jenna. Together they make up the driving force behind the dairy. They also employ Grant Hartman, Jacob Price and Sadie Moser.
"We decided to go with Jersey cows in the 1990s," Kilgus said from the Kilgus Farmstead store, housed right on the farm. "Jersey gives a more nutrient dense, high butterfat milk. They are smaller than a Holstein and have a longer life span. They're also known for their tender and flavorful meat."
Matt Kilgus said that he and his cousin, Justin manage the milk bottling. Matt Kilgus is also the manager of the farmstead.
"We sell 6,000 gallons per week," Kilgus said.
The farmstead has 140 registered Jersey Cows.
"Justin also handles the meat sales, while Paul and Trent manage and tend the breeding stock. We've all developed our specialty areas, but still we work together whenever needed," he said. "Carmen does the books, Jenna helps her with the store and all of that, along with Kaylee and Kayla."
The cows are rotationally grazed on 75 acres from early April to November. The Kilgus family also grows their own non-GMO grain to feed all of their livestock.
"We have the pasture divided up into two and a half acre paddocks, and we have 17 paddocks. We rotate two groups of the 140 cows into one of the paddocks every day," Kilgus said.
This enables the grass to replenish itself before it is grazed again.
"We are a single source, fluid milk bottling operation on the farm. People can see it all here from start to finish," he said.
In fact, Kilgus Farmstead is the only on-farm, single-source, fluid milk bottler in the entire state of Illinois. They do not homogenize their milk.
"Three days a week, we are bottling right here," Kilgus said.
They bottle whole, 2%, skim, chocolate, half and half, heavy cream and soft serve ice cream mix to sell to over 100 restaurants, 65 retail outlets and three institutions in Illinois. Forty percent of the distribution is to the Chicago area and surrounding suburbs. The remaining 60% is delivered by the farmstead to Champaign, Urbana, Bloomington and Peoria. They are certified All-Jersey and Queen of Quality by the National All-Jersey, Inc.
Kilgus Farmstead recently hosted a tour stop of the Illinois Jerseys tour.
"We had over 400 people right here-dairy farmers and industry people from 31 states, Canada and Australia," Kilgus said. "It was a once in a lifetime experience."
The farmstead also markets meats from Jersey steers, Boer goats and Berkshire pork. Beef from steers is always an offshoot of a dairy operation, however, because of the quality, Kilgus has had increased demand for their beef, which is fat-marbled and therefore more tender.
"We started with the pigs, because we were initially throwing milk away. We started with them as a local project. We now have butcher shops and chefs from as far away as Chicago requesting our pork," he said.
The milk sales are so successful, though that they now feed the pigs, high quality non-GMO grain raised on the Kilgus farm.
When Justin and Trent Kilgus were teenaged and involved in 4-H, they began a small meat goat operation. The demand for Kilgus Boer goat meat grew rapidly and has become part of the Kilgus Farmstead business.
"Our goat meat is used at two Chicago restaurants: The Girl and The Goat, and The Little Goat," Matt Kilgus said.
There is a great variety in the Kilgus Farmstead Store. Besides their own dairy and meat products, there is a variety of teas, chocolates, ice cream, beauty creams, honey, sweet Vidalia onion relish and the list goes on.
"We fill up our trucks coming back with items to promote other farmers in our store," Matt Kilgus said. "We also have a lady that takes our own milk and makes soap and lotion."
Indeed, Cheryl Zacek, of Farmer in Odell, makes many varieties and fragrances of soaps and lotions. Besides Kilgus milk, they have all quality products like aloe vera and essential oils.
To find out where Kilgus Farmstead products are served and sold, please go to: http://www.kilgusfarmstead.com/where-to-buy/
Back to top
Part of The News-Gazette, Inc. community of websites:
News-Gazette | IlliniHQ | WDWS | WHMS |