HOME/COVER STORY
---
ACHIEVEMENTS
---
AG BUSINESS
---
BUSINESS NOW
---
ECONOMICS
---
EDITOR'S NOTE
---
FINE PRINT
---
GET TO KNOW THE CEO
---
GREEN TIPS
---
INNOVATION > THE OUTER LIMITS
---
MADE IN CHAMPAIGN COUNTY
---
MARKETING
---
OIL/GAS INDUSTRY
---
ORGANIZATIONAL KNOWLEDGE
---
FORTY UNDER 40 NOMINATIONS
---
SUBSCRIBE NOW!
---
CONTACT US
---
ARCHIVE
---
CALENDAR
Editor 's note: submit events, meetings, workshops and conferences at least one month in advance to cibm@news-gazette.com for inclusion in Mark Your Calendar.
< Nov
Dec
Jan >
December 6
Dec. 3, 6, 7, 10, 13, 14, 17, 20, 21 One-on-One Computer Basics 1 to 3 p.m. Mondays, 11 a.m. to 1 p.m. Thursdays and Fridays
Douglass Branch Library, 504 E. Grove St., Champaign All skill levels are welcome to drop in for one-on-one computer instruction. Get free help with your questions about the Internet, email, resumes and more. Individual instruction is also available by appointment. Call 217-403-2090 for more information. Instruction is provided by volunteers from the Graduate School of Library and Information Science at the University of Illinois.
December 7
Project Risk Management 8 a.m. to 5 p.m.
Parkland College Business Training, 1315 N. Mattis Ave., Champaign Join Borinara Park as he introduces you to the concepts and methods in managing project risks and uncertainties. Using a software program (@Risk for Project) widely used in the risk management area, this course provides a hands-on learning opportunity to create a convincing project plan by incorporating inherent project risks and uncertainties. Participants will learn how to quantify the project risks and determine key drivers in the schedule and will be able to produce contingency plans and risk mitigation strategies effectively. Fee: $795 (book included) Registration deadline: Nov. 30
December 7
First Friday Coffee 7:30 to 9 a.m.
First Financial Bank-Urbana, 2510 S. Philo Road, Urbana Enjoy coffee, conversation and a light breakfast as you network on the first Friday of each month. Cost is $3 for Chamber of Commerce members. For more information on First Fridays, or to find out where these events are being held, visit
www.champaigncounty.org
or call 217-359-1791.
December 8
Urbana Business Association Holiday Market 8 a.m. to 1 p.m. Dec. 1, 8, 15
Lincoln Square Mall, 201 Lincoln Square, Urbana Holiday Market consists of weekly Saturday markets inside Lincoln Square Mall during the holiday season. The Holiday Market will be bringing crafts and edibles from local vendors to Champaign-Urbana holiday shoppers. The mall will be filled with produce, baked goods, crafts and holiday decorations -- all produced, grown or made in Illinois.
December 8
TECH 21: The Full-time Job of Job Seeking 10 a.m. to noon
Urbana Free Library, 210 W. Green St., Urbana Learn tips for online job searching, applying online and creating a professional cover letter and resume. Approximately one hour of instruction followed by one hour of document creation. Some familiarity with Microsoft Word and the Internet helpful. For more information, contact Amber Castens at 217-367-4405.
December 11
Dec. 11, 13 How to Manage Training: Facilitating Workplace Learning 1 to 5 p.m.
Parkland College Business Training, 1315 N. Mattis Ave., Champaign Join Cindy Harris to learn how to assess an employee's knowledge, skills and performance levels; determine training objectives; evaluate internal and external training resources; use a variety of teaching methods and media; design and deliver effective training programs for company needs; and measure the results of your training program. Fee: $265 (book included). Registration deadline: Dec. 4.
December 13
Fearless Facilitation -- How to Lead Effective Meetings 8 a.m. to noon or 1 to 5 p.m.
Parkland College Business Training, 1315 N. Mattis Ave., Champaign Steven Welland will teach you how to achieve desired results in meetings and manage relationships and process at the same time. You will learn how to lead effective meetings; demonstrate fundamental facilitation skills; make optimal use of people's time and talents; strike the right balance between purpose, process and participation; and exhibit the confidence and competence of a fearless facilitator. Fee: $125 (book included). Registration deadline: Dec. 6.
December 13
Business After Hours 5 to 7 p.m. First Bank,
1251 Woodfield Drive, Savoy Join fellow chamber members and their guests in this networking opportunity hosted this month by First Bank of Savoy. Proceeds from the $5 per person donation at the door will help fund chamber programs. The donation for non-members and guests is $8.
December 14
CNA 21 Skills Recertification 9:30 a.m. to 12:30 p.m.
Parkland College Health Professions, 1309 N. Mattis Ave., Champaign This is an Illinois Department of Public Health-approved evaluation session intended for CNAs who need to update their 21 skills for recertification. Initial class meets for three hours. To complete the update, students are required to schedule a three-hour on-site clinical session with a Parkland College instructor at a long-term care facility. Fee: $125. Registration deadline: Dec. 7.
December 15
Computers 101 9 to 10 a.m.
Urbana Free Library, 210 W. Green St., Urbana Free one-on-one tutoring for adults seeking basic computer instruction. Participants are welcome to bring their own laptops or use the PCs in the lab. Training is customized to each participant's needs. Seniors encouraged to attend. Registration is required. Speak to a librarian about registering for this class, or contact Amber Castens at 217-367-4405.
COVER STORY May 2015
---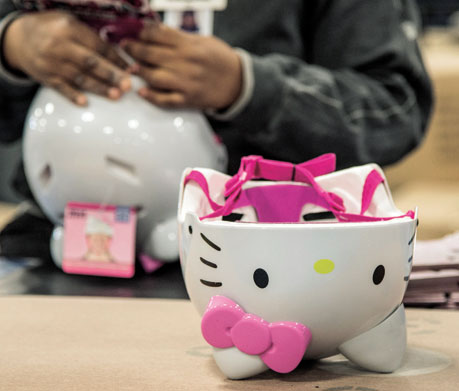 SUCCESS IN THE FIELD
---
Multibrand distribution and manufacturing facility sets high national standards in Central Illinois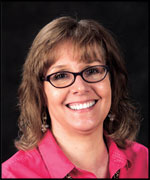 It's pretty common in Central Illinois to see fields of grain: corn, soybeans and the occasional winter wheat. Plus, many in Central Illinois have experienced the phenomenon of something interesting popping up on the horizon amid those endless fields. That's kind of how it is along Interstate 57, right outside of Rantoul.
"When we talk about being in the field, we literally had the groundbreaking ceremony right here in a cornfield," said Lewis Hornsby, general manager of BRG Sports in Rantoul. "Before that, we were in one of the airplane hangars at the old U.S. Air Force base."
BRG stands for Bell, Riddell and Giro, well-known names in retail sports. The Rantoul facility, which went live in October 2013, is a complex that combined eight distribution centers, and deals with Bell Sports, Riddell, Giro, Blackburn and C-Preme brands. The company's main headquarters is in Scotts Valley, Calif.
The Rantoul site has over 800,000 square feet in its manufacturing and distribution facility, and has already seen growth in its first 18 months since the building opened. The Central Illinois site is the distribution, transportation and logistics base for the company, which is a leading designer, developer and marketer of branded sports equipment, protective products and related accessories.
"Right now, we are at the end of the quarter and we are gearing up for the bike season," Hornsby said from the top of a three-story, steel-girded stairwell that overlooks the plant. "This is our biggest time of the year with the sale of bike helmets, bike racks, apparel and bike shoes."
When the company moved, the BRG GM said, the average staff tenure was around 10 years. He also said that the quality of service by the staff was a big reason that corporate officials made a firm decision to expand the Rantoul operation.
"We decided to go with the experience that the employees had," Hornsby said.
BRG has about 400 employees. Hornsby, who is also the BRG corporate vice president of global logistics and fulfillment, has been in the field for many years. He spoke with great enthusiasm and called employees by name as he made his rounds.
"This facility is the size of 18 football fields," he explained as he walked briskly through the different areas of the module, which is what the heart of the building is called. "A walk around the building will add up to about 8 miles, and if that isn't enough exercise, there's a state-of-the art gym and lockers housed right here in the facility, too."
Distribution is one part of the business
When it comes to distribution, Hornsby said, between 40,000 and 55,000 packages are sent out of the module on an average day. The process of picking product, as it is known in the distribution field, is the sequence of taking customer-ordered items and loading them into a box for shipment. This can be one of the most costly drains on profits, when one considers how much distance needs to be traveled in the plant to pick up certain items, how many times it's handled, and how the items are placed in an area that tends to the least handling. These directly affect profits.
The process at BRG is very efficient, according to Horns- by. He said the company can train an employee to correctly and efficiently pick product in about 10 minutes.
"Yes, 'How-to-Pick' training used to take hours, but now we are so efficient that the errors have gone down drastically," Hornsby said. "We have cut our error rate to less than ½ of a percent. I tell my employees to pack it up like it's for their grandma."
In the new picking process, an employee wears a radio frequency personal digital assistant with Bluetooth ring scanner to select direct to shipping carton merchandise -- the picks -- that need to be packed. Orders are picked and tracked via a bar code by carton. These are scanned and auto-routed through the system. There are no paper-pick tickets needed.
"We serve everyone from the mom-and-pop stores to the big-box competitors. No business is too small or too big for our operation. Customer service is No. 1 to us," he said. "We need to stay on top of things. There's always a competitor out there, ready to eat our lunch."
Manufacturing is the other part
Hornsby walked through the assembly lines of employees that were busy putting together all types of bicycle helmets.
"The bike helmets we make here take about two minutes and eight seconds to completely assemble. That's everything from the cover, the pads, the decals, the straps and then packaging," he said.
The plant produces an average of 20,000 helmets a day. They also produce National Football League collectible helmets, which are a dead ringer for the real thing, but are meant for decoration only, Hornsby said. Plus, a new item on the helmet market is the ever popular 3-D helmet, a regular bike helmet with embellishments added to give it a third dimension.
"These 3-D helmets go through a baking and drying process, because of all of the intricate designs they have," he said, pointing to a Hello Kitty helmet that traveled down the assembly line.
People are the bottom line
The night before, he and human resources manager Staci Wahls grilled 100 steaks for department personnel who broke packaging records.
"It's what we do. We care about our employees," Horns-by said. "We've got great people here. They make our job easy."
Back to top
Part of The News-Gazette, Inc. community of websites:
News-Gazette | IlliniHQ | WDWS | WHMS |