HOME/COVER STORY
---
ACHIEVEMENTS
---
AG BUSINESS
---
BUSINESS NOW
---
ECONOMICS
---
EDITOR'S NOTE
---
FINE PRINT
---
GET TO KNOW THE CEO
---
GREEN TIPS
---
INNOVATION > THE OUTER LIMITS
---
MADE IN CHAMPAIGN COUNTY
---
MARKETING
---
OIL/GAS INDUSTRY
---
ORGANIZATIONAL KNOWLEDGE
---
FORTY UNDER 40 NOMINATIONS
---
SUBSCRIBE NOW!
---
CONTACT US
---
ARCHIVE
---
CALENDAR
Editor 's note: submit events, meetings, workshops and conferences at least one month in advance to cibm@news-gazette.com for inclusion in Mark Your Calendar.
< Nov
Dec
Jan >
December 6
Dec. 3, 6, 7, 10, 13, 14, 17, 20, 21 One-on-One Computer Basics 1 to 3 p.m. Mondays, 11 a.m. to 1 p.m. Thursdays and Fridays
Douglass Branch Library, 504 E. Grove St., Champaign All skill levels are welcome to drop in for one-on-one computer instruction. Get free help with your questions about the Internet, email, resumes and more. Individual instruction is also available by appointment. Call 217-403-2090 for more information. Instruction is provided by volunteers from the Graduate School of Library and Information Science at the University of Illinois.
December 7
Project Risk Management 8 a.m. to 5 p.m.
Parkland College Business Training, 1315 N. Mattis Ave., Champaign Join Borinara Park as he introduces you to the concepts and methods in managing project risks and uncertainties. Using a software program (@Risk for Project) widely used in the risk management area, this course provides a hands-on learning opportunity to create a convincing project plan by incorporating inherent project risks and uncertainties. Participants will learn how to quantify the project risks and determine key drivers in the schedule and will be able to produce contingency plans and risk mitigation strategies effectively. Fee: $795 (book included) Registration deadline: Nov. 30
December 7
First Friday Coffee 7:30 to 9 a.m.
First Financial Bank-Urbana, 2510 S. Philo Road, Urbana Enjoy coffee, conversation and a light breakfast as you network on the first Friday of each month. Cost is $3 for Chamber of Commerce members. For more information on First Fridays, or to find out where these events are being held, visit
www.champaigncounty.org
or call 217-359-1791.
December 8
Urbana Business Association Holiday Market 8 a.m. to 1 p.m. Dec. 1, 8, 15
Lincoln Square Mall, 201 Lincoln Square, Urbana Holiday Market consists of weekly Saturday markets inside Lincoln Square Mall during the holiday season. The Holiday Market will be bringing crafts and edibles from local vendors to Champaign-Urbana holiday shoppers. The mall will be filled with produce, baked goods, crafts and holiday decorations -- all produced, grown or made in Illinois.
December 8
TECH 21: The Full-time Job of Job Seeking 10 a.m. to noon
Urbana Free Library, 210 W. Green St., Urbana Learn tips for online job searching, applying online and creating a professional cover letter and resume. Approximately one hour of instruction followed by one hour of document creation. Some familiarity with Microsoft Word and the Internet helpful. For more information, contact Amber Castens at 217-367-4405.
December 11
Dec. 11, 13 How to Manage Training: Facilitating Workplace Learning 1 to 5 p.m.
Parkland College Business Training, 1315 N. Mattis Ave., Champaign Join Cindy Harris to learn how to assess an employee's knowledge, skills and performance levels; determine training objectives; evaluate internal and external training resources; use a variety of teaching methods and media; design and deliver effective training programs for company needs; and measure the results of your training program. Fee: $265 (book included). Registration deadline: Dec. 4.
December 13
Fearless Facilitation -- How to Lead Effective Meetings 8 a.m. to noon or 1 to 5 p.m.
Parkland College Business Training, 1315 N. Mattis Ave., Champaign Steven Welland will teach you how to achieve desired results in meetings and manage relationships and process at the same time. You will learn how to lead effective meetings; demonstrate fundamental facilitation skills; make optimal use of people's time and talents; strike the right balance between purpose, process and participation; and exhibit the confidence and competence of a fearless facilitator. Fee: $125 (book included). Registration deadline: Dec. 6.
December 13
Business After Hours 5 to 7 p.m. First Bank,
1251 Woodfield Drive, Savoy Join fellow chamber members and their guests in this networking opportunity hosted this month by First Bank of Savoy. Proceeds from the $5 per person donation at the door will help fund chamber programs. The donation for non-members and guests is $8.
December 14
CNA 21 Skills Recertification 9:30 a.m. to 12:30 p.m.
Parkland College Health Professions, 1309 N. Mattis Ave., Champaign This is an Illinois Department of Public Health-approved evaluation session intended for CNAs who need to update their 21 skills for recertification. Initial class meets for three hours. To complete the update, students are required to schedule a three-hour on-site clinical session with a Parkland College instructor at a long-term care facility. Fee: $125. Registration deadline: Dec. 7.
December 15
Computers 101 9 to 10 a.m.
Urbana Free Library, 210 W. Green St., Urbana Free one-on-one tutoring for adults seeking basic computer instruction. Participants are welcome to bring their own laptops or use the PCs in the lab. Training is customized to each participant's needs. Seniors encouraged to attend. Registration is required. Speak to a librarian about registering for this class, or contact Amber Castens at 217-367-4405.
COVER STORY June 2015
---
Studio Announces Expansion
---
Shatterglass to create filmmaking hub in C-U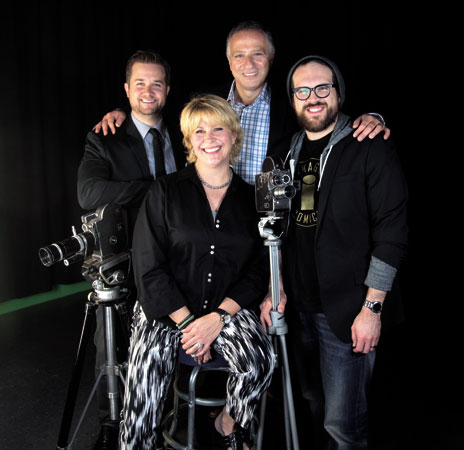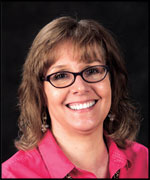 When Brett Hays, producer and co-owner of Shatterglass Studios and Shatterglass Films in Champaign was a student, he would approach business leaders with a request: "I don't want anything from you, like a job or an internship. I just want to get ideas," he said.
This young student would then proceed to pick their brains for their strategies as businesspeople.
"Since I had only the motivation to acquire knowledge, it was easy. I would tell them that I just want to meet them. That I'm just a student who wants ideas from them," he said.
Hays was very fortunate when one man, Scott Reichard, told Hays that he would grant monies to Shatterglass when they started 10 years ago.
Reichard is the chairman of Benefit Planning Consultants. He was interested in starting a multimedia company and brought Hays and Luke Boyce, another creative young man, together.
"We had a meeting of the minds, if you will," Boyce said.
Boyce had experience that belied his young age, having been involved in filmmaking since he was 14 years old. He is now the co-owner and creative director of Shatterglass. He said the collaborative thoughts about the potential they had together amazed them all.
"It was a synergy," Boyce said.
"For me, it was a 'wow moment.' It was serendipitous," Reichard said.
"Scott is not some jaded suit," Boyce said. "He believes in people."
It's about the kids
Fast-forward a few years, and it's now Shatterglass' turn to assist the Champaign-Urbana Film Society in helping youths with their ideas. The Pens to Lens competition began in February 2013, with the goal of creating an outlet for kindergarten through high school students to participate in the local film community by submitting original screenplays to be developed into short films. During the first year, they received over 100 original screenplays from students ranging from ages 5 to 18. This year, Pens to Lens has had 210 scripts submitted and will possibly have 20 to 30 films produced.
Scripts are chosen by the Champaign Movie Makers filmmaking club, and then are created, filmed and produced by local filmmakers. Artisans and designers from the Champaign Urbana Design Organization create movie posters for the film features. Hays said that the scripts are submitted to filmmakers, who then produce them. A screening gala takes place at the Virginia Theatre in Champaign, complete with red carpet, this Aug. 15.
"It's not about the filmmakers," Hays said. "It's about the kids. The Champaign Movie Makers leave the script as is, and they take it and run. It's the pure essence of the kid."
And because it's kids that are involved, one would think that the films are cute or funny.
"Well, they can be, but we had a drama last year that was about a mom passing away," he said. "William Kephart was the filmmaker."
Pens to Lens promises to be even more exciting in the third year.
"It's a validation of students. It shows them that filmmaking is a viable business," Hays said. "We wanted to teach literacy. We asked ourselves how do we create film literacy for the kids."
But sometimes, it's not just about the kids, it's about economic development.
Boyce was one of the first beta testers of the original Red One Camera in 2008. The camera redefined digital filmmaking.
"Back then, everyone wondered how this was possible. The Red Camera had 4K footage. That's 4,000 times the resolution of HDTV," Boyce said.
The company not only uses the Red One camera, but also the RED Scarlet-X Digital Cinema camera and the Canon 5D Mark II.
Ten years ago, Hays, Reichard and Boyce decided that they could produce the quality of film that they wanted to create. They acquired the cameras, the staff and the studio and went to work. During their tenure, they have created commercial films, documentaries, feature films, promotional films and short films that have earned a reputation as one of the premier independent film producers in the Midwest, according to Hays. Their awards include a regional Emmy for a documentary on the 14th annual Roger Ebert's Film Festival, a "Best Short Film" award at the Bend Film Festival for the short film "Sugar" and the "Best of the Fest" award at Newfest in 2010 for the feature-length "Leading Ladies."
Last year, Hays was involved as a line producer and unit production manager in the making of the feature film "Food," which was later renamed "Consumed," that starred Danny Glover and Kunal Nayyar. Part of the feature was filmed in Champaign-Urbana. After the experience, Hays was convinced that C-U could be a destination for filmmaking.
"We're talking about job growth and economic development," he said. "We brought $100,000 into C-U's economy with "Consumed." I'd like to see more of that: job creation, business growth with assistants, props, electrical, legal, special effects and the list goes on."
Shatterglass Studios made the decision to expand their partnership to include Jennifer Shelby and Habeeb Habeeb, creating Shatterglass Films, with the hope of creating a hub in the film industry in East Central Illinois.
Shelby, managing partner and executive producer of Shatterglass Films, is the president and dealer principal of a Chrysler-Dodge-Jeep-Ram dealership and a Ford dealership in Hoopeston. She is also the president of a real estate holding company, Solomon Ventures LLC in Champaign.
Habeeb, executive producer of Shatterglass Films, is also the president and CEO of Benefit Planning Consultants and H-Squared Leadership Institute.
"I saw their (Shatterglass) work at Carle and the Rotary," Shelby said. "I told them I'd like to get into filmmaking. I see the benefit to the community. They saw in me someone who will sell the film."
Hays agreed.
"You have to do everything in this business, until you can find someone who can do it for you," he said. "When Jen came on, we had a need for someone like her."
Shelby said they connected on so many levels.
"There is just something about us as a group," Boyce said. "In this business, we're like a family bond. It's that we feel a responsibility to each other."
Habeeb said economic development is his passion.
"We can be a film oasis in the Midwest," he said. "We could be a future draw from many metro communities: Chicago, Indianapolis and St. Louis, among others."
Hays said the company has been helping others make their films and now want to expand into making its own features. Its projects in various stages of development are "The Origins of Wit and Humor," "Chadura," the documentary "Ebertfest," and "Death of Innocence -- the hate crime that changed America," a story about the murder of African American Emmett Till.
"Films are coming to Illinois because of tax credits. This would be monetarily prudent for C-U," Hays said. "The support structure is here."
Shelby said Shatterglass Films wants to organically put things together here in the area.
"This is moving, full steam ahead, 100 miles per hour. We're going. We need everyone in C-U that wants to come on with us to jump on this train," she said.
Boyce said that at Ebertfest, filmmakers were amazed at what was available in the C-U area.
"A filmmaker asked me if he could easily find a warehouse in the area. Or rent a plane for three months. I told him that it is possible, and it's a fraction of what he would be paying in New York, Chicago or L.A.," he said.
Habeeb said it's all possible.
"We can do it here," he said.
Back to top
Part of The News-Gazette, Inc. community of websites:
News-Gazette | IlliniHQ | WDWS | WHMS |