HOME/COVER STORY
---
ACHIEVEMENTS
---
AG BUSINESS
---
Best of Towns Best Business Services
---
Best of Towns Best Coffee Shop
---
Best of Towns Best Hair Stylist and Spa
---
Best of Towns Best Health Club
---
Best of Towns Financial Company
---
Best of Towns Restaurant
---
BUSINESS NOW
---
ECONOMICS
---
EDITOR'S NOTE
---
Entrepreneur Tips
---
FINE PRINT
---
GET TO KNOW THE CEO
---
GOOD BUSINESS
---
GREEN TIPS
---
INNOVATION > THE OUTER LIMITS
---
LEGAL PILLARS
---
MADE IN CHAMPAIGN COUNTY
---
MARKETING
---
OIL/GAS INDUSTRY
---
ORGANIZATIONAL KNOWLEDGE
---
FORTY UNDER 40 NOMINATIONS
---
SUBSCRIBE NOW!
---
CONTACT US
---
ARCHIVE
---
CALENDAR
Editor 's note: submit events, meetings, workshops and conferences at least one month in advance to cibm@news-gazette.com for inclusion in Mark Your Calendar.
< Nov
Dec
Jan >
December 6
Dec. 3, 6, 7, 10, 13, 14, 17, 20, 21 One-on-One Computer Basics 1 to 3 p.m. Mondays, 11 a.m. to 1 p.m. Thursdays and Fridays
Douglass Branch Library, 504 E. Grove St., Champaign All skill levels are welcome to drop in for one-on-one computer instruction. Get free help with your questions about the Internet, email, resumes and more. Individual instruction is also available by appointment. Call 217-403-2090 for more information. Instruction is provided by volunteers from the Graduate School of Library and Information Science at the University of Illinois.
December 7
Project Risk Management 8 a.m. to 5 p.m.
Parkland College Business Training, 1315 N. Mattis Ave., Champaign Join Borinara Park as he introduces you to the concepts and methods in managing project risks and uncertainties. Using a software program (@Risk for Project) widely used in the risk management area, this course provides a hands-on learning opportunity to create a convincing project plan by incorporating inherent project risks and uncertainties. Participants will learn how to quantify the project risks and determine key drivers in the schedule and will be able to produce contingency plans and risk mitigation strategies effectively. Fee: $795 (book included) Registration deadline: Nov. 30
December 7
First Friday Coffee 7:30 to 9 a.m.
First Financial Bank-Urbana, 2510 S. Philo Road, Urbana Enjoy coffee, conversation and a light breakfast as you network on the first Friday of each month. Cost is $3 for Chamber of Commerce members. For more information on First Fridays, or to find out where these events are being held, visit
www.champaigncounty.org
or call 217-359-1791.
December 8
Urbana Business Association Holiday Market 8 a.m. to 1 p.m. Dec. 1, 8, 15
Lincoln Square Mall, 201 Lincoln Square, Urbana Holiday Market consists of weekly Saturday markets inside Lincoln Square Mall during the holiday season. The Holiday Market will be bringing crafts and edibles from local vendors to Champaign-Urbana holiday shoppers. The mall will be filled with produce, baked goods, crafts and holiday decorations -- all produced, grown or made in Illinois.
December 8
TECH 21: The Full-time Job of Job Seeking 10 a.m. to noon
Urbana Free Library, 210 W. Green St., Urbana Learn tips for online job searching, applying online and creating a professional cover letter and resume. Approximately one hour of instruction followed by one hour of document creation. Some familiarity with Microsoft Word and the Internet helpful. For more information, contact Amber Castens at 217-367-4405.
December 11
Dec. 11, 13 How to Manage Training: Facilitating Workplace Learning 1 to 5 p.m.
Parkland College Business Training, 1315 N. Mattis Ave., Champaign Join Cindy Harris to learn how to assess an employee's knowledge, skills and performance levels; determine training objectives; evaluate internal and external training resources; use a variety of teaching methods and media; design and deliver effective training programs for company needs; and measure the results of your training program. Fee: $265 (book included). Registration deadline: Dec. 4.
December 13
Fearless Facilitation -- How to Lead Effective Meetings 8 a.m. to noon or 1 to 5 p.m.
Parkland College Business Training, 1315 N. Mattis Ave., Champaign Steven Welland will teach you how to achieve desired results in meetings and manage relationships and process at the same time. You will learn how to lead effective meetings; demonstrate fundamental facilitation skills; make optimal use of people's time and talents; strike the right balance between purpose, process and participation; and exhibit the confidence and competence of a fearless facilitator. Fee: $125 (book included). Registration deadline: Dec. 6.
December 13
Business After Hours 5 to 7 p.m. First Bank,
1251 Woodfield Drive, Savoy Join fellow chamber members and their guests in this networking opportunity hosted this month by First Bank of Savoy. Proceeds from the $5 per person donation at the door will help fund chamber programs. The donation for non-members and guests is $8.
December 14
CNA 21 Skills Recertification 9:30 a.m. to 12:30 p.m.
Parkland College Health Professions, 1309 N. Mattis Ave., Champaign This is an Illinois Department of Public Health-approved evaluation session intended for CNAs who need to update their 21 skills for recertification. Initial class meets for three hours. To complete the update, students are required to schedule a three-hour on-site clinical session with a Parkland College instructor at a long-term care facility. Fee: $125. Registration deadline: Dec. 7.
December 15
Computers 101 9 to 10 a.m.
Urbana Free Library, 210 W. Green St., Urbana Free one-on-one tutoring for adults seeking basic computer instruction. Participants are welcome to bring their own laptops or use the PCs in the lab. Training is customized to each participant's needs. Seniors encouraged to attend. Registration is required. Speak to a librarian about registering for this class, or contact Amber Castens at 217-367-4405.
COVER STORY December 2016
---
Dive right in
---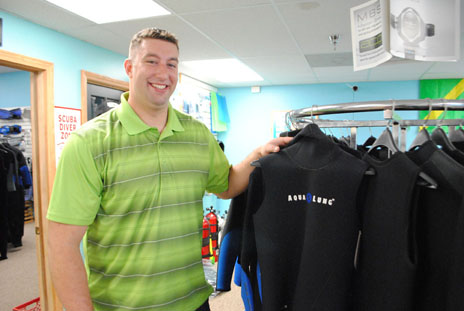 It may surprise some that a scuba diving business thrives right here in the heart of the prairie where the bodies of water consist of low, muddy rivers and ponds that are usually gravel pits left over from road-building. But it is true! Midwest Scuba Center has been around for four generations of owners, each successful in their own right. And the business has not been passed down from family member to family member, either. Each new generation has new owners with that one common bond: the passion for scuba diving.
Midwest Scuba Center's new owner, Alex Gentner, is excited to dive right in and take his business to a new level. He's the epitome of an entrepreneur; risk taker, innovative idea maker, and a mover and a shaker in the world of scuba diving. It's ironic that he didn't grow-up as a diver. He came into it a few years back and is now a PADI- Professional Association of Diving Instructor- who is certified for life.
"It's just really fun and I love it," he said from his shop, which is located at 1717 Philo Road, Urbana at Sunnycrest.
Heck, Gentner graduated just a few years back from Culver-Stockton College in Canton, Mo., where he played forward for the Wildcats basketball program. So, it seems like this young man is a newbie in the ranks of entrepreneur-dom.
"I have been working on "something" my whole life," he said. "I've always had ideas."
Gentner, who grew up in Urbana, has been working at Sunnycrest since he was waist-high. His grandfather, Clive Follmer, had him working in and around the mall, earning his keep. The successful Follmer, who was an established attorney and a UI basketball legend, had a tough-love approach in his lessons for his grandson, Gentner said. Follmer passed away just this past August, 2016, and Gentner hopes to carry on his grandfather's legacy of hard work, support of customers, and making his business a success.
Gentner has also worked for a locksmith and is a certified gunsmith. He is a self-taught auto-mechanic.
"I bought my first car- a BMW for $300- and I got it running with just $5 in parts, " he said.
He also flips houses as a side hobby. He learned the trade from his father, Gert Gentner, who co-owned the company DNR Home Improvements. The elder Gentner passed away in 2011.
"I'm working right now on a home for a handicapped couple," he said, adding that accessibility is really an important issue.
He works most days of the week. He smiles as he speaks of it, with great enthusiasm in his voice.
"If you find something you love, just do it. It doesn't feel like work," he said.
During his interview, one of his scuba students came in to the shop. Kaiqi Zhou is a UI graduate student in civil engineering and is taking lessons from Gentner.
"I just started. I like it so much," Zhou said, smiling and shaking hands as he approached Gentner.
Gentner said that it's possible to be a certified diver in as little as two days by starting out with the first three sessions online and then proceeding to the physical instruction.
"We offer lessons at the ARC (UI Activities and Recreation Center) and at Stephens YMCA. We also offer trips, like the one to West Palm Beach in January. Then, there are local to Kickapoo State Park and Haigh Quarry in Kankakee. It's an intense process, but very rewarding," he said while he moved around air tanks in the shop.
Between servicing the scuba divers that, believe or not, are in great numbers in Central Illinois, according to Gentner, and giving lessons to new scuba divers, he has great plans to expand the clientele. Gentner said that most people that can swim, can scuba dive. They are many levels to the sport, and many accommodations according to skill level.
"It's safe and rewarding. You can't rent or buy this equipment without certification," Gentner said about the sport of scuba diving, which has among other technological advancements, blue tooth wireless transmitters on the air tanks that measures breathing rates and oxygen availability.
Gentner said to stop by 1717 Philo Road, Suite 13 in Urbana to check out Midwest Scuba Center. Open hours are: 10 a.m. to 5:30 p.m., Monday through Friday, and 10 a.m. to 2:30 p.m. on Saturdays. Or call Gentner at 217-352-3118 to hear about lessons, equipment, scuba diving trips and other ideas.
Back to top
Part of The News-Gazette, Inc. community of websites:
News-Gazette | IlliniHQ | WDWS | WHMS |