HOME/COVER STORY
---
ACHIEVEMENTS
---
AG BUSINESS
---
BUSINESS NOW
---
ECONOMICS
---
EDITOR'S NOTE
---
FINE PRINT
---
GET TO KNOW THE CEO
---
GREEN TIPS
---
INNOVATION > THE OUTER LIMITS
---
SUBSCRIBE NOW!
---
CONTACT US
---
ARCHIVE
---
CALENDAR
Editor 's note: submit events, meetings, workshops and conferences at least one month in advance to cibm@news-gazette.com for inclusion in Mark Your Calendar.
< Nov
Dec
Jan >
December 6
Dec. 3, 6, 7, 10, 13, 14, 17, 20, 21 One-on-One Computer Basics 1 to 3 p.m. Mondays, 11 a.m. to 1 p.m. Thursdays and Fridays
Douglass Branch Library, 504 E. Grove St., Champaign All skill levels are welcome to drop in for one-on-one computer instruction. Get free help with your questions about the Internet, email, resumes and more. Individual instruction is also available by appointment. Call 217-403-2090 for more information. Instruction is provided by volunteers from the Graduate School of Library and Information Science at the University of Illinois.
December 7
Project Risk Management 8 a.m. to 5 p.m.
Parkland College Business Training, 1315 N. Mattis Ave., Champaign Join Borinara Park as he introduces you to the concepts and methods in managing project risks and uncertainties. Using a software program (@Risk for Project) widely used in the risk management area, this course provides a hands-on learning opportunity to create a convincing project plan by incorporating inherent project risks and uncertainties. Participants will learn how to quantify the project risks and determine key drivers in the schedule and will be able to produce contingency plans and risk mitigation strategies effectively. Fee: $795 (book included) Registration deadline: Nov. 30
December 7
First Friday Coffee 7:30 to 9 a.m.
First Financial Bank-Urbana, 2510 S. Philo Road, Urbana Enjoy coffee, conversation and a light breakfast as you network on the first Friday of each month. Cost is $3 for Chamber of Commerce members. For more information on First Fridays, or to find out where these events are being held, visit
www.champaigncounty.org
or call 217-359-1791.
December 8
Urbana Business Association Holiday Market 8 a.m. to 1 p.m. Dec. 1, 8, 15
Lincoln Square Mall, 201 Lincoln Square, Urbana Holiday Market consists of weekly Saturday markets inside Lincoln Square Mall during the holiday season. The Holiday Market will be bringing crafts and edibles from local vendors to Champaign-Urbana holiday shoppers. The mall will be filled with produce, baked goods, crafts and holiday decorations -- all produced, grown or made in Illinois.
December 8
TECH 21: The Full-time Job of Job Seeking 10 a.m. to noon
Urbana Free Library, 210 W. Green St., Urbana Learn tips for online job searching, applying online and creating a professional cover letter and resume. Approximately one hour of instruction followed by one hour of document creation. Some familiarity with Microsoft Word and the Internet helpful. For more information, contact Amber Castens at 217-367-4405.
December 11
Dec. 11, 13 How to Manage Training: Facilitating Workplace Learning 1 to 5 p.m.
Parkland College Business Training, 1315 N. Mattis Ave., Champaign Join Cindy Harris to learn how to assess an employee's knowledge, skills and performance levels; determine training objectives; evaluate internal and external training resources; use a variety of teaching methods and media; design and deliver effective training programs for company needs; and measure the results of your training program. Fee: $265 (book included). Registration deadline: Dec. 4.
December 13
Fearless Facilitation -- How to Lead Effective Meetings 8 a.m. to noon or 1 to 5 p.m.
Parkland College Business Training, 1315 N. Mattis Ave., Champaign Steven Welland will teach you how to achieve desired results in meetings and manage relationships and process at the same time. You will learn how to lead effective meetings; demonstrate fundamental facilitation skills; make optimal use of people's time and talents; strike the right balance between purpose, process and participation; and exhibit the confidence and competence of a fearless facilitator. Fee: $125 (book included). Registration deadline: Dec. 6.
December 13
Business After Hours 5 to 7 p.m. First Bank,
1251 Woodfield Drive, Savoy Join fellow chamber members and their guests in this networking opportunity hosted this month by First Bank of Savoy. Proceeds from the $5 per person donation at the door will help fund chamber programs. The donation for non-members and guests is $8.
December 14
CNA 21 Skills Recertification 9:30 a.m. to 12:30 p.m.
Parkland College Health Professions, 1309 N. Mattis Ave., Champaign This is an Illinois Department of Public Health-approved evaluation session intended for CNAs who need to update their 21 skills for recertification. Initial class meets for three hours. To complete the update, students are required to schedule a three-hour on-site clinical session with a Parkland College instructor at a long-term care facility. Fee: $125. Registration deadline: Dec. 7.
December 15
Computers 101 9 to 10 a.m.
Urbana Free Library, 210 W. Green St., Urbana Free one-on-one tutoring for adults seeking basic computer instruction. Participants are welcome to bring their own laptops or use the PCs in the lab. Training is customized to each participant's needs. Seniors encouraged to attend. Registration is required. Speak to a librarian about registering for this class, or contact Amber Castens at 217-367-4405.
COVER STORY August 2014
---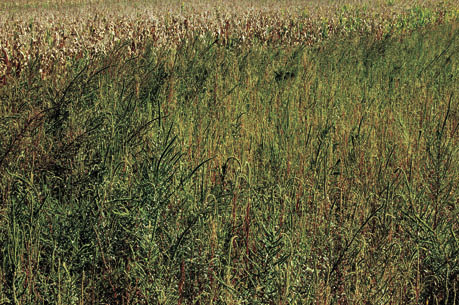 Emerging menace
---
New variety of Palmer amaranth threatening crops in the Midwest
Aaron Hager, a crop sciences professor at the University of Illinois, tells a story about an Arkansas farmer who rented a few of his 8,000 acres for a research plot. The researchers began noticing Palmer amaranth -- a fast-growing weed that is a threat to crops -- in the plot and informed the farmer, who was resistant to making multiple applications of herbicide to so much land. Five years later he was bankrupt, Palmer amaranth having taken over his fields.
"He went from 8,000 acres to bankruptcy, and one weed did it," Hager said.
Palmer amaranth is native to the southwestern U.S. and northern Mexico. Slowly over decades, it's been migrating northeast.
Palmer amaranth has been in Illinois for many decades, Hager said. But it's a new variety of the invasive weed that has him and other weed experts worried. He said the weed has "really begun to adapt to row crops in the mid-South or Midwest. It's aggressive and it's evolved a resistance to herbicides."
Barry Nash, a weed science technical manager with Growmark, an agricultural supply cooperative based in Bloomington, has watched as this species has moved closer and closer to Central Illinois. It was confirmed in Champaign County last year, he said, and he identified it in Illiopolis earlier this summer.
"It's fascinating how fast this plant is moving. It's unbelievable," Nash said. "It's moving so fast, we figure within two to three years, the entire state will be a red map."
And as it's moved into new areas, it has also adapted to new environments.
"It's a different-looking plant in its native environment. It doesn't grow nearly to the stature (there) that it does in the South and what it will do in the Midwest," Hager said. "It adapts to the environment or landscape it finds itself in and grows to some pretty impressive proportions."
That adaptability comes because it is a very genetically diverse species, Hager said. Each female plant produces hundreds of thousands, if not a million, tiny seeds that are easily transported. And the plant has a high germination rate and will emerge earlier in the spring and later in the season than other weeds. It has devastated crops in the South, and if not controlled, it can completely overtake a soybean field in a matter of weeks.
"The most important thing is how do we get people to be very proactive in being aware that this is a real threat, it's coming and the way we can be most successful in managing it is to never let these seed numbers begin to build," Hager said. "Is it really worth walking across a 40-acre field to cut out three or four surviving Palmers? Most definitely."
Hager and his colleagues are putting a lot of time and effort into educating farmers about the risk and helping them identify the plant, which at its early stages is difficult to distinguish from other species of pigweed. Farmers can send plant samples to the UI to determine whether they are Palmer amaranth. The plants will also be tested for resistance to the commonly used herbicide glyphosate (marketed as Roundup).
Illinois is the only state to offer this service (funded by the Illinois Soybean Association), and scientists tested 50 to 60 samples last year, the first year the service was offered, Hager said.
It's crucial for farmers to identify the plant early and take immediate action to eradicate it, he said. The effectiveness of herbicides against the weed dramatically decreases once the plant reaches 4 inches tall, and with the right growing conditions, it can grow 2 to 3 inches per day, Hager said.
"The time frame for timely (herbicide) applications is very, very narrow," he said.
And farmers are well past that time frame this year. Their only recourse now is to scout their fields, bag any plants with a garbage bag to prevent spreading the seeds, chop the plant out and remove it from the field.
"We've got to plan for the worst," Nash said. "When we take Roundup out of the mix, we really don't have good chemistry to control it.
"We've got to figure out how to manage this and not let this thing go to seed."
Use of residual herbicides is key, he said, to keep the population of Palmer amaranth "down to a controllable level." He also recommended tillage and using cover crops to reduce germination of the weed.
Hager and other scientists have a research plot just west of Kankakee this year, so they can evaluate how Palmer amaranth grows in Illinois soil and the effectiveness of herbicides to control it.
Hager said Palmer amaranth is not yet as prevalent in Champaign County as in other parts of the state, particularly southern Illinois. But farmers should not take any feeling of security from that, he said, noting there are farmers in the central part of the state who had to tear up their fields and replant soybeans this summer because they couldn't get Palmer amaranth under control.
"There is absolutely no way you can pay too much attention to this weed," he said.
"We're not at the point yet we're being overrun as other states have been, which puts us in a good position," he continued. "The best thing we can do is remain vigilant and don't assume we don't have it. If we can keep these populations from building up, we stand a very good chance against it.
"You can farm with Palmer. We won't farm the same way we do now," Hager said. "It's a very expensive species to manage. There is no one product that controls it all growing season. It's a species that, once it becomes established, our conservative estimate is herbicide costs will at least double.
"The ultimate consequence is yield loss potential of 100 percent," Hager warned. "If you don't adequately control this, you will not harvest a crop from this field. People will lose farms and go out of business if they don't take this seriously."
Back to top
Part of The News-Gazette, Inc. community of websites:
News-Gazette | IlliniHQ | Business Directory | WDWS | WHMS | idomagazine