HOME/COVER STORY
---
ACHIEVEMENTS
---
AG BUSINESS
---
BUSINESS NOW
---
ECONOMICS
---
EDITOR'S NOTE
---
FINE PRINT
---
FORTY UNDER 40
---
GET TO KNOW THE CEO
---
GREEN TIPS
---
INNOVATION > THE OUTER LIMITS
---
MADE IN CHAMPAIGN COUNTY
---
OIL/GAS INDUSTRY
---
SUBSCRIBE NOW!
---
CONTACT US
---
ARCHIVE
---
CALENDAR
Editor 's note: submit events, meetings, workshops and conferences at least one month in advance to cibm@news-gazette.com for inclusion in Mark Your Calendar.
< Nov
Dec
Jan >
December 6
Dec. 3, 6, 7, 10, 13, 14, 17, 20, 21 One-on-One Computer Basics 1 to 3 p.m. Mondays, 11 a.m. to 1 p.m. Thursdays and Fridays
Douglass Branch Library, 504 E. Grove St., Champaign All skill levels are welcome to drop in for one-on-one computer instruction. Get free help with your questions about the Internet, email, resumes and more. Individual instruction is also available by appointment. Call 217-403-2090 for more information. Instruction is provided by volunteers from the Graduate School of Library and Information Science at the University of Illinois.
December 7
Project Risk Management 8 a.m. to 5 p.m.
Parkland College Business Training, 1315 N. Mattis Ave., Champaign Join Borinara Park as he introduces you to the concepts and methods in managing project risks and uncertainties. Using a software program (@Risk for Project) widely used in the risk management area, this course provides a hands-on learning opportunity to create a convincing project plan by incorporating inherent project risks and uncertainties. Participants will learn how to quantify the project risks and determine key drivers in the schedule and will be able to produce contingency plans and risk mitigation strategies effectively. Fee: $795 (book included) Registration deadline: Nov. 30
December 7
First Friday Coffee 7:30 to 9 a.m.
First Financial Bank-Urbana, 2510 S. Philo Road, Urbana Enjoy coffee, conversation and a light breakfast as you network on the first Friday of each month. Cost is $3 for Chamber of Commerce members. For more information on First Fridays, or to find out where these events are being held, visit
www.champaigncounty.org
or call 217-359-1791.
December 8
Urbana Business Association Holiday Market 8 a.m. to 1 p.m. Dec. 1, 8, 15
Lincoln Square Mall, 201 Lincoln Square, Urbana Holiday Market consists of weekly Saturday markets inside Lincoln Square Mall during the holiday season. The Holiday Market will be bringing crafts and edibles from local vendors to Champaign-Urbana holiday shoppers. The mall will be filled with produce, baked goods, crafts and holiday decorations -- all produced, grown or made in Illinois.
December 8
TECH 21: The Full-time Job of Job Seeking 10 a.m. to noon
Urbana Free Library, 210 W. Green St., Urbana Learn tips for online job searching, applying online and creating a professional cover letter and resume. Approximately one hour of instruction followed by one hour of document creation. Some familiarity with Microsoft Word and the Internet helpful. For more information, contact Amber Castens at 217-367-4405.
December 11
Dec. 11, 13 How to Manage Training: Facilitating Workplace Learning 1 to 5 p.m.
Parkland College Business Training, 1315 N. Mattis Ave., Champaign Join Cindy Harris to learn how to assess an employee's knowledge, skills and performance levels; determine training objectives; evaluate internal and external training resources; use a variety of teaching methods and media; design and deliver effective training programs for company needs; and measure the results of your training program. Fee: $265 (book included). Registration deadline: Dec. 4.
December 13
Fearless Facilitation -- How to Lead Effective Meetings 8 a.m. to noon or 1 to 5 p.m.
Parkland College Business Training, 1315 N. Mattis Ave., Champaign Steven Welland will teach you how to achieve desired results in meetings and manage relationships and process at the same time. You will learn how to lead effective meetings; demonstrate fundamental facilitation skills; make optimal use of people's time and talents; strike the right balance between purpose, process and participation; and exhibit the confidence and competence of a fearless facilitator. Fee: $125 (book included). Registration deadline: Dec. 6.
December 13
Business After Hours 5 to 7 p.m. First Bank,
1251 Woodfield Drive, Savoy Join fellow chamber members and their guests in this networking opportunity hosted this month by First Bank of Savoy. Proceeds from the $5 per person donation at the door will help fund chamber programs. The donation for non-members and guests is $8.
December 14
CNA 21 Skills Recertification 9:30 a.m. to 12:30 p.m.
Parkland College Health Professions, 1309 N. Mattis Ave., Champaign This is an Illinois Department of Public Health-approved evaluation session intended for CNAs who need to update their 21 skills for recertification. Initial class meets for three hours. To complete the update, students are required to schedule a three-hour on-site clinical session with a Parkland College instructor at a long-term care facility. Fee: $125. Registration deadline: Dec. 7.
December 15
Computers 101 9 to 10 a.m.
Urbana Free Library, 210 W. Green St., Urbana Free one-on-one tutoring for adults seeking basic computer instruction. Participants are welcome to bring their own laptops or use the PCs in the lab. Training is customized to each participant's needs. Seniors encouraged to attend. Registration is required. Speak to a librarian about registering for this class, or contact Amber Castens at 217-367-4405.
COVER STORY December 2014
---
Hendrick House
---
Betsy Hendrick continues legacy of caring for students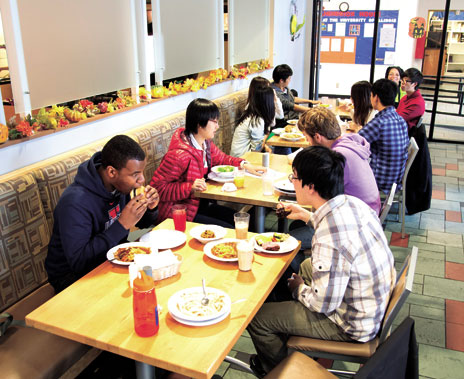 A University of Illinois student needed help recently in finding someone to mend her ripped marching band uniform before the upcoming homecoming festivities. She asked the staff at her dorm, Hendrick House, for a suggestion.
Betsy Hendrick, president and CEO of the private residence hall, overheard the conversation. She took the uniform home and sewed it herself.
That sensitivity to the needs of college students is something Hendrick saw her parents demonstrate while she was growing up. Her parents owned several rooming houses on the UI campus before building Hendrick House in 1965.
"I saw how much my mom and dad cared for the students, and I always tried to do that, even with the large number of students we have now," said Hendrick, who co-owns Hendrick House with her brother and sister.
Hendrick began helping her mother manage the residence hall in 1979, after her father's death. She left a career in journalism and public affairs (most of it serving as press secretary in the Cook County sheriff's office) to run the residence hall full time since 1985, following her mother's death. She has followed her mother's business philosophy: "Charge enough to make a nice living, but not so much as to gouge the students."
Hendrick has always enjoyed being around the students, and she has stayed in touch with many of the residents over the years, even occasionally visiting some now living abroad.
After Hendrick took over the operations of the dorm, she built the west tower of Hendrick House in 1988. The 10-story building is just west of, and connected to, the original six-story dorm.
Hendrick House now has a capacity of 364 if all the residents were living in double rooms, but a number of them choose singles. The majority of residents are studying engineering or computer science -- not surprising, given the dorm's proximity to the engineering campus. About 100 of the residents are international students, 60 of them Chinese. Hendrick House was a sponsor for a Cirque Peking performance at Krannert Center for the Performing Arts this fall because Hendrick knew many of her residents would seeing enjoy the show.
Hendrick said her mother was a savvy enough businesswoman to understand that the most profitable part of the family's business would be food service.
That part of the business has greatly expanded over the years. Hendrick House now provides food service for 32 locations, including fraternity and sorority houses and other private student housing. It started providing food service for 580 residents at Newman Hall this year.
Hendrick House plans to open a commercial kitchen on Killarney Street in Urbana, just off Lincoln Avenue, in order to expand its catering business. It is doing extensive remodeling to the former Jericho Missionary Baptist Church building there.
The business began operating a food truck this past summer that sold food at Urbana's Market at the Square and special events.
Hendrick also did a major remodeling of the dorm's dining hall in 2008. The new 3,100-square-foot space added more seating for dining as well as a student lounge. The dining area was reconfigured from a cafeteria line to various "stations" -- including a breakfast station, soup and salad bar, sandwich and wrap station, pizza bar, grill and a "creation station" for made-to-order dishes.
The dining hall project also made the business more environmentally friendly. For example, the remodeled dining hall does not use trays, cutting down on water usage because there aren't trays that need washing.
The project earned LEED Gold certification for its environmentally friendly aspects. They include a geothermal heating and cooling system for the dining area and a green roof. The business grows its own herbs and produce for use in its kitchen, and it buys meat and produce from local farmers.
The proliferation of apartment buildings on campus and the new UI dorms at Ikenberry Commons have not had much of an impact on Hendrick House -- mostly because of location, Hendrick said. Her residence hall is still a popular choice for engineering students.
Those who live there tend to stay for more than one year, she said, and they often come back to work as advisers. The staff tries to provide social activities for students and "make it as homey as possible," Hendrick said.
A third generation is now helping run the business. Hendrick's daughter, Becky Rowe, is general manager for Hendrick House.
The LEED certification was particularly important to Rowe, who said she absorbed the lessons of her grandmother and mother about energy conservation and fiscal responsibility.
"It's important for me, especially as a third generation, to continue that tradition. I really want to make sure we're doing the right things, and making the right decisions," Rowe said.
Just as important, though, is caring for the students who live at Hendrick House.
"You have to be here for more than money, if you are in a people-intensive organization," Rowe said. "(Hendrick) taught me the joy of working with college kids, and the patience.
"We are here to meet the needs of the U of I students."
Back to top
Part of The News-Gazette, Inc. community of websites:
News-Gazette | IlliniHQ | WDWS | WHMS |