HOME/COVER STORY
---
ACHIEVEMENTS
---
BUSINESS NOW
---
EDITOR'S NOTE
---
FINE PRINT
---
GET TO KNOW THE CEO
---
GREEN TIPS
---
INNOVATION > THE OUTER LIMITS
---
TAX REGULATIONS
---
SUBSCRIBE NOW!
---
CONTACT US
---
ARCHIVE
---
CALENDAR
Editor 's note: submit events, meetings, workshops and conferences at least one month in advance to cibm@news-gazette.com for inclusion in Mark Your Calendar.
< Nov
Dec
Jan >
December 6
Dec. 3, 6, 7, 10, 13, 14, 17, 20, 21 One-on-One Computer Basics 1 to 3 p.m. Mondays, 11 a.m. to 1 p.m. Thursdays and Fridays
Douglass Branch Library, 504 E. Grove St., Champaign All skill levels are welcome to drop in for one-on-one computer instruction. Get free help with your questions about the Internet, email, resumes and more. Individual instruction is also available by appointment. Call 217-403-2090 for more information. Instruction is provided by volunteers from the Graduate School of Library and Information Science at the University of Illinois.
December 7
Project Risk Management 8 a.m. to 5 p.m.
Parkland College Business Training, 1315 N. Mattis Ave., Champaign Join Borinara Park as he introduces you to the concepts and methods in managing project risks and uncertainties. Using a software program (@Risk for Project) widely used in the risk management area, this course provides a hands-on learning opportunity to create a convincing project plan by incorporating inherent project risks and uncertainties. Participants will learn how to quantify the project risks and determine key drivers in the schedule and will be able to produce contingency plans and risk mitigation strategies effectively. Fee: $795 (book included) Registration deadline: Nov. 30
December 7
First Friday Coffee 7:30 to 9 a.m.
First Financial Bank-Urbana, 2510 S. Philo Road, Urbana Enjoy coffee, conversation and a light breakfast as you network on the first Friday of each month. Cost is $3 for Chamber of Commerce members. For more information on First Fridays, or to find out where these events are being held, visit
www.champaigncounty.org
or call 217-359-1791.
December 8
Urbana Business Association Holiday Market 8 a.m. to 1 p.m. Dec. 1, 8, 15
Lincoln Square Mall, 201 Lincoln Square, Urbana Holiday Market consists of weekly Saturday markets inside Lincoln Square Mall during the holiday season. The Holiday Market will be bringing crafts and edibles from local vendors to Champaign-Urbana holiday shoppers. The mall will be filled with produce, baked goods, crafts and holiday decorations -- all produced, grown or made in Illinois.
December 8
TECH 21: The Full-time Job of Job Seeking 10 a.m. to noon
Urbana Free Library, 210 W. Green St., Urbana Learn tips for online job searching, applying online and creating a professional cover letter and resume. Approximately one hour of instruction followed by one hour of document creation. Some familiarity with Microsoft Word and the Internet helpful. For more information, contact Amber Castens at 217-367-4405.
December 11
Dec. 11, 13 How to Manage Training: Facilitating Workplace Learning 1 to 5 p.m.
Parkland College Business Training, 1315 N. Mattis Ave., Champaign Join Cindy Harris to learn how to assess an employee's knowledge, skills and performance levels; determine training objectives; evaluate internal and external training resources; use a variety of teaching methods and media; design and deliver effective training programs for company needs; and measure the results of your training program. Fee: $265 (book included). Registration deadline: Dec. 4.
December 13
Fearless Facilitation -- How to Lead Effective Meetings 8 a.m. to noon or 1 to 5 p.m.
Parkland College Business Training, 1315 N. Mattis Ave., Champaign Steven Welland will teach you how to achieve desired results in meetings and manage relationships and process at the same time. You will learn how to lead effective meetings; demonstrate fundamental facilitation skills; make optimal use of people's time and talents; strike the right balance between purpose, process and participation; and exhibit the confidence and competence of a fearless facilitator. Fee: $125 (book included). Registration deadline: Dec. 6.
December 13
Business After Hours 5 to 7 p.m. First Bank,
1251 Woodfield Drive, Savoy Join fellow chamber members and their guests in this networking opportunity hosted this month by First Bank of Savoy. Proceeds from the $5 per person donation at the door will help fund chamber programs. The donation for non-members and guests is $8.
December 14
CNA 21 Skills Recertification 9:30 a.m. to 12:30 p.m.
Parkland College Health Professions, 1309 N. Mattis Ave., Champaign This is an Illinois Department of Public Health-approved evaluation session intended for CNAs who need to update their 21 skills for recertification. Initial class meets for three hours. To complete the update, students are required to schedule a three-hour on-site clinical session with a Parkland College instructor at a long-term care facility. Fee: $125. Registration deadline: Dec. 7.
December 15
Computers 101 9 to 10 a.m.
Urbana Free Library, 210 W. Green St., Urbana Free one-on-one tutoring for adults seeking basic computer instruction. Participants are welcome to bring their own laptops or use the PCs in the lab. Training is customized to each participant's needs. Seniors encouraged to attend. Registration is required. Speak to a librarian about registering for this class, or contact Amber Castens at 217-367-4405.
COVER STORY April 2013
---
Smart Money
---
Financial literacy means less stress, time away from work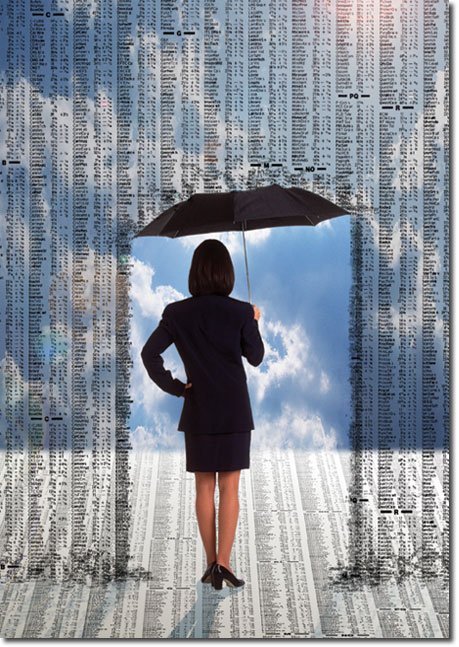 For about the last 10 years, employees at Human Kinetics in Champaign have been able to attend seminars once or twice a year to help them learn about financial issues.
"We were listening to employees tell us about some financial problems they had, and we thought it would be a good idea to have somebody come in," said Ann Maloney, human resources director for Human Kinetics.
"It's tough," she said. "We have a lot of people who have young families. We try to bring programs in that will help them have a good work-life balance."
Providing financial workshops for employees benefits not only the workers by easing their financial stress. It is also good for an employer and its bottom line.
"We saw people working two jobs to pay off their bills. When they split time like that, they're not always as focused," Maloney said.
A 2009 report by the Federal Reserve Bank of Kansas City on a workplace financial education program found decreased requests for 401(k) loans and pay advances; increased use of flexible spending accounts and 401(k) participation and contributions; and a decreased level of financial stress among employees who attended a nine-week financial education class. It also found a decrease in delinquency in bill payments and an increase by 50 percent in those paying off credit card bills every month.
A 2002 Federal Reserve Bulletin report on financial literacy programs found the results of workplace financial education programs positively influenced employee financial behavior. It also cited a study that found financial wellness for employees at a chemical production company correlated with greater productivity (based on performance ratings for employees) and less absenteeism.
"All the research supports doing workplace education around money issues is really cost-effective for employers," said Kathy Sweedler, a consumer economics educator with University of Illinois Extension. "If people are worried about money or have to miss work to meet with people about debt, it takes away from workplace productivity."
In addition, human resources departments may have to take time to deal with wage garnishments.
Even so, it can be a challenge to get employers to see the value of offering financial education at work. A 2012 survey by the Personal Finance Employee Education Foundation, a nonprofit organization that promotes financial education in the workplace, found the most common barriers to providing workplace financial education were the cost, interference with employee work time and too many higher priorities.
A series of financial workshops in late April will offer information about various topics that include home financing, estate planning, budget shopping, credit and debt management, investing, saving for college and retirement planning.
Money Smart Week, sponsored by the Federal Reserve Bank of Chicago, is April 20-27.
Local participants include banks, credit unions, financial planners, public libraries, nonprofit organizations and some units at the University of Illinois.
The week is a way of focusing on financial education opportunities, which are available year-round, not just for a week in April, Sweedler said.
The Money Smart Week presentations are free and educational, and presenters are prohibited from selling any products or services. Presentations are open to public, and employers may also schedule private presentations at their workplaces for their employees.
"With the economic downturn, we were really hearing from a lot more people, 'I'm really having a hard time getting my dollars to match my expenses,'" Sweedler said.
She said the most common causes of financial stress are struggling to make ends meet and debt -- and those things occur not only to people with low-paying jobs.
"In my experience, it can happen to people at all income levels," she said, including those doing well with two incomes who then struggle when one partner loses a job, or those facing a large amount of medical bills.
Dave Henry, chairman of Money Smart Week in Champaign County and a vice president and branch manager at PNC Bank in Champaign, said retirement-focused programs have had the best attendance in the past.
"Studies show, and people will say, they want the most help with budgeting and credit-related issues. However, those tend to be the least-attended events," Henry said.
If people want help dealing with budgeting or debt, why don't they attend the seminars?
"My opinion is, that becomes very personal. To step into a room where the discussion is how to improve your credit score -- people may feel like they are labeling themselves as bad credit," Henry said.
But, he said, the seminars are not meant only for people who are struggling financially.
"The majority of the public without financial issues felt like, 'There's nothing in it for me,'" Henry said. But the topics apply "not only to people who have financial struggles who need to learn basics, but also people who are extremely financially savvy but who want to learn some details about very specific issues. There is something to learn for everyone."
One of the most popular events each year is the shredding day. Henry said the event will include someone to answer questions about what documents need to be kept and about identity theft.
Another well-attended seminar has been one on banking basics for the Latino community. The offerings focused on Latinos have been expanded this year to also include a workshop on credit basics.
EnvirOx, a Danville company that produces environmentally-friendly cleaning products, offered three seminars last year during Money Smart Week -- on mutual funds, home energy savings and financial basics such as budgeting. The company chose the topics based on employee interest, said Katherine McFetridge, human resources coordinator for EnvirOx.
The seminar on mutual funds and investments "sparked a lot of questions on our own 401(k) plan. That was a good opportunity to revisit that plan and reeducate people on components of it," McFetridge said.
Henry said companies offering free financial workshops can tout that as a benefit when trying to recruit or retain employees.
"Anytime you can offer something to employees and it won't cost you anything, why wouldn't you do it?" he said.
Human Kinetics plans to hold a lunch-and-learn workshop this year during Money Smart Week and bring in a speaker to talk about mortgages, first-time home buyers and refinancing.
Maloney said financial education has proved to be valuable to workers at the company, noting one employee at Human Kinetics was able to save $600 per month by consolidating credit card debt and getting a lower interest rate and consolidating insurance policies.
"That meant a lot to her family," Maloney said.
For more information on Money Smart Week and local events, go to www.moneysmartweek.org. To find local events, click on "Find an Event" under the Consumers tab on the right side. Then click on the state of Illinois on the map, and find your county in the drop-down menu on the right.
Back to top
Part of The News-Gazette, Inc. community of websites:
News-Gazette | IlliniHQ | Business Directory | WDWS | WHMS | idomagazine