HOME/COVER STORY
---
ACHIEVEMENTS
---
AG BUSINESS
---
BUSINESS NOW
---
ECONOMICS
---
EDITOR'S NOTE
---
FINE PRINT
---
GET TO KNOW THE CEO
---
GREEN TIPS
---
INNOVATION > THE OUTER LIMITS
---
MADE IN CHAMPAIGN COUNTY
---
OIL/GAS INDUSTRY
---
ORGANIZATIONAL KNOWLEDGE
---
FORTY UNDER 40 NOMINATIONS
---
SUBSCRIBE NOW!
---
CONTACT US
---
ARCHIVE
---
CALENDAR
Editor 's note: submit events, meetings, workshops and conferences at least one month in advance to cibm@news-gazette.com for inclusion in Mark Your Calendar.
< Nov
Dec
Jan >
December 6
Dec. 3, 6, 7, 10, 13, 14, 17, 20, 21 One-on-One Computer Basics 1 to 3 p.m. Mondays, 11 a.m. to 1 p.m. Thursdays and Fridays
Douglass Branch Library, 504 E. Grove St., Champaign All skill levels are welcome to drop in for one-on-one computer instruction. Get free help with your questions about the Internet, email, resumes and more. Individual instruction is also available by appointment. Call 217-403-2090 for more information. Instruction is provided by volunteers from the Graduate School of Library and Information Science at the University of Illinois.
December 7
Project Risk Management 8 a.m. to 5 p.m.
Parkland College Business Training, 1315 N. Mattis Ave., Champaign Join Borinara Park as he introduces you to the concepts and methods in managing project risks and uncertainties. Using a software program (@Risk for Project) widely used in the risk management area, this course provides a hands-on learning opportunity to create a convincing project plan by incorporating inherent project risks and uncertainties. Participants will learn how to quantify the project risks and determine key drivers in the schedule and will be able to produce contingency plans and risk mitigation strategies effectively. Fee: $795 (book included) Registration deadline: Nov. 30
December 7
First Friday Coffee 7:30 to 9 a.m.
First Financial Bank-Urbana, 2510 S. Philo Road, Urbana Enjoy coffee, conversation and a light breakfast as you network on the first Friday of each month. Cost is $3 for Chamber of Commerce members. For more information on First Fridays, or to find out where these events are being held, visit
www.champaigncounty.org
or call 217-359-1791.
December 8
Urbana Business Association Holiday Market 8 a.m. to 1 p.m. Dec. 1, 8, 15
Lincoln Square Mall, 201 Lincoln Square, Urbana Holiday Market consists of weekly Saturday markets inside Lincoln Square Mall during the holiday season. The Holiday Market will be bringing crafts and edibles from local vendors to Champaign-Urbana holiday shoppers. The mall will be filled with produce, baked goods, crafts and holiday decorations -- all produced, grown or made in Illinois.
December 8
TECH 21: The Full-time Job of Job Seeking 10 a.m. to noon
Urbana Free Library, 210 W. Green St., Urbana Learn tips for online job searching, applying online and creating a professional cover letter and resume. Approximately one hour of instruction followed by one hour of document creation. Some familiarity with Microsoft Word and the Internet helpful. For more information, contact Amber Castens at 217-367-4405.
December 11
Dec. 11, 13 How to Manage Training: Facilitating Workplace Learning 1 to 5 p.m.
Parkland College Business Training, 1315 N. Mattis Ave., Champaign Join Cindy Harris to learn how to assess an employee's knowledge, skills and performance levels; determine training objectives; evaluate internal and external training resources; use a variety of teaching methods and media; design and deliver effective training programs for company needs; and measure the results of your training program. Fee: $265 (book included). Registration deadline: Dec. 4.
December 13
Fearless Facilitation -- How to Lead Effective Meetings 8 a.m. to noon or 1 to 5 p.m.
Parkland College Business Training, 1315 N. Mattis Ave., Champaign Steven Welland will teach you how to achieve desired results in meetings and manage relationships and process at the same time. You will learn how to lead effective meetings; demonstrate fundamental facilitation skills; make optimal use of people's time and talents; strike the right balance between purpose, process and participation; and exhibit the confidence and competence of a fearless facilitator. Fee: $125 (book included). Registration deadline: Dec. 6.
December 13
Business After Hours 5 to 7 p.m. First Bank,
1251 Woodfield Drive, Savoy Join fellow chamber members and their guests in this networking opportunity hosted this month by First Bank of Savoy. Proceeds from the $5 per person donation at the door will help fund chamber programs. The donation for non-members and guests is $8.
December 14
CNA 21 Skills Recertification 9:30 a.m. to 12:30 p.m.
Parkland College Health Professions, 1309 N. Mattis Ave., Champaign This is an Illinois Department of Public Health-approved evaluation session intended for CNAs who need to update their 21 skills for recertification. Initial class meets for three hours. To complete the update, students are required to schedule a three-hour on-site clinical session with a Parkland College instructor at a long-term care facility. Fee: $125. Registration deadline: Dec. 7.
December 15
Computers 101 9 to 10 a.m.
Urbana Free Library, 210 W. Green St., Urbana Free one-on-one tutoring for adults seeking basic computer instruction. Participants are welcome to bring their own laptops or use the PCs in the lab. Training is customized to each participant's needs. Seniors encouraged to attend. Registration is required. Speak to a librarian about registering for this class, or contact Amber Castens at 217-367-4405.
COVER STORY February 2015
---
THEY CAN BUILD IT
---
Ken Cooley and his ShapeMaster crew take on varied and unusual projects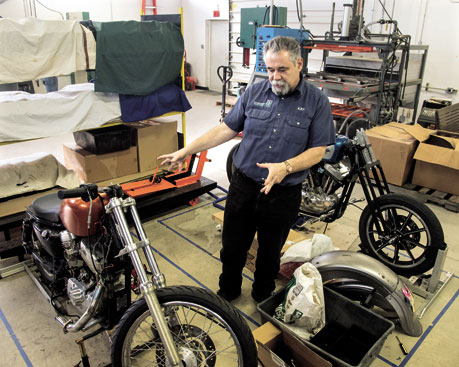 Dream up a part, and there's a good chance Ken Cooley and his crew at ShapeMaster Inc. can fabricate it.
Heaven knows they've made some unusual things in their time -- a piggy bank in the form of a portable toilet, an adjustable-height podium for pastors, a piglet cage for animal researchers.
And perhaps the strangest of all: a clear, life-size doll box for a Star Trek fan who wanted to go to a Comic-Con convention as a packaged Star Trek action figure. Go figure!
Although ShapeMaster caters to inventors and entrepreneurs who need prototypes made, the Ogden-based company also manufactures larger runs of products, including components for dehumidifiers, cup holders for Porsches and after-market motorcycle accessories for Suzukis and Harley-Davidsons.
Cooley started ShapeMaster 25 years ago when he realized there was a need for thermoform molding.
"I knew it was difficult for people to get plastic molded parts," he said.
For inventors, entrepreneurs and engineers who wanted their ideas transformed into plastic reality, "this was a way for them to gain access to inexpensive tooling and short-run production parts," he said.
Thermoform molding was more affordable than injection molding. And unlike many other companies, ShapeMaster was willing to do high-precision work and make small parts in small runs, he said.
ShapeMaster's services grew to include vacuum forming, drape forming, CNC machining and routing, design, custom fabrication, powder coating and rapid prototyping. Cooley built a few machines, and in other cases, bought machines and improved on them. Now the company works not only with plastic, but with wood, metal and other materials as well.
Today, ShapeMaster has about 25 on the payroll, with 12 to 16 there on any given day. The rest are part-time employees, many of them retirees, who are called in when the workload demands it.
During a recent week, Cooley estimated the company had at least eight projects going on in its shop -- including making molds for carbon fiber wheels for the University of Illinois Formula One racing team.
Much of ShapeMaster's work comes from a five-state region, but the company ships everywhere in the U.S. and to many countries overseas.
Prototype-related work makes up about 20 percent of ShapeMaster's business, and the company's own products account for about 10 percent. Those products include:
-- Condensation trays that fit under in-cabinet refrigerators in hotel rooms.
-- Radiator covers for Suzuki motorcycles, as well as riser blocks for the handlebars.
-- Brackets that support swing arm bags on Harley-Davidson motorcycles.
-- The popular portable-toilet piggy banks.
Cooley estimated ShapeMaster's sales at $2 million in 2014, roughly double that of 2013. He said 2012 was also a good year, partly because ShapeMaster engineered and designed protective guards for machines at a Glaxo-SmithKline plant in Memphis that makes Polident.
ShapeMaster's facilities in Ogden include two buildings that collectively have 14,000 square feet. When a tornado hit Ogden in 1996, the company suffered $36,000 in damage, "but we didn't lose an hour of production," Cooley said.
Cooley, who believes the company could really use 30,000 to 40,000 square feet, said he thought of moving the company to Champaign-Urbana, but concluded the current location serves employees well.
"I like the quiet of Ogden," he said.
Besides, "employees would find it much more difficult to drive into Champaign-Urbana," he said, noting that employees commute from Homer, Brocton, Tilton and other area towns.
"If we were in Champaign, do I think I could attract new business?" he said. "Yes, but would it be enough to justify it?"
Cooley cited two inflection points that influenced the growth of his business.
One came in the mid-1990s with the success of Water Island, a business that provided reverse-osmosis water dispensers to supermarkets. ShapeMaster made many of the components for those dispensers.
Another burst in business came in 2005 when Hurricane Katrina boosted demand for dehumidifiers, for which ShapeMaster made parts.
More information about ShapeMaster can be found at the company's website, shape-master.com.
Back to top
Part of The News-Gazette, Inc. community of websites:
News-Gazette | IlliniHQ | WDWS | WHMS |