HOME/COVER STORY
---
ACHIEVEMENTS
---
AG BUSINESS
---
BUSINESS NOW
---
ECONOMICS
---
EDITOR'S NOTE
---
FINE PRINT
---
FORTY UNDER 40
---
GET TO KNOW THE CEO
---
GREEN TIPS
---
INNOVATION > THE OUTER LIMITS
---
SUBSCRIBE NOW!
---
CONTACT US
---
ARCHIVE
---
CALENDAR
Editor 's note: submit events, meetings, workshops and conferences at least one month in advance to cibm@news-gazette.com for inclusion in Mark Your Calendar.
< Nov
Dec
Jan >
December 6
Dec. 3, 6, 7, 10, 13, 14, 17, 20, 21 One-on-One Computer Basics 1 to 3 p.m. Mondays, 11 a.m. to 1 p.m. Thursdays and Fridays
Douglass Branch Library, 504 E. Grove St., Champaign All skill levels are welcome to drop in for one-on-one computer instruction. Get free help with your questions about the Internet, email, resumes and more. Individual instruction is also available by appointment. Call 217-403-2090 for more information. Instruction is provided by volunteers from the Graduate School of Library and Information Science at the University of Illinois.
December 7
Project Risk Management 8 a.m. to 5 p.m.
Parkland College Business Training, 1315 N. Mattis Ave., Champaign Join Borinara Park as he introduces you to the concepts and methods in managing project risks and uncertainties. Using a software program (@Risk for Project) widely used in the risk management area, this course provides a hands-on learning opportunity to create a convincing project plan by incorporating inherent project risks and uncertainties. Participants will learn how to quantify the project risks and determine key drivers in the schedule and will be able to produce contingency plans and risk mitigation strategies effectively. Fee: $795 (book included) Registration deadline: Nov. 30
December 7
First Friday Coffee 7:30 to 9 a.m.
First Financial Bank-Urbana, 2510 S. Philo Road, Urbana Enjoy coffee, conversation and a light breakfast as you network on the first Friday of each month. Cost is $3 for Chamber of Commerce members. For more information on First Fridays, or to find out where these events are being held, visit
www.champaigncounty.org
or call 217-359-1791.
December 8
Urbana Business Association Holiday Market 8 a.m. to 1 p.m. Dec. 1, 8, 15
Lincoln Square Mall, 201 Lincoln Square, Urbana Holiday Market consists of weekly Saturday markets inside Lincoln Square Mall during the holiday season. The Holiday Market will be bringing crafts and edibles from local vendors to Champaign-Urbana holiday shoppers. The mall will be filled with produce, baked goods, crafts and holiday decorations -- all produced, grown or made in Illinois.
December 8
TECH 21: The Full-time Job of Job Seeking 10 a.m. to noon
Urbana Free Library, 210 W. Green St., Urbana Learn tips for online job searching, applying online and creating a professional cover letter and resume. Approximately one hour of instruction followed by one hour of document creation. Some familiarity with Microsoft Word and the Internet helpful. For more information, contact Amber Castens at 217-367-4405.
December 11
Dec. 11, 13 How to Manage Training: Facilitating Workplace Learning 1 to 5 p.m.
Parkland College Business Training, 1315 N. Mattis Ave., Champaign Join Cindy Harris to learn how to assess an employee's knowledge, skills and performance levels; determine training objectives; evaluate internal and external training resources; use a variety of teaching methods and media; design and deliver effective training programs for company needs; and measure the results of your training program. Fee: $265 (book included). Registration deadline: Dec. 4.
December 13
Fearless Facilitation -- How to Lead Effective Meetings 8 a.m. to noon or 1 to 5 p.m.
Parkland College Business Training, 1315 N. Mattis Ave., Champaign Steven Welland will teach you how to achieve desired results in meetings and manage relationships and process at the same time. You will learn how to lead effective meetings; demonstrate fundamental facilitation skills; make optimal use of people's time and talents; strike the right balance between purpose, process and participation; and exhibit the confidence and competence of a fearless facilitator. Fee: $125 (book included). Registration deadline: Dec. 6.
December 13
Business After Hours 5 to 7 p.m. First Bank,
1251 Woodfield Drive, Savoy Join fellow chamber members and their guests in this networking opportunity hosted this month by First Bank of Savoy. Proceeds from the $5 per person donation at the door will help fund chamber programs. The donation for non-members and guests is $8.
December 14
CNA 21 Skills Recertification 9:30 a.m. to 12:30 p.m.
Parkland College Health Professions, 1309 N. Mattis Ave., Champaign This is an Illinois Department of Public Health-approved evaluation session intended for CNAs who need to update their 21 skills for recertification. Initial class meets for three hours. To complete the update, students are required to schedule a three-hour on-site clinical session with a Parkland College instructor at a long-term care facility. Fee: $125. Registration deadline: Dec. 7.
December 15
Computers 101 9 to 10 a.m.
Urbana Free Library, 210 W. Green St., Urbana Free one-on-one tutoring for adults seeking basic computer instruction. Participants are welcome to bring their own laptops or use the PCs in the lab. Training is customized to each participant's needs. Seniors encouraged to attend. Registration is required. Speak to a librarian about registering for this class, or contact Amber Castens at 217-367-4405.
COVER STORY October 2014
---
Forty under 40 2014
---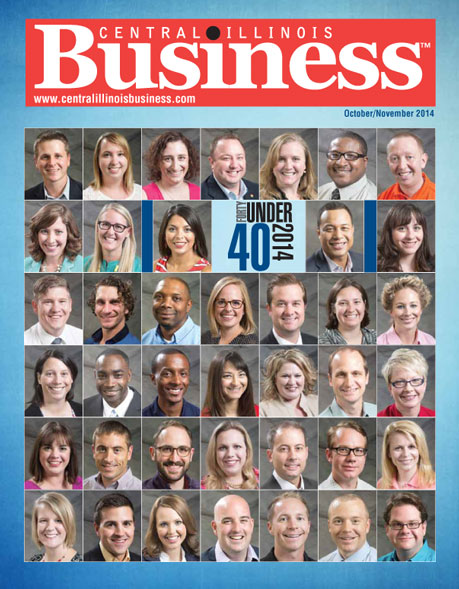 Central Illinois Business magazine is pleased to present the winners of its seventh Forty Under 40 Awards. The awards recognize young professionals for their achievements, experience, innovation, leadership and community involvement. They were chosen by an independent panel of judges from nominations from the community. The following are profiles of our winners, including our Woman of the Year and Man of the Year. They share their best advice, the challenges they've met, the lessons they've learned in their careers and their proudest accomplishments. And their nominators comment on why these young professionals are deserving of recognition. We hope you enjoy reading about the accomplishments of some of the young leaders in Champaign County.
- Jodi Heckel, CIB editor
Central Illinois Business magazine thanks its Forty Under 40 panel of judges:

Marc Changnon is the Champaign school district coordinator for Career Programs and Community Partnerships. He left the business world in 1998 to become the coordinator of the school district's Education to Careers and Professions Program, which is one of the programs he oversees now. Changnon has also coached basketball at the Champaign Park District, Edison Middle School and Centennial High School.
Tony Clements retired from the University of Illinois in 2009 after 37 years with Campus Recreation, most of that time as the division's director. He served as interim CEO of the United Way of Champaign County in 2012, and he is a stand-up comedian. He is also a member of the board of directors of the Marajen Stevick Foundation, which owns The News-Gazette.
Bianca Green is an attorney and mediator. She established Illinois Mediation Services Inc. in 2010 to work with clients to resolve disputes without going to court. Green was the 2013 winner of the Athena Award, given for professional accomplishment, community service and developing leadership potential in women.
Mark Kesler is a business instructor at Parkland College and former business owner. Kesler has been involved with several retail and real estate ventures, including 17 years as a Subway franchisee. He currently operates real estate developments and rental property.
Mary Tiefenbrunn is executive director of the Champaign County Humane Society. She is also a lawyer who worked as an appellate court law clerk before taking over as leader of the humane society in 2007.
Woman of the Year - Becca Guyette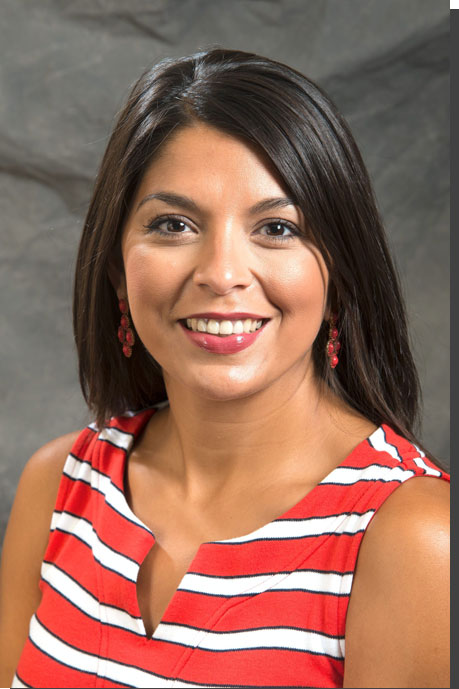 Becca Guyette's mission, as the director of leadership giving at the United Way of Champaign County, is spreading the word about the good works of an organization she believes in and helping others find a way to support it.
"My joy is matching passion with resources -- when people have resources to give and a passion, and finding a mission for them to support," she said.
"I feel what we are doing in the community is life-changing stuff," Guyette continued. "The United Way is not about charity, it's about change. The change is what excites me."
She is comfortable asking people for money to support the organization "because I know we're good stewards and we're having great impact in the community."
Guyette grew up in Paulding, Ohio, a small farm community in the northwestern part of that state. Her parents instilled in her and her five older siblings the importance of community service. Guyette's mother has organized her church's funeral dinners and church bazaars for more than 40 years.
But it was in college at Bowling Green State University that Guyette really learned that fundraising was her calling. She was involved in student government and leadership activities, and one of her roles was accompanying the college's development director on donor visits.
"She explained why what we were doing was important," Guyette said of the development director, who became her mentor. "She taught me everything, (including) how to listen -- that's the biggest part of fundraising. She really helped me understand donors. She had a very keen understanding of donors, why they give, how they come to those decisions.
"It isn't about the gift. It's about the donor," Guyette added. "It's about your supporters and what drives them."
Guyette came to Champaign-Urbana in 2001 to earn her master's degree in organizational communications at the University of Illinois, while her future husband Joe went to law school here.
After finishing graduate school, she took a job as the program director at the University YMCA. The development position at the YMCA opened up a few years later. She was hired, although the Y was in the planning stages of a capital fund drive and Guyette didn't have experience running a major fundraising campaign. A consultant helped guide her through it, and what started as a $1 million campaign raised twice that amount.
"I will be eternally grateful for them giving me that opportunity," Guyette said. "I learned a lot about the field of fundraising. But mostly what I learned is this is my passion."
She particularly loves the hands-on aspect of working with smaller organizations. She never thought she would leave the Y. In fact, Guyette identified the only other organization she thought she might consider working for -- the United Way of Champaign County.
She had volunteered for the United Way as a program funding reviewer and on a committee, and she was familiar with the organization and passionate about its mission. When a position opened up there, United Way of Champaign County President and CEO Sue Grey contacted Guyette.
"Becca is someone I had my eye on for a while," Grey said. "She brought some fresh perspective to us, on analysis of our donors and where we needed to go."
Grey said she was able to reconfigure her staffing when she hired Guyette and put an emphasis on leadership giving. Grey said individual leadership donors are far more important to the local United Way than they are in some other areas with large corporate donors.
"Becca brings us the right sort of personality and skill set to take care of those donors," Grey said. "It's important we let them know how critically important they are to us and to the county. She really believes in that, and that shows in her kindness to donors and generosity to donors, and her willingness to listen to their concerns and what matters to them."
At both the YMCA and the United Way, Guyette has worked a 30-hours-per-week schedule, although she acknowledges she rarely spends just 30 hours working each week. But she wanted the flexibility to pick up her children in the late afternoon and spend time with them. She said that time recharges her, and then she is able to attend meetings later and work in the evening after her children have gone to bed, to meet all her professional obligations.
She and her husband have already begun talking with their older child about the importance of community service.
"I think it's so important for people to have a sense of civic responsibility," Guyette said.
And, she continued, "I just enjoy it. I get so much out of being part of serving the community. I love the idea of going to the grocery story and seeing people I know. I love the idea of being out in the community and making connections."
Man of the Year - Scott Miller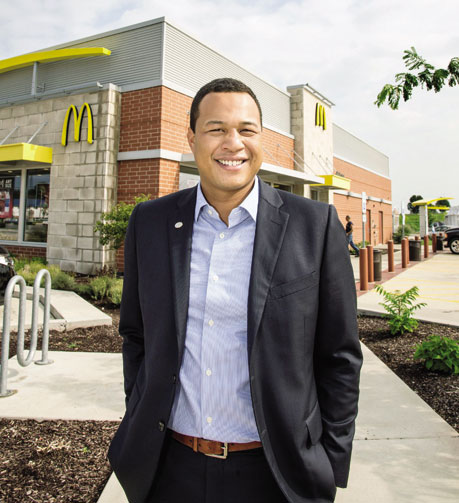 Scott Miller and his family "bleed ketchup."
Miller grew up watching his father, Dwight Miller, become the owner/operator of McDonald's franchises and build a company, DASH Management, to operate them. Scott Miller's mother, Alice, is chief financial officer for the company. Together, the family owns a dozen restaurants in the area. Scott Miller had a sense of pride from his father being a business owner, and he also wanted to be self-employed.
"McDonald's is the No. 1 fast-food business in the world. I want to be a part of that," he said.
Miller admires the innovation of the company, which created the Dollar Menu when it was struggling. The Campustown McDonald's he and his father opened at the start of this school year is the only location in Illinois to test a new mobile-ordering app the company is introducing.
The elder Miller wanted his son to work his way up from the bottom, and so Scott Miller started out at age 12, cleaning the lobby and the bathrooms of his father's restaurants.
During college he worked as a swing shift manager for his father, his first opportunity to manage other employees. The plan was always for Miller to become an owner-operator for McDonald's himself. But he knew other employees treated him differently because he was the owner's son, and acquaintances thought he had it made.
"That really bothered me, that people thought I had a silver spoon. I wanted to do it on my own," Miller said.
So he left McDonald's and went to work after college at Wells Fargo, where he excelled and was promoted within six months. He worked there until the market crashed, then returned to McDonald's as a store manager and was accepted into a second-generation program for the children of restaurant owner-operators. He was approved in September 2011 to be a store owner and two months later bought the McDonald's at Duncan Road and Kirby Avenue from his father. He's also part-owner of the stores on Bloomington Road and in Campustown.
Early in 2014, he was named president of his father's company, which has nearly 700 employees. Miller created his own company, MAS Restaurant Inc., to manage his own business interests.
"Dad would always tell me, do things that other people aren't willing to do. And I really believe that," Miller said. "It might be taking the risk of being self-employed. It might be the owner-operator who doesn't sit in his office. He's in the trenches with his employees, and they respect him for that."
Miller has a rule that if his employees must work a holiday, he works it alongside them. His cellphone number is posted on the back wall of every store.
"This is how we make our money in this family. We own restaurants," Dwight Miller said. "We've cleaned tables, we've cleaned bathrooms. We take care of the customer."
Dwight Miller said his son also has one of the keys the elder Miller believes is crucial to being successful -- a "high like" factor.
"That is one of his really big strong points -- people like him. He is genuinely a really nice guy," Dwight Miller said, adding his son goes out of his way to help employees and has a good rapport with the crews in his restaurants.
"When people respect you and look up to you, they feel comfortable you can make decisions to make the restaurant go forward," he said. "(Scott's) been able to demonstrate he can do those type of things."
Scott Miller said his father taught him to have goals and timetables to accomplish those goals, "timetables that push you."
At the urging of a McDonald's owner in Danville, Miller has also become involved with a number of community organizations. He was unsure whether he would like philanthropic work. He said he's uncomfortable asking people for money.
But, Miller said, "it's so much more than that."
He likes finding creative ways to plan fundraising events or seek out grants or publicize the accomplishments of an organization. Among his favorite volunteer tasks is talking with high school students about career skills and finding a way to relate his experiences to them.
Miller said his father has been the biggest influence in his life, and the person who drives him.
"He had faith in me as a 29-year-old to run his company. He believes in me," Miller said.
Back to top
Part of The News-Gazette, Inc. community of websites:
News-Gazette | IlliniHQ | WDWS | WHMS |