HOME/COVER STORY
---
ACHIEVEMENTS
---
BUSINESS NOW
---
ECONOMICS
---
EDITOR'S NOTE
---
FINE PRINT
---
GET TO KNOW THE CEO
---
GREEN TIPS
---
INNOVATION > THE OUTER LIMITS
---
PREVAILING WAGE
---
SPONSORED GUEST COLUMNIST
---
SUBSCRIBE NOW!
---
CONTACT US
---
ARCHIVE
---
CALENDAR
Editor 's note: submit events, meetings, workshops and conferences at least one month in advance to cibm@news-gazette.com for inclusion in Mark Your Calendar.
< Oct
Nov
Dec >
November 2
First Friday Coffee 7:30 to 9 a.m.
BankChampaign, 2101 S. Neil St., Champaign Enjoy coffee, conversation and a light breakfast as you network on the first Friday of each month. Cost is $3 for chamber members. For more information on First Fridays, or to find out where these events are being held, visit
www.champaigncounty.org
or call 217-359-1791.
November 3
ECI SCORE: Starting a Small Business 9 to 11:30 a.m.
Commerce, 303 W. Kirby Ave., Champaign Reviews the advantages, hazards and requirements of starting a small business. Content: defining your business, competitive analysis, marketing, cash flow and tips for small business startup. Workbook provided. Cost: $25 or three for $60. To register, contact
LynetteL@champaigncounty.org
or call 217-359-1791.
November 8
EaRN Leads/Speed Networking Program 7:30 to 8:30 a.m.
Champaign County Chamber of Commerce, 303 W. Kirby Ave., Champaign The Exchange and Referral Network is the Champaign County Chamber of Commerce's version of a combination Leads/Speed Networking program. Registration opens at 3 p.m. Nov. 1 for this session. Only one person per industry may participate per week. Registration is first-come, first-served. If your industry category is already filled when you register, your name will be kept on the waiting list. If the first registrant is unable to attend the following week's session, the person next on the waiting list according to the time stamp will be contacted. If you are unable to attend the session, notify the chamber as soon as possible so that it may fill the seat. Failure to do so may prevent you from participating in future sessions.
November 12
Get Control of Email and Information Management 6 to 8 p.m.
Parkland College Business Training, 1315 N. Mattis Ave., Champaign Join Steve Welland and discover how to get organized, increase your productivity and save 15 days or more per year. Get control of email: cut email processing time; eliminate unnecessary email; de-clutter your jammed inbox; discover time-saving tech tips; improve email etiquette; reduce legal liability; choose the best communication tool. Get control of information: discover why storage systems fail; discover five file and find it fast secrets; file and find information faster; create an ordered, stress-free folder structure. Provided: workbooks, desktop reference tools, calculator and a copy of the best-selling "The Hamster Revolution: How to Manage Email Before it Manages You." There is no charge to attend this event, but registration is required. Email Norma Wesley at
normaw@champaigncounty.org
or call 217-531-4669.
November 13
Nov. 13, 15 Delegating for Business Success 1 to 5 p.m.
Parkland College Business Training, 1315 N. Mattis Ave., Champaign Cindy Guthrie will help you learn how to give employees the authority and responsibility they need to get the job done; avoid common mistakes, including reverse delegation; identify which types of tasks and responsibilities should be delegated; monitor the delegation process, evaluate progress, identify problems and reward success; and improve goal-setting, prioritizing, planning, communication and feedback skills. Fee: $265 (book included) Registration deadline: Nov. 6
November 15
Leading Change at Every Level 8 a.m. to noon, 1 to 5 p.m.
Parkland College Business Training, 1315 N. Mattis Ave., Champaign Recent research says that change is effectively implemented when it's led by those whom it affects most directly. As a result, one's ability to lead change has become a critical performance measurement in today's unpredictable workplace environment. Steven Welland will identify the five dimensions of change leadership that will help to garner support for any change effort. Fee: $125 (book included) Registration deadline: Nov. 8
November 15
ECI SCORE: Writing a Small Business Plan 6 to 8:30 p.m.
Champaign County Chamber of Commerce, 303 W. Kirby Ave., Champaign Reviews the importance of writing a business plan. Content: business plan format, financial analysis and securing financing. Workbook provided. Cost: $25 or three for $60. To register, contact
LynetteL@champaigncounty.org
or call at 217-359-1791.
November 24
Chamber Coffee Stop Before You Shop 8 a.m. to noon
Champaign County Chamber of Commerce, 303 W. Kirby Ave., Champaign To help promote local business, the chamber will be hosting a "Coffee Stop" the morning of Small Business Saturday. Before shopping, community members can pick up free coffee and a map of area participants. Chamber members' businesses will be featured on the map free of charge. Email the chamber with discounts or promotions your business will offer by contacting Nikolle Keeney at
NikolleK@champaigncounty.org
.
COVER STORY February 2014
---
Made in Champaign County
---
Area companies producing goods from dinosaurs to dentures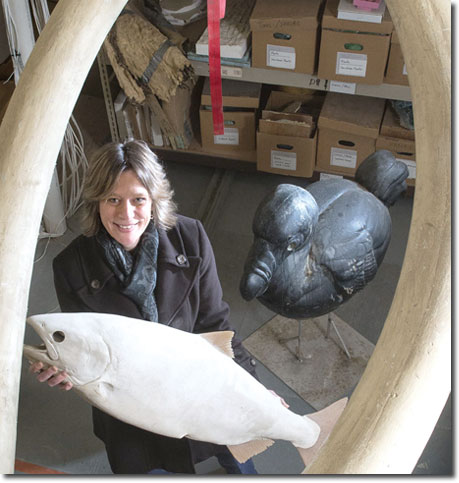 Champaign County businesses produce an amazing variety of products.
The county's industries include large manufacturing plants such as Plastipak, Solo Cup and Kraft Foods; technology companies such as Wolfram, Amdocs and Volition; and cutting-edge biotechnology and nanotechnology labs, many located in the University of Illinois Research Park, such as Sony Biotechnology, ImmuVen and Sonistic.
The following are profiles of just a few companies in Champaign County that are producing goods for customers locally, nationally and worldwide.
Taylor Studios, Rantoul
Taylor Studios does design and fabrication work for exhibits for museums, nature and cultural centers, parks and businesses. Its creations include models of figures, plants and animals (such as their full-scale model of a Deinonychus dinosaur for the Orpheum Children's Science Museum in Champaign).
Taylor Studios is now helping design and build three galleries for the North Dakota Historical Society with exhibits on dinosaurs and prehistoric life, local North Dakota history and Native American history. The company is also working with the Wisconsin Department of Natural Resources on a project for Horicon Marsh, a wildlife refuge in Wisconsin.
"We get to work with amazing clients," said Betty Brennan, owner of Taylor Studios. They include the National Park Service, the Field Museum in Chicago, the Pentagon, the National WWI Museum in Kansas City, Mo., the Audubon Nature Institute in New Orleans and the Smithsonian Institution, along with many state parks.
"(Our work) is very engaging in the sense we're teaching people about nature and culture and history and science, or creating beautiful artworks that enhance the visitor experience," Brennan said.
In central Illinois, you can see Taylor Studio's work at the Anita Purves Nature Center in Urbana (one of the company's first clients), Miller Park Zoo in Bloomington and the Lincoln Heritage Museum at Lincoln College, among other places.
Ragle Dental Laboratory, Champaign
Jerry Ragle's dental lab manufactures crowns, bridges, dentures and implants for area dentists.
"When I got into this business, everything was made by hand," Ragle said. "You had to have good hand/eye coordination and know how to replicate teeth."
The work has changed greatly due to digital technology. Now Ragle looks for employees who are computer-savvy.
Digital technology allows dentists to capture an image of a patient's teeth with an oral scanner, rather than taking a traditional impression. Additionally, designers can now shape teeth digitally, with the click of a mouse, rather than carving a model in wax.
Once a product is designed, employees at Ragle Dental Laboratory use a computer-controlled milling machine to produce it. Or they can print a model on a 3-D printer, then press it into ceramic.
Recently, digital technology has become available for making dentures. Ragle said the technology provides a better look and a better fit.
Litania Sports Group, Champaign
The companies that make up Litania Sports Group produce sports equipment that includes vaulting poles, throwing implements and hurdles used by Olympic athletes, and basketball backboards, football goalposts, soccer goals and volleyball standards used in schools throughout the country.
David Hodge, owner and CEO of Litania Sports Group, oversees a company that includes six divisions. Litania Sports Group acquired Porter Athletic in 2006. It focuses on new construction, providing all the necessary equipment and systems to finish a sports facility once it is built.
Hodge said the company nicely complements Gill Athletics, which provides track and field equipment such as the pole vault poles, throwing implements, hurdles and high jump pits.
A reorganization three years ago that provided a separate division geared to specific sports and markets has been successful, and the company has grown significantly in the last few years.
Smith & Bradley, Sidney
Jerommie Smith and Ryan Bradley formed their own watch company, Smith & Bradley Ltd., in 2012 to sell sport and tactical watches.
Their initial product was the Atlantis, an automatic stainless steel dive watch. It has been dramatically redesigned, Bradley said. The first edition of the watch was assembled in Hong Kong, but the improved Atlantis will be built here in Champaign County.
Last summer, Smith & Bradley introduced the Sans-13, a tactical watch designed for police and military use. The company is currently designing a sport watch that will be American-made. It will be called the Patriot, and it should be available this summer, Bradley said.
Smith does the design work for the watches, and Bradley does the marketing.
Back to top
Part of The News-Gazette, Inc. community of websites:
News-Gazette | IlliniHQ | Business Directory | WDWS | WHMS | idomagazine