HOME/COVER STORY
---
ACHIEVEMENTS
---
BUSINESS NOW
---
ECONOMICS
---
EDITOR'S NOTE
---
FINE PRINT
---
GET TO KNOW THE CEO
---
GREEN TIPS
---
INNOVATION > THE OUTER LIMITS
---
SUBSCRIBE NOW!
---
CONTACT US
---
ARCHIVE
---
CALENDAR
Editor 's note: submit events, meetings, workshops and conferences at least one month in advance to cibm@news-gazette.com for inclusion in Mark Your Calendar.
< Oct
Nov
Dec >
November 2
First Friday Coffee 7:30 to 9 a.m.
BankChampaign, 2101 S. Neil St., Champaign Enjoy coffee, conversation and a light breakfast as you network on the first Friday of each month. Cost is $3 for chamber members. For more information on First Fridays, or to find out where these events are being held, visit
www.champaigncounty.org
or call 217-359-1791.
November 3
ECI SCORE: Starting a Small Business 9 to 11:30 a.m.
Commerce, 303 W. Kirby Ave., Champaign Reviews the advantages, hazards and requirements of starting a small business. Content: defining your business, competitive analysis, marketing, cash flow and tips for small business startup. Workbook provided. Cost: $25 or three for $60. To register, contact
LynetteL@champaigncounty.org
or call 217-359-1791.
November 8
EaRN Leads/Speed Networking Program 7:30 to 8:30 a.m.
Champaign County Chamber of Commerce, 303 W. Kirby Ave., Champaign The Exchange and Referral Network is the Champaign County Chamber of Commerce's version of a combination Leads/Speed Networking program. Registration opens at 3 p.m. Nov. 1 for this session. Only one person per industry may participate per week. Registration is first-come, first-served. If your industry category is already filled when you register, your name will be kept on the waiting list. If the first registrant is unable to attend the following week's session, the person next on the waiting list according to the time stamp will be contacted. If you are unable to attend the session, notify the chamber as soon as possible so that it may fill the seat. Failure to do so may prevent you from participating in future sessions.
November 12
Get Control of Email and Information Management 6 to 8 p.m.
Parkland College Business Training, 1315 N. Mattis Ave., Champaign Join Steve Welland and discover how to get organized, increase your productivity and save 15 days or more per year. Get control of email: cut email processing time; eliminate unnecessary email; de-clutter your jammed inbox; discover time-saving tech tips; improve email etiquette; reduce legal liability; choose the best communication tool. Get control of information: discover why storage systems fail; discover five file and find it fast secrets; file and find information faster; create an ordered, stress-free folder structure. Provided: workbooks, desktop reference tools, calculator and a copy of the best-selling "The Hamster Revolution: How to Manage Email Before it Manages You." There is no charge to attend this event, but registration is required. Email Norma Wesley at
normaw@champaigncounty.org
or call 217-531-4669.
November 13
Nov. 13, 15 Delegating for Business Success 1 to 5 p.m.
Parkland College Business Training, 1315 N. Mattis Ave., Champaign Cindy Guthrie will help you learn how to give employees the authority and responsibility they need to get the job done; avoid common mistakes, including reverse delegation; identify which types of tasks and responsibilities should be delegated; monitor the delegation process, evaluate progress, identify problems and reward success; and improve goal-setting, prioritizing, planning, communication and feedback skills. Fee: $265 (book included) Registration deadline: Nov. 6
November 15
Leading Change at Every Level 8 a.m. to noon, 1 to 5 p.m.
Parkland College Business Training, 1315 N. Mattis Ave., Champaign Recent research says that change is effectively implemented when it's led by those whom it affects most directly. As a result, one's ability to lead change has become a critical performance measurement in today's unpredictable workplace environment. Steven Welland will identify the five dimensions of change leadership that will help to garner support for any change effort. Fee: $125 (book included) Registration deadline: Nov. 8
November 15
ECI SCORE: Writing a Small Business Plan 6 to 8:30 p.m.
Champaign County Chamber of Commerce, 303 W. Kirby Ave., Champaign Reviews the importance of writing a business plan. Content: business plan format, financial analysis and securing financing. Workbook provided. Cost: $25 or three for $60. To register, contact
LynetteL@champaigncounty.org
or call at 217-359-1791.
November 24
Chamber Coffee Stop Before You Shop 8 a.m. to noon
Champaign County Chamber of Commerce, 303 W. Kirby Ave., Champaign To help promote local business, the chamber will be hosting a "Coffee Stop" the morning of Small Business Saturday. Before shopping, community members can pick up free coffee and a map of area participants. Chamber members' businesses will be featured on the map free of charge. Email the chamber with discounts or promotions your business will offer by contacting Nikolle Keeney at
NikolleK@champaigncounty.org
.
COVER STORY June 2014
---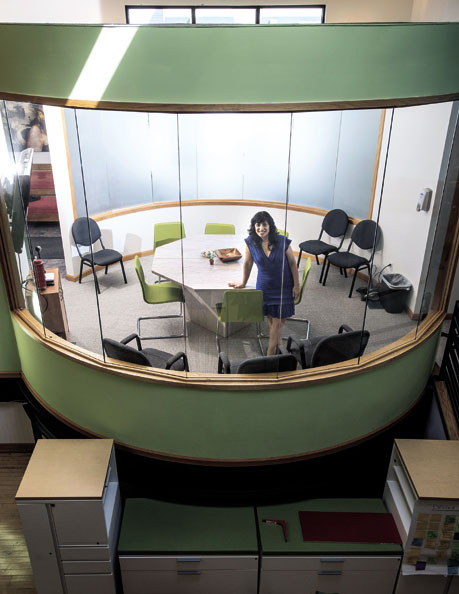 A culture of support
---
Pixo succeeds in highly competitive industry while nurturing employees
Pixo's employees are passionate enough about their work to spend their lunch hours learning about the newest technologies in their industry. Many play leading roles in community organizations related to design and programming, outside their regular work hours.
But Pixo -- a successful Urbana company that develops database applications and mobile apps, builds websites and helps business processes run more efficiently -- isn't one of those tech workplaces known for 80-hour work weeks.
Formerly known as OJC Technologies, the company was founded in 1998 by Pixo President Lori Patterson and her brother, Sigfried Gold. The two were disillusioned with the corporate work environment and wanted to create a company that nurtured its employees while serving clients in the highly competitive information technology consulting industry.
Pixo is a place where software developers huddle with their laptops and a whiteboard and talk about how they'll deal with website maintenance issues for a client.
It's also a place where, a few days after Easter, chocolate eggs left over from an egg hunt are still sitting on ledges around the office. Where employees can get away from the computer for a few minutes and relax in a bean bag chair, and where they get together regularly for game nights.
"We wanted to achieve great things -- we love to work and achieve -- but we wanted to figure out if we could create an environment where we could feel really fulfilled, and not have our morals and values compromised in the process," Patterson said.
She described herself and her brother as "achieve-a-holics." But the workplace they created was one that drew the line on excessive hours and unreasonable demands for employees, and on overpromising what they could deliver to clients.
It's been a formula for success. Pixo has been undergoing a growth spurt in the last few years. It now has 30 employees and a revamped management structure.
The company's growth came from "amazing clients at the door that we couldn't respond to" with a smaller staff, said Patterson, as well as employees who wanted to work in larger teams and on bigger projects. The work environment is collaborative, with employees working next to others who share either the same project or same technology, and meeting weekly to discuss their projects and new ideas. The company works hard to hire people who "greatly value relationships and the ability to be themselves," Patterson said.
That was one of the things that attracted Pat East to Pixo. It's a place with a "culture of support," said East, a developer. East has been with Pixo only a couple of months, but he's had his eye on the company for several years. He knew it as a place "that focuses on diversity and work-life balance and doing business in a frame that's good for employees as well as customers."
For example, East and the other developers meet for an hour once a week to go over their projects and the tasks they expect to accomplish within the next week or two. It's a way to keep from becoming overwhelmed by a project, he said.
"When you are really comfortable where you are, it's far, far easier to take risks," Patterson said. "Clients need us to take risks, to think outside the box and help them through challenges."
Wes Cravens began work for Pixo last year as an independent contractor on a project, but was hired a few months later as the company's director of technology. He had been involved in entrepreneurial projects, and "there were very few companies I would actually work for at that point."
But Cravens realized that Pixo was the kind of company he had been trying to build -- a creative company that is unique in its approach to solving problems for clients, and employee-centered.
Cravens said Pixo's employees "bring out the best in each other."
"It's an energy thing," he said. "By choice or by personality, we're a very stimulating group of people who drive each other."
Cravens enjoys the challenges of working at a consulting company.
"I really like the diversity of our projects," he said. "I have traditionally worked for product companies. You can change your work, you can change the technologies you work in and you can explore new ideas as a consultancy. You can go after new ideas and fresh thinking all the time, and that's great."
Cravens also likes the leadership style, noting Patterson is very engaged with each of her employees. The company offers flexibility to support an employee who wants to try out a new area of work or who needs to change how he or she works -- for example, one employee recently went from a full-time staff member to an independent contractor to accommodate a necessary change in work hours, Cravens said.
While Patterson wants to ensure the management is hands-on and aware of how each employee is affected by changes in the organization, it was harder to do so herself as the company grew. So she put a nine-person leadership team in place last fall.
Erika Kramer is Pixo's director of operations, overseeing payroll, billing, financial reporting, purchasing and budgeting. She's recently taken on human resources duties and given up the task of overseeing the staffing of projects to another director.
She said the management change was necessary as the company grew. But Kramer, who has been with the company since 2008, said she and the other directors can still move quickly in making changes they believe are necessary.
"There's no politics, no hierarchy," Kramer said. "I feel like I have a lot more power in getting things done that need to be done." She also likes having a role in making decisions about the company's future, noting the leadership makes decisions as a group.
"I like to know, as a company, where we're headed and why we're making decisions and how those decisions affect other parts of the company," she said. "That makes a huge difference, at least to me."
Back to top
Part of The News-Gazette, Inc. community of websites:
News-Gazette | IlliniHQ | Business Directory | WDWS | WHMS | idomagazine