HOME/COVER STORY
---
ACHIEVEMENTS
---
AG BUSINESS
---
BEST BUSINESS
---
BUSINESS COMMUNITY
---
BUSINESS NOW
---
ECONOMICS
---
EDITOR'S NOTE
---
Entrepreneur Tips
---
FINE PRINT
---
GET TO KNOW THE CEO
---
GOOD BUSINESS
---
GREEN TIPS
---
Immigration
---
INNOVATION > THE OUTER LIMITS
---
Issues
---
LEGAL PILLARS
---
MADE IN CHAMPAIGN COUNTY
---
MARKETING
---
OIL/GAS INDUSTRY
---
ORGANIZATIONAL KNOWLEDGE
---
FORTY UNDER 40 NOMINATIONS
---
SUBSCRIBE NOW!
---
CONTACT US
---
ARCHIVE
---
CALENDAR
Editor 's note: submit events, meetings, workshops and conferences at least one month in advance to cibm@news-gazette.com for inclusion in Mark Your Calendar.
< Oct
Nov
Dec >
November 2
First Friday Coffee 7:30 to 9 a.m.
BankChampaign, 2101 S. Neil St., Champaign Enjoy coffee, conversation and a light breakfast as you network on the first Friday of each month. Cost is $3 for chamber members. For more information on First Fridays, or to find out where these events are being held, visit
www.champaigncounty.org
or call 217-359-1791.
November 3
ECI SCORE: Starting a Small Business 9 to 11:30 a.m.
Commerce, 303 W. Kirby Ave., Champaign Reviews the advantages, hazards and requirements of starting a small business. Content: defining your business, competitive analysis, marketing, cash flow and tips for small business startup. Workbook provided. Cost: $25 or three for $60. To register, contact
LynetteL@champaigncounty.org
or call 217-359-1791.
November 8
EaRN Leads/Speed Networking Program 7:30 to 8:30 a.m.
Champaign County Chamber of Commerce, 303 W. Kirby Ave., Champaign The Exchange and Referral Network is the Champaign County Chamber of Commerce's version of a combination Leads/Speed Networking program. Registration opens at 3 p.m. Nov. 1 for this session. Only one person per industry may participate per week. Registration is first-come, first-served. If your industry category is already filled when you register, your name will be kept on the waiting list. If the first registrant is unable to attend the following week's session, the person next on the waiting list according to the time stamp will be contacted. If you are unable to attend the session, notify the chamber as soon as possible so that it may fill the seat. Failure to do so may prevent you from participating in future sessions.
November 12
Get Control of Email and Information Management 6 to 8 p.m.
Parkland College Business Training, 1315 N. Mattis Ave., Champaign Join Steve Welland and discover how to get organized, increase your productivity and save 15 days or more per year. Get control of email: cut email processing time; eliminate unnecessary email; de-clutter your jammed inbox; discover time-saving tech tips; improve email etiquette; reduce legal liability; choose the best communication tool. Get control of information: discover why storage systems fail; discover five file and find it fast secrets; file and find information faster; create an ordered, stress-free folder structure. Provided: workbooks, desktop reference tools, calculator and a copy of the best-selling "The Hamster Revolution: How to Manage Email Before it Manages You." There is no charge to attend this event, but registration is required. Email Norma Wesley at
normaw@champaigncounty.org
or call 217-531-4669.
November 13
Nov. 13, 15 Delegating for Business Success 1 to 5 p.m.
Parkland College Business Training, 1315 N. Mattis Ave., Champaign Cindy Guthrie will help you learn how to give employees the authority and responsibility they need to get the job done; avoid common mistakes, including reverse delegation; identify which types of tasks and responsibilities should be delegated; monitor the delegation process, evaluate progress, identify problems and reward success; and improve goal-setting, prioritizing, planning, communication and feedback skills. Fee: $265 (book included) Registration deadline: Nov. 6
November 15
Leading Change at Every Level 8 a.m. to noon, 1 to 5 p.m.
Parkland College Business Training, 1315 N. Mattis Ave., Champaign Recent research says that change is effectively implemented when it's led by those whom it affects most directly. As a result, one's ability to lead change has become a critical performance measurement in today's unpredictable workplace environment. Steven Welland will identify the five dimensions of change leadership that will help to garner support for any change effort. Fee: $125 (book included) Registration deadline: Nov. 8
November 15
ECI SCORE: Writing a Small Business Plan 6 to 8:30 p.m.
Champaign County Chamber of Commerce, 303 W. Kirby Ave., Champaign Reviews the importance of writing a business plan. Content: business plan format, financial analysis and securing financing. Workbook provided. Cost: $25 or three for $60. To register, contact
LynetteL@champaigncounty.org
or call at 217-359-1791.
November 24
Chamber Coffee Stop Before You Shop 8 a.m. to noon
Champaign County Chamber of Commerce, 303 W. Kirby Ave., Champaign To help promote local business, the chamber will be hosting a "Coffee Stop" the morning of Small Business Saturday. Before shopping, community members can pick up free coffee and a map of area participants. Chamber members' businesses will be featured on the map free of charge. Email the chamber with discounts or promotions your business will offer by contacting Nikolle Keeney at
NikolleK@champaigncounty.org
.
COVER STORY August 2017
---
Forty years
---
Broeren Russo building with integrity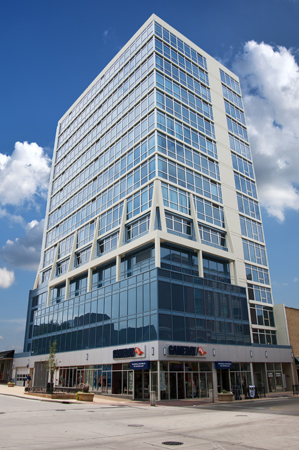 Story: Bridget Broihahn
Photo: Allyson Sanborn
"We can't wait to come to work tomorrow," John Russo said. He and Stuart Broeren haven been constructing buildings for 40 years.
Broeren and Russo have an extensive history. One could say that have built quite a relationship, along with many buildings they have constructed in the years as Broeren Russo Builders, Inc. Broeren is the president and Russo is the executive vice president of the company that has been providing premier general contracting and construction management services.
They have a passion for quality building. They approach every project with the idea that they can enhance the community with their builds. And if 40 years seems like a long time, well, their relationship actually goes back a lot longer than that.
"I have known John Russo since second grade at St. Matthews's grade school," Broeren said. "We attended grade school, junior high and high school together."
On the weekends they would work for Broeren's dad, Wayne Broeren, at Thompson Lumber. They were two young boys who, even though they were having fun, they were also learning a trade and creating an investment into the future.
"We were in junior high school. It kept us busy and out of trouble," Russo said.
Even back then, these young boys loved working hard and completing projects together as a couple of up and coming carpenters.
"In high school, we built our first house," Russo said.
"We remained close friends through college. We've been through marriage, divorce, kids, death, sickness, injury, stupid actions, successes, happiness and failures...life," Broeren said.
After college, Broeren stayed in town and Russo went up north.
"I started the business in 1977 with my father who was the other 25 percent shareholder," Broeren said.
"I built high rises in Chicago," Russo said.
The two kept in touch, however, because their friendship was built on a solid foundation.
"John was working for a large international firm, when I had a project in Champaign that needed his expertise: The Trade Centre building on Neil and Kirby in Champaign where Wolfram Research is (headquartered) and the hotel across the alley. That was in 1988. We never looked back from there," Broeren said.
They have a large list of satisfied customers, too. In fact, the various subcontractors in and around the area are also very complimentary when referring to the company. Broeren Russo has built a solid relationship with the community that is honest, fair, and filled with integrity. They have built in many community sectors.
"We started out building homes, some multi- family and light commercial. We have done hospitals, manufacturing, clean rooms, warehousing, industrial plants, commercial, retail, office, and even a waste water treatment plant, Broeren said.
Some recent completed projects also include: Pickwick Coffee Company, Hamilton Walkers' restaurant, The Hub, Mahomet-Seymour High School library and auditorium, 512 Green Street, The Tower in Third, JW Eater Junior High School, Skyline Tower, Chez Family Center for Wounded Veterans in Higher Education, Alpha Gamma Delta fraternity, Healey Place Apartments, the West Quad, UIUC Golf Facility, Countryside School, Stephens Family YMCA, UI Conference Center, Parkland College Applied Technology Center and much, much more.
They both agree they wanted to be involved in the tough and challenging projects.
"Some examples are: Memorial Stadium, Virginia Theatre, St. Patrick's church. They are very fulfilling," Broeren said.
Current projects include: UI Ice Arena, Henry Administration Building, the "Suites on Third" street in Champaign, Christie Clinic and Middletown Prairie Elementary Edition in Mahomet, where last week they raised the walls of a gymnasium that will also serve as an emergency community shelter.
There are those that say Broeren Russo does have a distinct style. Their builds speak for themselves.
"We are just the builder. We have to give credit to the architects," Russo quickly said.
Broeren agreed.
"We are not architects. We build what they come up with, and we do have many clients who utilize our expertise in advising them on what will meet their goals and objectives and not break the bank," he said.
So what is included in the future proverbial blue print for Broeren Russo?
"We have an outstanding group of young leaders who have been with us for many years. They have been taking on more responsibility each year and will take over the operations of the company," Broeren said.
"Yes, we have really brilliant and talented people that possess a great skillsets and vast knowledge of the latest technology. All in all, we have great people," Russo said.
Are these two still inspired by construction, or have the years taken some of the zest away?
"Stu and I love construction and are very passionate about what we do. We are very fortunate to have great staff who share our passion and dedication to provide the best possible construction solutions. We can't wait to come to work tomorrow," Russo said.
Back to top
Part of The News-Gazette, Inc. community of websites:
News-Gazette | IlliniHQ | WDWS | WHMS |