HOME/COVER STORY
---
ACHIEVEMENTS
---
AG BUSINESS
---
BEST BUSINESS
---
BUSINESS COMMUNITY
---
BUSINESS NOW
---
ECONOMICS
---
EDITOR'S NOTE
---
Entrepreneur Tips
---
FINE PRINT
---
GET TO KNOW THE CEO
---
GOOD BUSINESS
---
GREEN TIPS
---
Immigration
---
INNOVATION > THE OUTER LIMITS
---
Issues
---
LEGAL PILLARS
---
MADE IN CHAMPAIGN COUNTY
---
MARKETING
---
OIL/GAS INDUSTRY
---
ORGANIZATIONAL KNOWLEDGE
---
FORTY UNDER 40 NOMINATIONS
---
SUBSCRIBE NOW!
---
CONTACT US
---
ARCHIVE
---
CALENDAR
Editor 's note: submit events, meetings, workshops and conferences at least one month in advance to cibm@news-gazette.com for inclusion in Mark Your Calendar.
< Oct
Nov
Dec >
November 2
First Friday Coffee 7:30 to 9 a.m.
BankChampaign, 2101 S. Neil St., Champaign Enjoy coffee, conversation and a light breakfast as you network on the first Friday of each month. Cost is $3 for chamber members. For more information on First Fridays, or to find out where these events are being held, visit
www.champaigncounty.org
or call 217-359-1791.
November 3
ECI SCORE: Starting a Small Business 9 to 11:30 a.m.
Commerce, 303 W. Kirby Ave., Champaign Reviews the advantages, hazards and requirements of starting a small business. Content: defining your business, competitive analysis, marketing, cash flow and tips for small business startup. Workbook provided. Cost: $25 or three for $60. To register, contact
LynetteL@champaigncounty.org
or call 217-359-1791.
November 8
EaRN Leads/Speed Networking Program 7:30 to 8:30 a.m.
Champaign County Chamber of Commerce, 303 W. Kirby Ave., Champaign The Exchange and Referral Network is the Champaign County Chamber of Commerce's version of a combination Leads/Speed Networking program. Registration opens at 3 p.m. Nov. 1 for this session. Only one person per industry may participate per week. Registration is first-come, first-served. If your industry category is already filled when you register, your name will be kept on the waiting list. If the first registrant is unable to attend the following week's session, the person next on the waiting list according to the time stamp will be contacted. If you are unable to attend the session, notify the chamber as soon as possible so that it may fill the seat. Failure to do so may prevent you from participating in future sessions.
November 12
Get Control of Email and Information Management 6 to 8 p.m.
Parkland College Business Training, 1315 N. Mattis Ave., Champaign Join Steve Welland and discover how to get organized, increase your productivity and save 15 days or more per year. Get control of email: cut email processing time; eliminate unnecessary email; de-clutter your jammed inbox; discover time-saving tech tips; improve email etiquette; reduce legal liability; choose the best communication tool. Get control of information: discover why storage systems fail; discover five file and find it fast secrets; file and find information faster; create an ordered, stress-free folder structure. Provided: workbooks, desktop reference tools, calculator and a copy of the best-selling "The Hamster Revolution: How to Manage Email Before it Manages You." There is no charge to attend this event, but registration is required. Email Norma Wesley at
normaw@champaigncounty.org
or call 217-531-4669.
November 13
Nov. 13, 15 Delegating for Business Success 1 to 5 p.m.
Parkland College Business Training, 1315 N. Mattis Ave., Champaign Cindy Guthrie will help you learn how to give employees the authority and responsibility they need to get the job done; avoid common mistakes, including reverse delegation; identify which types of tasks and responsibilities should be delegated; monitor the delegation process, evaluate progress, identify problems and reward success; and improve goal-setting, prioritizing, planning, communication and feedback skills. Fee: $265 (book included) Registration deadline: Nov. 6
November 15
Leading Change at Every Level 8 a.m. to noon, 1 to 5 p.m.
Parkland College Business Training, 1315 N. Mattis Ave., Champaign Recent research says that change is effectively implemented when it's led by those whom it affects most directly. As a result, one's ability to lead change has become a critical performance measurement in today's unpredictable workplace environment. Steven Welland will identify the five dimensions of change leadership that will help to garner support for any change effort. Fee: $125 (book included) Registration deadline: Nov. 8
November 15
ECI SCORE: Writing a Small Business Plan 6 to 8:30 p.m.
Champaign County Chamber of Commerce, 303 W. Kirby Ave., Champaign Reviews the importance of writing a business plan. Content: business plan format, financial analysis and securing financing. Workbook provided. Cost: $25 or three for $60. To register, contact
LynetteL@champaigncounty.org
or call at 217-359-1791.
November 24
Chamber Coffee Stop Before You Shop 8 a.m. to noon
Champaign County Chamber of Commerce, 303 W. Kirby Ave., Champaign To help promote local business, the chamber will be hosting a "Coffee Stop" the morning of Small Business Saturday. Before shopping, community members can pick up free coffee and a map of area participants. Chamber members' businesses will be featured on the map free of charge. Email the chamber with discounts or promotions your business will offer by contacting Nikolle Keeney at
NikolleK@champaigncounty.org
.
COVER STORY June 2017
---
Post-frame barns and buildings
---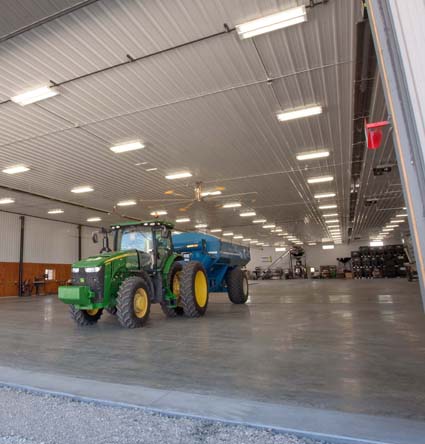 The FBi has been in the Central Illinois area lately, and folks are quite happy about it. No, it's not the Federal Bureau of Investigation, but FBi Builders Inc., a post-frame building company. FBi Buildings was founded in 1958 by Edwin A. Bahler and is still owned by the Bahler family. Ed L. Bahler, son of Edwin, is the CEO. The home office is located in Remington, Indiana, about halfway between Chicago and Indianapolis.
FBi Buildings has built more than 20,000 pre-engineered buildings for clients, and as local farmers and business owners see the practicality of the buildings, they have been popping up in and around the Central Illinois area. They engineer a building to each customer's specific needs: wind load, snow load, etc. based upon their exposure rating, building use and any applicable codes. There is not a one-size fits all approach with FBi Buildings. They build for each individual farm or business' needs.
The Bahler family has created an engineering feat by taking the original "pole barn" and upgrading it to use square posts, over the old fashioned round posts. FBi Buildings was the first in the industry to use this method. The post is buried, with a ground-to-wall and then wall-to-roof connection, so the entire building is one continuous unit, not separate entities joined together. This design makes them the leader in the National Frame Building Association.
"Heck, we started the NFBA! We created the group. FBi Buildings has pioneered the industry," Ken Culbreth, director of operations said.
FBi Buildings passes the test
The advantages of post frame construction are numerous, and FBi Buildings leads the business, Culbreth said.
Exterior finishes are virtually unlimited. They have used brick, stone, cedar siding, and exterior insulation and finish system-or EIFS- a system that provides the outer walls with an insulated, water-resistant and finished surface in a composite material system. The roof can include be regular shingle or metal. FBi Buildings has 15 standard colors available for that perfect look. Plus, post-frame buildings are considered as green as a building can get, adding the advantage of eco-friendliness to the build.
Not all post-frame builders have complete control over the entire build. FBi Buildings has some of the best employees and subcontractors in the post-frame construction field. Some important details can get overlooked, such as engineering, truss fabrication and the construction crews. The advantages that FBi Buildings has are quick construction, affordability, flexibility in design, strength in materials, energy efficiency and environmental benefits.
Like their 29-gauge hard-rolled steel, that is thinner than the 26-gauge steel used in other companies, but stronger.
"The 29-gauge steel can withstand 80,000 pounds per square inch, while the 26-gauge only withstands 40,000 pounds per square inch," Culbreth said.
They are also extremely energy efficient, according to Culbreth, taking advantage of the three types of heat transfer in their design and materials: conduction, where material transfers to other materials; convection, where the heat flows in a circular pattern in the heating and cooling cycle; and radiant heat that transfer through empty space or radiation.
"Steel frames are colder. Wood frames versus steel frames means an energy savings for the customer," he said.
A company that has stood the test of time
"In 2008 or so when the home building industry hit a low, all these dudes with a hammer and pick-up truck decided they could supplement their income building post-frame construction," Culbreth said.
Culbreth said that it's the old adage: "You get what you pay for," when it comes to buildings.
"These hammer dudes tried to undercut our prices, but couldn't deliver the quality," he said.
Culbreth-who started as a builder with FBi Buildings-knows the construction business of post-frame buildings, and he advises those looking to build to speak with one of the FBi Buildings Project Sales Consultants, who plan clients' buildings for optimum flow, function, aesthetics and value. They also have a designer in their corporate office that will take the build to another level if needed.
FBi Buildings has a network of general contractors that can build the entire product, as well. They also have a separate division that can do renovations and repairs on existing buildings. In fact, they are the only post-frame company that provides this service.
It's the people
Culbreth said that the driving force in FBi Buildings is the staff.
"Our employees-everyone from the guy who picks up the trash to the engineers and designers have an average of eight years' experience, and that is just an average," he said.
He said their design and engineering teams are unparalleled in the post-frame industry.
"Whatever you're looking for, we can build it," he said. "We continually drive the market."
For more information, go to fbibuildings.com, email them at info@fbibuildings.com or call them at 800-552-2981.
Back to top
Part of The News-Gazette, Inc. community of websites:
News-Gazette | IlliniHQ | WDWS | WHMS |