HOME/COVER STORY
---
ACHIEVEMENTS
---
BUSINESS NOW
---
EDITOR'S NOTE
---
FINE PRINT
---
GET TO KNOW THE CEO
---
GREEN TIPS
---
INNOVATION > THE OUTER LIMITS
---
TAX REGULATIONS
---
SUBSCRIBE NOW!
---
CONTACT US
---
ARCHIVE
---
CALENDAR
Editor 's note: submit events, meetings, workshops and conferences at least one month in advance to cibm@news-gazette.com for inclusion in Mark Your Calendar.
< Sep
Oct
Nov >
October 4
Addressing Emotions at Work 8 a.m. to noon or 1 to 5 p.m.
Parkland College Business Training, 1315 N. Mattis Ave., Champaign Emotions play a role in the choices we make and actions we take, and can motivate, inspire and add positive intensity to our work. Join Steven Welland as he discusses strategies for addressing strong emotions -- your own and those of your coworkers. Discover the impact of strong emotions in the workplace, how and why emotions can take control, the steps to address strong emotions, techniques and choices for addressing strong emotions and applying the "Addressing Emotions" techniques to work situations. Fee: $125 (book included). Registration deadline: Sept. 27.
October 5
First Friday Coffee 7:30 to 9 a.m.
Marine Bank, 2434 Village Green Place, Champaign Enjoy coffee, conversation and a light breakfast as you network on the first Friday of each month. Cost is $3 for Chamber of Commerce members. For more information on First Fridays, or to find out where these events are being held, visit
www.champaigncounty.org
or call 217-359-1791.
October 11
Chamber Breakfast 7 to 9 a.m.
Holiday Inn Hotel & Conference Center, 1001 Killarney St., Urbana Illini head basketball coach John Groce will speak at the chamber's fall breakfast event.
October 16
Oct. 16, 18 Compensation: How to Develop Effective Reward Programs 1 to 5 p.m.
Parkland College Business Training, 1315 N. Mattis Ave., Champaign Cindy Guthrie will help you gain a fundamental understanding of compensation that develops you into a primary resource for implementing new programs or improving existing ones. Determine and maintain pay levels that attract, retain and motivate employees; develop compensation policy guidelines that reflect the company's values and culture; and learn the seven basic objectives when implementing an effective compensation plan. Fee: $265 (book included). Registration deadline: Oct. 9.
October 18
ECI SCORE: Starting a Small Business 3 to 5:30 p.m.
Champaign County Chamber of Commerce, 303 W. Kirby Ave., Champaign Reviews the advantages, hazards and requirements of starting a small business. Content: defining your business, competitive analysis, marketing, cash flow and tips for small-business startup. Workbook provided. Cost: $25 or three workshops for $60. To register, email
LynetteL@champaigncounty.org
or call 217-359-1791, or go to
www.eci-score.org
.
October 18
Business After Hours 5 to 7 p.m.
MSA Professional Services Inc., 201 W. Springfield Ave., Suite 304, Champaign Join fellow chamber members and their guests in this networking opportunity hosted this month by MSA Professional Services Inc. Proceeds from the $5 per person donation at the door will help fund chamber programs. The donation for non-members and guests is $8.
October 18
Grant Writing: Project Plan and Needs Statements 6 to 8 p.m.
Parkland College Business Training, 1315 N. Mattis Ave., Champaign Individuals and nonprofit or small-business representatives will learn how to clarify and communicate goals, objectives and outcomes in a proposal that gets your project noticed -- and funded. Bring project ideas to develop in class. Fee: $55. Registration deadline: Oct. 11.
October 20
ECI SCORE: Financing a Small Business 9 to 11:30 a.m.
Champaign County Chamber of Commerce, 303 W. Kirby Ave., Champaign Provides a basic understanding of startup financing for a business. Content: financial statement analysis, accounting and bookkeeping systems, credit, building proper banking relations and finding traditional and nontraditional financial resources. Workbook provided. Cost: $25 or three workshops for $60. To register, email
LynetteL@champaigncounty.org
or call 217-359-1791, or go to
www.eci-score.org
.
October 25
Giving Recognition 8 a.m. to noon or 1 to 5 p.m.
Parkland College Business Training, 1315 N. Mattis Ave., Champaign Over the long term, excellent performance and productivity are rewarded with improved customer loyalty and organizational success. But in the short term, people want to hear from others around them that they are doing something right. By recognizing and reinforcing positive behaviors, managers can encourage and reinvigorate individual contributors to repeat the behaviors that lead to positive results. Join Steven Welland to learn about the impact of recognition, barriers to giving recognition, key actions for giving recognition, tailoring recognition to the recipient, and planning and practicing recognition. Fee: $125 (book included). Registration deadline: Oct. 18.
October 25
ECI SCORE: Writing a Business Plan 3 to 5:30 p.m.
Champaign County Chamber of Commerce, 303 W. Kirby Ave., Champaign Reviews the importance of writing a business plan and how to do it. Content: business plan basics, finding out about the competition, building realistic financial plans, including covering startup expenses, developing products and services, and building a dream team of advisers. Workbook provided. Cost: $25 or three workshops for $60. To register, email
LynetteL@champaigncounty.org
or call 217-359-1791, or go to
www.eci-score.org
.
October 26
Chamber Annual Meeting Noon to 2 p.m.
Hilton Garden Inn, 1501 S. Neil St., Champaign The chamber's annual meeting celebrates business accomplishments in Champaign County. The chamber also awards its Small Business of the Year Award to an outstanding local business that has made a significant long-term contribution to the local community and economy. The chamber is accepting nominations for the award. Seats for the meeting may be purchased for $39 or for $400 for a table of eight. To register, contact Norma Wesley at
NormaW@champaigncounty.org
or 217-531-4669. Sponsorship tables may be purchased for $725. Those interested in being an event sponsor can contact Karly at
KarlyC@champaigncounty.org
by Oct. 5.
COVER STORY April 2013
---
Smart Money
---
Financial literacy means less stress, time away from work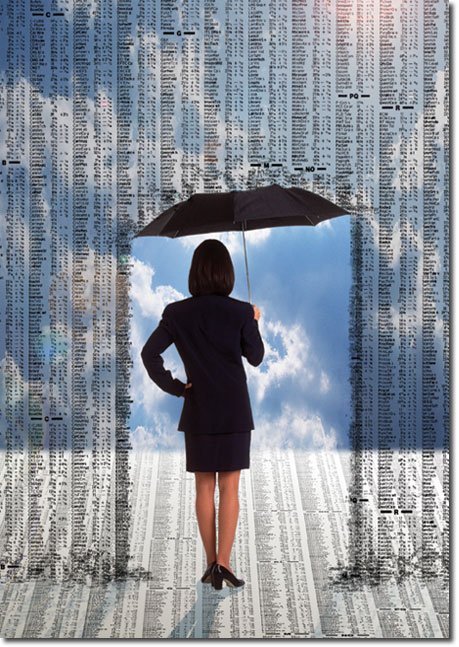 For about the last 10 years, employees at Human Kinetics in Champaign have been able to attend seminars once or twice a year to help them learn about financial issues.
"We were listening to employees tell us about some financial problems they had, and we thought it would be a good idea to have somebody come in," said Ann Maloney, human resources director for Human Kinetics.
"It's tough," she said. "We have a lot of people who have young families. We try to bring programs in that will help them have a good work-life balance."
Providing financial workshops for employees benefits not only the workers by easing their financial stress. It is also good for an employer and its bottom line.
"We saw people working two jobs to pay off their bills. When they split time like that, they're not always as focused," Maloney said.
A 2009 report by the Federal Reserve Bank of Kansas City on a workplace financial education program found decreased requests for 401(k) loans and pay advances; increased use of flexible spending accounts and 401(k) participation and contributions; and a decreased level of financial stress among employees who attended a nine-week financial education class. It also found a decrease in delinquency in bill payments and an increase by 50 percent in those paying off credit card bills every month.
A 2002 Federal Reserve Bulletin report on financial literacy programs found the results of workplace financial education programs positively influenced employee financial behavior. It also cited a study that found financial wellness for employees at a chemical production company correlated with greater productivity (based on performance ratings for employees) and less absenteeism.
"All the research supports doing workplace education around money issues is really cost-effective for employers," said Kathy Sweedler, a consumer economics educator with University of Illinois Extension. "If people are worried about money or have to miss work to meet with people about debt, it takes away from workplace productivity."
In addition, human resources departments may have to take time to deal with wage garnishments.
Even so, it can be a challenge to get employers to see the value of offering financial education at work. A 2012 survey by the Personal Finance Employee Education Foundation, a nonprofit organization that promotes financial education in the workplace, found the most common barriers to providing workplace financial education were the cost, interference with employee work time and too many higher priorities.
A series of financial workshops in late April will offer information about various topics that include home financing, estate planning, budget shopping, credit and debt management, investing, saving for college and retirement planning.
Money Smart Week, sponsored by the Federal Reserve Bank of Chicago, is April 20-27.
Local participants include banks, credit unions, financial planners, public libraries, nonprofit organizations and some units at the University of Illinois.
The week is a way of focusing on financial education opportunities, which are available year-round, not just for a week in April, Sweedler said.
The Money Smart Week presentations are free and educational, and presenters are prohibited from selling any products or services. Presentations are open to public, and employers may also schedule private presentations at their workplaces for their employees.
"With the economic downturn, we were really hearing from a lot more people, 'I'm really having a hard time getting my dollars to match my expenses,'" Sweedler said.
She said the most common causes of financial stress are struggling to make ends meet and debt -- and those things occur not only to people with low-paying jobs.
"In my experience, it can happen to people at all income levels," she said, including those doing well with two incomes who then struggle when one partner loses a job, or those facing a large amount of medical bills.
Dave Henry, chairman of Money Smart Week in Champaign County and a vice president and branch manager at PNC Bank in Champaign, said retirement-focused programs have had the best attendance in the past.
"Studies show, and people will say, they want the most help with budgeting and credit-related issues. However, those tend to be the least-attended events," Henry said.
If people want help dealing with budgeting or debt, why don't they attend the seminars?
"My opinion is, that becomes very personal. To step into a room where the discussion is how to improve your credit score -- people may feel like they are labeling themselves as bad credit," Henry said.
But, he said, the seminars are not meant only for people who are struggling financially.
"The majority of the public without financial issues felt like, 'There's nothing in it for me,'" Henry said. But the topics apply "not only to people who have financial struggles who need to learn basics, but also people who are extremely financially savvy but who want to learn some details about very specific issues. There is something to learn for everyone."
One of the most popular events each year is the shredding day. Henry said the event will include someone to answer questions about what documents need to be kept and about identity theft.
Another well-attended seminar has been one on banking basics for the Latino community. The offerings focused on Latinos have been expanded this year to also include a workshop on credit basics.
EnvirOx, a Danville company that produces environmentally-friendly cleaning products, offered three seminars last year during Money Smart Week -- on mutual funds, home energy savings and financial basics such as budgeting. The company chose the topics based on employee interest, said Katherine McFetridge, human resources coordinator for EnvirOx.
The seminar on mutual funds and investments "sparked a lot of questions on our own 401(k) plan. That was a good opportunity to revisit that plan and reeducate people on components of it," McFetridge said.
Henry said companies offering free financial workshops can tout that as a benefit when trying to recruit or retain employees.
"Anytime you can offer something to employees and it won't cost you anything, why wouldn't you do it?" he said.
Human Kinetics plans to hold a lunch-and-learn workshop this year during Money Smart Week and bring in a speaker to talk about mortgages, first-time home buyers and refinancing.
Maloney said financial education has proved to be valuable to workers at the company, noting one employee at Human Kinetics was able to save $600 per month by consolidating credit card debt and getting a lower interest rate and consolidating insurance policies.
"That meant a lot to her family," Maloney said.
For more information on Money Smart Week and local events, go to www.moneysmartweek.org. To find local events, click on "Find an Event" under the Consumers tab on the right side. Then click on the state of Illinois on the map, and find your county in the drop-down menu on the right.
Back to top
Part of The News-Gazette, Inc. community of websites:
News-Gazette | IlliniHQ | Business Directory | WDWS | WHMS | idomagazine