HOME/COVER STORY
---
ACHIEVEMENTS
---
BUSINESS NOW
---
CHAMBER VIEW
---
EDITOR'S NOTE
---
FINE PRINT
---
FORTY UNDER 40
---
GET TO KNOW THE CEO
---
GREEN TIPS
---
INNOVATION > THE OUTER LIMITS
---
SUBSCRIBE NOW!
---
CONTACT US
---
ARCHIVE
---
CALENDAR
Editor 's note: submit events, meetings, workshops and conferences at least one month in advance to cibm@news-gazette.com for inclusion in Mark Your Calendar.
< Sep
Oct
Nov >
October 4
Addressing Emotions at Work 8 a.m. to noon or 1 to 5 p.m.
Parkland College Business Training, 1315 N. Mattis Ave., Champaign Emotions play a role in the choices we make and actions we take, and can motivate, inspire and add positive intensity to our work. Join Steven Welland as he discusses strategies for addressing strong emotions -- your own and those of your coworkers. Discover the impact of strong emotions in the workplace, how and why emotions can take control, the steps to address strong emotions, techniques and choices for addressing strong emotions and applying the "Addressing Emotions" techniques to work situations. Fee: $125 (book included). Registration deadline: Sept. 27.
October 5
First Friday Coffee 7:30 to 9 a.m.
Marine Bank, 2434 Village Green Place, Champaign Enjoy coffee, conversation and a light breakfast as you network on the first Friday of each month. Cost is $3 for Chamber of Commerce members. For more information on First Fridays, or to find out where these events are being held, visit
www.champaigncounty.org
or call 217-359-1791.
October 11
Chamber Breakfast 7 to 9 a.m.
Holiday Inn Hotel & Conference Center, 1001 Killarney St., Urbana Illini head basketball coach John Groce will speak at the chamber's fall breakfast event.
October 16
Oct. 16, 18 Compensation: How to Develop Effective Reward Programs 1 to 5 p.m.
Parkland College Business Training, 1315 N. Mattis Ave., Champaign Cindy Guthrie will help you gain a fundamental understanding of compensation that develops you into a primary resource for implementing new programs or improving existing ones. Determine and maintain pay levels that attract, retain and motivate employees; develop compensation policy guidelines that reflect the company's values and culture; and learn the seven basic objectives when implementing an effective compensation plan. Fee: $265 (book included). Registration deadline: Oct. 9.
October 18
ECI SCORE: Starting a Small Business 3 to 5:30 p.m.
Champaign County Chamber of Commerce, 303 W. Kirby Ave., Champaign Reviews the advantages, hazards and requirements of starting a small business. Content: defining your business, competitive analysis, marketing, cash flow and tips for small-business startup. Workbook provided. Cost: $25 or three workshops for $60. To register, email
LynetteL@champaigncounty.org
or call 217-359-1791, or go to
www.eci-score.org
.
October 18
Business After Hours 5 to 7 p.m.
MSA Professional Services Inc., 201 W. Springfield Ave., Suite 304, Champaign Join fellow chamber members and their guests in this networking opportunity hosted this month by MSA Professional Services Inc. Proceeds from the $5 per person donation at the door will help fund chamber programs. The donation for non-members and guests is $8.
October 18
Grant Writing: Project Plan and Needs Statements 6 to 8 p.m.
Parkland College Business Training, 1315 N. Mattis Ave., Champaign Individuals and nonprofit or small-business representatives will learn how to clarify and communicate goals, objectives and outcomes in a proposal that gets your project noticed -- and funded. Bring project ideas to develop in class. Fee: $55. Registration deadline: Oct. 11.
October 20
ECI SCORE: Financing a Small Business 9 to 11:30 a.m.
Champaign County Chamber of Commerce, 303 W. Kirby Ave., Champaign Provides a basic understanding of startup financing for a business. Content: financial statement analysis, accounting and bookkeeping systems, credit, building proper banking relations and finding traditional and nontraditional financial resources. Workbook provided. Cost: $25 or three workshops for $60. To register, email
LynetteL@champaigncounty.org
or call 217-359-1791, or go to
www.eci-score.org
.
October 25
Giving Recognition 8 a.m. to noon or 1 to 5 p.m.
Parkland College Business Training, 1315 N. Mattis Ave., Champaign Over the long term, excellent performance and productivity are rewarded with improved customer loyalty and organizational success. But in the short term, people want to hear from others around them that they are doing something right. By recognizing and reinforcing positive behaviors, managers can encourage and reinvigorate individual contributors to repeat the behaviors that lead to positive results. Join Steven Welland to learn about the impact of recognition, barriers to giving recognition, key actions for giving recognition, tailoring recognition to the recipient, and planning and practicing recognition. Fee: $125 (book included). Registration deadline: Oct. 18.
October 25
ECI SCORE: Writing a Business Plan 3 to 5:30 p.m.
Champaign County Chamber of Commerce, 303 W. Kirby Ave., Champaign Reviews the importance of writing a business plan and how to do it. Content: business plan basics, finding out about the competition, building realistic financial plans, including covering startup expenses, developing products and services, and building a dream team of advisers. Workbook provided. Cost: $25 or three workshops for $60. To register, email
LynetteL@champaigncounty.org
or call 217-359-1791, or go to
www.eci-score.org
.
October 26
Chamber Annual Meeting Noon to 2 p.m.
Hilton Garden Inn, 1501 S. Neil St., Champaign The chamber's annual meeting celebrates business accomplishments in Champaign County. The chamber also awards its Small Business of the Year Award to an outstanding local business that has made a significant long-term contribution to the local community and economy. The chamber is accepting nominations for the award. Seats for the meeting may be purchased for $39 or for $400 for a table of eight. To register, contact Norma Wesley at
NormaW@champaigncounty.org
or 217-531-4669. Sponsorship tables may be purchased for $725. Those interested in being an event sponsor can contact Karly at
KarlyC@champaigncounty.org
by Oct. 5.
COVER STORY December 2013
---
Like. Share. Tweet.
---
Social media offer a way for businesses to interact with customers, the community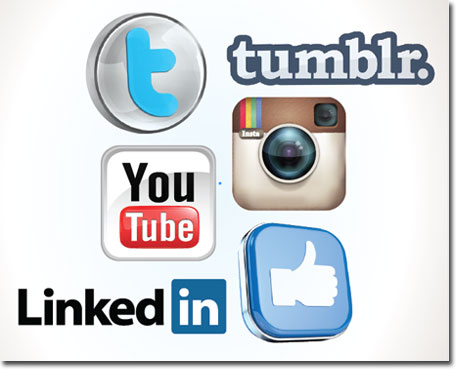 If you follow the Champaign-Urbana MTD on Twitter, you'll know about any reroutes for buses or which bus to take to get to an Illini basketball game or an event at the Champaign Public Library.
If you like Furniture Lounge on Facebook, you'll see the latest items at the store, such as Stendig side tables or a vintage bar cart.
Most businesses have some presence on social media, whether it's a Facebook page, Twitter account or a Linked In profile. They want to reach their customers, promote their products or increase their visibility.
But not all do it equally well.
A business's use of social media is not just about pushing its message, says Carl Catedral, a social media and branding consultant who operates his business, Catedral Consulting, in Urbana. The key to effective use of social media, he said, is engaging with the community, building relationships and telling your story.
"We've gotten this conception that marketing and advertising is push your message," he said. "Twitter is all about having conversations. When you're only pushing yourself, you're not going to get the results you want on social media."
Amy Snyder, communications specialist for the MTD, agreed. She originated all the system's social media accounts, and about half her time on the job is spent overseeing those accounts, posting and responding to customers and others.
"You need to be present, treat it like a relationship," she said. "Even if it is just favoriting the content they tweeted at you, do something to acknowledge the conversation. (Otherwise) it's being unsocial on social media."
Catedral advises that before a business or organization begins using social media, it should know who its target audience is and determine the best platform to reach those people. Then work to build up a following by interacting with them on social media, he said.
Snyder spent a few months looking at how peers in the transportation industry used social media. She started with Facebook and Twitter accounts for MTD. Later she put the MTD's commercials on YouTube, and then added a Flickr site to share behind-the-scenes photos. She also maintains a weekly blog that she shares on Facebook and Twitter.
Scott Schaub and Amanda McWilliams, owners of Furniture Lounge in downtown Champaign, use Facebook to update customers on their merchandise.
He and McWilliams wanted not only to use Facebook to display new items, but to connect with people with similar interests in architecture and art. They often share posts about midcentury modern homes for sale or stories of interest from the architectural world. The two started out by connecting with other groups on Facebook with similar interests, such as one for midcentury modern design.
"In the last year, we've really made an effort to post at least one or two things a day, to keep our posts popping up on people's feeds so they don't forget about us," Schaub said. "It goes directly to people that are interested in what we do, so we don't waste time sending it out to people who have no interest in what we do."
Carly McCrory is communications director for the Champaign County Economic Development Corp. She manages all the social media accounts for the organization: Facebook, Twitter, LinkedIn, Google+, YouTube, Instagram, Pinterest and Tumblr.
"As soon as these things were coming about, I was definitely jumping on board pretty quickly and using them for my personal use. Then I realized how beneficial they could be for professional purposes as well," McCrory said.
"Both are very much about controlling your own brand and having an image," she continued. "It's more than just a marketing tool for businesses. I think that's where many businesses fail -- just using it as an outlet to put information out into the world and not realizing the social aspect of it."
McCrory said many businesses jump into using social media without figuring out which platforms will be most useful and try to maintain too many without doing any of them well.
"They know they should be on it. Instead of taking the time to do it the right way at first, they sign up for 10 different outlets -- Facebook, Twitter, Pinterest. They should sign up for one or two and be really great and solid at those, then expand," she said.
It's also a good idea to tailor content to the social media platform being used, rather than repeating the same content on each. For example, Snyder uses a photo with Facebook posts, noting it greatly increases traffic over a post with just words.
She includes a link to events she Tweets about, and she'll use a hashtag like #chambana. She'll later Tweet links to a blog post she wrote about the event, photos of the event she shares or a YouTube video of it. On Facebook, she'll post one photo and tag other organizations involved with the event.
Snyder's Twitter posts include information about bus service, links to community events, responses to questions from riders and news from the transportation industry.
She and Catedral said using social media to respond to compliments or complaints about customer service can be one of a business's best marketing tools.
"I know a lot of public agencies that are very intimidated about public criticism and how they handle it. I would encourage organizations to embrace it," Snyder said. "It's always an opportunity. Very seldom does it end unproductively. Either I educate (a customer) about something they didn't know or we get an opportunity to investigate a situation."
Businesses can also encourage customers to help promote them, by asking them for a mention on social media. Catedral suggested finding simple ways to make it easy for customers to talk about the business; for example, Cafeteria & Co. in Urbana puts its Twitter handle, and those of Pizza-M and Flying Machine Coffee, on the wall and uses the hashtag #eaturbana as its WiFi password.
"That's really where the most traction happens," he said, "when other people talk about you."
Back to top
Part of The News-Gazette, Inc. community of websites:
News-Gazette | IlliniHQ | Business Directory | WDWS | WHMS | idomagazine