HOME/COVER STORY
---
ACHIEVEMENTS
---
BUSINESS NOW
---
ECONOMICS
---
EDITOR'S NOTE
---
FINE PRINT
---
GET TO KNOW THE CEO
---
GREEN TIPS
---
INNOVATION > THE OUTER LIMITS
---
SUBSCRIBE NOW!
---
CONTACT US
---
ARCHIVE
---
CALENDAR
Editor 's note: submit events, meetings, workshops and conferences at least one month in advance to cibm@news-gazette.com for inclusion in Mark Your Calendar.
< Sep
Oct
Nov >
October 4
Addressing Emotions at Work 8 a.m. to noon or 1 to 5 p.m.
Parkland College Business Training, 1315 N. Mattis Ave., Champaign Emotions play a role in the choices we make and actions we take, and can motivate, inspire and add positive intensity to our work. Join Steven Welland as he discusses strategies for addressing strong emotions -- your own and those of your coworkers. Discover the impact of strong emotions in the workplace, how and why emotions can take control, the steps to address strong emotions, techniques and choices for addressing strong emotions and applying the "Addressing Emotions" techniques to work situations. Fee: $125 (book included). Registration deadline: Sept. 27.
October 5
First Friday Coffee 7:30 to 9 a.m.
Marine Bank, 2434 Village Green Place, Champaign Enjoy coffee, conversation and a light breakfast as you network on the first Friday of each month. Cost is $3 for Chamber of Commerce members. For more information on First Fridays, or to find out where these events are being held, visit
www.champaigncounty.org
or call 217-359-1791.
October 11
Chamber Breakfast 7 to 9 a.m.
Holiday Inn Hotel & Conference Center, 1001 Killarney St., Urbana Illini head basketball coach John Groce will speak at the chamber's fall breakfast event.
October 16
Oct. 16, 18 Compensation: How to Develop Effective Reward Programs 1 to 5 p.m.
Parkland College Business Training, 1315 N. Mattis Ave., Champaign Cindy Guthrie will help you gain a fundamental understanding of compensation that develops you into a primary resource for implementing new programs or improving existing ones. Determine and maintain pay levels that attract, retain and motivate employees; develop compensation policy guidelines that reflect the company's values and culture; and learn the seven basic objectives when implementing an effective compensation plan. Fee: $265 (book included). Registration deadline: Oct. 9.
October 18
ECI SCORE: Starting a Small Business 3 to 5:30 p.m.
Champaign County Chamber of Commerce, 303 W. Kirby Ave., Champaign Reviews the advantages, hazards and requirements of starting a small business. Content: defining your business, competitive analysis, marketing, cash flow and tips for small-business startup. Workbook provided. Cost: $25 or three workshops for $60. To register, email
LynetteL@champaigncounty.org
or call 217-359-1791, or go to
www.eci-score.org
.
October 18
Business After Hours 5 to 7 p.m.
MSA Professional Services Inc., 201 W. Springfield Ave., Suite 304, Champaign Join fellow chamber members and their guests in this networking opportunity hosted this month by MSA Professional Services Inc. Proceeds from the $5 per person donation at the door will help fund chamber programs. The donation for non-members and guests is $8.
October 18
Grant Writing: Project Plan and Needs Statements 6 to 8 p.m.
Parkland College Business Training, 1315 N. Mattis Ave., Champaign Individuals and nonprofit or small-business representatives will learn how to clarify and communicate goals, objectives and outcomes in a proposal that gets your project noticed -- and funded. Bring project ideas to develop in class. Fee: $55. Registration deadline: Oct. 11.
October 20
ECI SCORE: Financing a Small Business 9 to 11:30 a.m.
Champaign County Chamber of Commerce, 303 W. Kirby Ave., Champaign Provides a basic understanding of startup financing for a business. Content: financial statement analysis, accounting and bookkeeping systems, credit, building proper banking relations and finding traditional and nontraditional financial resources. Workbook provided. Cost: $25 or three workshops for $60. To register, email
LynetteL@champaigncounty.org
or call 217-359-1791, or go to
www.eci-score.org
.
October 25
Giving Recognition 8 a.m. to noon or 1 to 5 p.m.
Parkland College Business Training, 1315 N. Mattis Ave., Champaign Over the long term, excellent performance and productivity are rewarded with improved customer loyalty and organizational success. But in the short term, people want to hear from others around them that they are doing something right. By recognizing and reinforcing positive behaviors, managers can encourage and reinvigorate individual contributors to repeat the behaviors that lead to positive results. Join Steven Welland to learn about the impact of recognition, barriers to giving recognition, key actions for giving recognition, tailoring recognition to the recipient, and planning and practicing recognition. Fee: $125 (book included). Registration deadline: Oct. 18.
October 25
ECI SCORE: Writing a Business Plan 3 to 5:30 p.m.
Champaign County Chamber of Commerce, 303 W. Kirby Ave., Champaign Reviews the importance of writing a business plan and how to do it. Content: business plan basics, finding out about the competition, building realistic financial plans, including covering startup expenses, developing products and services, and building a dream team of advisers. Workbook provided. Cost: $25 or three workshops for $60. To register, email
LynetteL@champaigncounty.org
or call 217-359-1791, or go to
www.eci-score.org
.
October 26
Chamber Annual Meeting Noon to 2 p.m.
Hilton Garden Inn, 1501 S. Neil St., Champaign The chamber's annual meeting celebrates business accomplishments in Champaign County. The chamber also awards its Small Business of the Year Award to an outstanding local business that has made a significant long-term contribution to the local community and economy. The chamber is accepting nominations for the award. Seats for the meeting may be purchased for $39 or for $400 for a table of eight. To register, contact Norma Wesley at
NormaW@champaigncounty.org
or 217-531-4669. Sponsorship tables may be purchased for $725. Those interested in being an event sponsor can contact Karly at
KarlyC@champaigncounty.org
by Oct. 5.
COVER STORY April 2014
---
TIME TO BUILD
---
Homebuilders optimistic about showcasing what they can do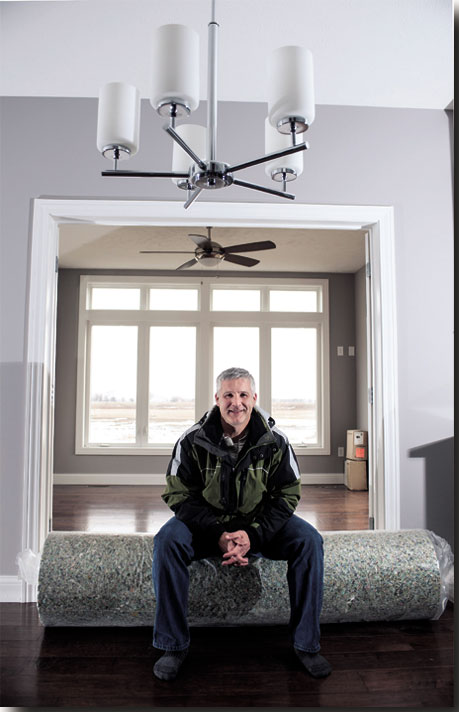 This winter's snow and frigid temperatures may have slowed down plans some residents have for building new homes.
But area homebuilders are optimistic about what the year will bring for new home construction.
"I think it's going to be better than last year for sure. I'm seeing all indications that it will be," said Mike Martin, director of residential development for The Atkins Group.
"Interest rates are still low. People are still looking," he said. "I think there are some thoughts that rates could rise, and people are making their decisions."
The Atkins Group's subdivisions of Ashland Park and Stone Creek already had more interest in early spring than in the last couple of years, Martin said. "It's exciting."
The developer had plans in early March to start 20 homes at Ashland Park and six at Stone Creek, and it had also sold several lots at Stone Creek to other builders.
The winter weather did put a damper on the beginning of the season, though, said Steve Meid, managing partner for Signature Homes.
He said his company saw a downturn in activity of about 25 percent in the late winter compared with most years. He attributes that to the cold.
"It was not easy to get out and look at houses," he said.
He is still optimistic about this year's homebuilding season, though. In early March, Signature Homes had 13 homes sold for the year, many of them being finished up and several just starting.
"My last two years have been great, comparable to our peak years in terms of numbers," Meid said. "I still think this year will turn out fine if we can get through the weather. If someone wants to build and they are just procrastinating because of the weather, they'll still come in. We could get flooded."
McGuire Custom Homes has had an increase in clients wanting to build, but the weather has delayed the start of some of those homes, said Nicole McGuire Thompson, president of McGuire Custom Homes. Her company is building homes for clients at Thornewood in Mahomet, Liberty on the Lake in Champaign and Savoy, Prairie Meadows in Savoy, and Stone Creek in Urbana.
Statistics from the U.S. Census Bureau and U.S. Department of Housing and Urban Development showed housing starts nationwide were down 2 percent in January compared with January 2013. The National Association of Home Builders reported housing starts for the Midwest region down in January by 47 percent. But the association reported in early March that several markets in the nation had returned to normal levels of activity or higher, and others were starting to rebound.
Likewise, the Illinois Association of Realtors reported that January home sales in the state were down 7.5 percent compared with last year, due to the weather and a low inventory of houses. But in Champaign County, home sales were up nearly 15 percent in February, according to the Champaign County Association of Realtors.
One factor contributing to Meid's optimism about this spring: the Home Builders Association of East Central Illinois will hold a Showcase of Homes in the Prairie Meadows subdivision in June. It will be the association's first showcase in five years, and seven builders are constructing homes for the showcase.
Meid said the poor economy kept some builders from working on spec homes in the last several years. But now, he said, there is a shortage of new home construction compared with demand.
"I think (builders) feel a little more confident they can build a spec home," he said. "It's good advertising, and they can sell homes off those.
"Without having a spec home, it's hard to sell homes. You've got to show them what you can do."
Meid said his company has continued to build spec homes in the subdivisions it develops, which include Thornewood, Prairie Meadows, and Ironwood, Trails Edge and Will's Trace in southwest Champaign.
A trend Meid and Martin are seeing is interest in somewhat smaller homes.
Martin is seeing most activity for new home construction in the $250,000 to $350,000 price range.
"I think people have backed off of trying to buy square footage, and they are trying to make sure the house they do build is nicely appointed, has all the bells and whistles they want and aesthetically looks nice," he said.
Meid agreed: "People are definitely keeping homes under $400,000 if they can."
He said that means demand for houses in the 2,200- to 2,400-square-foot range. The trend, Meid said, is for "a little smaller house with really nice finishes on the inside."
No matter what the price point, he said, customers want granite or quartz tops on all surfaces, such as bathroom and kitchen countertops; hardwood floors; tile; and "a more modern feel to homes."
Thompson, who is chairman of the board of the Home Builders Association of East Central Illinois, said building trends this year include smarter, less costly automated home controls that can be operated through an iPhone or iPad.
"With the open floor plan concept still a priority for most of our clients, I have implemented more mindful design to minimize home clutter," Thompson said. "Kitchens act as the center hub of the home's activities in both daily living and entertainment. This has led us to integrate a small room just off the kitchen to function as the 'home management hub.' Our homes this year have larger drop zones than we have built in the past that include the typical boot bench for easy shoe, coat and bag storage. We are also including desks for dropping mail and to keep the items that are brought into the home on a daily basis from landing and cluttering the kitchen."
Martin said The Atkins Group has developed four new home plans each for Ashland Park and Stone Creek.
"It's too early to tell if we hit the sweet spot," he said. "I think we have."
He said the plans emphasize "easy living" by putting master suites on the first floor, by including plans for ranch homes and by providing valet areas for keeping track of keys and charging phones.
Back to top
Part of The News-Gazette, Inc. community of websites:
News-Gazette | IlliniHQ | Business Directory | WDWS | WHMS | idomagazine