ACHIEVEMENTS June 2015
---
EDITOR'S NOTE: Have you been promoted? Has a colleague completed an intensive education program, or is one celebrating a well-earned retirement? Others in the business community will want to know it. Send milestone employment news and photos to cibm@news-gazette.com, or contact Jodi Heckel at 217-351-5695.
Lindsey Gates-Markel joins Pixo

Lindsey Gates-Markel is the new content strategist at Pixo, helping clients create and manage useful, meaningful content.
After attending a graduate fiction workshop at the Iowa Writers' Workshop, Lindsey enrolled at Lesley University and earned an Master of Fine Arts in creative writing in 2012. She worked as a Web copy editor at Wolfram and as the grant and technical writer at Girl Scouts of Central Illinois before joining Pixo. Gates-Markel is a Pushcart Prize-nominated writer of short stories and nonfiction essays, co-host of a podcast called "You Big Dumb Idiot" and member of the Celebration Company at the Station Theatre.
Re/Max Realty Associates welcomes Jessica Kreeb to the Nick Taylor Team

Jessica Kreeb is a graduate of Parkland College in 2009. She has an extensive background including account reconciliation, sales and mortgage processing, and more than five years of home staging and interior design experience.
Hickory Point Bank appoints Kip McDaniel as mortgage loan originator

Kip McDaniel has been named mortgage loan originator for the Champaign-Urbana area. McDaniel has nine years of experience in banking, including marketing and business administration. He is a graduate of Illinois State University with a degree in applied science and technology. In 2013, he was named as one of Champaign-Urbana's Forty Under 40 in Central Illinois Business Magazine. He is involved in the community as a member of the Champaign West Rotary Club and Chamber of Commerce, and is vice president of the Illinois State University alumni group in Champaign.
Kristy Stoker recipient of excellence award

Kristy Stoker, Guide for Clark-Lindsey's Green House home project, was the recipient of the Paul V. Howard Award of Excellence at the Employee Appreciation Banquet in April.
Stoker has worked at Clark-Lindsey for more than 20 years. Educated as a music therapist, Stoker spent the first part of her career at Clark-Lindsey in the Life Enrichment department, eventually being promoted to activity director. She then transitioned to the Social Services team and this past year was named Clark-Lindsey's first guide, helping build and implement small home communities which focus on elders with dementia.
The award is named for Paul Howard who worked at Clark-Lindsey for 18 years and consistently provided superior management and maintained an atmosphere of personal interest and concern when dealing with others.
Six academic professionals at the University of Illinois have been honored with 2015 Chancellor's Academic Professional Excellence awards.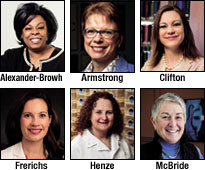 Honorees provide critical support for administration, research laboratories and educational programs, and offer important outreach programs throughout the state.
Recipients are selected for work, personal and professional contributions. Each award winner receives a $2,000 award, a $1,000 increase in base salary and a $1,000 one-time budget increase for his or her department.
This year's honorees are:
Kimberly J. Alexander-Brown, the director of the Access and Achievement Program and an assistant dean in the College of Liberal Arts and Sciences, who was commended for her tireless dedication and service to her students.
Kimberly L. Armstrong , the deputy director for the Committee on Institutional Cooperation's Center for Library Initiatives, who was cited as a phenomenal asset to the library community, leading to the development of many opportunities that increase the availability of resources while keeping costs low. In her role, Armstrong manages the center's staff and provides advice and information regarding the program and related initiatives.
Rhiannon Clifton , the program director and an adjunct lecturer in the Charles H. Sandage Department of Advertising in the College of Media.
Laura Frerichs, the director of the Research Park, who has led the organization to receive national and international recognition for excellence.
Tonja Henze , a lab animal facilities coordinator in the Division of Animal Resources, who works toward the facilities' mission of providing quality care, training and consultation in the safe and humane use of laboratory animals in research and education. She has worked at the UI for 28 years.
Rebecca McBride , the senior associate director of Krannert Center for the Performing Arts, who has contributed to making Krannert a vibrant cultural center, influencing every area, including increasing local and national awareness, improving audience engagement and boosting attendance.
Back to top
Part of The News-Gazette, Inc. community of websites:
News-Gazette | IlliniHQ | WDWS | WHMS |
Forty Under 40
By Bridget Broihahn
Central Illinois Business Magazine and The News-Gazette are proud to announce the 8th annual Forty Under 40 award recipients for 2015. The winners have been chosen by an independent panel of judges based on achievement, experience, innovation, leadership and community involvement. Two people have been recognized among the 40 winners as Woman and Man of the Year.
Profiles featuring the winners will be published in Central Illinois Business Magazine's October/November edition. Winners will also be recognized at a luncheon Oct. 8 at the Hilton Garden Inn, Champaign.
Tickets for the luncheon are $25 and can be purchased by going to news-gazette.com/luncheon or by contacting Sarah Scott at sscott@news-gazette.com. Anyone interested in formally congratulating the winners may purchase a celebratory message to be published in the Forty Under 40 edition of Central Illinois Business Magazine by contacting Pat Crotzer at 217-351-5276 or pcrotzer@news-gazette.com.
Forty Under 40 Awards are sponsored by Central Illinois Business Magazine, The News-Gazette, Busey Bank, and Hilton Garden Inn.
Bridget Broihahn is editor of Central Illinois Business magazine. She can be reached at 217-351-5695 or bbroihahn@news-gazette.com.