HOME/COVER STORY
---
ACHIEVEMENTS
---
BUSINESS NOW
---
ECONOMICS
---
EDITOR'S NOTE
---
FINE PRINT
---
GET TO KNOW THE CEO
---
GREEN TIPS
---
INNOVATION > THE OUTER LIMITS
---
SUBSCRIBE NOW!
---
CONTACT US
---
ARCHIVE
---
CALENDAR
Editor 's note: submit events, meetings, workshops and conferences at least one month in advance to cibm@news-gazette.com for inclusion in Mark Your Calendar.
< Mar
Apr
May >
April 4
First Friday Coffee
April 4 First Friday Coffee 7:30 to 9 a.m. Eastland Suites Hotel and Conference Center, 1907 N. Cunningham Ave., Urbana Enjoy coffee, conversation and a light breakfast as you network on the first Friday of each month. Cost is $3 for chamber members. For more information on First Fridays, or to find out where these events are being held, visit
www.champaigncounty.org
or call 217-359-1791.
April 10
Breakfast Series
April 10 Breakfast Series 7:30 to 8:45 a.m. Hawthorn Suites by Wyndham, 101 Trade Center Drive, Champaign Learn about the business community's role in the University of Illinois' strategic plan at this Chamber of Commerce breakfast. UI Chancellor Phyllis Wise is the speaker. The cost is $17 for chamber members and $29 for nonmembers. To register, call 217-359-1791 or email
Caryni@champaigncounty.org
.
April 15
Performance Management
April 15, 17 Performance Management 1 to 5 p.m. Parkland College Business Training, 1315 N. Mattis Ave., Champaign Join Cindy Guthrie as she examines various performance management techniques, such as 360-degree feedback, surveys and performance appraisals. Performance management provides the knowledge and tools needed to design and implement a workable system that benefits the organization and inspires employees to manage their own performance. Fee: $265. Registration deadline: April 8.
April 16
Providing Constructive Feedback
April 16, 24 Providing Constructive Feedback 8 a.m. to noon on April 16; 1 to 5 p.m. on April 24 Parkland College Business Training, 1315 N. Mattis Ave., Champaign Discuss how to provide constructive feedback in a way that builds openness and mutual respect, and promotes problem solving and learning. Participants will complete a variety of activities that explore the key actions for providing constructive feedback, techniques for encouraging involvement and handling challenging responses, planning a feedback conversation and providing constructive feedback. Fee: $135. Registration deadline: April 9 for April 16 session; April 17 for April 24 session.
April 17
ECI SCORE: Starting a Small Business
April 17, May 10 ECI SCORE: Starting a Small Business 3 to 5:30 p.m. on April 17; 9 to 11:30 a.m. on May 10 Champaign County Chamber of Commerce, 303 W. Kirby Ave., Champaign Session reviews the advantages, hazards and requirements of starting a small business. Content: defining your business, competitive analysis, marketing, cash flow, and tips for small business startup. Cost: $25. To register, go to eci-score.org or call 217-359-1791. Email questions to
info@eci-score.org
.
ACHIEVEMENTS April 2014
---
EDITOR'S NOTE: Have you been promoted? Has a colleague completed an intensive education program, or is one celebrating a well-earned retirement? Others in the business community will want to know it. Send milestone employment news and photos to cibm@news-gazette.com, or contact Jodi Heckel at 217-351-5695.
Maurer appointed to 7th Judicial Circuit judgeship

Matthew J. Maurer was appointed to the office of associate judge in the 7th Judicial Circuit. Maurer received his undergraduate degree in 1984 from Sangamon State University in Springfield and his law degree in 1987 from the University of Illinois. He was previously with the state's attorney's office in Springfield.
Feinberg honored with Patients' Choice Award

Dr. Samuel Feinberg, a Christie Clinic doctor and general surgeon, received the Patients' Choice Award. The award is given based on patients' rating scores in a survey on various components of care.
Morphew joins Christie Clinic

Dr. Susan Cooper-Morphew has joined Christie Clinic's Department of Obstetrics and Gynecology. Cooper-Morphew received her medical degree at the University of Nebraska Medical Center and fulfilled her residency in obstetrics and gynecology at the University of Kansas School of Medicine, Wesley Medical Center in Wichita, Kan. She is a member of the American Congress of Obstetricians and Gynecologists.
United Way hires Guyette, promotes Suchomski and Noel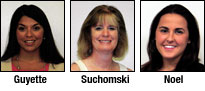 The United Way of Champaign County hired Becca Guyette as director of leadership giving. She is responsible for the organization's Pillars leadership giving program, as well as building and maintaining donor relationships.
Guyette has 10 years of experience in fund development. She was previously the director of development at the University of Illinois YMCA.
Nancy Suchomski was promoted to director of campaign development. She oversees all aspects of the annual workplace giving campaign and maintains corporate and donor relationships. Suchomski was previously the associate director of resource development. She has been with United Way for 14 years.
Mary Noel was promoted to associate director of community engagement. She is responsible for the organization's communications and community outreach efforts, as well as the Emerging Community Leaders program. Noel was previously the assistant director of resource development and has been with United Way for two years.
Swearingen hired at Human Kinetics

Tara Swearingen joined Human Kinetics in July as the human resources director. Swearingen has responsibility for recruitment/retention, compensation, benefits administration, employment law, training and development, employee relations and long range planning with regard to employment issues.
She was previously at Carle Clinic for almost 27 years as vice president, employee relations, at Health Alliance Medical Plans and vice president, human resources, for Carle Clinic. She received a master's degree in human resources and industrial relations and a bachelor's degree in physical education from the University of Illinois.
Tanner promoted at First Mid-Illinois Bank & Trust

Matt Tanner was promoted to regional deposit manager for the Decatur region at First Mid-Illinois Bank & Trust. Tanner started with First Mid in 2007 as Mahomet branch manager, and became Champaign area branch manager last year.
He previously was general manager for Bedrock Management in Washington, D.C. He attended the University of Wyoming and George Mason University.
Paluska and Ruiz join Christie Clinic

Dr. Scott Paluska joined the Christie Clinic Department of Orthopaedics and Sports Medicine. Paluska's special interests include sports injuries and shoulder, elbow and knee disorders.
He received his medical degree at the University of Michigan, and he completed his fellowship in sports medicine at the University of Pittsburgh Medical Center. He is a faculty member at the University of Illinois College of Medicine and is actively involved in the American College of Sports Medicine.
Dr. Nelly Ruiz has joined the Department of Family Medicine at Christie Clinic in Rantoul. Ruiz has a special interest in preventive medicine and patient education.
Ruiz received her medical degree at St. Matthew's University School of Medicine in Grand Cayman, British West Indies, and fulfilled her family practice residency at Carle Foundation Hospital.
Mouser receives Edward Jones' Eagle Award
Edward Jones financial adviser Joe Mouser of Monticello received the firm's Eagle Award, one of only 1,510 of the firm's more than 12,000 financial advisers to receive the award last year.
Back to top
Part of The News-Gazette, Inc. community of websites:
News-Gazette | IlliniHQ | Business Directory | WDWS | WHMS | idomagazine