ACHIEVEMENTS October 2014
---
EDITOR'S NOTE: Have you been promoted? Has a colleague completed an intensive education program, or is one celebrating a well-earned retirement? Others in the business community will want to know it. Send milestone employment news and photos to cibm@news-gazette.com, or contact Jodi Heckel at 217-351-5695.
Champaign County Head Start Director named Administrator of the Year
Kathleen Liffick, Champaign County Head Start/Early Head Start director, received the Region V Head Start Association Administrator of the Year award for 2013. The Region V Head Start Association encompasses the states of Illinois, Indiana, Ohio, Wisconsin, Michigan and Minnesota. Liffick was the only administrator chosen for the award from the 278 Head Start/Early Head Start programs in Region V.
Liffick also received the Illinois Head Start Association Administrator of the Year recognition this past spring
During Liffick's tenure, the program has moved the Rantoul and Champaign programming to facilities remodeled specifically to serve young children to accommodate enrollment expansion. In 2010, the program added an Urbana center due to an additional expansion. The program has also expanded from part-day/school-year services only to also providing full-day/full-year services for working families.
Larry Head receives award from John Deere

Larry Head of Heath's Inc. has received master level recognition for the Parts Manager program with John Deere. Heath's Inc. participates in a training program with John Deere to help their employees reach certain standards of expertise. John Deere University provides training in the areas of sales, service and the parts department for its dealerships.
Eddie Mullins named to Re/Max Hall of Fame

Eddie Mullins of Re/Max Realty Associates has been inducted into the Re/Max Hall of Fame. The honor recognizes consistent productivity and growth year after year
New management at Petry-Kuhne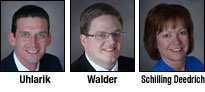 Petry-Kuhne Co., a general contracting company with roots in Champaign-Urbana dating back to the early 1900s, has a new ownership and management team. Longtime Petry-Kuhne employees, Chris Uhlarik, Nick Walder and Ann Schilling Deedrich are now owners of the company and will serve as the new management team.
Uhlarik, who previously served as an estimator and vice president with the company, is the new president. Uhlarik has nearly 20 years of service with Petry-Kuhne.
Walder is the executive vice president and has been with the company for 12 years, serving as senior project manager.
Deedrich is senior vice president. She has served as the company's controller and has been with Petry-Kuhne for more than 20 years.
Previous owners Pat Dorsey and Greg Petry remain with the company in various capacities. Petry will continue to handle estimating and project management for Central Illinois Erectors, a Petry-Kuhne division. Dorsey will serve as a consultant to the management team.
Singh joins Presence Covenant

Dr. Harbinder Singh has joined the medical staff of Presence Covenant Medical Center. Singh is a cardiothoracic surgeon with Cardiac Surgery Associates at Presence Covenant Medical Center. He is board-certified in general surgery and cardiothoracic surgery. He has a special interest in congestive heart failure, valvular heart disease and coronary heart disease.
Singh graduated from the University of Illinois and received his medical degree from Chicago Medical School. He completed his cardiothoracic surgery residency at Boston University Medical Center, and then did his fellowship at Harvard Medical School Brigham and Women's Hospital in Boston.
James Reiser Joins First Mid-Illinois Bank & Trust

James Reiser joined First Mid-Illinois Bank & Trust as vice president, senior farm manager in the Trust and Wealth Management Division. Reiser has more than 30 years of experience in agricultural services.
Prior to joining First Mid, Reiser served as vice president of Busey Ag Services in Champaign and previously served as senior manager with the John Hancock Agricultural Investment Group. Reiser has a bachelor's degree in agricultural business from Western Illinois University and completed graduate studies at the University of Illinois. He is a licensed real estate broker in Illinois.
As senior farm manager, Reiser will be responsible for directing Farm Services operations, including farm management, technical analysis and planning, and providing technical, financial and business planning services.
Oberheim joins Christie Clinic in Monticello

Amber Oberheim , certified nurse practitioner, has joined Christie Clinic in downtown Monticello. The Monticello facility houses primary care and the Transformations Medical Weight Loss Program.
Oberheim received her bachelor's degree in nursing from the Mennonite College of Nursing in Bloomington, and earned her master's degree in public health nursing from the University of Illinois. Oberheim is certified as a family nurse practitioner. In addition to seeing patients, she will oversee the Transformations Medical Weight Loss Program.
Back to top
Part of The News-Gazette, Inc. community of websites:
News-Gazette | IlliniHQ | WDWS | WHMS |