ACHIEVEMENTS December 2014
---
EDITOR'S NOTE: Have you been promoted? Has a colleague completed an intensive education program, or is one celebrating a well-earned retirement? Others in the business community will want to know it. Send milestone employment news and photos to cibm@news-gazette.com, or contact Jodi Heckel at 217-351-5695.
Larry Head receives award from John Deere

Larry Head of Heath's Inc. has received master level recognition for the Parts Manager program with John Deere. Heath's Inc. participates in a training program with John Deere to help their employees reach certain standards of expertise. John Deere University provides training in the areas of sales, service and the parts department for its dealerships.
Henderson joins Re/Max Realty Associates

Laura Henderson has joined Re/Max Realty Associates as a sales associate.
Henderson has been a Realtor since 2000. She graduated from Illinois State University and was a teacher for 15 years. She has a working knowledge of sign language.
Hearn named principal, Smilanich named senior for CliftonLarsonAllen

Bethany M. Hearn was promoted to principal in CliftonLarsonAllen's Champaign office. She has nearly 26 years of public accounting experience, with the last 15 years focused on valuation and forensic accounting services for privately held companies.
She is a licensed CPA in the state of Illinois and is Accredited in Business Valuation and Certified Financial Forensics. She is also an Accredited Senior Appraiser by the American Society of Appraisers.
Andrea Smilanich was promoted to senior for CliftonLarsonAllen in Champaign. She is a graduate of Gustavus Adolphus College in St. Peter, Minn. She started with CliftonLarsonAllen in Champaign in 2012 in their tax department.
News-Gazette makes contribution to Mills Breast Cancer Institute
As part of Breast Cancer Awareness Month, the advertising department of The News-Gazette and News-Gazette Community Newspapers made a contribution of $2,950 to the Mills Breast Cancer Institute in October. The contribution was part of the department's Women in Business special advertising section,
published on Sunday, Oct. 19.
More than 50 local advertisers purchased ads in the section, and for those advertisers who opted to pay $50 extra to publish their ads in color, that fee was contributed to the Mills Breast Cancer Institute.
The Foster Team joins Re/Max Realty Associates

Peg Foster and Matt Foster are now with Re/Max Realty Associates. Peg Foster has more than 20 yeas of experience in the real estate market. Matt Foster joined her in 2009.
Wright promoted at First State Bank

Rory W. Wright has been promoted to assistant vice president of First State Bank in Monticello. Wright's responsibilities include the origination and administration of residential mortgages and consumer loans. He is also in charge of the bank's indirect auto loan program.
Busey names three to leadership positions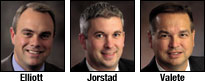 Robin Elliott has been appointed chief financial officer of First Busey Corp. and Busey Bank. Elliott is a certified public accountant and received his undergraduate degree from Indiana University's Kelley School of Business and a master's degree in accountancy from the University of Illinois. He earned his executive MBA from Northwestern University's Kellogg School of Management.
Elliott joined Busey Bank in 2006 and served as executive vice president and director of finance and treasury at Busey Bank prior to leading its Business Banking Group.
Chip Jorstad has been named executive vice president and appointed to lead Busey's Middle Market group while continuing to lead Busey's Ag Lending team.
Jorstad received his finance degree and MBA from the University of Illinois. He is on the board of directors for Champaign County CASA, a member of the Champaign West Rotary and a 2012 recipient of Central Illinois Business magazine's Forty Under 40 Award.
Jim Valete has been named executive vice president of Busey's Business Banking group. Valete has 35 years of experience in the financial industry.
Valete earned his bachelor's degree in finance from the University of Illinois and his MBA at DePaul University in Chicago.
Illini Supply certified by the National Women Business Owners Corp.

Illini Supply has been certified as a business owned and controlled by a woman by the National Women Business Owners Corp. The purpose of the certification review is to increase the ability of women business owners to compete for contracts at a national level. Donna Mauzey became dealer principal of Illini Supply in 2003 and became president in 2007. In 2011, she became the sole principal of the corporation.
Back to top
Part of The News-Gazette, Inc. community of websites:
News-Gazette | IlliniHQ | WDWS | WHMS |