HOME/COVER STORY
---
ACHIEVEMENTS
---
AG BUSINESS
---
BEST BUSINESS
---
Best of Towns Best Business Services
---
Best of Towns Best Coffee Shop
---
Best of Towns Best Hair Stylist and Spa
---
Best of Towns Best Health Club
---
Best of Towns Financial Company
---
Best of Towns Restaurant
---
BUSINESS NOW
---
ECONOMICS
---
EDITOR'S NOTE
---
Entrepreneur Tips
---
FINE PRINT
---
GET TO KNOW THE CEO
---
GOOD BUSINESS
---
GREEN TIPS
---
INNOVATION > THE OUTER LIMITS
---
LEGAL PILLARS
---
MADE IN CHAMPAIGN COUNTY
---
MARKETING
---
OIL/GAS INDUSTRY
---
ORGANIZATIONAL KNOWLEDGE
---
FORTY UNDER 40 NOMINATIONS
---
SUBSCRIBE NOW!
---
CONTACT US
---
ARCHIVE
---
CALENDAR
Editor 's note: submit events, meetings, workshops and conferences at least one month in advance to cibm@news-gazette.com for inclusion in Mark Your Calendar.
< Jan
Feb
Mar >
February 2
Home Buyer's Seminar
Home Buyer's Seminar 6 to 8:30 p.m., 6 to 8:30 p.m., 9 a.m. to 2 p.m. Parkland College Business Training, 1315 N. Mattis Ave., Champaign Learn about budgeting, pre-qualification, inspection, closing, and other important steps in the home buying process. Discover helpful home maintenance tips and what to do if financial difficulties occur after the purchase. Offered each month throughout the year. Qualified mortgage loan officers from local banks and lending institutions teach all seminars. - See more at:
http://champaigncounty.org
or call 217-351-2235.
February 7
Style for Success
Style for Success 4 to 5 p.m. Parkland College Business Training, 1315 N. Mattis Ave., Champaign Master your first impression by unlocking the style secrets to dressing for success with Cynthia Bruno. Discover how you can use your own personal style to make a more powerful visual presentation, learn the styles and cuts that best flatter your assets, and find out how to discover your personal color profile. Call 217-351-2235 for more information.
February 16
Athena Award Luncheon
Athena Award Luncheon 12 to 1:30 p.m. Champaign Country Club 1211 S. Prospect Ave. Champaign Join Champaign County Chamber of Commerce members and representatives from local businesses as we honor the 2017 ATHENA Award(r) recipient. The recipient of the ATHENA Award(r) demonstrates excellence, creativity and initiative in his or her business or profession; provides valuable service by devoting time and energy to improve the quality of life for others in the community; and assists women in reaching their full leadership potential. The cost to attend is $33 for members and $41 for non-members. To register, please contact Caryn Isenhower at
caryni@champaigncounty.org
. Registration and cancellation deadline is Monday, February 13, 2017.
February 24
LinkedIn for Today's Professional
LinkedIn for Today's Professional 12 to 1:30 p.m. Parkland College Business Training, 1315 N. Mattis Ave., Champaign Everyone knows that they should be engaging on LinkedIn, but how is it done? Christine Schmucker will cover the basics of the LinkedIn profile, expanding your network, and interacting. Discover how to connect with individuals, follow companies, and use tools to interact with your network. Prerequisite: LinkedIn account and login information.
BEST BUSINESS February 2017
---
Move easily
---
Go anywhere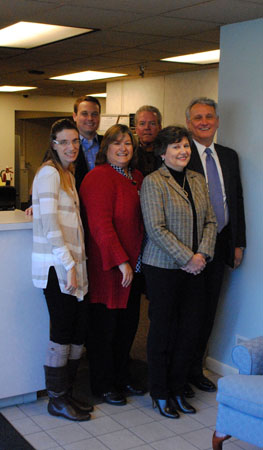 Pretty much everyone in the Central Illinois area knows the Hutchcraft Van Service, Inc. building located at 1614 North Lincoln Ave. in Urbana. It's an iconic structure and has been a staple in the Urbana landscape for decades.
"We built here in 1964 back when this was just a farm field," Orin Hutchcraft said. The Hutchcraft family runs the business. It is very interesting that the whole of the business is actually owned by an extended family trust, keeping with the Hutchcraft tradition of family. His father, Orin Hutchcraft-the second in a line of five Orins- and his uncle Gerald Hutchcraft started the business back in 1946 after they purchased a Hudson vehicle to start the moving company. Gerald Hutchcraft learned the relocation business with a local moving company while Orin Hutchcraft II was in the service. They used the military service pay that he had earned as a business start-up.
The next year, they actually founded their company, became a United Van Lines agent just six years later, and as they grew, they moved to the building that resembles an airport hangar.
"It's interesting that we were actually a nautical landmark for Chanute," Orin Hutchcraft said of the air force base that was located in Rantoul for many years before it closed in 1993.
Hutchcraft Van Service has grown so that it now has a second location in Normal at 2130 West College Ave. Kathy and Orin Hutchcraft's son, Orin Michael Hutchcraft runs the branch located just minutes from Illinois State University. He joined the company in 2009 after a brief acting career in California.
"I feel so motivated by the both of them," Orin Michael Hutchcraft said about his parents. The Normal branch continues to grow in the tradition of the Urbana location by giving great customer service and taking great care of people's most prized possessions, whether they be moved or stored in their secure and environmentally controlled warehouse.
"We go anywhere in the world," Kathy Hutchcraft said.
They have over 50 trucks and trailers to get people items where they need to go. They have specially trained personnel, along with special commodity drivers for transporting high-value equipment. They offer international military relocation services, office relocation and record storage, short term and student storage, as well as "SkyBitz" tracking and communication that keeps customers connected with their possessions as they are shipped.
They also have some very interesting personal services they provide. One is they can, for a reasonable fee, move heavy and precious items within a customer's home. Let's say a customer wants a piano or a heavy oak bedroom set moved from one floor to the next within their home. Hutchcraft can do this by taking additional steps to prevent damage to the item moved or surrounding areas like the floors and walls. It can save the customer great headaches and backaches!
"It's surprising to most people how affordable we are," Kathy Hutchcraft said.
Perhaps a customer wants to do most of their own packing for a move to another home, but they don't want to move the heavy chests, tables, riding lawn mowers and china cabinets.
"Sure they can pack their things, and we will just move the heavy items," Kathy Hutchcraft said. "Or we can do all of it. We're here to make your relocation as pleasant as possible."
And as far as china cabinets go, the china that goes in it can be handled with extra care along with other collectibles, crystal, art, furs, silver, Oriental rugs, heirlooms and other precious possessions. Hutchcraft Van Services has the training and the know-how.
Central Illinois Business magazine was actually pleasantly surprised at the affordability and the flexibility offered by Hutchcraft Van Services. We did some research and found that their rates were very competitive with local, discount movers and even had rates that were lower in some cases. It costs nothing to call them at 217-328-3333 or 309-747-6888 to get a totally free estimate. Give Hutchcraft Van Services those relocation problems, and they will be the solution! For more information, go to their website at hutchcraftvanservice.com.
Back to top
Part of The News-Gazette, Inc. community of websites:
News-Gazette | IlliniHQ | WDWS | WHMS |