HOME/COVER STORY
---
ACHIEVEMENTS
---
AG BUSINESS
---
BEST BUSINESS
---
Best of Towns Best Business Services
---
Best of Towns Best Coffee Shop
---
Best of Towns Best Hair Stylist and Spa
---
Best of Towns Best Health Club
---
Best of Towns Financial Company
---
Best of Towns Restaurant
---
BUSINESS NOW
---
ECONOMICS
---
EDITOR'S NOTE
---
Entrepreneur Tips
---
FINE PRINT
---
GET TO KNOW THE CEO
---
GOOD BUSINESS
---
GREEN TIPS
---
INNOVATION > THE OUTER LIMITS
---
LEGAL PILLARS
---
MADE IN CHAMPAIGN COUNTY
---
MARKETING
---
OIL/GAS INDUSTRY
---
ORGANIZATIONAL KNOWLEDGE
---
FORTY UNDER 40 NOMINATIONS
---
SUBSCRIBE NOW!
---
CONTACT US
---
ARCHIVE
---
CALENDAR
Editor 's note: submit events, meetings, workshops and conferences at least one month in advance to cibm@news-gazette.com for inclusion in Mark Your Calendar.
< Jan
Feb
Mar >
February 2
Home Buyer's Seminar
Home Buyer's Seminar 6 to 8:30 p.m., 6 to 8:30 p.m., 9 a.m. to 2 p.m. Parkland College Business Training, 1315 N. Mattis Ave., Champaign Learn about budgeting, pre-qualification, inspection, closing, and other important steps in the home buying process. Discover helpful home maintenance tips and what to do if financial difficulties occur after the purchase. Offered each month throughout the year. Qualified mortgage loan officers from local banks and lending institutions teach all seminars. - See more at:
http://champaigncounty.org
or call 217-351-2235.
February 7
Style for Success
Style for Success 4 to 5 p.m. Parkland College Business Training, 1315 N. Mattis Ave., Champaign Master your first impression by unlocking the style secrets to dressing for success with Cynthia Bruno. Discover how you can use your own personal style to make a more powerful visual presentation, learn the styles and cuts that best flatter your assets, and find out how to discover your personal color profile. Call 217-351-2235 for more information.
February 16
Athena Award Luncheon
Athena Award Luncheon 12 to 1:30 p.m. Champaign Country Club 1211 S. Prospect Ave. Champaign Join Champaign County Chamber of Commerce members and representatives from local businesses as we honor the 2017 ATHENA Award(r) recipient. The recipient of the ATHENA Award(r) demonstrates excellence, creativity and initiative in his or her business or profession; provides valuable service by devoting time and energy to improve the quality of life for others in the community; and assists women in reaching their full leadership potential. The cost to attend is $33 for members and $41 for non-members. To register, please contact Caryn Isenhower at
caryni@champaigncounty.org
. Registration and cancellation deadline is Monday, February 13, 2017.
February 24
LinkedIn for Today's Professional
LinkedIn for Today's Professional 12 to 1:30 p.m. Parkland College Business Training, 1315 N. Mattis Ave., Champaign Everyone knows that they should be engaging on LinkedIn, but how is it done? Christine Schmucker will cover the basics of the LinkedIn profile, expanding your network, and interacting. Discover how to connect with individuals, follow companies, and use tools to interact with your network. Prerequisite: LinkedIn account and login information.
BEST OF TOWNS BEST HEALTH CLUB February 2016
---
All are welcome
---
Readers vote for the YMCA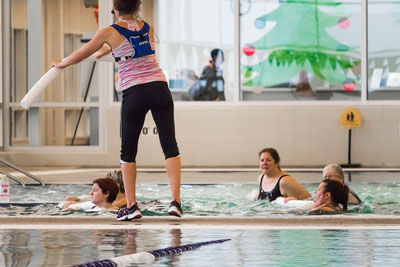 On the website for Stephens Family YMCA of Champaign County, there is a tagline that says: "Learn together. Play together." It's an all-inclusive place to be; a community and somewhere that everyone is welcome.
Knowing that Central Illinois Business readers selected "The Y" as its winner for Best Health Club in its Best of Towns promotion is therefore no surprise. Just walking in the door of the local organization is an experience: there are people everywhere, smiling, drinking beverages in one area, sitting and talking in another, and swimming in the pool going at their laps or participating in water exercises. And that's just the main entrance! Go a little further and there is yoga, running, cooking, fitness, childcare, people climbing the wall, and the list goes on and on and on.
Marketing and membership director, Heidi Cordes said that she is very proud of the fact that in every place at "The Y," there are people from all walks of life and every financial situation. She said people are side-by-side in yoga, swimming together, enjoying an activity and liking each other in the moment. Not only are the members from all walks of life, there are babies, kids, teens, adults and seniors in and out of the facility at every turn. Stephens Family YMCA is akin to a utopia located right here in the Champaign County area at 2501 Fields South Dr, Champaign, right off of Windsor Road in the southwest part of town. It seems as if the pretentions of daily life are cast aside once walking over the threshold of the Y.
"And they don't care about it. People just interact and enjoy each other," she said.
One especially unique feature is Larkin's Place that is dedicated to those that may not be included in other places: people with special needs. Larkin Murphy was born October 4, 2005 to Amy and Andy Armstrong. Shortly after Larkin was born she was diagnosed with Down syndrome. Then, Larkin was diagnosed with Lennox-Gastaut syndrome, a seizure condition for which there is no cure. Using the concept of Universal Design, Amy Armstrong set out to establish a recreation center for those that would normally be excluded in other centers. All are welcome at Larkin's Place and Stephens Family YMCA. Nobody is turned away due to financial issues, either. There is so much there for so many. This community resource is a gem that has been in place for over 75 years and going strong for the Champaign County area.
Mark Johnson, CEO, said that they are very happy to receive the Best of Towns award.
"With our growth of 2,000 members at the old McKinley Y, to 12,000 now at The Stephen's Family Y we are a major presence in our community and our goal has always been to make a positive difference in our community" he said.
He said that they are unique among health clubs and organizations.
"Many people don't know that not only are we one of the most recognizable
organizations in the world, but that we are a large non-profit because we provide
kids and families with financial assistance to our programs and membership through
our ongoing fund raising," he said.
As he stood in the entry hall by the front desk, he greeted members with sincerity and a huge smile. He beamed at the crowded bustle of members, whose numbers that seemed more appropriate on a sunny Saturday, rather than a below zero, wind chilled and cloudy Tuesday morning in January.
"We have a very diverse membership and look like our community," he said. "Our YMCA is considered to be among the best in the country."
For more information on Stephens Family YMCA, go to sf-ymca.net or call 217-359-YMCA.
Back to top
Part of The News-Gazette, Inc. community of websites:
News-Gazette | IlliniHQ | WDWS | WHMS |