BEST OF TOWNS BEST BUSINESS SERVICES February 2016
---
Rogards
---
Many years of good business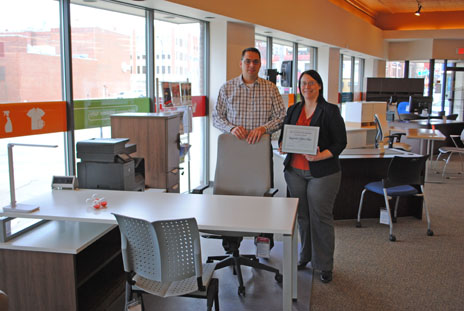 There's a really simple-but important- reason that Rogards won the Best of Towns Best Business Services title for 2015.
"We listen to our customers," Chad Hoffman said. "We're very detailed with individual accounts."
Hoffman is the CEO. He and his wife, Catherine Hoffman joined current president, Tonya Horn, in purchasing the company five years ago from Horn's father, Terry Poindexter, and Jim Beyer. Rogards has been in Champaign for 40 years.
Hoffman said the entire staff is focused on building their customer base in Central Illinois. Customer service has always been the cornerstone of their business.
"I think even before us as owners, we were a customer service oriented company," Horn said.
They were selected by Central Illinois Business readers via an online poll. Plus, the awards just keep coming in for this company. Rogards, 214 S. Walnut St., was also named the Small Business of the Year by the Champaign County Chamber of Commerce last October 2015.
So, it's obvious that both customers and businesses believe Rogards is doing good business. What sets them apart is that they keep their sights on their customers' needs and wants, Horn said. Then, they deliver it-sometimes literally.
Hoffman said that recently a particular delivery staff member knew a customer's paper order was inadvertently incorrect. The staffer took care of it, before the customer had realized there may have been a problem. An already satisfied customer never even had the chance to be disgruntled.
"We are constantly eliciting customer feedback," Horn said.
Hoffman said that every staff member is focused on what Rogards can do to satisfy each individual account. For example, Hoffman said that their delivery team will make sure their items are carried into their customers' businesses. He said that some of their customers do not have elevators, so Rogards' delivery staff will carry products-heavy or not- up or downstairs. They will put paper, coffee-services, breakroom and bathroom supplies, janitorial supplies and incidentals exactly where the customer wants it inside their respective business.
Horn said another thing that sets them apart is their technology-savvy office personnel that are knowledgeable in areas like online chat, besides the regular obvious communications of email or telephone.
"We also empower our employees to make decisions that will best serve our customers," Horn said, adding that extensive training has allowed their staff to feel comfortable making those decisions. "We put people in the position to succeed."
Hoffman said another area they have focused on is to have a client connection at a higher level to help expand their service area and client base.
"By higher level I mean the CEO or president of the company. I want to know what they want," Hoffman said.
Horn said Rogards is certified by the Illinois Green Business Association.
"We about being green, but also sustainability, and what is thrifty and budget conscious, too," she said.
Hoffman added that his work with the Champaign County Chamber of Commerce on the Local Purchasing Challenge is in alignment with Rogards' desire to build their customer base. The challenge is to encourage local business to business interaction and support. He said individual customers will support local businesses, while at the business level they may not be lending that local support.
"Could a business use Champaign Telephone instead of a national carrier, for example? Are they taking into account that to shop at the 'big box' store an average of $3 to $4 needs to be added per item to account for things like the yearly club fee, gasoline used, vehicle wear and tear, time away from the office and interruptions? Seventy percent of dollars spent by local businesses by other local businesses are reinvested into the community," Hoffman said.
Rogards wants customers to let them know how they can serve their needs. They encourage businesses to reach out at 217-359-1795, stop by 214 S. Walnut St, Champaign or visit their website www.rogards.com.
Back to top
Part of The News-Gazette, Inc. community of websites:
News-Gazette | IlliniHQ | WDWS | WHMS |