HOME/COVER STORY
---
ACHIEVEMENTS
---
AG BUSINESS
---
BEST BUSINESS
---
Best of Towns Best Business Services
---
Best of Towns Best Coffee Shop
---
Best of Towns Best Hair Stylist and Spa
---
Best of Towns Best Health Club
---
Best of Towns Financial Company
---
Best of Towns Restaurant
---
BUSINESS NOW
---
ECONOMICS
---
EDITOR'S NOTE
---
Entrepreneur Tips
---
FINE PRINT
---
GET TO KNOW THE CEO
---
GOOD BUSINESS
---
GREEN TIPS
---
INNOVATION > THE OUTER LIMITS
---
LEGAL PILLARS
---
MADE IN CHAMPAIGN COUNTY
---
MARKETING
---
OIL/GAS INDUSTRY
---
ORGANIZATIONAL KNOWLEDGE
---
FORTY UNDER 40 NOMINATIONS
---
SUBSCRIBE NOW!
---
CONTACT US
---
ARCHIVE
---
CALENDAR
Editor 's note: submit events, meetings, workshops and conferences at least one month in advance to cibm@news-gazette.com for inclusion in Mark Your Calendar.
< Jan
Feb
Mar >
February 2
Home Buyer's Seminar
Home Buyer's Seminar 6 to 8:30 p.m., 6 to 8:30 p.m., 9 a.m. to 2 p.m. Parkland College Business Training, 1315 N. Mattis Ave., Champaign Learn about budgeting, pre-qualification, inspection, closing, and other important steps in the home buying process. Discover helpful home maintenance tips and what to do if financial difficulties occur after the purchase. Offered each month throughout the year. Qualified mortgage loan officers from local banks and lending institutions teach all seminars. - See more at:
http://champaigncounty.org
or call 217-351-2235.
February 7
Style for Success
Style for Success 4 to 5 p.m. Parkland College Business Training, 1315 N. Mattis Ave., Champaign Master your first impression by unlocking the style secrets to dressing for success with Cynthia Bruno. Discover how you can use your own personal style to make a more powerful visual presentation, learn the styles and cuts that best flatter your assets, and find out how to discover your personal color profile. Call 217-351-2235 for more information.
February 16
Athena Award Luncheon
Athena Award Luncheon 12 to 1:30 p.m. Champaign Country Club 1211 S. Prospect Ave. Champaign Join Champaign County Chamber of Commerce members and representatives from local businesses as we honor the 2017 ATHENA Award(r) recipient. The recipient of the ATHENA Award(r) demonstrates excellence, creativity and initiative in his or her business or profession; provides valuable service by devoting time and energy to improve the quality of life for others in the community; and assists women in reaching their full leadership potential. The cost to attend is $33 for members and $41 for non-members. To register, please contact Caryn Isenhower at
caryni@champaigncounty.org
. Registration and cancellation deadline is Monday, February 13, 2017.
February 24
LinkedIn for Today's Professional
LinkedIn for Today's Professional 12 to 1:30 p.m. Parkland College Business Training, 1315 N. Mattis Ave., Champaign Everyone knows that they should be engaging on LinkedIn, but how is it done? Christine Schmucker will cover the basics of the LinkedIn profile, expanding your network, and interacting. Discover how to connect with individuals, follow companies, and use tools to interact with your network. Prerequisite: LinkedIn account and login information.
BEST OF TOWNS BEST HAIR STYLIST AND SPA February 2016
---
Cutting Edge
---
Urbana salon takes title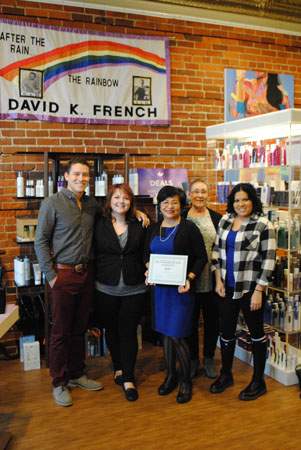 Walk into H2O Salon and Spa and there's no doubt why this business won the Central Illinois Business Best of Towns Best Salon and Spa by our readers. The salon is beautifully appointed and chic in its design, using the building's vintage structure-the walls, flooring, doors and windows- to enhance the contemporary artwork, stylish salon furniture and equipment housed in H2O. The salon and spa offers all things hair: color, chemical, style, and bridal. It also offers high-performance facials, nail and waxing services, and make-up lessons and application. And that beautiful artwork? It's for sale. The owner, Edith Peacock supports local artists that way.
"It's just another way for us to support the community," she said from her salon at 109 N. Broadway in downtown Urbana. "We do lots of fundraisers: Courage Connection, TAP- The Autism Program through the University of Illinois, St. Baldric's-children's cancer, and the Humane Society, too. At Back-to-School time we offer free haircuts at the Church of Christ here town."
Peacock, who is originally from El Salvador, also works with Urbana Schools in their English as a Second Language programs. H2O also hosts a Boneyard Artist every year for the local festival. The entire staff volunteers at the Urbana Sweetcorn Festival at the end of the summer season. H2O has been open for ten years.
"I am a second-generation hair-stylist, so I grew-up in a shop," she said. "We have great customer service. We take care of you. We do contemporary to classic styling for all ages, from children to adults."
Part of that "taking care of you" is using only environmentally friendly products from hair to make-up and nail products. The first is Eufora and Eufora Men. Their advanced technology utilizes important botanical extracts that have been scientifically proven to benefit the hair, scalp and skin. The next product H2O utilizes is Elumen, the first permanent high performance, oxidant-free hair color. It works exclusively with pure direct dyes, which are penetrated deep into the hair and anchored by a king of magnetic attraction. It works with no peroxide and ammonia, so there is no need for mixing. For the face, H2O Salon of Urbana uses Glo Minerals, cosmetics that are award-winning mineral formulations that nurture, protect and heal the skin while providing flawless coverage and fabulous color palettes. This make-up is talc and paraben free. For waxing the salon uses only Salon Smooth products to give customers customized waxes and treatments that are specific to each client's particular needs. The goal is to be comfortable, while being effective. For nail clients, Essie, OPI and CND Shellac are the high -end products used in the salon.
"And that means safe for our earth, our clients and safe for our staff," Peacock said.
She truly believes in the enhancement of her staff of hairstylists: Maggie Hurley, Olivia Romero and Kyle McGuirk; nail technician: Jeanie Travis; and office supervisor: Wes Bagby. They further their education by traveling and taking training classes together in places such as Chicago and San Diego.
"It's important for me to take care of my team. I want to make sure they like what they do and that we have a positive work environment," she said, adding that to have great customer service it has to come from happy employees.
Nail client, Nancy Hank-Sutton was been having her nails done by Travis. She is a happy customer.
"I've been coming to Jeanie since 1992," she said.
Bagby said one word describes Peacock.
"Trust," he said. "She allows us to grow. She trusts us to do our job and take care of our customers."
Call H20 at 217- 337-1480 or visit their site: h2osalonurbana.com.
Back to top
Part of The News-Gazette, Inc. community of websites:
News-Gazette | IlliniHQ | WDWS | WHMS |