HOME/COVER STORY
---
ACHIEVEMENTS
---
AG BUSINESS
---
BEST BUSINESS
---
Best of Towns Best Business Services
---
Best of Towns Best Coffee Shop
---
Best of Towns Best Hair Stylist and Spa
---
Best of Towns Best Health Club
---
Best of Towns Financial Company
---
Best of Towns Restaurant
---
BUSINESS NOW
---
ECONOMICS
---
EDITOR'S NOTE
---
Entrepreneur Tips
---
FINE PRINT
---
GET TO KNOW THE CEO
---
GOOD BUSINESS
---
GREEN TIPS
---
INNOVATION > THE OUTER LIMITS
---
LEGAL PILLARS
---
MADE IN CHAMPAIGN COUNTY
---
MARKETING
---
OIL/GAS INDUSTRY
---
ORGANIZATIONAL KNOWLEDGE
---
FORTY UNDER 40 NOMINATIONS
---
SUBSCRIBE NOW!
---
CONTACT US
---
ARCHIVE
---
CALENDAR
Editor 's note: submit events, meetings, workshops and conferences at least one month in advance to cibm@news-gazette.com for inclusion in Mark Your Calendar.
< Jan
Feb
Mar >
February 2
Home Buyer's Seminar
Home Buyer's Seminar 6 to 8:30 p.m., 6 to 8:30 p.m., 9 a.m. to 2 p.m. Parkland College Business Training, 1315 N. Mattis Ave., Champaign Learn about budgeting, pre-qualification, inspection, closing, and other important steps in the home buying process. Discover helpful home maintenance tips and what to do if financial difficulties occur after the purchase. Offered each month throughout the year. Qualified mortgage loan officers from local banks and lending institutions teach all seminars. - See more at:
http://champaigncounty.org
or call 217-351-2235.
February 7
Style for Success
Style for Success 4 to 5 p.m. Parkland College Business Training, 1315 N. Mattis Ave., Champaign Master your first impression by unlocking the style secrets to dressing for success with Cynthia Bruno. Discover how you can use your own personal style to make a more powerful visual presentation, learn the styles and cuts that best flatter your assets, and find out how to discover your personal color profile. Call 217-351-2235 for more information.
February 16
Athena Award Luncheon
Athena Award Luncheon 12 to 1:30 p.m. Champaign Country Club 1211 S. Prospect Ave. Champaign Join Champaign County Chamber of Commerce members and representatives from local businesses as we honor the 2017 ATHENA Award(r) recipient. The recipient of the ATHENA Award(r) demonstrates excellence, creativity and initiative in his or her business or profession; provides valuable service by devoting time and energy to improve the quality of life for others in the community; and assists women in reaching their full leadership potential. The cost to attend is $33 for members and $41 for non-members. To register, please contact Caryn Isenhower at
caryni@champaigncounty.org
. Registration and cancellation deadline is Monday, February 13, 2017.
February 24
LinkedIn for Today's Professional
LinkedIn for Today's Professional 12 to 1:30 p.m. Parkland College Business Training, 1315 N. Mattis Ave., Champaign Everyone knows that they should be engaging on LinkedIn, but how is it done? Christine Schmucker will cover the basics of the LinkedIn profile, expanding your network, and interacting. Discover how to connect with individuals, follow companies, and use tools to interact with your network. Prerequisite: LinkedIn account and login information.
BEST OF TOWNS BEST COFFEE SHOP February 2016
---
Best Coffee Shop
---
Readers roast Cafe Kopi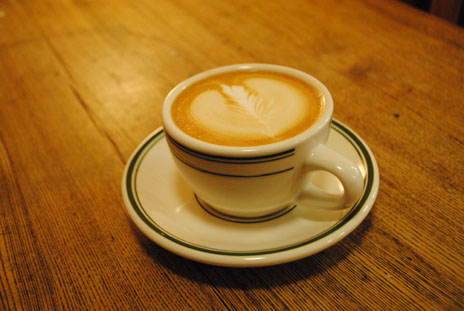 Even though Café Kopi won-hands down-the award for Best Coffee Shop in CIB's Best of Towns promotion, owner Paul West keeps a level head. He is always looking forward and considering how to improve an already successful shop.
"First thing you must know about the history of Kopi is that I'm not the original owner. Cafe Kopi was started by Jennifer Isaacson in 1993 to complement her clothing store Circles Boutique. There wasn't much happening downtown at the time, and only two specialty coffee houses on campus. The place was much smaller-only one storefront space-and Jen based the design on her travels to Indonesia each year to buy fabric. "Kopi" means coffee in Indonesian," West said.
Café Kopi retains the initial classic, cozy feeling to this day, despite expanding. The community loved it then and West became a regular customer.
"In 1996, I applied for a part-time position at night, to supplement my office job. I had worked in cafes after college and was hired based on my experience. Over the next year, I quit my day job to work full-time at the cafe and was appointed to assistant manager. By 1998, Jennifer announced that she was moving to the Southwest and I assumed ownership with another manager on January 1, 1999. We had already been running the business for the most part, so it just made sense to keep it going in the same manner," he said.
Twenty years later, his partner has moved on, the seating has doubled, a fifth coffee shop opened on the block this season, but Café Kopi keeps plugging away.
"People-local and returning-often tell me how much they appreciate that we have persevered and that keeps me motivated," West said. "I am definitely proud that I've managed to survive through struggles and maintain the name and the warm feel of the cafe in the same location. We receive Best Cafe awards from time to time and I think longevity plays a large part of that. A well-established name goes a long way."
West is most proud of the drinks they offer.
"Our Chai Latte is still a favorite in town, well-balanced and made from scratch" he said.
They were the first to bring cold-press coffee to town, in and around 2001. Plus,
West feels they have finally perfected their iced coffee.
"It's really amazing. I drink it through winter, though I understand most people prefer hot drinks now," he said. "The Cafe Miel (honey latte) is something I devised at a cafe near Kansas City and brought here."
One of the problems with a cafe is the long hours. It has to be open when people are free and that means nights, weekends and holidays, as well as regular hours.
"The upkeep on a business that is open all the time is my biggest challenge. I just installed some new wainscoting in the larger room over the holidays. I see other restaurants close for a week to renovate, but people are devastated when their coffee shop is closed for a half-day or whatever. Contractors ask me when our slow times are, but it's random. I try to freshen (up) the place overnight when I can, because many tasks can't be done with seated customers," he said.
West said he will always search for ways to get more people in the door.
"Kopi is a great place, customers tell me, but I don't want to sit on my hands and trust that everyone will love it. There is always room to improve," he said.
Café Kopi offers coffee and tea drinks, plus pastries, sandwiches, and salads. They have free WiFi. Visit them at 109 N Walnut St, Champaign. Call 217-359-4266 or visit their website cafe-kopi.com.
Back to top
Part of The News-Gazette, Inc. community of websites:
News-Gazette | IlliniHQ | WDWS | WHMS |