HOME/COVER STORY
---
ACHIEVEMENTS
---
AG BUSINESS
---
BEST BUSINESS
---
Best of Towns Best Business Services
---
Best of Towns Best Coffee Shop
---
Best of Towns Best Hair Stylist and Spa
---
Best of Towns Best Health Club
---
Best of Towns Financial Company
---
Best of Towns Restaurant
---
BUSINESS NOW
---
ECONOMICS
---
EDITOR'S NOTE
---
Entrepreneur Tips
---
FINE PRINT
---
GET TO KNOW THE CEO
---
GOOD BUSINESS
---
GREEN TIPS
---
INNOVATION > THE OUTER LIMITS
---
LEGAL PILLARS
---
MADE IN CHAMPAIGN COUNTY
---
MARKETING
---
OIL/GAS INDUSTRY
---
ORGANIZATIONAL KNOWLEDGE
---
FORTY UNDER 40 NOMINATIONS
---
SUBSCRIBE NOW!
---
CONTACT US
---
ARCHIVE
---
CALENDAR
Editor 's note: submit events, meetings, workshops and conferences at least one month in advance to cibm@news-gazette.com for inclusion in Mark Your Calendar.
< Jan
Feb
Mar >
February 2
Home Buyer's Seminar
Home Buyer's Seminar 6 to 8:30 p.m., 6 to 8:30 p.m., 9 a.m. to 2 p.m. Parkland College Business Training, 1315 N. Mattis Ave., Champaign Learn about budgeting, pre-qualification, inspection, closing, and other important steps in the home buying process. Discover helpful home maintenance tips and what to do if financial difficulties occur after the purchase. Offered each month throughout the year. Qualified mortgage loan officers from local banks and lending institutions teach all seminars. - See more at:
http://champaigncounty.org
or call 217-351-2235.
February 7
Style for Success
Style for Success 4 to 5 p.m. Parkland College Business Training, 1315 N. Mattis Ave., Champaign Master your first impression by unlocking the style secrets to dressing for success with Cynthia Bruno. Discover how you can use your own personal style to make a more powerful visual presentation, learn the styles and cuts that best flatter your assets, and find out how to discover your personal color profile. Call 217-351-2235 for more information.
February 16
Athena Award Luncheon
Athena Award Luncheon 12 to 1:30 p.m. Champaign Country Club 1211 S. Prospect Ave. Champaign Join Champaign County Chamber of Commerce members and representatives from local businesses as we honor the 2017 ATHENA Award(r) recipient. The recipient of the ATHENA Award(r) demonstrates excellence, creativity and initiative in his or her business or profession; provides valuable service by devoting time and energy to improve the quality of life for others in the community; and assists women in reaching their full leadership potential. The cost to attend is $33 for members and $41 for non-members. To register, please contact Caryn Isenhower at
caryni@champaigncounty.org
. Registration and cancellation deadline is Monday, February 13, 2017.
February 24
LinkedIn for Today's Professional
LinkedIn for Today's Professional 12 to 1:30 p.m. Parkland College Business Training, 1315 N. Mattis Ave., Champaign Everyone knows that they should be engaging on LinkedIn, but how is it done? Christine Schmucker will cover the basics of the LinkedIn profile, expanding your network, and interacting. Discover how to connect with individuals, follow companies, and use tools to interact with your network. Prerequisite: LinkedIn account and login information.
BEST OF TOWNS FINANCIAL COMPANY February 2016
---
Busey voted best by readers
---
Big win for local bank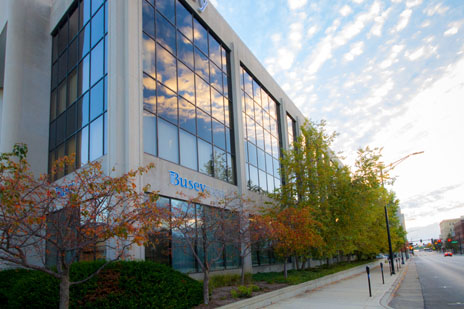 When Busey CEO, Christopher Shroyer, was presented with the certificate from Central Illinois Business magazine for Best Financial Institution, he was all smiles at the show of reader and customer support. He was also very happy to hear that Busey was the only business to be nominated in two categories: the one they dominated and won, and the Best Business Services category. They won their category by a landslide of readers' votes.
"This is truly an honor to receive this award," Shroyer said.
Busey is honored to be recognized as 2015 Best of Towns in the Best Financial Company category by Central Illinois Business Magazine. The staff Busey thanks their customers and the outstanding community for making this recognition possible.
The Busey Promise began in 1868 when they first opened their doors. Nearly 150 years later, they are just as committed to helping customers and communities achieve their dreams. Busey has five lines of business to meet the community's personal, business and wealth management needs and: is ranked in the Top 3% of commercial banks nationally; serves more than 90,000 households in Illinois, Indiana, Florida and beyond; and is consistently rated 5-star "Superior" by BauerFinancial, the highest rating awarded. Busey has reached this point through the hard work and dedication of every associate, plus, consistently delivering value to their 4 Pillars that include: customers, associates, communities and shareholders.
Shroyer said that when customers speak, they listen.
Busey and their associates give more than $1 million annually, and in the last year alone, their associates volunteered more than 14,000 hours to nearly 700 charitable organizations. In addition to their year-round efforts, Busey created an entire month, Community Promise Month, to give back through volunteerism and financial giving, plus bettering the community one project at a time. In total, company volunteers proudly served more than 2,100 hours to nearly 300 charitable organizations.
Among Busey's community efforts is their commitment to empower individuals with financial education through: their annual Champaign County Economic Seminar; printed resources including their semi-annual publication, The Pillar; and various articles, videos and customized calculators on busey.com. With the belief that financial education is among the most important investments they can make in our community, Busey advocates for consumers of all ages, including the youngest of learners. MoneySmart Youth is a program to teach children ages 5 to 10 years the importance of money; how it's used, earned, saved and taxed, through videos and interactive worksheets located at busey.com. Lessons include: Understanding Money; Priorities; Smart Ways to Spend, Donate & Invest; and Taxes & Credit. MoneySmart Youth is an engaging tool to empower youth in Champaign County to take control of their finances.
From educational resources to innovative financial tools, Busey stays on the cutting edge of banking technology. In fact, they were one of the first in the banking industry to launch mobile banking, text messages, mobile web browsers and Busey's Mobile App. Their progressive financial management hub of online services currently includes: mobile banking apps with Touch ID, mobile deposit and mobile Popmoney; Busey text; eBills; eStatements; Bill Pay; and FinanceWorks. From simplifying the financial lives of their customers to giving their time and talents to those in need, Busey is proud to be in Champaign County. To learn more about their financial suite of products and services, visit busey.com, call 1-800-67Busey or stop by one of their convenient locations.
Back to top
Part of The News-Gazette, Inc. community of websites:
News-Gazette | IlliniHQ | WDWS | WHMS |