HOME/COVER STORY
---
ACHIEVEMENTS
---
AG BUSINESS
---
BEST BUSINESS
---
Best of Towns Best Business Services
---
Best of Towns Best Coffee Shop
---
Best of Towns Best Hair Stylist and Spa
---
Best of Towns Best Health Club
---
Best of Towns Financial Company
---
Best of Towns Restaurant
---
BUSINESS NOW
---
ECONOMICS
---
EDITOR'S NOTE
---
Entrepreneur Tips
---
FINE PRINT
---
GET TO KNOW THE CEO
---
GOOD BUSINESS
---
GREEN TIPS
---
INNOVATION > THE OUTER LIMITS
---
LEGAL PILLARS
---
MADE IN CHAMPAIGN COUNTY
---
MARKETING
---
OIL/GAS INDUSTRY
---
ORGANIZATIONAL KNOWLEDGE
---
FORTY UNDER 40 NOMINATIONS
---
SUBSCRIBE NOW!
---
CONTACT US
---
ARCHIVE
---
CALENDAR
Editor 's note: submit events, meetings, workshops and conferences at least one month in advance to cibm@news-gazette.com for inclusion in Mark Your Calendar.
< Jan
Feb
Mar >
February 2
Home Buyer's Seminar
Home Buyer's Seminar 6 to 8:30 p.m., 6 to 8:30 p.m., 9 a.m. to 2 p.m. Parkland College Business Training, 1315 N. Mattis Ave., Champaign Learn about budgeting, pre-qualification, inspection, closing, and other important steps in the home buying process. Discover helpful home maintenance tips and what to do if financial difficulties occur after the purchase. Offered each month throughout the year. Qualified mortgage loan officers from local banks and lending institutions teach all seminars. - See more at:
http://champaigncounty.org
or call 217-351-2235.
February 7
Style for Success
Style for Success 4 to 5 p.m. Parkland College Business Training, 1315 N. Mattis Ave., Champaign Master your first impression by unlocking the style secrets to dressing for success with Cynthia Bruno. Discover how you can use your own personal style to make a more powerful visual presentation, learn the styles and cuts that best flatter your assets, and find out how to discover your personal color profile. Call 217-351-2235 for more information.
February 16
Athena Award Luncheon
Athena Award Luncheon 12 to 1:30 p.m. Champaign Country Club 1211 S. Prospect Ave. Champaign Join Champaign County Chamber of Commerce members and representatives from local businesses as we honor the 2017 ATHENA Award(r) recipient. The recipient of the ATHENA Award(r) demonstrates excellence, creativity and initiative in his or her business or profession; provides valuable service by devoting time and energy to improve the quality of life for others in the community; and assists women in reaching their full leadership potential. The cost to attend is $33 for members and $41 for non-members. To register, please contact Caryn Isenhower at
caryni@champaigncounty.org
. Registration and cancellation deadline is Monday, February 13, 2017.
February 24
LinkedIn for Today's Professional
LinkedIn for Today's Professional 12 to 1:30 p.m. Parkland College Business Training, 1315 N. Mattis Ave., Champaign Everyone knows that they should be engaging on LinkedIn, but how is it done? Christine Schmucker will cover the basics of the LinkedIn profile, expanding your network, and interacting. Discover how to connect with individuals, follow companies, and use tools to interact with your network. Prerequisite: LinkedIn account and login information.
BEST OF TOWNS RESTAURANT February 2016
---
Big Grove is best
---
Restaurant voted tops in town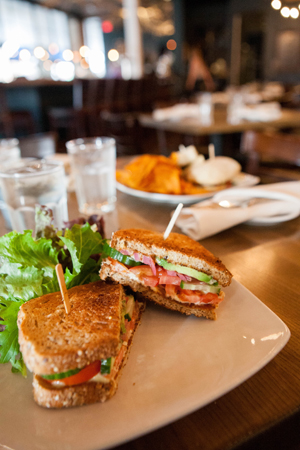 Big Grove Tavern customers and Central Illinois Business magazine readers voted and the restaurant easily won the Best Restaurant 2015 category in the Best of Towns promotion. According to our readers, there was never a doubt on where they love to eat and drink: One Main St., in the heart of Old Town Champaign.
The name Big Grove Tavern is derived from the The Big Grove that has stood in East Central Illinois for centuries, today known as Busey woods in East Urbana. The concept of the restaurant is farm-to-table. The restaurant is solidly committed to using naturally-raised and organic ingredients sourced directly from local farms and farmers' markets.
Sous chef, Terrah King said it best, "We are about the area. Our staff is a family, and we really listen to our customers."
She was on hand one late Friday afternoon, getting ready for the early evening rush with her fellow sous chef Tomasz Nilges. The pair works with executive chef, Jessica Gorin, an expert in the slow food movement. Slow food, in contrast to fast food, is food that is local from seed, plant, and harvest to table. The trio seeks to reinvent classic Midwestern-fare and comfort food-like macaroni and cheese, chili and sandwiches- to a sustainable, slow-fare level of healthy and satisfying food. Gorin is also on the Land Connection board of directors and a sponsor of the Champaign Farmer's Market.
"Our guests are so important to us. We have our planning meetings where we develop our upcoming menu using local products. We are a communal restaurant," Nilges said.
The restaurant is both upscale and rustic, with high-end food that is so easy on the pocketbook, a daily lunch is doable in a business budget. Plus, they get their lunch customers in and out, so they can get back to their routine, too. Dinners are satisfying and friendly, like eating with your family. The comforting and appetizing fare at Big Grove is artfully presented without even a crumb of artsy pretention. And oh-so delicious.
Ivan Samayoa, general manger and trained sommelier- an expert on wine, who specializes in all aspects of wine service as well as wine and food pairing- was also on hand, waiting on customers and getting ready for the rush. He personally greeted customers, extending his hand to many. Beckie Kane, Big Grove's marketing and private events coordinator, likewise, prepared for the early evening crowd.
"We have some great things coming here at Big Grove," she said.
Some of those features are the Sunday Brunch with special baked goods and entrees. An upcoming Valentine's Day special dining experience with a celebratory menu coupled with wine specials and wine parings, plus live music to guarantee a special night-out is in the works for February. Also, there are fine private dining options for small groups as small as five people to groups as large as 150 in their private dining areas that offer Wi-Fi and A/V rental, as well.
As part of their commitment to community, Big Grove Tavern's Give Back campaign has supported the local area with monetary gifts from fund-raising.
"I have calculated our donations since we began the project in October 2014 and we have donated over $8,700 to the local community" Kane said.
Nilges said for him cooking is a lifetime thing. Working at Big Grove Tavern is perfect for him in that way.
"We love the farmers. I also really enjoy the great degree of creative freedom we have here," he said. "Big Grove is about family."
To learn more about Big Grove Tavern, call them at 217-239-3505 or visit their site at biggrovetavern.com. Or stop in and have a bite to eat!
Back to top
Part of The News-Gazette, Inc. community of websites:
News-Gazette | IlliniHQ | WDWS | WHMS |