HOME/COVER STORY
---
ACHIEVEMENTS
---
BUSINESS NOW
---
EDITOR'S NOTE
---
FINE PRINT
---
GET TO KNOW THE CEO
---
GREEN TIPS
---
INNOVATION > THE OUTER LIMITS
---
TAX REGULATIONS
---
SUBSCRIBE NOW!
---
CONTACT US
---
ARCHIVE
---
CALENDAR
Editor 's note: submit events, meetings, workshops and conferences at least one month in advance to cibm@news-gazette.com for inclusion in Mark Your Calendar.
< Apr
May
Jun >
May 9
EaRN Leads/Speed Networking Program 7:30 to 8:30 a.m.
Champaign County Chamber of Commerce, 303 W. Kirby Ave., Champaign The Exchange and Referral Network is the Champaign County Chamber of Commerce's version of a combination Leads/Speed Networking program. Registration opens at 3 p.m. May 2 for this session. Only one person per industry may participate per week. Registration is first-come, first-served. If your industry category is already filled when you register, your name will be kept on the waiting list. If the first registration is unable to attend the following week's session, the person next on the waiting list according to the time stamp will be contacted. If you are unable to attend the session, notify the chamber as soon as possible so that it may fill the seat. Failure to do so may prevent you from participating in future sessions.
May 15
May 15, 23 Coaching: Developing Others 8 a.m. to noon, May 15 and 23; 1 to 5 p.m. May 23
Parkland College Business Training, 1315 N. Mattis Ave., Champaign Individual contributors face regular challenges in performing their work, and a supervisor's job is to help them work through these challenges. Learn how to recognize the challenges faced in developing others; demonstrate a variety of listening and asking techniques to help others feel confident making decisions; and conduct focused development conversations that result in professional development and growth. Fee: $135. Registration deadline: May 8 for May 15 session; May 16 for May 23 sessions.
May 21
May 21, 23 Communications Skills for Managers 1 to 5 p.m.
Parkland College Business Training, 1315 N. Mattis Ave., Champaign Increase your reading, writing, speaking and listening proficiency with real-life scenarios and interactive exercises from Cindy Guthrie. Learn proven practical concepts and techniques that will help you communicate more effectively with others, deliver your messages clearly, ask questions and make successful presentations. Fee: $265. Registration deadline: May 14.
GREEN TIPS April 2013
---
Cool winter savings on natural gas
---
How can you get some cool savings in the wintertime? Read on for big money-saving tips from the Illinois Green Business Association that can help you cut costs on your natural gas bills in the winter -- and throughout the year.
Water heater: Make sure the heating tank and first 6 feet of hot and cold water pipes are insulated -- just make sure to follow the manufacturer's recommendations for insulation. According to the Department of Energy, if your water heater is more than 7 years old, you may also want to consider saving up for a new and more efficient model with an Energy Star(r) rating. For smaller water-heating needs, look into an on-demand water heater that heats water instantly and saves on heating costs.
Faucets: Efficient aerators can save up to 75 percent on the average amount of water used in faucets -- and can have a flow rate as low as a half a gallon of water per minute. Aerators are also super cheap (a few dollars) and are an easy investment to save on heating excess water. If your business has a pre-rinse spray nozzle for dishes, there are low-flow versions that can save on heating and water use. Check www.
ActOnEnergy.com for incentives.
HVAC system: Your building's HVAC system is where the greatest savings are. Make sure to do an HVAC tuneup (cleaning coils, replace the filter) regularly to make sure systems are running at optimal efficiency. Minneci's Ristorante & Catering in Champaign purchased a high-efficiency HVAC system, and for $500 more in upfront costs, they will save over $2,000 in energy costs over its lifetime. Owner Rob Meister also makes sure to check up on the system every six months, before the heating and cooling seasons.
For more energy-saving information and home tips, visit www.energy.gov/energysaver.
The Illinois Green Business Association is a nonprofit organization in Champaign that offers a green business certification program. You can contact the IGBA via their website at www.illinoisGBA.org or call them at 217-531-2179.
Back to top
Part of The News-Gazette, Inc. community of websites:
News-Gazette | IlliniHQ | Business Directory | WDWS | WHMS | idomagazine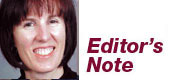 The new year will bring some changes to Central Illinois Business magazine.
The magazine will now be printed bimonthly. You won't see an issue in January; the next issue will cover February and March.
In 2013, we'll launch an improved Central Illinois Business website, at www.centralillinoisbusiness.com, that will allow us to provide more timely updates of many of the economic indicators we publish in the magazine, as well as other current business news and event information that you won't see in the printed publication.
We are working on stories on a variety of business issues we think you'll want to read about. And if you have an idea of a story or issue you'd like to read about in Central Illinois Business -- either in the printed magazine or online -- please let me know.
The magazine will again be printed on glossy paper, as the Forty Under 40 issue was in November.
We hope you continue to enjoy the printed magazine, and that you also look at the improved website once it's launched for more news about the local business community.