GREEN TIPS December 2014
---
Have a green holiday season!
---
Happy holidays! As you're thinking about what gifts to purchase and what to do with your loved ones this holiday season, we hope that you also consider being sustainable. Whether you're a business owner or homeowner, these tips can help you have a very green holiday season.
1) Use LED holiday lights to reduce your power use and recycle old light strands. Check your community to see where drop-off centers are located for old holiday lights.
2) Use old maps, newspapers and magazines to wrap presents. Make sure to recycle the paper once it's unwrapped.
3) Source your products and gifts locally. The more money you spend locally, the more money there will be that stays locally to continue to support and grow our Central Illinois community.
4) Look for products to stock and gifts for your loved ones that have low VOCs (volatile organic chemicals), are energy- or water-efficient, or use recycled content material. By doing this, you will be supporting the reduction of pollution and energy use, as well as the reuse of waste.
5) Host a reused materials craft party. Grab some wine (or cider), grab some friends and create great holiday gifts from repurposing or reusing materials.
6) If you need to use salt on your sidewalks or driveways, use it efficiently. Excess salt runs off into waterways, causing long-term negative environmental effects.
We wish you a very happy holiday season. Don't forget to make a green pledge in the new year!
The Illinois Green Business Association is a nonprofit organization in Champaign that offers certification and green business services. You can contact the IGBA via their website at www.illinoisGBA.org or call them at 217-531-2179.
Back to top
Part of The News-Gazette, Inc. community of websites:
News-Gazette | IlliniHQ | WDWS | WHMS |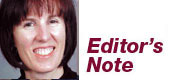 Changes at CIB!
This is my last issue as editor of Central Illinois Business magazine. After a long time at The News-Gazette, I'm moving on to another job. I've had a lot of fun writing about business issues and successful businessmen and women in the area during the more than three years I've edited CIB. I've especially enjoyed getting to know the Forty Under 40 award winners each year.
I'm proud of some of the changes we've made to the magazine as well. We've been featuring a Green Tip from the Illinois Green Business Association for a couple of years now. I'm hoping businesses found some useful information in those columns to help them reduce energy use, save money and help the environment.
This year we added Made in Champaign County, in collaboration with the Champaign County Economic Development Corp., to highlight some of our area industries and their products and manufacturing expertise. I hope you continue to enjoy CIB and its stories on the local business community. Thank you for reading.
Jodi Heckel is editor of Central Illinois Business magazine.