HOME/COVER STORY
---
ACHIEVEMENTS
---
AG BUSINESS
---
BUSINESS NOW
---
ECONOMICS
---
EDITOR'S NOTE
---
FINE PRINT
---
GET TO KNOW THE CEO
---
GOOD BUSINESS
---
GREEN TIPS
---
INNOVATION > THE OUTER LIMITS
---
MADE IN CHAMPAIGN COUNTY
---
MARKETING
---
OIL/GAS INDUSTRY
---
ORGANIZATIONAL KNOWLEDGE
---
FORTY UNDER 40 NOMINATIONS
---
SUBSCRIBE NOW!
---
CONTACT US
---
ARCHIVE
---
CALENDAR
Editor 's note: submit events, meetings, workshops and conferences at least one month in advance to cibm@news-gazette.com for inclusion in Mark Your Calendar.
< Jan
Feb
Mar >
February 1
Professional Pharmacy Technician
6:00 PM TO 9:45 PM Parkland College Business Training 1315 N. Mattis Ave. Champaign, IL 61821 Phone:217-351-2235 Learn the fundamentals and particulars of becoming a pharmacy technician. Discover various drug classes, basic physiology, drug interactions and daily pharmacy operations with Mark David. Train to effectively assist in pharmaceutical preparations and complete daily required tasks in any pharmacy environment. Training is geared towards those interested in becoming pharmacy technicians, pre-pharmacy students, pharmacy technicians who have not yet passed the national certification exam, or those with a healthcare background looking to strengthen their current skills. Practice and understand math concepts and calculations needed to become a certified pharmacy technician. You will participate in a 60 hour hands-on externship in a pharmacy setting. MK Education will find pharmacy placement proper paperwork has been submitted. Prerequisites: High School Diploma or equivalent, high school math and reading comprehension, and the ability to read and write the English language. Individuals with prior drug convictions or other felonies may be prohibited from obtaining certification, employment, and/or license. For licensing questions, please contact the Illinois State Board of Pharmacy at 217-557-8786. Students will receive their textbook as an e-book for assigned readings as well as a hard copy workbook. Internet accessibility is essential to successful completion of the program. Strongly recommend access to a laptop, desktop, or tablet for reading material. - See more at:
http://champaigncounty.org/events/eventdetail.aspx?EventID=1210#sthash.tgakFhSK.dpuf
NOT SO FAST October 2013
---
Exporting Strength
---
It's becoming clear what separates winners from losers in emerging-market stocks.
On the winning side are exporting countries; on the losing, net importers. Although investors generally lump emerging-market stocks together as a high-risk investment with potentially higher rewards, the two groups have emerged since late June. That's when countries that export more than they import began to climb, while net importers continued to struggle. Both fell earlier this summer on worries about slowing economic growth and a pullback in stimulus by the Federal Reserve.
Stocks from export-heavy South Korea, for example, are down 1 percent this year in U.S. dollar terms, after being down 19 percent in late June. The country's big exporters like Samsung and Hyundai are benefiting from stronger demand from U.S. customers and from a recovering Europe. China, Russia and other big exporters have likewise seen their markets rise.
But net importers like India and Indonesia continue to struggle because their industries don't generate as much revenue from developed economies. They're also feeling more pain due to expectations that the Fed will slow its bond-buying stimulus program, says S&P Capital IQ strategist Alec Young, which is causing U.S. interest rates to rise. Higher U.S. rates would mean less foreign investment flowing in, which India and others have used to cover their trade gaps.
Back to top
Part of The News-Gazette, Inc. community of websites:
News-Gazette | IlliniHQ | WDWS | WHMS |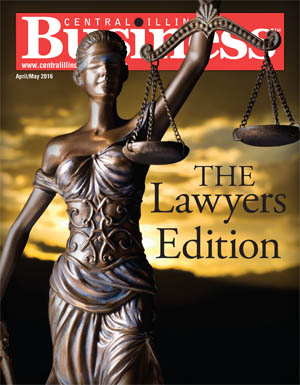 Central Illinois Business magazine and The News-Gazette, Inc. are proud to announce .The Lawyers Edition. for the next issue of CIB that will premiere in April/May 2016.
The issue will be a collaboration of the News-Gazette staff, area attorneys, and attorney.s organizations, featuring subject matter that is pertinent to the legal community in and around the Champaign County area. Feature articles will be focused on The Pillars of the Bar, both current and past, the current recipient of the James L. Capel Jr. pro bono attorney of distinction, other issues pertinent to the legal community and practice, and much, much more!
This important issue will not only be an informative piece for the general community at-large, but also will be a go-to resource for those in the legal field. Don.t miss this important issue. Call 217-351-5252 to inquire about advertising or to secure your copy of Central Illinois Business Magazine - The Lawyers Edition.