HOME/COVER STORY
---
ACHIEVEMENTS
---
BUSINESS NOW
---
ECONOMICS
---
EDITOR'S NOTE
---
FINE PRINT
---
GET TO KNOW THE CEO
---
GREEN TIPS
---
INNOVATION > THE OUTER LIMITS
---
PREVAILING WAGE
---
SPONSORED GUEST COLUMNIST
---
SUBSCRIBE NOW!
---
CONTACT US
---
ARCHIVE
---
CALENDAR
Editor 's note: submit events, meetings, workshops and conferences at least one month in advance to cibm@news-gazette.com for inclusion in Mark Your Calendar.
< Feb
Mar
Apr >
March 5
March 5, 13 Communication Excellence: Managing Performance with DiSC 8 a.m. to noon on March 5; 1 to 5 p.m. on March 13
Parkland College Business Training, 1315 N. Mattis Ave., Champaign Communication Excellence provides actionable insights into conflict resolution, team building, leadership and coaching. Paid registrants will be issued an access code to complete an online assessment. The assessment must be completed by Feb 19. Fee: $185. Registration deadline: Feb. 19 for March 5 session; Feb. 27 for March 13 session.
March 9
March 19, April 3 Get Control of Email and Get Organized 8 a.m. to noon on March 19; 1 to 5 p.m. on April 3
Parkland College Business Training, 1315 N. Mattis Ave., Champaign Discover how to increase productivity by eliminating unnecessary email; create effective messages; discover time-saving tips; improve email etiquette; reduce legal liability; and create an ordered, stress-free folder structure. Materials include workbooks, desktop reference tools, calculator, and a copy of the best-selling "The Hamster Revolution: How to Manage Email Before it Manages You." Fee: $185. Registration deadline: March 12 for March 19 session; March 28 for April 3 session.
March 27
ECI SCORE: Financing a Small Business 3 to 5:30 p.m.
Champaign County Chamber of Commerce, 303 W. Kirby Ave., Champaign An overview of startup financing for a business. Content: business requirements, preparation needed and sources of capital. Workbook provided. Cost: $25. To register, go to eci-score.org or call 217-359-1791. Email questions to
info@eci-score.org
.
BUSINESS NOW February 2014
---
New area businesses
---
Golf Tech Studio
Willow Pond Golf Club, Rantoul
Patrick Leary is planning to close his Golf Etc. shop at 907 W. Marketview Drive, Champaign, and open Golf Tech Studio at Willow Pond Golf Club in Rantoul in mid-March.
Golf Tech will offer FlightScope Doppler-radar swing analysis, a service that Leary provided at Golf Etc. But at Willow Pond, Leary will be able to offer both indoor and outdoor swing analysis.
Kevin Applebee bought the Willow Pond golf course last year and is remodeling the pro shop. Applebee said the snack bar is being converted to Applebee's 19th Hole, a sports bar that's expected to offer big-screen TVs and video gaming. He hopes to open that between Feb. 15 and March 1.
He is also remodeling the golf course's former pool building to accommodate Golf Tech.
Golf Tech builds, sells and repairs golf clubs and modifies them for players.
"Kevin will handle soft goods, shirts, bags and balls at the pro shop, and we'll do the clubs, the fittings and repairs (at Golf Tech)," Leary said.
El Toro Mexican Restaurant
703 Eastwood Center Drive, Mahomet
El Toro Mexican Restaurant plans to open its newest location -- in Mahomet -- probably in mid-February.
The restaurant plans to take space at the east end of Eastwood Plaza, in the spots formerly occupied by The Coffee Shop and Azteca Mexican restaurant.
Victor Fuentes is co-owner of the El Toro restaurants in Champaign, Urbana, St. Joseph, Danville, Rantoul, Monticello, Arcola, Bloomington, Cincinnati and Walton, Ky.
He said he looked at Mahomet before, but either the timing or the location wasn't right.
Hours for the new restaurant are expected to be 11 a.m. to 9 p.m. Sunday through Thursday and 11 a.m. to 11 p.m. Fridays and Saturdays. The restaurant will have a full bar, he said.
Once El Toro opens, the plaza will be filled, with Diamond Nails, The Wok, Sweet Designs bakery and Subway occupying the spaces to the west, shopping center owner Mark Kesler said.
Conflicted over content
By Allen Howie, Idealogy Marketing + Design
Creating website content is tricky. On one hand, more relevant content helps the search engines find your site -- which helps potential customers find it. On the other hand, people often tend to scan websites rather than read them word for word. This means you have to balance your SEO needs with copy that's written the way people read now. Consider small paragraphs, short sentences, subheads to break up copy and so on -- while still including those keywords and phrases that are likely search terms.
TMI?
By Allen Howie, Idealogy Marketing + Design
A trend in website design is to cram everything you can onto every page. It's a bad trend. Even if a lot of companies are doing it (mostly to attract those search engines we mentioned earlier), it seldom makes sense. A site can quickly become cluttered and push visitors away. Organize your site the way a visitor would. What do they most want to know about? Have the information that matters in a very obvious place. Make it easy for visitors to dig deeper if they choose. Minimize the number of clicks it takes to reach important content. And write in a way that appeals to both the audience and the search engines (see above).
Back to top
Part of The News-Gazette, Inc. community of websites:
News-Gazette | IlliniHQ | Business Directory | WDWS | WHMS | idomagazine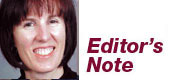 Homemade
The rainforest exhibit at Miller Park Zoo in Bloomington. The pole vault pit at Illini track meets. The crowns your dentist uses.
These are all products of Champaign County businesses. In this issue, we profile just a few businesses from our county that are creating products for customers here and around the country.
No doubt many of them have touched your lives in some way. They may have supplied the suspension assembly for your car (Eagle Wings Industries, Rantoul); the cap and gown your child wore at graduation (Herff Jones, Champaign); the plastic cups you drink from at a tailgate (Solo Cup Co., Urbana ); or the bike helmet (Easton-Bell Sports, Rantoul) or radio-controlled plane (Hobbico and Horizon Hobby, both in Champaign) you use when relaxing on the weekend.
Your morning cup of joe may have been roasted locally (Columbia Street Roastery, Champaign); and your Friday night beer brewed just down the street (Triptych Brewery, Savoy).
I enjoyed learning more about local businesses I was already aware of, and hearing about those that weren't familiar to me. I hope you do too.
Jodi Heckel is editor of Central Illinois Business magazine. She can be reached at 217-351-5695 or jheckel@news-gazette.com.