HOME/COVER STORY
---
ACHIEVEMENTS
---
AG BUSINESS
---
Best of Towns Best Business Services
---
Best of Towns Best Coffee Shop
---
Best of Towns Best Hair Stylist and Spa
---
Best of Towns Best Health Club
---
Best of Towns Financial Company
---
Best of Towns Restaurant
---
BUSINESS NOW
---
ECONOMICS
---
EDITOR'S NOTE
---
Entrepreneur Tips
---
FINE PRINT
---
GET TO KNOW THE CEO
---
GOOD BUSINESS
---
GREEN TIPS
---
INNOVATION > THE OUTER LIMITS
---
LEGAL PILLARS
---
MADE IN CHAMPAIGN COUNTY
---
MARKETING
---
OIL/GAS INDUSTRY
---
ORGANIZATIONAL KNOWLEDGE
---
FORTY UNDER 40 NOMINATIONS
---
SUBSCRIBE NOW!
---
CONTACT US
---
ARCHIVE
---
CALENDAR
Editor 's note: submit events, meetings, workshops and conferences at least one month in advance to cibm@news-gazette.com for inclusion in Mark Your Calendar.
< Jun
Jul
Aug >
July 18
Connect@Lunch
12 to 1 p.m. Biaggi's Ristorante Italiano 2235 S. Neil St. Champaign Connect, share, and learn while enjoying a great meal. This program is for people who want to just meet other members of the business community; find sales leads or explore possible solutions to a business problem utilizing other members' experience and expertise. Contact Karly Combest to sign up at:
KarlyC@champaigncounty.org
or 217.359.1791. Fee: $17 Registration deadline is June 17 at 12 p.m.
July 26
UBA Business & Breakfast
7:30 to 9 a.m. Check website for location: urbana-business.squarespace.com Networking events are proven to be one of the least expensive marketing tools in the business world. Therefore, in order provide effective growth opportunities to our business community, UBA is proud to host a variety of networking events throughout the year. Our B&B, Business & Breakfast, morning networking event allows our early birds to get that worm. This is a great opportunity for the early risers to start their day off right. So, whether you are a member of the UBA or just looking for a great opportunity to network with fellow business professionals, put our Business and Breakfast B&B networking event on your calendar. Email Paris Blalock at:
paris@urbanabusiness.com
for more information.
July 27
Coffee with the Black Chamber
8 to 9 a.m. Place to be announced Meet and network with members of the Champaign County Black Chamber of Commerce. For more information, send an email to:
contact@theccbcc.org
.
BUSINESS NOW July 2016
---
Horn goes above and beyond
---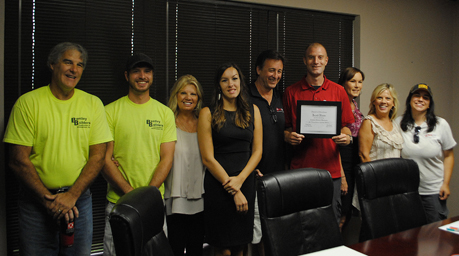 Jared Horn, seen here in the red shirt, is our current Central Illinois Business Customer Service Excellence award winner. It really wasn't a difficult decision, either.
When the News-Gazette building on 15 Main St., Champaign flooded about a month ago from an onslaught of six inches of rain in under an hour, supervisor of maintenance, Chris Ard called Puroclean of Champaign to come out and assess the damage. The entire garden room, located in the lower level, was destroyed. Ard had this to say about Horn and the Puroclean team: "They came right in and helped get our building back in tip-top shape. Horn was a true leader."
Ard said Horn was one of the most capable and competent professionals he's ever worked with, and that his code of ethics is outstanding.
"You just don't find people like that every day," he said.
His boss, Jeff Bentley, said he has an outstanding work ethic.
"Jared is very conscientious about his work and always puts the customer first," he said.
When CIB arrived at Puroclean to surprise Horn with the award, the entire staff was waiting- with donuts- to celebrate and congratulate their team member. Horn was like most deserving people; he was honored, but understated.
Congratulations to Jared Horn of Puroclean!
Back to top
Part of The News-Gazette, Inc. community of websites:
News-Gazette | IlliniHQ | WDWS | WHMS |