HOME/COVER STORY
---
ACHIEVEMENTS
---
AG BUSINESS
---
BEST BUSINESS
---
Best of Towns Best Business Services
---
Best of Towns Best Coffee Shop
---
Best of Towns Best Hair Stylist and Spa
---
Best of Towns Best Health Club
---
Best of Towns Financial Company
---
Best of Towns Restaurant
---
BUSINESS NOW
---
ECONOMICS
---
EDITOR'S NOTE
---
Entrepreneur Tips
---
FINE PRINT
---
GET TO KNOW THE CEO
---
GOOD BUSINESS
---
GREEN TIPS
---
INNOVATION > THE OUTER LIMITS
---
LEGAL PILLARS
---
MADE IN CHAMPAIGN COUNTY
---
MARKETING
---
OIL/GAS INDUSTRY
---
ORGANIZATIONAL KNOWLEDGE
---
FORTY UNDER 40 NOMINATIONS
---
SUBSCRIBE NOW!
---
CONTACT US
---
ARCHIVE
---
CALENDAR
Editor 's note: submit events, meetings, workshops and conferences at least one month in advance to cibm@news-gazette.com for inclusion in Mark Your Calendar.
< Jan
Feb
Mar >
February 2
Home Buyer's Seminar
Home Buyer's Seminar 6 to 8:30 p.m., 6 to 8:30 p.m., 9 a.m. to 2 p.m. Parkland College Business Training, 1315 N. Mattis Ave., Champaign Learn about budgeting, pre-qualification, inspection, closing, and other important steps in the home buying process. Discover helpful home maintenance tips and what to do if financial difficulties occur after the purchase. Offered each month throughout the year. Qualified mortgage loan officers from local banks and lending institutions teach all seminars. - See more at:
http://champaigncounty.org
or call 217-351-2235.
February 7
Style for Success
Style for Success 4 to 5 p.m. Parkland College Business Training, 1315 N. Mattis Ave., Champaign Master your first impression by unlocking the style secrets to dressing for success with Cynthia Bruno. Discover how you can use your own personal style to make a more powerful visual presentation, learn the styles and cuts that best flatter your assets, and find out how to discover your personal color profile. Call 217-351-2235 for more information.
February 16
Athena Award Luncheon
Athena Award Luncheon 12 to 1:30 p.m. Champaign Country Club 1211 S. Prospect Ave. Champaign Join Champaign County Chamber of Commerce members and representatives from local businesses as we honor the 2017 ATHENA Award(r) recipient. The recipient of the ATHENA Award(r) demonstrates excellence, creativity and initiative in his or her business or profession; provides valuable service by devoting time and energy to improve the quality of life for others in the community; and assists women in reaching their full leadership potential. The cost to attend is $33 for members and $41 for non-members. To register, please contact Caryn Isenhower at
caryni@champaigncounty.org
. Registration and cancellation deadline is Monday, February 13, 2017.
February 24
LinkedIn for Today's Professional
LinkedIn for Today's Professional 12 to 1:30 p.m. Parkland College Business Training, 1315 N. Mattis Ave., Champaign Everyone knows that they should be engaging on LinkedIn, but how is it done? Christine Schmucker will cover the basics of the LinkedIn profile, expanding your network, and interacting. Discover how to connect with individuals, follow companies, and use tools to interact with your network. Prerequisite: LinkedIn account and login information.
BUSINESS NOW February 2017
---
Raise the roof
---
Greg Allen Construction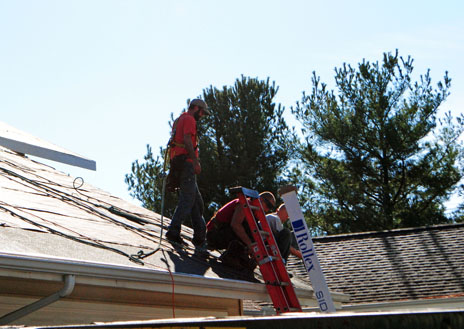 Greg Allen's workspace for him and his crew is usually on top of somebody's house, outbuilding, garage or any other structure that has a roof that needs repairing. Greg Allen Construction and Roofing has been around for 21 years and started out in DeLand where Allen grew-up.
Allen is an outdoorsy type. So his vocation fits since his company is outside most of the year.
"I grew-up outside. My first jobs were always outside; detasseling corn, walking beans and baling hay as a kid," he said.
When he was just starting out as a young man, he mentioned to a local roofer that he wouldn't mind helping him. Allen was pleasantly surprised when the roofer asked him to join his crew a few weeks later.
"On the very first day, his right-hand man didn't show. So I took over for that guy. I then became his right-hand man and worked for him for a couple of years. I have been a roofer ever since," he said.
He then took the courageous leap of starting his own business, which isn't hard to believe because this former mayor of DeLand and softball coach for his daughters'- Rae Anne and Charley- teams is a go-getter.
"He also does a great job. He was very reasonable. I have people stop all the time and tell me how nice my home looks after my new roof was put on," Sharon Buchanan of Mansfield said.
She is not alone. Allen and his crew of four take customer service very seriously.
"We want to please our customers," he said.
In the peak months he has to expand his crew to keep on top of all the jobs.
"I will pick up two, three or four to help out in the summer. I like to hire local teens just starting out to get them trained on how it is to really work," he said.
To contact Allen call 217-202-3942 or email him at gregallenroofing@gmail.com.
Back to top
Part of The News-Gazette, Inc. community of websites:
News-Gazette | IlliniHQ | WDWS | WHMS |