HOME/COVER STORY
---
ACHIEVEMENTS
---
BUSINESS NOW
---
EDITOR'S NOTE
---
FINE PRINT
---
FORTY UNDER 40
---
GREEN TIPS
---
SUBSCRIBE NOW!
---
CONTACT US
---
ARCHIVE
---
CALENDAR
Editor 's note: submit events, meetings, workshops and conferences at least one month in advance to cibm@news-gazette.com for inclusion in Mark Your Calendar.
< Nov
Dec
Jan >
December 6
First Friday Coffee 7:30 to 9 a.m.
First Mid-Illinois Bank & Trust, Shoppes of Knollwood, 2229 S. Neil St., Champaign Enjoy complimentary coffee, conversation and a light breakfast as you network on the first Friday of each month. For more information on First Fridays, or to find out where these events are being held, visit
www.champaigncounty.org
or call 217-359-1791.
December 12
Fearless Facilitation -- How to Lead Effective Meetings Dec. 4, 8 a.m. to noon; Dec. 12, 8 a.m. to noon or 1 to 5 p.m.
Parkland College Business Training, 1315 N. Mattis Ave., Champaign Research shows that 62 percent of all meetings lack a clearly stated objective and agenda, and almost half of all professionals rate the quality of meetings at their organization as fair to poor. Learn how to bring a laser-like focus to every agenda, handle disruptions with ease and condense a week's worth of meetings into a single session with Steven Welland. Fearless Facilitators expertly foster participation and make any group session more productive. Achieve desired results and manage relationships and process at the same time. Participants will learn how to lead effective meetings, demonstrate fundamental facilitation skills, make optimal use of people's time and talents, strike the right balance between purpose, process and participation, and exhibit the confidence and competence of a fearless facilitator. Fee: $135. Registration deadline: Nov. 27 for Dec. 4 session; Dec. 5 for Dec. 12 sessions.
December 12
Business After Hours 5 to 7 p.m.
Well Fargo Home Mortgage, 2107 S. Neil St., Champaign Join fellow chamber members and their guests in this networking opportunity hosted this month by Wells Fargo Home Mortgage. Proceeds from the $5 per person donation at the door will help fund chamber programs. The donation for nonmembers and guests is $8.
December 16
Connect@Lunch Noon to 1 p.m.
Longhorn Steakhouse, 2101 N. Prospect Ave., Champaign This program is for people who want to meet other members of the business community, find sales leads or explore possible solutions to a business problem utilizing other members' experience and expertise. For $17, you will have your choice of several meal options from their Lunch Combos menu along with soft drinks. Plus every attendee will receive a free pass for an upcoming Business After Hours. To sign up, contact Chris Sheppard at
ChristopherS@champaigncounty.org
or 217-359-1791.
INNOVATION > THE OUTER LIMITS August 2013
---
Electroninks
---
Silver inks firm will cater to printed electronics, biomedical industries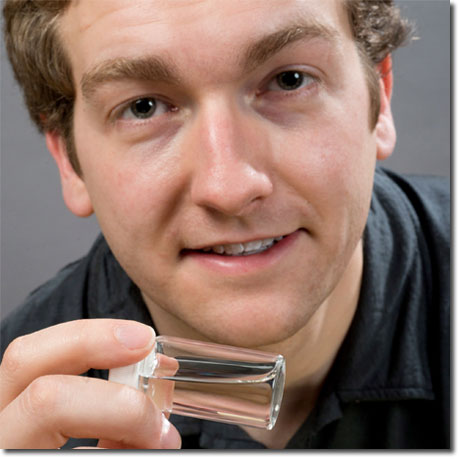 Brett Walker seemingly can't stop creating stuff.
The 27-year-old doctoral student at the University of Illinois started a gun-parts business in high school.
He turned his attention to fuels in college, converting waste grease into biodiesel and "slop oil" into pipeline-grade oil.
Now, completing his doctoral degree in materials science and engineering, he's launching a business around reactive silver inks -- used in printed electronics.
"I'm a tinkerer," Walker said. "I can't sit still. I like creating new things and exploring problems I want to explore."
Last year, his work to develop a cheaper, easier-to-make ink than those already on the market earned him runner-up honors in the National Collegiate Inventors Competition -- and a $12,500 award.
Walker started his newest company -- Electroninks Inc. -- on Jan. 2. The name sounds a lot like "electronics," and that's no accident, since the ink is used in printed electronics.
His co-founder in the venture, Jennifer Lewis, is a former UI materials science professor who recently joined Harvard University's School of Engineering and Applied Sciences.
The reactive silver ink is superior in several respects to colloidal inks conventionally used for printed electronics, Walker said.
Those particle-based inks are "relatively expensive and difficult to make," he said. Plus, they require high annealing temperatures that can distort plastic printing surfaces, he added.
Walker said the reactive silver ink is "simple to make," and small batches of it cost about $2.50 per gram, compared with prices of $10 to $15 a gram for small quantities of colloidal inks.
Walker said he has already approached several large customers in the biomedical and electronic circuitry fields about using the ink.
The biggest market for the ink, he said, is thought to be the printed electronics market, which uses about $1.5 billion in materials a year.
But the biomedical industry can also use the ink in producing electrodes for pacemakers and diagnostic glucose sensors.
Plus, the ink can be used in printing bar code labels and producing high-end decorative signs.
The UI's Office of Technology Management has international and U.S. patents pending on the invention, Walker said.
Lewis, the co-founder of Electroninks, said she knows of only one other supplier of particle-free silver inks, and that's South Korea's InkTek.
She credited Walker as the lead in developing the ink.
"Much of these advances come out of his ingenuity and hard work," she said, adding that Walker is working with 10 to 20 companies in developing inks for their applications.
Back to top
Part of The News-Gazette, Inc. community of websites:
News-Gazette | IlliniHQ | Business Directory | WDWS | WHMS | idomagazine