HOME/COVER STORY
---
ACHIEVEMENTS
---
AG BUSINESS
---
BUSINESS NOW
---
ECONOMICS
---
EDITOR'S NOTE
---
FINE PRINT
---
FORTY UNDER 40
---
GET TO KNOW THE CEO
---
GREEN TIPS
---
INNOVATION > THE OUTER LIMITS
---
SUBSCRIBE NOW!
---
CONTACT US
---
ARCHIVE
---
CALENDAR
Editor 's note: submit events, meetings, workshops and conferences at least one month in advance to cibm@news-gazette.com for inclusion in Mark Your Calendar.
< Oct
Nov
Dec >
November 4
Delegating for Business Success 1 to 5 p.m. Nov. 4, 6
Parkland College Business Training, 1315 N. Mattis Ave., Champaign Cindy Guthrie will help you learn how to give employees the authority and responsibility they need to get the job done; avoid common mistakes, including reverse delegation; identify which types of tasks and responsibilities should be delegated; monitor the delegation process, evaluate progress, identify problems and reward success; and improve goal-setting, prioritizing, planning, communication and feedback skills. Fee: $299 (book is additional). Registration deadline: Oct. 28.
November 4
Business Success & Solutions Seminar -- Social Prospecting with LinkedIn Part 1, Nov. 4, 8:30 to 10 a.m.; Part 2, Nov. 18, 8:30 to 10 a.m.
Champaign County Chamber of Commerce, 303 W. Kirby Ave., Champaign Learn how you can make the most of your time on LinkedIn, how to find people who will become customers or centers of influence, how to stand out from your competitors and how to make yourself more visible. Workbooks provided. To register, contact Caryn Isenhower at
caryni@champaigncounty.org
or call 217-359-1791. Fee: $127 for chamber members, $147 for nonmembers. Registration deadline: Nov. 1.
November 7
The Art and Science of Decision Making 8 a.m. to noon
Parkland College Business Training, 1315 N. Mattis Ave., Champaign Discover with David Rosch the basics of making good staffwide decisions, including how to accurately diagnose types of problems, how to consider the decision rights of others and how to utilize a contingency structure for maximizing lasting results of managerial decisions. Fee: $299. Registration deadline: Oct. 31.
November 8
ECI SCORE: Financing a Small Business 9 to 11:30 a.m.
Champaign County Chamber of Commerce, 303 W. Kirby Ave., Champaign An overview of startup financing for a business. Content: business requirements, preparation needed and sources of capital. Workbook provided. Cost: $25. To register, go to eci-score.org or call at 217-359-1791. Email questions to
info@eci-score.org
.
November 12
Leading Change at Every Level Nov. 12, 8 a.m. to noon; Nov. 20, 1 to 5 p.m.
Parkland College Business Training, 1315 N. Mattis Ave., Champaign Discover five dimensions of leadership that help garner support for any change effort: modeling the change; communicating the change; involving others in the change; helping others break from the past; and creating a supportive environment for change. Understand change behaviors and improve the ability to lead change and generate support for change. Fee: $135. Registration deadline: Nov. 5 for Nov. 12 session; Nov. 13 for Nov. 20 session.
November 20
The Extraordinary Leader: Going from Good to Great 8 a.m. to noon
Explore five key insights about leadership; 16 competencies of high-performing leaders; combinations of strengths for powerful leadership; ways to demonstrate leadership effectiveness in the workplace; and more. Fee: $135. Registration deadline: Nov. 13.
INNOVATION > THE OUTER LIMITS August 2014
---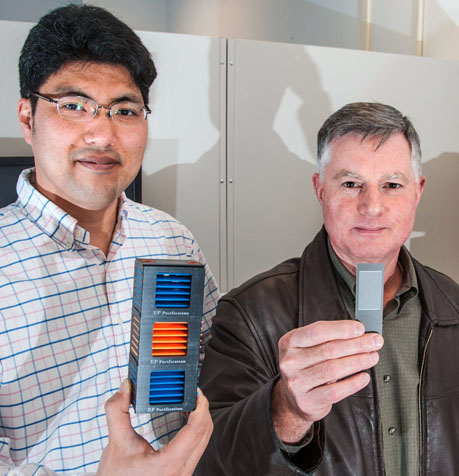 EP Purification
---
Using microplasma technology to generate ozone
Two University of Illinois faculty members have developed a better ozone generator, and they hope to use the ozone for cleaning laundry, purifying water and preserving food.
J. Gary Eden and Sung-Jin Park -- a professor and adjunct associate professor, respectively, in the UI's Department of Electrical and Computer Engineering -- have formed EP Purification to commercialize the technology.
The company won the $100,000 Wells Fargo Early-Stage Prize at the 2014 Clean Energy Trust competition this spring in Chicago. EP Purification won the $100,000 grand prize, which it will use to get its product ready for market.
The company's CEO, Cy Herring, said ozone is a better disinfectant for water than chlorine. Ozone -- an unstable gas formed by three oxygen atoms -- reacts more quickly and has fewer potentially harmful byproducts than chlorine, he said.
Through the years, chlorine has been more popular because it's cheap, he said.
But using microplasma technology, EP Purification has developed ozone generators that are smaller and more efficient than conventional ozone generators.
For one of the first applications of the technology, the company hopes to incorporate the device in laundry treatment systems.
It's working with a local company, TMCS Inc., to have the device installed in institutional laundries, such as those in health care facilities and hotels.
Max Redmond, owner and president of TMCS, said his company provides contract housekeeping and laundry services for health care facilities. For the last eight years, his firm has provided ozone generators for laundries. Redmond said he has been collaborating with EP Purification for two years.
"I'm very impressed with their background and knowledge of ozone," Redmond said, adding that EP has agreed to produce devices that TMCS will install.
Eden said if ozone technology is adopted on a wide scale, the potential cost savings to the U.S. would be "mind-boggling."
With ozone, water doesn't have to be heated to as high a temperature, laundry time can be shortened, labor and energy can be saved, and the amount of bleach and detergents can be reduced, he said.
Ozone can also be used to treat municipal water supplies and the water in swimming pools, Herring said. Water districts in several large metropolitan areas treat water with ozone, Eden said.
Other roles for ozone include water purification in countries such as Haiti and the Dominican Republic and extending the shelf life of foods, Eden said, citing tests that show treating fruit for 10 minutes a day can extend its shelf life by a week.
EP Purification hopes to expand sales to 500 units by the end of this year and eventually have a core production facility in Champaign-Urbana.
Back to top
Part of The News-Gazette, Inc. community of websites:
News-Gazette | IlliniHQ | WDWS | WHMS |