HOME/COVER STORY
---
ACHIEVEMENTS
---
AG BUSINESS
---
BUSINESS NOW
---
ECONOMICS
---
EDITOR'S NOTE
---
FINE PRINT
---
FORTY UNDER 40
---
GET TO KNOW THE CEO
---
GREEN TIPS
---
INNOVATION > THE OUTER LIMITS
---
MADE IN CHAMPAIGN COUNTY
---
OIL/GAS INDUSTRY
---
ORGANIZATIONAL KNOWLEDGE
---
SUBSCRIBE NOW!
---
CONTACT US
---
ARCHIVE
---
CALENDAR
Editor 's note: submit events, meetings, workshops and conferences at least one month in advance to cibm@news-gazette.com for inclusion in Mark Your Calendar.
< Feb
Mar
Apr >
March 12
Breakfast Series -- Candidate Breakfast
7:30 to 9 a.m. Hilton Garden Inn, 1501 S. Neil St., Champaign Candidates running for office in Champaign County talk about the issues and meet Champaign County businesses. Cost: $17 for chamber members; $29 for non-members. Registration deadline: March 11. To register, contact Caryn Isenhower at
caryni@champaigncounty.org
.
March 12
ECI SCORE: Starting a Small Business
3 to 5:30 p.m. Champaign County Chamber of Commerce, 303 W. Kirby Ave., Champaign Review the advantages, hazards and requirements of starting a small business. Cost: $25. To register, go to eci-score.org or call 217-359-1791. Email questions to
info@eci-score.org
.
March 19
Giving Recognition
8 a.m. to noon Parkland College Business Training, 1315 N. Mattis Ave., Champaign By recognizing and reinforcing positive behaviors, managers can encourage and reinvigorate individual contributors to repeat the behaviors that lead to positive results. Learn about the impact of recognition, barriers to giving recognition, key actions for giving recognition, tailoring recognition to the recipient, and planning and practicing recognition. Fee: $199. Registration deadline: March 12.
March 19
Get Control of Email and Get Organized
1 to 5 p.m. March 19, 8 a.m. to noon March 25 Parkland College Business Training, 1315 N. Mattis Ave., Champaign Discover how to get more done; increase productivity by eliminating unnecessary email; organize your inbox; create effective messages; discover time-saving tips; improve email etiquette; reduce legal liability; choose the best communication tool; organize information; find and locate information quickly; make better decisions with the right information; and create an ordered, stress-free folder structure. Materials include workbooks, desktop reference tools, calculator and a copy of the best-selling"The Hamster Revolution: How to Manage Email Before it Manages You," with foreword by Ken Blanchard. Fee: $199. Registration deadline: March 12 for March 19 class; March 18 for March 25 class.
March 26
ECI SCORE: Financing a Small Business
3 to 5:30 p.m. Champaign County Chamber of Commerce, 303 W. Kirby Ave., Champaign Content includes business requirements, preparation needed and sources of capital. Workbook provided. Cost: $25. To register, go to eci-score.org or call 217-359-1791. Email questions to
info@eci-score.org
.
INNOVATION > THE OUTER LIMITS February 2015
---
PHI OPTICS
---
Technology that could affect research into prostate and breast cancer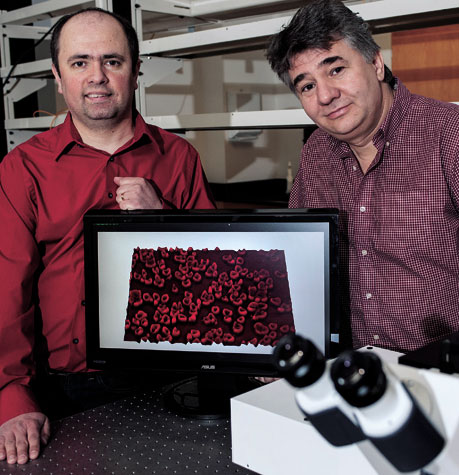 Biological researchers can get faster, more sensitive images of live cells and tissues thanks to a company building on technology developed at the University of Illinois.
Phi Optics launched a system that helps scientists using optical microscopes to get highly accurate images fast. The system, CellVista Q1000, is targeted at life sciences researchers in academia and the biopharmaceutical industry.
A big advantage for researchers is they can get images of cells without killing them in the process, said Gabriel Popescu, an associate professor of electrical and computer engineering at the UI and the company's CEO. Otherwise, researchers would have to use dyes or fluorescence to get the contrast needed for viewing cells.
But using the CellVista Q1000, researchers can watch cells continuously over long periods and get a better feel for how cancer cells multiply and grow.
Phi Optics delivered a system to ETH Zurich, a university in Switzerland.
Founded in 2009, Phi Optics opened an office in EnterpriseWorks, the UI's business incubator, in 2012.
Popescu was born in Romania and came to the United States in 1997 to do doctoral work at the Center for Research and Education in Optics and Lasers at the University of Central Florida.
He got his doctorate in 2002 and did postdoctoral work in spectroscopy at the Massachusetts Institute of Technology before joining the UI faculty in 2007.
Phi Optics' chief operating officer, Catalin Chiritescu, is also from Romania. He received a master's degree in mechanical engineering at the University of Rochester in 2000 and a doctoral degree in materials science from the UI in 2010.
Popescu said he decided to start the company after the UI's Office of Technology Management processed a dozen patents for his lab, and it became clear that a commercial version of the technology could help researchers make discoveries.
The technology used in the CellVista Q1000 system is "quantitative phase imaging," in which two different beams of light are used, and the phase difference between the beams is quantified.
Phi Optics got a $150,000 Small Business Innovation Research Phase 1 grant from the National Science Foundation to build a commercial prototype in 2013.
In June of that year, the company got $250,000 in seed funding from a group led by Champaign-based Serra Ventures, with participation by IllinoisVentures and Newport Holdings.
The CellVista Q1000 system was unveiled at the BiOS 2014 biomedical optics conference in San Francisco.
Popescu said the technology has applications not only in the life sciences, but also in clinical diagnosis and materials testing.
The technology can also be used to detect nanoscale defects in semiconductor wafers, he added.
Back to top
Part of The News-Gazette, Inc. community of websites:
News-Gazette | IlliniHQ | WDWS | WHMS |
Fresh edition of CIB
By John Foreman
No matter how long I live in East Central Illinois, I never cease to marvel at the innovative and diverse nature of its business community. Innovators seem to flourish in every corner.
Don Dodson, the Champaign-Urbana News-Gazette's longtime business editor, was among those friends to whom we turned to put out this issue of Central Illinois' favorite business magazine while we continue our search for a top-notch editor. Many people pitched in to make this edition possible, and I won't try to name them all for fear of missing someone. My job is simply to look at the finished product and introduce it to you.
I don't think you'll be disappointed.
Where, for example, would you go to find a piggy bank in the form of a portable toilet or a box for a life-size Star Trek action figure? The answer is in Ogden and ShapeMaster Inc.
And would you like to try a brew that won a Silver Medal in the 2014 World Beer Cup?
You needn't venture farther than Savoy. You'll find that story on page 8.
All that, plus more and lots of fresh stats, are inside.
Best wishes for a 2015 as robust as that microbrewed ale.
John Foreman is the former publisher of Central Illinois Business magazine.