HOME/COVER STORY
---
ACHIEVEMENTS
---
AG BUSINESS
---
BEST BUSINESS
---
Best of Towns Best Business Services
---
Best of Towns Best Coffee Shop
---
Best of Towns Best Hair Stylist and Spa
---
Best of Towns Best Health Club
---
Best of Towns Financial Company
---
Best of Towns Restaurant
---
BUSINESS NOW
---
ECONOMICS
---
EDITOR'S NOTE
---
Entrepreneur Tips
---
FINE PRINT
---
GET TO KNOW THE CEO
---
GOOD BUSINESS
---
GREEN TIPS
---
INNOVATION > THE OUTER LIMITS
---
LEGAL PILLARS
---
MADE IN CHAMPAIGN COUNTY
---
MARKETING
---
OIL/GAS INDUSTRY
---
ORGANIZATIONAL KNOWLEDGE
---
FORTY UNDER 40 NOMINATIONS
---
SUBSCRIBE NOW!
---
CONTACT US
---
ARCHIVE
---
CALENDAR
Editor 's note: submit events, meetings, workshops and conferences at least one month in advance to cibm@news-gazette.com for inclusion in Mark Your Calendar.
< Jan
Feb
Mar >
February 2
Home Buyer's Seminar
Home Buyer's Seminar 6 to 8:30 p.m., 6 to 8:30 p.m., 9 a.m. to 2 p.m. Parkland College Business Training, 1315 N. Mattis Ave., Champaign Learn about budgeting, pre-qualification, inspection, closing, and other important steps in the home buying process. Discover helpful home maintenance tips and what to do if financial difficulties occur after the purchase. Offered each month throughout the year. Qualified mortgage loan officers from local banks and lending institutions teach all seminars. - See more at:
http://champaigncounty.org
or call 217-351-2235.
February 7
Style for Success
Style for Success 4 to 5 p.m. Parkland College Business Training, 1315 N. Mattis Ave., Champaign Master your first impression by unlocking the style secrets to dressing for success with Cynthia Bruno. Discover how you can use your own personal style to make a more powerful visual presentation, learn the styles and cuts that best flatter your assets, and find out how to discover your personal color profile. Call 217-351-2235 for more information.
February 16
Athena Award Luncheon
Athena Award Luncheon 12 to 1:30 p.m. Champaign Country Club 1211 S. Prospect Ave. Champaign Join Champaign County Chamber of Commerce members and representatives from local businesses as we honor the 2017 ATHENA Award(r) recipient. The recipient of the ATHENA Award(r) demonstrates excellence, creativity and initiative in his or her business or profession; provides valuable service by devoting time and energy to improve the quality of life for others in the community; and assists women in reaching their full leadership potential. The cost to attend is $33 for members and $41 for non-members. To register, please contact Caryn Isenhower at
caryni@champaigncounty.org
. Registration and cancellation deadline is Monday, February 13, 2017.
February 24
LinkedIn for Today's Professional
LinkedIn for Today's Professional 12 to 1:30 p.m. Parkland College Business Training, 1315 N. Mattis Ave., Champaign Everyone knows that they should be engaging on LinkedIn, but how is it done? Christine Schmucker will cover the basics of the LinkedIn profile, expanding your network, and interacting. Discover how to connect with individuals, follow companies, and use tools to interact with your network. Prerequisite: LinkedIn account and login information.
INNOVATION > THE OUTER LIMITS February 2017
---
The wafer
---
The internet of things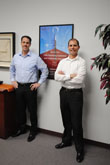 Dave Ahmari and Quesnell Hartmann, co-founders of II-VI Epiworks, believe that everything is becoming connected, or what is called the "internet of things." This internetworking of devices, vehicles, and even buildings that are embedded with electronics, software and sensors is the basis of their company. They develop wafers that can broken down into about 20,000 chips for smart and wireless technology. Plus, the wafers are customized for consumers based on their individual needs.
"Everything from your home thermostat, camera, garage door, and anything else with a sensor wireless chip is affected," Ahmari said from their Champaign location.
EpiWorks was founded in 1997 when Ahmari and Hartmann were graduate students at the University of Illinois.
"We worked on government projects. That was the basis of the company," Hartmann said.
They soon found that their research was well ahead of other companies.
Since that time, they have become leaders in the compound semiconductor epitaxial wafers industry. Recently, the company became the II-VI Epiworks Division of II-VI Incorporated, a company co-founded by another UI engineering doctoral graduate, Carl J. Johnson. II-VI
EpiWorks' developing and manufacturing is like no other in the industry, as well. The company's products provide these applications' additional performance, such as greater bandwidth, higher power efficiency and better reliability, which is what consumers crave in today's fast-paced and growing technological world.
They not only develop the epitaxial semiconductor wafers, but they manufacture them in the same facility as well. The term epitaxial means the wafer has hundreds of layers of crystalline overlayers on a substrate. It's kind of like a technological layer cake. The wafers range in size from 2 to 6 inches. The possibilities are endless, too.
"We have the capability and materials that can be reconfigured. There are so many variables. We customize the wafer for endless possibilities," Hartmann said.
"We're always asking how we can do this better," Ahmari said.
Ahmari said they also concentrate on research and development because they aim to keep their clients a generation ahead in the technological world.
The state-of-the-art expansion includes wafer development for both the RF and optoelectronics industries. RF means radio frequency, and optoelectronics refers to the branch of technology concerned with the combined use of electronics and light.
It's pretty exciting, too, because the aggressive expansion will create 80 new jobs over the next two years for the Champaign area.
The expansion also includes a 25,000-square-foot facility, a class 1000 cleanroom, and a materials test and characterization suite and laboratory. All in all, that means they will have quadrupled their capacity by spring 2017, and will be the leader in global compound semiconductor industry. For more information go to epiworks.com.
The Roman numerals "II-VI" refers to column II and column VI of the Periodic Table of Elements in chemistry. By chemically combining elements from these columns, II-VI produced the infrared optical crystalline compounds: Cadmium Telluride (CdTe), Zinc Selenide (ZnSe), Zinc Sulfide (ZnS) and Zinc Sulfide MultiSpectral (ZnS MS). These compounds and others created from column II and column VI elements are commonly referred to as "II-VI Materials."
Back to top
Part of The News-Gazette, Inc. community of websites:
News-Gazette | IlliniHQ | WDWS | WHMS |