GET TO KNOW THE CEO May 2015
---
Steve Tarramt is chief executive officer of Steve Tarrant State Farm, 106 W. Springfield Ave., Champaign.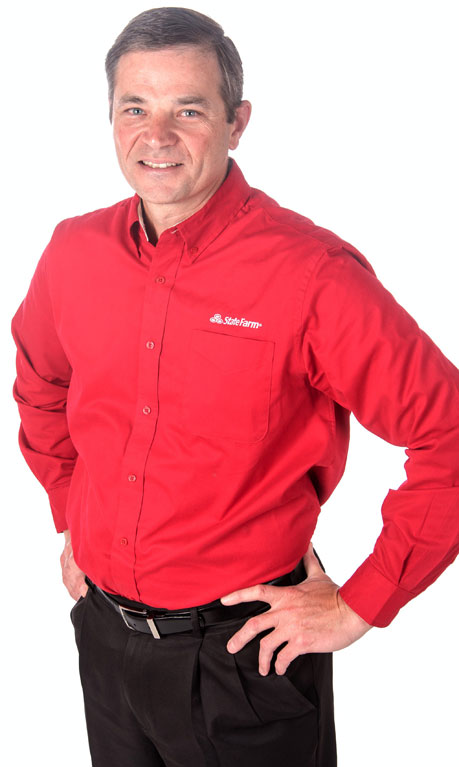 [CIB] What life experiences have shaped you as a business professional?
[Steve Tarrant] My folks taught us to earn. If we wanted money, we picked strawberries, collected pop bottles, walked beans and anything else we could do for money before we were old enough to have a job. My brothers and I even sold Christmas trees to earn money for the holidays.
[CIB] What motivates you in your business?
[ST] I'm an athlete, and I am really, really competitive. When I left the corporate world at 40 and started my own business, I knew I had to kick it in to be the top 1 percent.
[CIB] Your wife, Cindy, works with you. How do you balance your at-work life with your at-home life?
[ST] We have different roles in the business, because we really complement each other. She does the accounting and taxes, but more than that, she is a great troubleshooter. She handles our agents and customers when there are concerns. Her experience on the corporate and regional level adds to her understanding of problems and situations in our industry.
[CIB] What is your biggest daily challenge?
[ST] I strive to manage the business, and not let it manage me.
[CIB] What is the most rewarding part of your job?
[ST] I am glad that we can be there when things go badly for our clients. It's rewarding to see that we can make their lives better because of it.
[CIB] What's the best advice you have ever received?
[ST] To stay focused on what I wanted to do.
To always stay true to my goals.
[CIB] What advice would you give to other business leaders?
[ST] The biggest thing is to keep balanced. Do not burn yourself out. Secondly, do re-create the wheel. Take ideas that have worked for others and use them. Always ask your customers what they want from your business, and do your best to deliver.
[CIB] Who mentored you as a business person?
[ST] I have two. My baseball coach: Bob Hamer. He lived by example, and he lived big. He motivated me to go for my goals, and he considered me a son. The other is Robert Myer, a former VP for State Farm.
[CIB] What is your proudest achievement?
[ST] I'm proud of my two daughters, Katelyn and Allie. They have paid for half of their college education. I am very proud of all of their accomplishments.
[CIB] What do you like most about the greater Champaign-Urbana area?
[ST] From a business standpoint, C-U has people from every corner of the world. The diversity is amazing and I thrive on it! We love the area schools and raising our kids here, too.
[CIB] What do you do in your free time?
[ST] I have some hobbies: fishing, hunting, golf and softball. I also coach a 12-year-old girls' softball team.
Back to top
Part of The News-Gazette, Inc. community of websites:
News-Gazette | IlliniHQ | WDWS | WHMS |
Fresh edition of CIB
By Bridget Broihahn
Hello everyone. My name is Bridget Broihahn and I'm the new editor for CIB. I look forward to getting to know more about the businesses in Central Illinois. This issue has been exciting to create.
Spring is finally here, and business in Champaign County is alive and well, ready to take on the outdoor season.
That is certainly true for BRG Sports, our feature story. This outstanding company just keeps breaking records and winning awards in business. Led by energetic and enthusiastic general manager Lewis Hornsby, this crew makes hard work look easy as they gear up for the bicycling season. His energy level had me motivated, and the employees left me energized.
I also hope you'll check out the article on Scientific Animations Without Borders, better known as SAWBO. Barry Pittendrigh and Julia Bello-Bravo came up with a great way to share information worldwide through animation. It's free, and a great resource for the world community.
The dedicated businesspeople I had the chance to share some time with for this issue inspired me. This includes Steve Tarrant of State Farm. He's one of those people who pulls up a chair, cracks open a soda and lends you a hand. He makes your peace of mind his business.
Additionally, I had the chance to hang out with the game designers at Volition. This unique group made its mark in the video gaming industry, and has made Champaign home. They even gave this mom of a teenage boy some cool points, if just for a little while, anyway. That's no small feat!
Bridget Broihahn is editor of Central Illinois Business magazine. She can be reached at 217-351-5695 or bbroihahn@news-gazette.com.