GET TO KNOW THE CEO June 2015
---
Marcius Moore is the CEO of the Mahomet Area Youth Club
---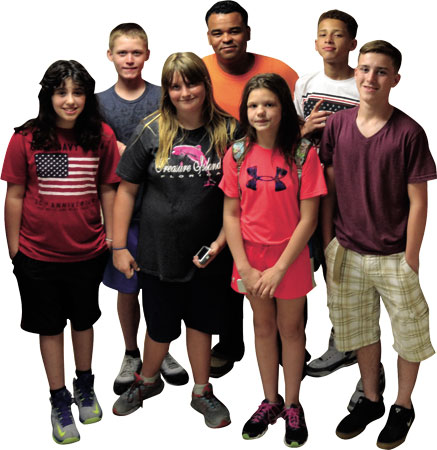 [CIB] What was your first paying job?
[Marcius Moore] I had a News-Gazette paper route with my older brother. I also cut grass, swept rocks back into driveways and shoveled snow from driveways for money.
[CIB] What is the biggest challenge in your job?
[MM] My biggest challenge is to maintain funding for my programs and find new funding for programs.
[CIB] What is satisfying about your job?
[MM] The opportunity to work with kids from different backgrounds and hopefully have an impact in their lives. The impact that I have on each child differs based on their needs. For kids that come from a supportive home, I might be someone to hang out with and talk to. For a kid that comes from an unstable environment, I might fill a void by being a positive role model, someone that they can confide in and I can counsel them.
[CIB] What's the best advice you offer other business leaders?
[MM] Do something that you love and then try to find a way to get paid for it. Provide a product or a service that you like and believe in. There is competition in every marketplace and the consumer will make their decision based off who treats them best. If you don't treat your customers right, they will spend money with someone else. A reasonably priced, quality product with great customer service works every time. Don't be rigid and stubborn and afraid of change.
[CIB] Who was/is your mentor and what did that person teach you?
[MM] My father Patrick Moore. He was the first person in his family to graduate from college. He worked for Illinois Power for over 20 years. He put all of his children through college. He taught me how to be a man, not just through conversations, but more importantly from his actions.
[CIB] What accomplishment are you most proud of?
[MM] I am most proud about where the Mahomet Area Youth Club is at today. Since we started the B.L.A.S.T program in collaboration with the Mahomet-Seymour school district, the numbers of kids served annually have increased from 80 to over 700 in the past two years. We are able to serve more low-income kids than ever before. We offer quality fun programming for kids in the community.
[CIB] What do you like most about the area you work in?
[MM] I have worked in Mahomet for 10 years and I have nothing but good experiences. Whenever there is a community or school event, a fundraiser or a tragedy, the community comes together and gets involved.
[CIB] What are your hobbies?
[MM] I like to work out, go to sporting events, play sports, karaoke and go to concerts.
Back to top
Part of The News-Gazette, Inc. community of websites:
News-Gazette | IlliniHQ | WDWS | WHMS |
Youth, et al
By Bridget Broihahn
The June/July CIB started out as a "Youth in Business" issue. However, when reporting ensues, oftentimes, it evolves into its own entity. My initial article of the popular Pens-to-Lens Competition evolved as Brett Hays shared the big announcement that Shatterglass Studios had for our area. I was star struck when I realized that Champaign County may just be the next "Hollywood Chambana," or as Habeeb Habeeb put it: "...a film oasis in the Midwest." How exciting for our area, not only because it's the art of filmmaking that is involved, but, also because it's the opportunity for economic development right here in Champaign County. I cannot think of a better place.
Economic development is certainly the key to prosperity in a community, and HL Precision Manufacturing, Inc., Champaign has the right idea when it comes to students and careers. They teamed up with Parkland College and Unit 4 Schools to offer two students a tuition free opportunity to earn dual credit, earn an internship and a career.
I enjoyed my talk with Laura Bliell of Enterpriseworks. She mirrored the enthusiasm and energy that is apparent at the UI award winning research park. Its incubator, Enterpriseworks, employs some 500 students each year, enabling them to research, learn and teach us new things, too.
As always, I enjoyed the comments by Fred Giertz. His commentary about infrastructure was downright biblical. Plus, if you do not crack a smile from Allen Howie's comments regarding the millennials, I will be surprised.
Good business, everyone!
Bridget Broihahn is editor of Central Illinois Business magazine. She can be reached at 217-351-5695 or bbroihahn@news-gazette.com.