HOME/COVER STORY
---
ACHIEVEMENTS
---
BUSINESS NOW
---
EDITOR'S NOTE
---
FINE PRINT
---
GET TO KNOW THE CEO
---
GREEN TIPS
---
INNOVATION > THE OUTER LIMITS
---
TAX REGULATIONS
---
SUBSCRIBE NOW!
---
CONTACT US
---
ARCHIVE
---
CALENDAR
Editor 's note: submit events, meetings, workshops and conferences at least one month in advance to cibm@news-gazette.com for inclusion in Mark Your Calendar.
< Apr
May
Jun >
May 9
EaRN Leads/Speed Networking Program 7:30 to 8:30 a.m.
Champaign County Chamber of Commerce, 303 W. Kirby Ave., Champaign The Exchange and Referral Network is the Champaign County Chamber of Commerce's version of a combination Leads/Speed Networking program. Registration opens at 3 p.m. May 2 for this session. Only one person per industry may participate per week. Registration is first-come, first-served. If your industry category is already filled when you register, your name will be kept on the waiting list. If the first registration is unable to attend the following week's session, the person next on the waiting list according to the time stamp will be contacted. If you are unable to attend the session, notify the chamber as soon as possible so that it may fill the seat. Failure to do so may prevent you from participating in future sessions.
May 15
May 15, 23 Coaching: Developing Others 8 a.m. to noon, May 15 and 23; 1 to 5 p.m. May 23
Parkland College Business Training, 1315 N. Mattis Ave., Champaign Individual contributors face regular challenges in performing their work, and a supervisor's job is to help them work through these challenges. Learn how to recognize the challenges faced in developing others; demonstrate a variety of listening and asking techniques to help others feel confident making decisions; and conduct focused development conversations that result in professional development and growth. Fee: $135. Registration deadline: May 8 for May 15 session; May 16 for May 23 sessions.
May 21
May 21, 23 Communications Skills for Managers 1 to 5 p.m.
Parkland College Business Training, 1315 N. Mattis Ave., Champaign Increase your reading, writing, speaking and listening proficiency with real-life scenarios and interactive exercises from Cindy Guthrie. Learn proven practical concepts and techniques that will help you communicate more effectively with others, deliver your messages clearly, ask questions and make successful presentations. Fee: $265. Registration deadline: May 14.
GET TO KNOW THE CEO April 2013
---
Jed Bunyan and Mike Lindemann are co-owners of Body n' Sole Sports in Savoy.
---
In business since 1979, the store specializes in running shoes and gear, and swimming suits and gear.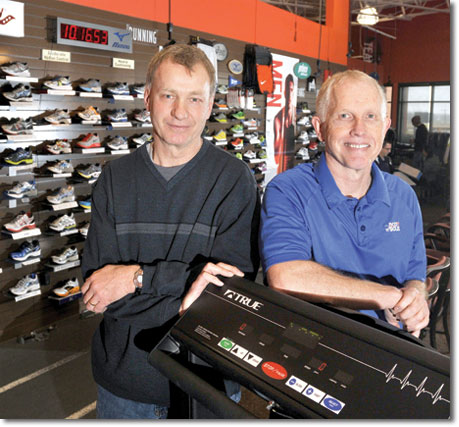 [CIB] What was your first paying job?
[Jed Bunyan] Chopping out horseweeds in soybean fields on the family farm.
[Mike Lindemann] Selling ice cream for my mother's ice cream shop at age 15.
[CIB] What is the biggest challenge for you in your job on a daily basis?
[JB] Making sure 20 full- and part-time employees are being taken care of and they in turn are taking care of our customers.
[ML] Keeping up with the day-to-day business.
[CIB] What is the most satisfying part of your job?
[JB] When I am waiting on a customer and I get to experience their excitement about achieving a fitness goal such as walking or running their first 5K or completing a marathon. It is tremendously rewarding to get to share in a customer's accomplishments.
[ML] I am able to talk to runners and other athletes all day long. Doesn't get any better.
[CIB] What is the best advice you've received?
[JB] Know your costs and your profitability.
[ML] Treat everyone like you treat yourself.
[CIB] What is the best advice you can offer other entrepreneurs or business leaders?
[JB] Work on being creative. Also, don't be intimidated by "established" businesses. They don't know any more than you do.
[ML] Make sure you enjoy what you are doing, and do it with a smile.
[CIB] Who was/is your mentor and what did that person teach you?
[JB] Don Himes, the owner of the old Bailey & Himes Sporting Goods Co. in Champaign, taught me how to be a salesman, which, in a few words, is be interested in your customers and believe in what you are selling.
[ML] My mother. She owned three retail stores, two at one time. She really taught me the value of hard work.
[CIB] What accomplishment are you most proud of?
[JB] I feel very fortunate that we have been in business for a long time and we have always found a way to grow our business every year.
[ML] Helping to bring the Christie Clinic Illinois Marathon to Champaign-Urbana.
Back to top
Part of The News-Gazette, Inc. community of websites:
News-Gazette | IlliniHQ | Business Directory | WDWS | WHMS | idomagazine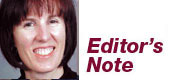 The new year will bring some changes to Central Illinois Business magazine.
The magazine will now be printed bimonthly. You won't see an issue in January; the next issue will cover February and March.
In 2013, we'll launch an improved Central Illinois Business website, at www.centralillinoisbusiness.com, that will allow us to provide more timely updates of many of the economic indicators we publish in the magazine, as well as other current business news and event information that you won't see in the printed publication.
We are working on stories on a variety of business issues we think you'll want to read about. And if you have an idea of a story or issue you'd like to read about in Central Illinois Business -- either in the printed magazine or online -- please let me know.
The magazine will again be printed on glossy paper, as the Forty Under 40 issue was in November.
We hope you continue to enjoy the printed magazine, and that you also look at the improved website once it's launched for more news about the local business community.