HOME/COVER STORY
---
ACHIEVEMENTS
---
AG BUSINESS
---
BEST BUSINESS
---
Best of Towns Best Business Services
---
Best of Towns Best Coffee Shop
---
Best of Towns Best Hair Stylist and Spa
---
Best of Towns Best Health Club
---
Best of Towns Financial Company
---
Best of Towns Restaurant
---
BUSINESS NOW
---
ECONOMICS
---
EDITOR'S NOTE
---
Entrepreneur Tips
---
FINE PRINT
---
GET TO KNOW THE CEO
---
GOOD BUSINESS
---
GREEN TIPS
---
INNOVATION > THE OUTER LIMITS
---
LEGAL PILLARS
---
MADE IN CHAMPAIGN COUNTY
---
MARKETING
---
OIL/GAS INDUSTRY
---
ORGANIZATIONAL KNOWLEDGE
---
FORTY UNDER 40 NOMINATIONS
---
SUBSCRIBE NOW!
---
CONTACT US
---
ARCHIVE
---
CALENDAR
Editor 's note: submit events, meetings, workshops and conferences at least one month in advance to cibm@news-gazette.com for inclusion in Mark Your Calendar.
< Jan
Feb
Mar >
February 2
Home Buyer's Seminar
Home Buyer's Seminar 6 to 8:30 p.m., 6 to 8:30 p.m., 9 a.m. to 2 p.m. Parkland College Business Training, 1315 N. Mattis Ave., Champaign Learn about budgeting, pre-qualification, inspection, closing, and other important steps in the home buying process. Discover helpful home maintenance tips and what to do if financial difficulties occur after the purchase. Offered each month throughout the year. Qualified mortgage loan officers from local banks and lending institutions teach all seminars. - See more at:
http://champaigncounty.org
or call 217-351-2235.
February 7
Style for Success
Style for Success 4 to 5 p.m. Parkland College Business Training, 1315 N. Mattis Ave., Champaign Master your first impression by unlocking the style secrets to dressing for success with Cynthia Bruno. Discover how you can use your own personal style to make a more powerful visual presentation, learn the styles and cuts that best flatter your assets, and find out how to discover your personal color profile. Call 217-351-2235 for more information.
February 16
Athena Award Luncheon
Athena Award Luncheon 12 to 1:30 p.m. Champaign Country Club 1211 S. Prospect Ave. Champaign Join Champaign County Chamber of Commerce members and representatives from local businesses as we honor the 2017 ATHENA Award(r) recipient. The recipient of the ATHENA Award(r) demonstrates excellence, creativity and initiative in his or her business or profession; provides valuable service by devoting time and energy to improve the quality of life for others in the community; and assists women in reaching their full leadership potential. The cost to attend is $33 for members and $41 for non-members. To register, please contact Caryn Isenhower at
caryni@champaigncounty.org
. Registration and cancellation deadline is Monday, February 13, 2017.
February 24
LinkedIn for Today's Professional
LinkedIn for Today's Professional 12 to 1:30 p.m. Parkland College Business Training, 1315 N. Mattis Ave., Champaign Everyone knows that they should be engaging on LinkedIn, but how is it done? Christine Schmucker will cover the basics of the LinkedIn profile, expanding your network, and interacting. Discover how to connect with individuals, follow companies, and use tools to interact with your network. Prerequisite: LinkedIn account and login information.
GET TO KNOW THE CEO June 2015
---
Marcius Moore is the CEO of the Mahomet Area Youth Club
---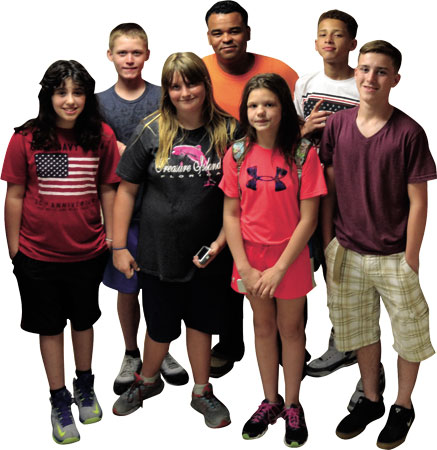 [CIB] What was your first paying job?
[Marcius Moore] I had a News-Gazette paper route with my older brother. I also cut grass, swept rocks back into driveways and shoveled snow from driveways for money.
[CIB] What is the biggest challenge in your job?
[MM] My biggest challenge is to maintain funding for my programs and find new funding for programs.
[CIB] What is satisfying about your job?
[MM] The opportunity to work with kids from different backgrounds and hopefully have an impact in their lives. The impact that I have on each child differs based on their needs. For kids that come from a supportive home, I might be someone to hang out with and talk to. For a kid that comes from an unstable environment, I might fill a void by being a positive role model, someone that they can confide in and I can counsel them.
[CIB] What's the best advice you offer other business leaders?
[MM] Do something that you love and then try to find a way to get paid for it. Provide a product or a service that you like and believe in. There is competition in every marketplace and the consumer will make their decision based off who treats them best. If you don't treat your customers right, they will spend money with someone else. A reasonably priced, quality product with great customer service works every time. Don't be rigid and stubborn and afraid of change.
[CIB] Who was/is your mentor and what did that person teach you?
[MM] My father Patrick Moore. He was the first person in his family to graduate from college. He worked for Illinois Power for over 20 years. He put all of his children through college. He taught me how to be a man, not just through conversations, but more importantly from his actions.
[CIB] What accomplishment are you most proud of?
[MM] I am most proud about where the Mahomet Area Youth Club is at today. Since we started the B.L.A.S.T program in collaboration with the Mahomet-Seymour school district, the numbers of kids served annually have increased from 80 to over 700 in the past two years. We are able to serve more low-income kids than ever before. We offer quality fun programming for kids in the community.
[CIB] What do you like most about the area you work in?
[MM] I have worked in Mahomet for 10 years and I have nothing but good experiences. Whenever there is a community or school event, a fundraiser or a tragedy, the community comes together and gets involved.
[CIB] What are your hobbies?
[MM] I like to work out, go to sporting events, play sports, karaoke and go to concerts.
Back to top
Part of The News-Gazette, Inc. community of websites:
News-Gazette | IlliniHQ | WDWS | WHMS |