GET TO KNOW THE CEO February 2014
---
Mark Herriott is one of four family members who are operating partners of Herriott Group Inc.,
---
the umbrella organization for Herriott's Rental and Columbia Street Roastery.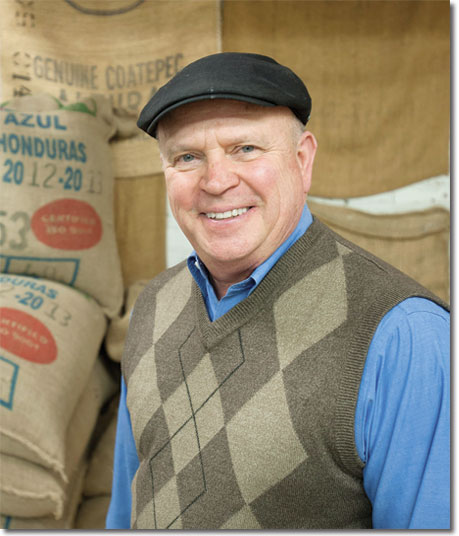 CIB] What was your first paying job?
[Mark Herriott] The family business. My first job outside of working with our father was at Jos. Kuhn & Co. It was a wonderful opportunity to learn about retail and see how another family business operated.
[CIB] What is the biggest challenge for you in your job on a daily basis?
[MH] I find it difficult to balance the amount of paperwork which is mandated in business today with what I enjoy the most, which is working directly with our restaurant, office and wholesale coffee and tea customers.
[CIB] What is the most satisfying part of your job?
[MH] The opportunity to work directly with our restaurant and wholesale customers where together we can create something special for their business. And the ability to take the raw materials we import (coffee and tea) and create products which meet our customers' expectations.
[CIB] What is the best advice you've received?
[MH] Growth and change always happens faster with a coach or training partner.
[CIB] What is the best advice you can offer other entrepreneurs or business leaders?
[MH] Find people who you can trust to give you straight-forward opinions based upon their experience and what they actually see in the marketplace. Ask them to share what has allowed them to succeed as well as what they learned from their mistakes.
[CIB] Who was/is your mentor and what did that person teach you?
[MH] My brother, David, has had the biggest impact on me from a business perspective. While we are the antithesis of each other, interestingly this has been our strength. Our ability to rely on each other when we were reconstructing and building the businesses allowed us to grow, change and learn from each other.
[CIB] What accomplishment are you most proud of?
[MH] Being a part of a family which has been able to create a new business (Columbia Street Roastery) and grow the other (Herriott's Rental) to a point where there is an opportunity for the fourth generations to participate.
[CIB] What do you like about Champaign-Urbana?
[MH]The eclectic "fabric" which has been created in this community from both a cultural and intellectual perspective.
[CIB] What are your hobbies?
[MH] Playing bridge and traveling with my wife, Marianne.
Back to top
Part of The News-Gazette, Inc. community of websites:
News-Gazette | IlliniHQ | WDWS | WHMS |
Fresh edition of CIB
By John Foreman
No matter how long I live in East Central Illinois, I never cease to marvel at the innovative and diverse nature of its business community. Innovators seem to flourish in every corner.
Don Dodson, the Champaign-Urbana News-Gazette's longtime business editor, was among those friends to whom we turned to put out this issue of Central Illinois' favorite business magazine while we continue our search for a top-notch editor. Many people pitched in to make this edition possible, and I won't try to name them all for fear of missing someone. My job is simply to look at the finished product and introduce it to you.
I don't think you'll be disappointed.
Where, for example, would you go to find a piggy bank in the form of a portable toilet or a box for a life-size Star Trek action figure? The answer is in Ogden and ShapeMaster Inc.
And would you like to try a brew that won a Silver Medal in the 2014 World Beer Cup?
You needn't venture farther than Savoy. You'll find that story on page 8.
All that, plus more and lots of fresh stats, are inside.
Best wishes for a 2015 as robust as that microbrewed ale.
John Foreman is the former publisher of Central Illinois Business magazine.