HOME/COVER STORY
---
ACHIEVEMENTS
---
AG BUSINESS
---
BEST BUSINESS
---
BUSINESS COMMUNITY
---
BUSINESS NOW
---
ECONOMICS
---
EDITOR'S NOTE
---
Entrepreneur Tips
---
FINE PRINT
---
GET TO KNOW THE CEO
---
GOOD BUSINESS
---
GREEN TIPS
---
Immigration
---
INNOVATION > THE OUTER LIMITS
---
Issues
---
LEGAL PILLARS
---
MADE IN CHAMPAIGN COUNTY
---
MARKETING
---
OIL/GAS INDUSTRY
---
ORGANIZATIONAL KNOWLEDGE
---
FORTY UNDER 40 NOMINATIONS
---
SUBSCRIBE NOW!
---
CONTACT US
---
ARCHIVE
---
CALENDAR
Editor 's note: submit events, meetings, workshops and conferences at least one month in advance to cibm@news-gazette.com for inclusion in Mark Your Calendar.
< May
Jun
Jul >
June 15
Take Control-Reducing Email Stress and Overload
Take Control-Reducing Email Stress and Overload Wednesday 6/7/2017 and 6/15/2017 Business Training & Community Education 1315 North Mattis Avenue Champaign, IL 61821 Do you often feel like you could spend your entire day responding to incoming email messages and still never keep up? Ineffective email practices impact productivity, teamwork and your organizations bottom line! From the minute to minute interruptions of today's email systems to the loss of personal connections, our current email practices are a major cause of disruptions to organizational and individual performance. Take Control - Reducing Email Stress and Overload is designed to teach research proven strategies for managing excessive emails, efficiently handling all incoming emails, writing effective emails, minimizing interruptions and utilizing all the tips and tricks to help you take back control of your email systems! Tuition: $199.00 per course. For more information, go to parkland.edu/bcte.
June 15
SBDC Workshop: Starting Your Business in Illinois
SBDC Workshop: Starting Your Business in Illinois 3 to 5 p.m. Illinois Small Business Development Center at Champaign Co. EDC 1817 S. Neil St., Ste. 100 Champaign, IL 61820 This informative two hour workshop helps entrepreneurs understand many of the steps and requirements of starting a small business in Illinois. You'll be taken step-by-step through a variety of topics by speaker Don Elmore, SBDC director, and have the opportunity to ask questions. Free to attend, registration required to secure a spot - limited space available. Materials will be provided. RSVP to
carly@champaigncountyedc.org
or 217-359-6261.
June 27
Connections over coffee
Connections over Coffee 7:30 to 9 a.m. Cunningham Children's Home 1301 N Cunningham Ave., Urbana Connections over Coffee is a morning networking event for the Champaign-Urbana community. Bring your business cards, a friend, and your spunky personality for a morning of connections! Contact the Urbana Business Association for more information at 217-344-3872.
June 28
Coffee with the Black Chamber
Coffee with the Black Chamber 8 to 9 a.m. Location to be determined Meet monthly on the last Wednesday of the month to network with fellow business professionals. For more information, contact the Champaign County Black Chamber of Commerce at
contact@theccbcc.org
GET TO KNOW THE CEO June 2015
---
Marcius Moore is the CEO of the Mahomet Area Youth Club
---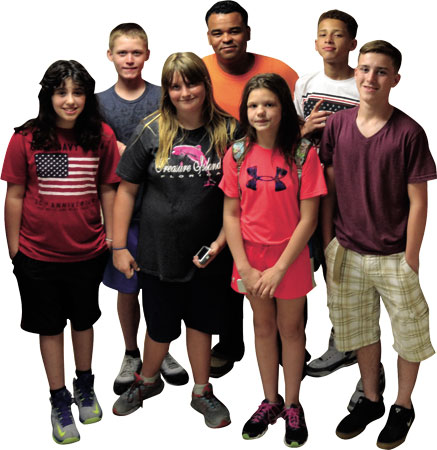 [CIB] What was your first paying job?
[Marcius Moore] I had a News-Gazette paper route with my older brother. I also cut grass, swept rocks back into driveways and shoveled snow from driveways for money.
[CIB] What is the biggest challenge in your job?
[MM] My biggest challenge is to maintain funding for my programs and find new funding for programs.
[CIB] What is satisfying about your job?
[MM] The opportunity to work with kids from different backgrounds and hopefully have an impact in their lives. The impact that I have on each child differs based on their needs. For kids that come from a supportive home, I might be someone to hang out with and talk to. For a kid that comes from an unstable environment, I might fill a void by being a positive role model, someone that they can confide in and I can counsel them.
[CIB] What's the best advice you offer other business leaders?
[MM] Do something that you love and then try to find a way to get paid for it. Provide a product or a service that you like and believe in. There is competition in every marketplace and the consumer will make their decision based off who treats them best. If you don't treat your customers right, they will spend money with someone else. A reasonably priced, quality product with great customer service works every time. Don't be rigid and stubborn and afraid of change.
[CIB] Who was/is your mentor and what did that person teach you?
[MM] My father Patrick Moore. He was the first person in his family to graduate from college. He worked for Illinois Power for over 20 years. He put all of his children through college. He taught me how to be a man, not just through conversations, but more importantly from his actions.
[CIB] What accomplishment are you most proud of?
[MM] I am most proud about where the Mahomet Area Youth Club is at today. Since we started the B.L.A.S.T program in collaboration with the Mahomet-Seymour school district, the numbers of kids served annually have increased from 80 to over 700 in the past two years. We are able to serve more low-income kids than ever before. We offer quality fun programming for kids in the community.
[CIB] What do you like most about the area you work in?
[MM] I have worked in Mahomet for 10 years and I have nothing but good experiences. Whenever there is a community or school event, a fundraiser or a tragedy, the community comes together and gets involved.
[CIB] What are your hobbies?
[MM] I like to work out, go to sporting events, play sports, karaoke and go to concerts.
Back to top
Part of The News-Gazette, Inc. community of websites:
News-Gazette | IlliniHQ | WDWS | WHMS |