HOME/COVER STORY
---
ACHIEVEMENTS
---
AG BUSINESS
---
BUSINESS NOW
---
ECONOMICS
---
EDITOR'S NOTE
---
FINE PRINT
---
GET TO KNOW THE CEO
---
GOOD BUSINESS
---
GREEN TIPS
---
INNOVATION > THE OUTER LIMITS
---
MADE IN CHAMPAIGN COUNTY
---
MARKETING
---
OIL/GAS INDUSTRY
---
ORGANIZATIONAL KNOWLEDGE
---
FORTY UNDER 40 NOMINATIONS
---
SUBSCRIBE NOW!
---
CONTACT US
---
ARCHIVE
---
CALENDAR
Editor 's note: submit events, meetings, workshops and conferences at least one month in advance to cibm@news-gazette.com for inclusion in Mark Your Calendar.
< Jan
Feb
Mar >
February 1
Professional Pharmacy Technician
6:00 PM TO 9:45 PM Parkland College Business Training 1315 N. Mattis Ave. Champaign, IL 61821 Phone:217-351-2235 Learn the fundamentals and particulars of becoming a pharmacy technician. Discover various drug classes, basic physiology, drug interactions and daily pharmacy operations with Mark David. Train to effectively assist in pharmaceutical preparations and complete daily required tasks in any pharmacy environment. Training is geared towards those interested in becoming pharmacy technicians, pre-pharmacy students, pharmacy technicians who have not yet passed the national certification exam, or those with a healthcare background looking to strengthen their current skills. Practice and understand math concepts and calculations needed to become a certified pharmacy technician. You will participate in a 60 hour hands-on externship in a pharmacy setting. MK Education will find pharmacy placement proper paperwork has been submitted. Prerequisites: High School Diploma or equivalent, high school math and reading comprehension, and the ability to read and write the English language. Individuals with prior drug convictions or other felonies may be prohibited from obtaining certification, employment, and/or license. For licensing questions, please contact the Illinois State Board of Pharmacy at 217-557-8786. Students will receive their textbook as an e-book for assigned readings as well as a hard copy workbook. Internet accessibility is essential to successful completion of the program. Strongly recommend access to a laptop, desktop, or tablet for reading material. - See more at:
http://champaigncounty.org/events/eventdetail.aspx?EventID=1210#sthash.tgakFhSK.dpuf
COVER STORY January 2016
---
The Best of Towns winners for 2015 rise above the rest
---

Success is an obvious trait in the winners of our Best of Towns promotion. Our readers voted and told us who their favorites are in the Champaign County area in six different categories. Big Grove Tavern- Best Restaurant, Busey-Best Financial Company, Café Kopi- Best Coffee Shop, H2O- Best Salon and Spa, Rogards- Best Business Services, and Stephens Family YMCA- Best Health Club were the winners. Find out more on these six successful businesses in our next edition of CIB, coming hot off the presses February 1! Secure your copy of Central Illinois Business magazine to read the Best of Towns features, our comprehensive Business Calendar, Business Achievements, Good Business, Indicators, Permits, Tax Liens, Releases and Bankruptcies nad more pertaining to the Central Illinois Business world. Contact Bridget Broihahn at 217-351-5695 or email at bbroihahn@news-gazette.com.
Back to top
Part of The News-Gazette, Inc. community of websites:
News-Gazette | IlliniHQ | WDWS | WHMS |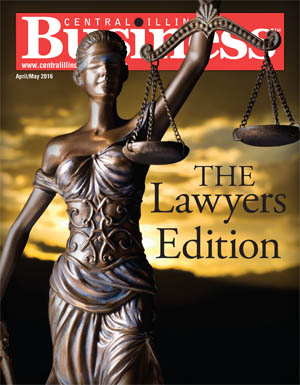 Central Illinois Business magazine and The News-Gazette, Inc. are proud to announce .The Lawyers Edition. for the next issue of CIB that will premiere in April/May 2016.
The issue will be a collaboration of the News-Gazette staff, area attorneys, and attorney.s organizations, featuring subject matter that is pertinent to the legal community in and around the Champaign County area. Feature articles will be focused on The Pillars of the Bar, both current and past, the current recipient of the James L. Capel Jr. pro bono attorney of distinction, other issues pertinent to the legal community and practice, and much, much more!
This important issue will not only be an informative piece for the general community at-large, but also will be a go-to resource for those in the legal field. Don.t miss this important issue. Call 217-351-5252 to inquire about advertising or to secure your copy of Central Illinois Business Magazine - The Lawyers Edition.