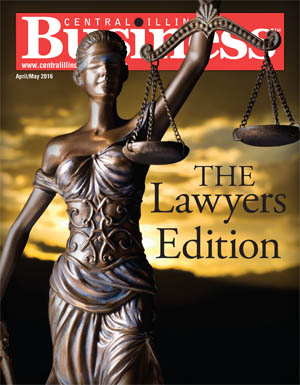 Central Illinois Business magazine and The News-Gazette, Inc. are proud to announce .The Lawyers Edition. for the next issue of CIB that will premiere in April/May 2016.
The issue will be a collaboration of the News-Gazette staff, area attorneys, and attorney.s organizations, featuring subject matter that is pertinent to the legal community in and around the Champaign County area. Feature articles will be focused on The Pillars of the Bar, both current and past, the current recipient of the James L. Capel Jr. pro bono attorney of distinction, other issues pertinent to the legal community and practice, and much, much more!
This important issue will not only be an informative piece for the general community at-large, but also will be a go-to resource for those in the legal field. Don.t miss this important issue. Call 217-351-5252 to inquire about advertising or to secure your copy of Central Illinois Business Magazine - The Lawyers Edition.