HOME/COVER STORY
---
ACHIEVEMENTS
---
AG BUSINESS
---
BUSINESS NOW
---
ECONOMICS
---
EDITOR'S NOTE
---
FINE PRINT
---
FORTY UNDER 40
---
GET TO KNOW THE CEO
---
GREEN TIPS
---
INNOVATION > THE OUTER LIMITS
---
SUBSCRIBE NOW!
---
CONTACT US
---
ARCHIVE
---
CALENDAR
Editor 's note: submit events, meetings, workshops and conferences at least one month in advance to cibm@news-gazette.com for inclusion in Mark Your Calendar.
< Oct
Nov
Dec >
November 4
Delegating for Business Success 1 to 5 p.m. Nov. 4, 6
Parkland College Business Training, 1315 N. Mattis Ave., Champaign Cindy Guthrie will help you learn how to give employees the authority and responsibility they need to get the job done; avoid common mistakes, including reverse delegation; identify which types of tasks and responsibilities should be delegated; monitor the delegation process, evaluate progress, identify problems and reward success; and improve goal-setting, prioritizing, planning, communication and feedback skills. Fee: $299 (book is additional). Registration deadline: Oct. 28.
November 4
Business Success & Solutions Seminar -- Social Prospecting with LinkedIn Part 1, Nov. 4, 8:30 to 10 a.m.; Part 2, Nov. 18, 8:30 to 10 a.m.
Champaign County Chamber of Commerce, 303 W. Kirby Ave., Champaign Learn how you can make the most of your time on LinkedIn, how to find people who will become customers or centers of influence, how to stand out from your competitors and how to make yourself more visible. Workbooks provided. To register, contact Caryn Isenhower at
caryni@champaigncounty.org
or call 217-359-1791. Fee: $127 for chamber members, $147 for nonmembers. Registration deadline: Nov. 1.
November 7
The Art and Science of Decision Making 8 a.m. to noon
Parkland College Business Training, 1315 N. Mattis Ave., Champaign Discover with David Rosch the basics of making good staffwide decisions, including how to accurately diagnose types of problems, how to consider the decision rights of others and how to utilize a contingency structure for maximizing lasting results of managerial decisions. Fee: $299. Registration deadline: Oct. 31.
November 8
ECI SCORE: Financing a Small Business 9 to 11:30 a.m.
Champaign County Chamber of Commerce, 303 W. Kirby Ave., Champaign An overview of startup financing for a business. Content: business requirements, preparation needed and sources of capital. Workbook provided. Cost: $25. To register, go to eci-score.org or call at 217-359-1791. Email questions to
info@eci-score.org
.
November 12
Leading Change at Every Level Nov. 12, 8 a.m. to noon; Nov. 20, 1 to 5 p.m.
Parkland College Business Training, 1315 N. Mattis Ave., Champaign Discover five dimensions of leadership that help garner support for any change effort: modeling the change; communicating the change; involving others in the change; helping others break from the past; and creating a supportive environment for change. Understand change behaviors and improve the ability to lead change and generate support for change. Fee: $135. Registration deadline: Nov. 5 for Nov. 12 session; Nov. 13 for Nov. 20 session.
November 20
The Extraordinary Leader: Going from Good to Great 8 a.m. to noon
Explore five key insights about leadership; 16 competencies of high-performing leaders; combinations of strengths for powerful leadership; ways to demonstrate leadership effectiveness in the workplace; and more. Fee: $135. Registration deadline: Nov. 13.
---
COVER STORY
The champaign public library
---
This public resource is an asset for Champaign-Urbana's business community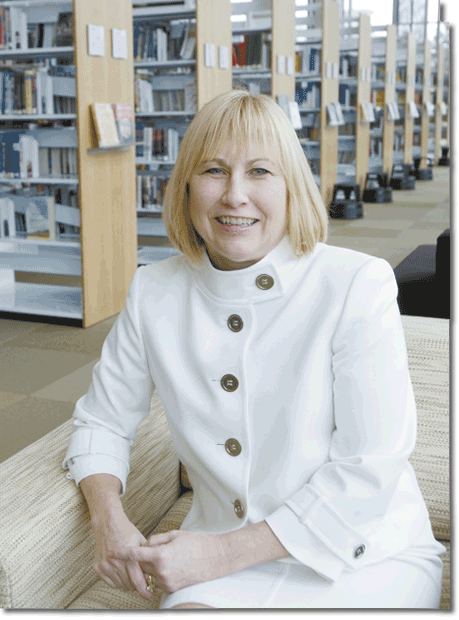 While the Champaign Public Library is not necessarily a business, any company would be pleased to enjoy the type of success it has recently had.
Items checked out grew 30 percent in October, November and December 2008 when compared to the number of checkouts during those same months in 2007. The library currently serves more than 2,200 people each day, and if everybody in town were checking out an equal number of items, that number would be 26 items per person.
"The national average for a community our size is 9 [items per person]," said library director Marsha Grove. "We're probably one of the busiest public libraries in the United States."
After moving into a new building located at 200 W. Green St., the Champaign Public Library has seen unprecedented levels of success, which benefits not only the city but also the greater business community.
Plans for building a new library got underway almost a decade ago when it was decided that the old library needed considerable repair, and that constructing a new library was a better long-term solution.
"[The old library] was kind of outdated from the time it was built," said Champaign Mayor Gerald Schweighart. "We wanted to build something that was an asset to the community."
With the help of the city and both library boards - the library foundation board and the library board of trustees - $3 million of private funds were raised to build the new library.
"The new building and the building project were a true partnership between the city council, the library board, the library staff and the library foundation," said library board of trustees president, Rusty Freeland. "I think it's a tremendous example of how the private sector can work with the local government to accomplish something very good for our community." Freeland, an attorney with Champaign-based Meyer Capel, volunteers as president of the board. All of the board members are volunteers.
After much planning and hard work, the new, 122,600 square-foot library had its grand opening on Jan. 6, 2008.
"We were almost $2 million under budget," Grove said, regarding the money alloted for the new building. "Some of that money went back to the city ... and the library board allowed us to keep a half million dollars, and we bought an opening-day collection." The 40,000 books that made up that opening day collection "made all the difference in the world," she said.
Aside from private donations and hundreds of volunteer hours, the library uses property tax money to run its daily operations. And the property tax rate has been the same for 20 years, coming in at .4222.
"It's primarily from the annexations that the city has done, so there is some growth for the property tax, and the assessed value in this area has gone up," Grove said. "So therefore the amount of money coming to the library has increased."
There are an abundance of reasons why the library is important for the community - it's a gathering place for community members and a hub of information and resources, to name a few. But it affects the business community more than you'd probably guess.
"I think for economic development, we're key," Grove said, citing that she gets calls from people who are thinking about moving to Champaign. But before they move, they want to know about the city's public library.
"We've even had someone tell us that...she was trying to sell her house and she said she advertised it as being so close to the library, and she thinks that's what helped sell it," Grove said.
In addition to new, potential customers relocating to Champaign based on the library's strength in the community, future employees are educated as children within the library's walls, and businesses are continually building their knowledge using resources that only the library can offer.
"The library has subscriptions to several financial periodicals and online resources that I think are very useful to the business community," Freeland said.
Those include the Wall Street Journal online, among others.
The Champaign Public Library has a five-year plan that spans from 2007-2012, and completing its biggest goal - the new building - it seems to be right on track. Grove said the board will reconvene to tweak the plan, and to "make sure our direction is where we're still headed."
Even with all of the library's success in the past year, Grove said she thinks the prosperity will continue.
"Amazingly enough, there are maybe some people who have not been here yet, and I think it's just going to grow," she said.
Check out the Champaign Public Library's Business Know-How
Go to the Champaign Public Library's Web site and click on the Business Know-How link. It includes information for the business community, from local business leader-recommended books to Champaign-Urbana statistics. You can also access resources like the Wall Street Journal online and MorningStar investments from your home computer using your library card.
To check out Business Know-How, go to http://www.champaign.org/business_know_how.html.
Part of The News-Gazette, Inc. community of websites:
News-Gazette | IlliniHQ | WDWS | WHMS |