HOME/COVER STORY
---
ACHIEVEMENTS
---
BUSINESS NOW
---
ECONOMICS
---
EDITOR'S NOTE
---
FINE PRINT
---
GET TO KNOW THE CEO
---
GREEN TIPS
---
INNOVATION > THE OUTER LIMITS
---
PREVAILING WAGE
---
SPONSORED GUEST COLUMNIST
---
SUBSCRIBE NOW!
---
CONTACT US
---
ARCHIVE
---
CALENDAR
Editor 's note: submit events, meetings, workshops and conferences at least one month in advance to cibm@news-gazette.com for inclusion in Mark Your Calendar.
< Feb
Mar
Apr >
March 5
March 5, 13 Communication Excellence: Managing Performance with DiSC 8 a.m. to noon on March 5; 1 to 5 p.m. on March 13
Parkland College Business Training, 1315 N. Mattis Ave., Champaign Communication Excellence provides actionable insights into conflict resolution, team building, leadership and coaching. Paid registrants will be issued an access code to complete an online assessment. The assessment must be completed by Feb 19. Fee: $185. Registration deadline: Feb. 19 for March 5 session; Feb. 27 for March 13 session.
March 9
March 19, April 3 Get Control of Email and Get Organized 8 a.m. to noon on March 19; 1 to 5 p.m. on April 3
Parkland College Business Training, 1315 N. Mattis Ave., Champaign Discover how to increase productivity by eliminating unnecessary email; create effective messages; discover time-saving tips; improve email etiquette; reduce legal liability; and create an ordered, stress-free folder structure. Materials include workbooks, desktop reference tools, calculator, and a copy of the best-selling "The Hamster Revolution: How to Manage Email Before it Manages You." Fee: $185. Registration deadline: March 12 for March 19 session; March 28 for April 3 session.
March 27
ECI SCORE: Financing a Small Business 3 to 5:30 p.m.
Champaign County Chamber of Commerce, 303 W. Kirby Ave., Champaign An overview of startup financing for a business. Content: business requirements, preparation needed and sources of capital. Workbook provided. Cost: $25. To register, go to eci-score.org or call 217-359-1791. Email questions to
info@eci-score.org
.
---
MARKETING SURVEY
Survey says: people matter most
in marketing strategy
---
What did businesses surveyed in Champaign County say was most important to their success? 61 percent of businesses surveyed said having the right employees was most important to the success of their organizations, according to a phone survey performed by Research Survey Service. It contacted 100 businesses in Champaign County by phone. The response rate was 37 percent.
Without good people, no business strategy can succeed.
What puzzles me is the component businesses chose as least important from a list that included human resources, sales, strategic planning and marketing--37 percent of the businesses surveyed chose marketing from that list. Now, that doesn't necessarily suggest you don't think marketing is important. I think you do. But from the list presented, if forced to make a choice, businesses said marketing was least important to the success of their business.
Why?
"Maybe the responses were skewed," said Jeffrey Kurtz, an adjunct professor in the College of Business at the University of Illinois who reviewed the results of the study.
Kurtz teaches an MBA class where students work with small businesses on real world problems.
"Nine out of 12 case studies this semester are marketing related," he said. In the years he spent consulting business owners prior to teaching, marketing was the biggest challenge for the majority of small businesses, he said.
Here's another surprise. Branding is the most important element to the success of your marketing plan. That's what a majority of business respondents selected, 37 percent of the total, from a list that included a strategic plan, return on investment, external communication and internal communication. When you consider that the purpose of marketing is to find, attract, retain and grow customer relationships, how you measure that activity, in the form of return on investment, would seem most important to defining success.
But that's the fun part about market surveys. You rarely obtain definitive answers. Almost always, the answers lead to more questions. And that's good. It forces you to probe further and ask more questions until you discover true insight about the customers and market you are trying to serve.
-Paul E. Donohue is an independent sales, marketing and communications consultant with 25 years experience as a media and marketing executive. He can be reached at pdo@pauledonohue.com. He partnered with Research Survey Services to conduct this survey.
Part of The News-Gazette, Inc. community of websites:
News-Gazette | IlliniHQ | Business Directory | WDWS | WHMS | idomagazine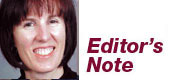 Homemade
The rainforest exhibit at Miller Park Zoo in Bloomington. The pole vault pit at Illini track meets. The crowns your dentist uses.
These are all products of Champaign County businesses. In this issue, we profile just a few businesses from our county that are creating products for customers here and around the country.
No doubt many of them have touched your lives in some way. They may have supplied the suspension assembly for your car (Eagle Wings Industries, Rantoul); the cap and gown your child wore at graduation (Herff Jones, Champaign); the plastic cups you drink from at a tailgate (Solo Cup Co., Urbana ); or the bike helmet (Easton-Bell Sports, Rantoul) or radio-controlled plane (Hobbico and Horizon Hobby, both in Champaign) you use when relaxing on the weekend.
Your morning cup of joe may have been roasted locally (Columbia Street Roastery, Champaign); and your Friday night beer brewed just down the street (Triptych Brewery, Savoy).
I enjoyed learning more about local businesses I was already aware of, and hearing about those that weren't familiar to me. I hope you do too.
Jodi Heckel is editor of Central Illinois Business magazine. She can be reached at 217-351-5695 or jheckel@news-gazette.com.