HOME/COVER STORY
---
ACHIEVEMENTS
---
BUSINESS NOW
---
CHAMBER VIEW
---
EDITOR'S NOTE
---
FINE PRINT
---
FORTY UNDER 40
---
GET TO KNOW THE CEO
---
GREEN TIPS
---
INNOVATION > THE OUTER LIMITS
---
SUBSCRIBE NOW!
---
CONTACT US
---
ARCHIVE
---
CALENDAR
Editor 's note: submit events, meetings, workshops and conferences at least one month in advance to cibm@news-gazette.com for inclusion in Mark Your Calendar.
< Nov
Dec
Jan >
December 6
First Friday Coffee 7:30 to 9 a.m.
First Mid-Illinois Bank & Trust, Shoppes of Knollwood, 2229 S. Neil St., Champaign Enjoy complimentary coffee, conversation and a light breakfast as you network on the first Friday of each month. For more information on First Fridays, or to find out where these events are being held, visit
www.champaigncounty.org
or call 217-359-1791.
December 12
Fearless Facilitation -- How to Lead Effective Meetings Dec. 4, 8 a.m. to noon; Dec. 12, 8 a.m. to noon or 1 to 5 p.m.
Parkland College Business Training, 1315 N. Mattis Ave., Champaign Research shows that 62 percent of all meetings lack a clearly stated objective and agenda, and almost half of all professionals rate the quality of meetings at their organization as fair to poor. Learn how to bring a laser-like focus to every agenda, handle disruptions with ease and condense a week's worth of meetings into a single session with Steven Welland. Fearless Facilitators expertly foster participation and make any group session more productive. Achieve desired results and manage relationships and process at the same time. Participants will learn how to lead effective meetings, demonstrate fundamental facilitation skills, make optimal use of people's time and talents, strike the right balance between purpose, process and participation, and exhibit the confidence and competence of a fearless facilitator. Fee: $135. Registration deadline: Nov. 27 for Dec. 4 session; Dec. 5 for Dec. 12 sessions.
December 12
Business After Hours 5 to 7 p.m.
Well Fargo Home Mortgage, 2107 S. Neil St., Champaign Join fellow chamber members and their guests in this networking opportunity hosted this month by Wells Fargo Home Mortgage. Proceeds from the $5 per person donation at the door will help fund chamber programs. The donation for nonmembers and guests is $8.
December 16
Connect@Lunch Noon to 1 p.m.
Longhorn Steakhouse, 2101 N. Prospect Ave., Champaign This program is for people who want to meet other members of the business community, find sales leads or explore possible solutions to a business problem utilizing other members' experience and expertise. For $17, you will have your choice of several meal options from their Lunch Combos menu along with soft drinks. Plus every attendee will receive a free pass for an upcoming Business After Hours. To sign up, contact Chris Sheppard at
ChristopherS@champaigncounty.org
or 217-359-1791.
---
MARKETING SURVEY
Survey says: people matter most
in marketing strategy
---
What did businesses surveyed in Champaign County say was most important to their success? 61 percent of businesses surveyed said having the right employees was most important to the success of their organizations, according to a phone survey performed by Research Survey Service. It contacted 100 businesses in Champaign County by phone. The response rate was 37 percent.
Without good people, no business strategy can succeed.
What puzzles me is the component businesses chose as least important from a list that included human resources, sales, strategic planning and marketing--37 percent of the businesses surveyed chose marketing from that list. Now, that doesn't necessarily suggest you don't think marketing is important. I think you do. But from the list presented, if forced to make a choice, businesses said marketing was least important to the success of their business.
Why?
"Maybe the responses were skewed," said Jeffrey Kurtz, an adjunct professor in the College of Business at the University of Illinois who reviewed the results of the study.
Kurtz teaches an MBA class where students work with small businesses on real world problems.
"Nine out of 12 case studies this semester are marketing related," he said. In the years he spent consulting business owners prior to teaching, marketing was the biggest challenge for the majority of small businesses, he said.
Here's another surprise. Branding is the most important element to the success of your marketing plan. That's what a majority of business respondents selected, 37 percent of the total, from a list that included a strategic plan, return on investment, external communication and internal communication. When you consider that the purpose of marketing is to find, attract, retain and grow customer relationships, how you measure that activity, in the form of return on investment, would seem most important to defining success.
But that's the fun part about market surveys. You rarely obtain definitive answers. Almost always, the answers lead to more questions. And that's good. It forces you to probe further and ask more questions until you discover true insight about the customers and market you are trying to serve.
-Paul E. Donohue is an independent sales, marketing and communications consultant with 25 years experience as a media and marketing executive. He can be reached at pdo@pauledonohue.com. He partnered with Research Survey Services to conduct this survey.
Part of The News-Gazette, Inc. community of websites:
News-Gazette | IlliniHQ | Business Directory | WDWS | WHMS | idomagazine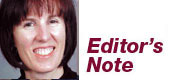 It's not easy to leave work at the office. Many of us take our work home -- either literally, with time spent working on the computer at the kitchen table, or mentally, with our minds turning over work issues even as we move on to family time.
Imagine if your family members are also your co-workers.
There are many examples of successful family businesses in our area. Those businesses confront the same challenges as any others, with an additional family dynamic thrown into the mix.
Experts -- and our local owners of family businesses -- say a key to a successful family business partnership is good communication about each person's role in the company and about any problems that arise. Those things can mean a more peaceful Thanksgiving dinner or birthday celebration.
Also in this issue, we have a column from the Better Business Bureau of Central Illinois on building a great customer service team. We're looking forward to publishing more columns from the Better Business Bureau in future issues.