HOME/COVER STORY
---
ACHIEVEMENTS
---
BUSINESS NOW
---
ECONOMICS
---
EDITOR'S NOTE
---
FINE PRINT
---
GET TO KNOW THE CEO
---
GREEN TIPS
---
INNOVATION > THE OUTER LIMITS
---
SUBSCRIBE NOW!
---
CONTACT US
---
ARCHIVE
---
CALENDAR
Editor 's note: submit events, meetings, workshops and conferences at least one month in advance to cibm@news-gazette.com for inclusion in Mark Your Calendar.
< Mar
Apr
May >
April 4
First Friday Coffee
April 4 First Friday Coffee 7:30 to 9 a.m. Eastland Suites Hotel and Conference Center, 1907 N. Cunningham Ave., Urbana Enjoy coffee, conversation and a light breakfast as you network on the first Friday of each month. Cost is $3 for chamber members. For more information on First Fridays, or to find out where these events are being held, visit
www.champaigncounty.org
or call 217-359-1791.
April 10
Breakfast Series
April 10 Breakfast Series 7:30 to 8:45 a.m. Hawthorn Suites by Wyndham, 101 Trade Center Drive, Champaign Learn about the business community's role in the University of Illinois' strategic plan at this Chamber of Commerce breakfast. UI Chancellor Phyllis Wise is the speaker. The cost is $17 for chamber members and $29 for nonmembers. To register, call 217-359-1791 or email
Caryni@champaigncounty.org
.
April 15
Performance Management
April 15, 17 Performance Management 1 to 5 p.m. Parkland College Business Training, 1315 N. Mattis Ave., Champaign Join Cindy Guthrie as she examines various performance management techniques, such as 360-degree feedback, surveys and performance appraisals. Performance management provides the knowledge and tools needed to design and implement a workable system that benefits the organization and inspires employees to manage their own performance. Fee: $265. Registration deadline: April 8.
April 16
Providing Constructive Feedback
April 16, 24 Providing Constructive Feedback 8 a.m. to noon on April 16; 1 to 5 p.m. on April 24 Parkland College Business Training, 1315 N. Mattis Ave., Champaign Discuss how to provide constructive feedback in a way that builds openness and mutual respect, and promotes problem solving and learning. Participants will complete a variety of activities that explore the key actions for providing constructive feedback, techniques for encouraging involvement and handling challenging responses, planning a feedback conversation and providing constructive feedback. Fee: $135. Registration deadline: April 9 for April 16 session; April 17 for April 24 session.
April 17
ECI SCORE: Starting a Small Business
April 17, May 10 ECI SCORE: Starting a Small Business 3 to 5:30 p.m. on April 17; 9 to 11:30 a.m. on May 10 Champaign County Chamber of Commerce, 303 W. Kirby Ave., Champaign Session reviews the advantages, hazards and requirements of starting a small business. Content: defining your business, competitive analysis, marketing, cash flow, and tips for small business startup. Cost: $25. To register, go to eci-score.org or call 217-359-1791. Email questions to
info@eci-score.org
.
---
MARKETING SURVEY
Survey says: people matter most
in marketing strategy
---
What did businesses surveyed in Champaign County say was most important to their success? 61 percent of businesses surveyed said having the right employees was most important to the success of their organizations, according to a phone survey performed by Research Survey Service. It contacted 100 businesses in Champaign County by phone. The response rate was 37 percent.
Without good people, no business strategy can succeed.
What puzzles me is the component businesses chose as least important from a list that included human resources, sales, strategic planning and marketing--37 percent of the businesses surveyed chose marketing from that list. Now, that doesn't necessarily suggest you don't think marketing is important. I think you do. But from the list presented, if forced to make a choice, businesses said marketing was least important to the success of their business.
Why?
"Maybe the responses were skewed," said Jeffrey Kurtz, an adjunct professor in the College of Business at the University of Illinois who reviewed the results of the study.
Kurtz teaches an MBA class where students work with small businesses on real world problems.
"Nine out of 12 case studies this semester are marketing related," he said. In the years he spent consulting business owners prior to teaching, marketing was the biggest challenge for the majority of small businesses, he said.
Here's another surprise. Branding is the most important element to the success of your marketing plan. That's what a majority of business respondents selected, 37 percent of the total, from a list that included a strategic plan, return on investment, external communication and internal communication. When you consider that the purpose of marketing is to find, attract, retain and grow customer relationships, how you measure that activity, in the form of return on investment, would seem most important to defining success.
But that's the fun part about market surveys. You rarely obtain definitive answers. Almost always, the answers lead to more questions. And that's good. It forces you to probe further and ask more questions until you discover true insight about the customers and market you are trying to serve.
-Paul E. Donohue is an independent sales, marketing and communications consultant with 25 years experience as a media and marketing executive. He can be reached at pdo@pauledonohue.com. He partnered with Research Survey Services to conduct this survey.
Part of The News-Gazette, Inc. community of websites:
News-Gazette | IlliniHQ | Business Directory | WDWS | WHMS | idomagazine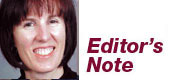 Welcome Home
With spring comes the season for homebuying and homebuilding. I've noticed homes in my neighborhood have been selling more quickly than in the past few years. And several homebuilders I talked with for this issue's cover story are optimistic about what this season will bring.
The Home Builders Association of East Central Illinois will have its Showcase of Homes in the Prairie Meadows subdivision in Savoy from June 12 to 22 — the first showcase in five years. I'm looking forward to checking it out and seeing the craftsmanship of area homebuilders.
Also in this issue, we have a profile of architect Andrew Fell, who has designed both single-family homes and numerous apartment buildings in our community.
Two University of Illinois professors are hoping they can influence the paper industry to be more environmentally friendly. They're experimenting with making paper from native prairie grasses and agricultural waste. Read about them in the Innovation feature.
Enjoy this issue, and the spring season.
Jodi Heckel is editor of Central Illinois Business magazine. She can be reached at 217-351-5695 or jheckel@news-gazette.com.