---
MARKETING SURVEY
Survey says: people matter most
in marketing strategy
---
What did businesses surveyed in Champaign County say was most important to their success? 61 percent of businesses surveyed said having the right employees was most important to the success of their organizations, according to a phone survey performed by Research Survey Service. It contacted 100 businesses in Champaign County by phone. The response rate was 37 percent.
Without good people, no business strategy can succeed.
What puzzles me is the component businesses chose as least important from a list that included human resources, sales, strategic planning and marketing--37 percent of the businesses surveyed chose marketing from that list. Now, that doesn't necessarily suggest you don't think marketing is important. I think you do. But from the list presented, if forced to make a choice, businesses said marketing was least important to the success of their business.
Why?
"Maybe the responses were skewed," said Jeffrey Kurtz, an adjunct professor in the College of Business at the University of Illinois who reviewed the results of the study.
Kurtz teaches an MBA class where students work with small businesses on real world problems.
"Nine out of 12 case studies this semester are marketing related," he said. In the years he spent consulting business owners prior to teaching, marketing was the biggest challenge for the majority of small businesses, he said.
Here's another surprise. Branding is the most important element to the success of your marketing plan. That's what a majority of business respondents selected, 37 percent of the total, from a list that included a strategic plan, return on investment, external communication and internal communication. When you consider that the purpose of marketing is to find, attract, retain and grow customer relationships, how you measure that activity, in the form of return on investment, would seem most important to defining success.
But that's the fun part about market surveys. You rarely obtain definitive answers. Almost always, the answers lead to more questions. And that's good. It forces you to probe further and ask more questions until you discover true insight about the customers and market you are trying to serve.
-Paul E. Donohue is an independent sales, marketing and communications consultant with 25 years experience as a media and marketing executive. He can be reached at pdo@pauledonohue.com. He partnered with Research Survey Services to conduct this survey.
Part of The News-Gazette, Inc. community of websites:
News-Gazette | IlliniHQ | WDWS | WHMS |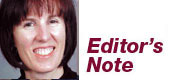 Changes at CIB!
This is my last issue as editor of Central Illinois Business magazine. After a long time at The News-Gazette, I'm moving on to another job. I've had a lot of fun writing about business issues and successful businessmen and women in the area during the more than three years I've edited CIB. I've especially enjoyed getting to know the Forty Under 40 award winners each year.
I'm proud of some of the changes we've made to the magazine as well. We've been featuring a Green Tip from the Illinois Green Business Association for a couple of years now. I'm hoping businesses found some useful information in those columns to help them reduce energy use, save money and help the environment.
This year we added Made in Champaign County, in collaboration with the Champaign County Economic Development Corp., to highlight some of our area industries and their products and manufacturing expertise. I hope you continue to enjoy CIB and its stories on the local business community. Thank you for reading.
Jodi Heckel is editor of Central Illinois Business magazine.