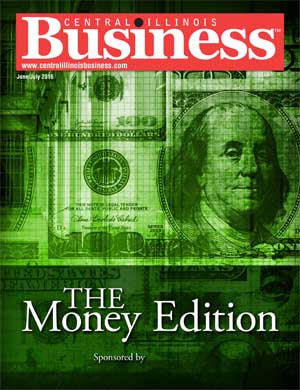 The MONEY edition of Central Illinois Business
An edition focused on the power of the dollar and just some of the many financial institutions, different financial reserves, the money market, our local banking system and how it can work for local residents.
Over 24,000 readers* will be reached in our bi-monthly Money Edition, of those most are comprised of local businesses, whose financial decisions make an impact on the scope of their business. Our advertisers help them with their decisions.
As always, our regular indicators and fine print sections, that include pertinent information that is imperative to local businesses, will be featured, as well as feature articles, columns, business calendar and local business achievements.
Don't miss out on this important issue!
* Analysis based on an average distribution to local businesses and studies to determine an average read-count of each issue.