Archive
---
Our web archive starts from April, 2007. If you are looking for any information on the Central Illinois Business Magazine before April, 2007, please
click here to contact us.
Thank you.
Part of The News-Gazette, Inc. community of websites:
News-Gazette | IlliniHQ | WDWS | WHMS |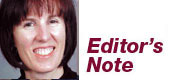 Congratulations!
Congratulations to our 2014 Forty Under 40 Award winners! In this issue, we recognize our winners, all of whom have made significant contributions to their workplaces and community before age 40. I hope you enjoy reading about their achievements and service to others.
Jodi Heckel is editor of Central Illinois Business magazine. She can be reached at (217) 351-5695 or jheckel@news-gazette.com.